Cutting the cord might mean substantial savings each month, but embracing streaming instead of satellite or cable can come with its own share of troubles. Take smart TV streaming interfaces, for instance. What happens when your smart TV doesn't have an app for your streaming TV provider of choice? This is the question that has many wondering how to watch DirecTV Stream on a Vizio smart TV. Thankfully, we know how it's done and can explain it in a short series of simple steps.
Is There a DirecTV App on Vizio SmartCast?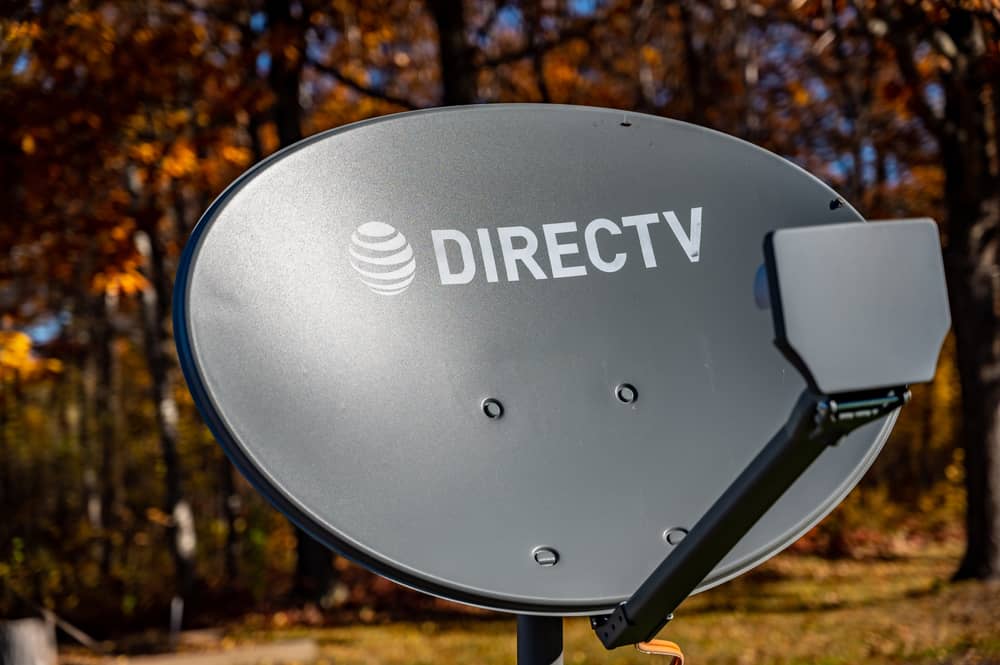 As of this writing, there is not a DirecTV app on the Vizio SmartCast interface. This makes it a little more difficult to stream DirecTV content to your smart TV compared to, say, Netflix or Hulu. You see, the Vizio SmartCast interface only features a limited number of streaming apps on its home page. You can open up the full library of streaming apps available and even search for some by name, but you won't find DirecTV in the catalog.
This is because streaming app developers have to make specific apps designed especially for the smart TV's interface. While some streamers — like the aforementioned Netflix and Hulu along with Disney Plus, Amazon Prime Video, and the other streaming giants — have no problem spending the time and money to develop an app for every niche smart interface on the market, others are not so willing. DirecTV is one such streamer without a designated Vizio SmartCast app.
The reasoning is simple: Chromecast, Roku, and Apple TV devices are far more popular than any one smart TV's streaming interface that lies outside these three brand names. DirecTV has a lot more motivation to make sure it's supported on these more common streaming devices compared to your typical smart TV streaming interface. Of course, it's certainly possible that a DirecTV app may appear on Vizio SmartCast one day. Alas, that day is not today.
Can You Still Stream DirecTV on a Vizio Smart TV?
Luckily for DirecTV Stream subscribers — and all other DirecTV subscribers that rely on the DirecTV app, on that note — there is still a way to stream DirecTV on a Vizio smart TV. You'll simply have to get a little creative in order to make it happen. Your options are limited to two main courses of action: Casting DirecTV content from your smartphone or tablet to your Vizio Smart TV, or purchasing and installing a streaming device for your TV.
For the former, look to the steps listed below. For the latter, take your pick between a Chromecast, Roku, or Apple TV device. Unbox the device and plug it into the power source nearest your TV. Then, fix one end of the HDMI cord to the device and the other to your Vizio smart TV. Change your TV's input and use your device's remote to navigate the smart streaming interface. Make sure you enter your Wi-Fi login info and sign in to all your relevant services so you can start streaming.
Signing Up for DirecTV Stream
If you don't yet have a DirecTV Stream account, you'll need to sign up for one before proceeding. Head to DirecTV Stream's website and select "Sign Up" from the home page. From here, you'll be presented with a choice between three possible plans: Entertainment, Choice, and Ultimate. The sign-up page will show you the pros and cons of each plan, including channel count, available packages, and monthly price before and after the promotional discount period.
Take your pick from the three plans presented, then click "Try It Free." You'll then proceed through the sign-up process by adding your name, your billing information, your address, and all other relevant info. Once complete, you'll officially begin your temporary free trial period. After that ends, you'll pay the promotional discount price for the first three months. Then, you'll begin paying full price for DirecTV Stream.
How to Watch DirecTV Stream on a Vizio Smart TV
If you don't want to purchase a new streaming device to watch DirecTV Stream on your Vizio smart TV, there is another way. You can stream the app from your smartphone or tablet to your smart TV. This option should work for Samsung, Google, and Apple users alike. With that said, these specific instructions pertain to Apple iPhone users. Nevertheless, the process should look very much the same for other smartphone users beyond the iPhone.
Step One: Turn on TV
First, turn on your Vizio smart TV as normal. Either hit the power button on your remote or press the power button on the actual TV itself.
Step Two: Change Input
Next, hit the input button on your remote to open the menu of available inputs. Use the directional pad on the remote to navigate.
Step Three: Open AirPlay
Now, navigate to the AirPlay input on the menu and wait for it to load. The display will list your device name as well as your Wi-Fi network name. Make sure your iPhone is connected to the same Wi-Fi network listed on the TV screen.
Step Four: Stream DirecTV
Lastly, open the DirecTV app on your iPhone and start streaming your TV show or movie of choice. Then, hit the AirPlay button in the corner of the screen. Find your Vizio smart TV on the list of available AirPlay devices and tap the name to start casting to the television.
Every time you change the program on your phone, you'll probably have to repeat the process. It's certainly not the most convenient process in the world, but it's better than not being able to watch DirecTV Stream on a Vizio smart TV at all.
Pros and Cons of DirecTV Stream
| Pros of DirecTV Stream | Cons of DirecTV Stream |
| --- | --- |
| Casting your DirecTV Stream app to your Vizio smart TV cuts out the need for other devices. | AirPlay and other casting interfaces can be glitchy from time to time and don't always work. |
| With a strong connection, you can enjoy high-definition streaming in resolutions up to 4K. | Vizio smart TVs are less advanced than your average streaming device. |
| Casting gives you access to DirecTV Stream's vast content library directly from your Vizio TV. | Weak Internet connection means you're more likely to encounter streaming issues. |
| DirecTV Stream's user interface and Vizio smart TVs are both very user-friendly. | Older Vizio smart TVs may not be able to handle the bandwidth required to cast. |