You've likely searched the LG webOS store for the Crunchyroll app and came up empty-handed. Unfortunately, Crunchyroll is one of the many streaming services without an LG Smart TV app. The good news is that there are several workarounds to watch Crunchyroll on your LG Smart TV, and today we are looking at the best options.
The options range from simply watching with the built-in web browser to casting Crunchyroll from a mobile device. Finally, the easiest solution may be to use another streaming device or even a game console. Crunchyroll has a lot of unique content that you can't find anywhere else, and in a few minutes, you will be watching on your LG Smart TV.
Method 1: Watch Crunchyroll in the LG Web Browser
The easiest way to start watching Crunchyroll on your LG Smart TV is with the built-in Web Browser app. It doesn't require you to download anything extra, and the entire process can be completed with just the remote. The downside is that you may have to sign in more frequently than you would with a standalone app.
Step 1: Open the LG Web Browser
First, go to the LG Smart TV's homescreen and choose the "Web Browser" app from the app list. The web browser works just like the one on your computer or smartphone, so you will be able to access the Crunchyroll website from it.
Step 2: Navigate to the Crunchyroll Website
Next, click on the address bar at the top of the screen and search for "Crunchyroll." Select the Crunchyroll website from the search results. Alternatively, you can enter the web address to go directly to the site.
Step 3: Sign in and Start Watching
Once on the Crunchyroll website, click on the profile button at the top right of the screen, followed by "Log In." After signing in, browse through the videos and find a show to start watching on your LG Smart TV.
Method 2: Stream Crunchyroll With AirPlay
The next option requires an Apple device to cast Crunchyroll to your LG Smart TV. An obvious limitation is that you must have an Apple device and that it will be tied up while casting. It is also clunky to navigate and change shows.
Step 1: Add the Crunchyroll App to an Apple Device
To use this method, you must download the Crunchyroll app from the Apple App Store. Once it is finished downloading, launch the app and sign in to your Crunchyroll account.
Step 2: Find a Show to Watch
Next, browse the app and find a TV show or movie to watch. Once you find a show, play it as if you were going to watch it on the Apple device.
Step 3: Cast the Show to Your LG Smart TV
Finally, tap on the AirPlay icon that shows up in the video player. Select your LG Smart TV from the AirPlay menu and enter the code that pops up on the TV.
Method 3: Use a Streaming Device to Watch Crunchyroll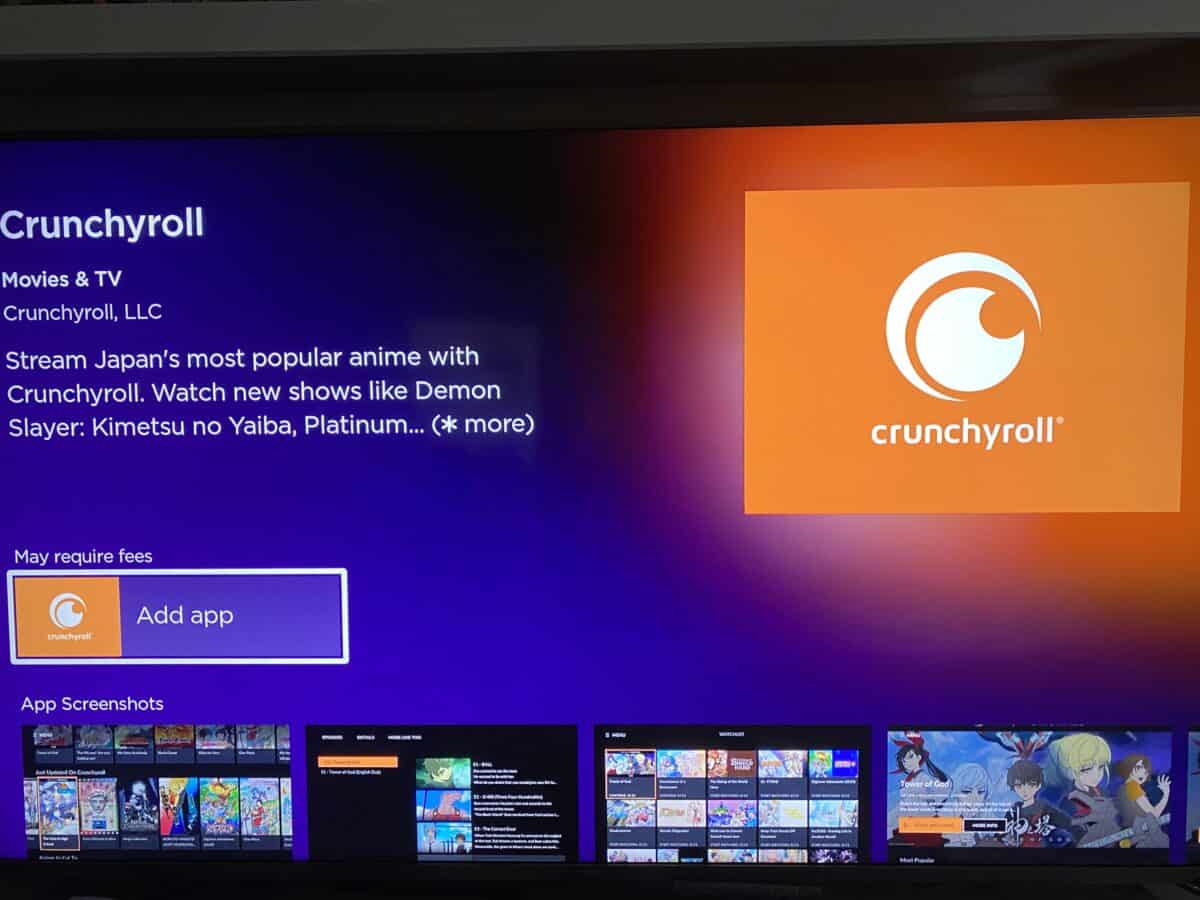 The final method requires the use of another streaming device connected to your LG Smart TV. That may sound kind of redundant since you already have a smart TV, but a streaming device like a Roku or Fire TV lets you access a range of content such as ESPN Plus or the Roku Channel. However, you may not need to go out and purchase a device because a connected game console may have the Crunchyroll app.
Start by checking the list of devices with the Crunchyroll app. The best case scenario is that you already have an Xbox or PlayStation connected to your LG Smart TV since both of these devices support Crunchyroll. However, Roku and Fire TV devices are very affordable options that have the Crunchyroll app available.
Crunchyroll Subscription Options
If you don't have a Crunchyroll subscription yet, then there are a few options to get started. Firstly, Crunchyroll offers a 14-day free trial with all of its plans. There are three plans, including Fan, Mega Fan, and Ultimate Fan.
The Fan tier offers ad-free streaming of all content on one device for $7.99 per month. Mega Fan lets you stream on four devices at a time, plus it allows for offline viewing and discounts in the Crunchyroll store. The Ultimate Fan tier lets you stream on six devices at a time, watch offline, and includes bigger discounts and free shipping at the Crunchyroll store.
Wrapping Up
It is unfortunate that more companies do not make streaming apps for LG's webOS. Strangely enough, Crunchyroll does have a free streaming channel on LG Smart TVs that airs popular anime shows 24/7. Hopefully, that is a sign that the company may be working on a new Crunchyroll app in the near future so you don't have to use complicated workarounds.