Years ago, the idea of electric cars making up its fair share of the road seemed like a distant dream from a science fiction movie. Alas, the future has arrived, and today, two of the most famous companies on Earth are fighting to see who can produce the best electric car around.
One of them is a reality, while the other is a promise with great potential. Join us to see who wins this fierce battle: Volkswagen, the traditional car manufacturer, or Sony, the technology giant that wants to prove it also knows its way around cars.
Let's talk about it!
Volkswagen ID.4 vs. Sony Afeela EV: Side-by-Side Comparison
| | Volkswagen ID.4 | Sony Afeela EV |
| --- | --- | --- |
| What is it? | An electric car with a traditional design but some very efficient technological features | An electric car with technology as a flagship and a modern design |
| Battery Capacity | 82 kWh | Around 100kWh |
| Electric Range | 410 km | 500 km |
| Year of Release | 2021 | 2026 |
| Driving Assistance | IQ.DRIVE | Level 3 assistance |
| Price  | $38,995  | TBD – around $45,000 |
| Cameras | Rearview camera and front camera | 45 internal and external cameras |
| Seats | 5 people | 5 people |
| Car Body | SUV | Sedan |
Volkswagen ID.4 vs. Sony Afeela EV: What's the Difference?
It is somewhat of a challenge to compare a vehicle as established in the market as the VW ID.4 with an unreleased one like the Sony Afeela EV, which will be the first creation of the Sony-Honda collaboration. According to reports, this will be the first vehicle in a whole new product lineup of the two companies.
At first glance, the Sony Afeela EV promises to be superior in almost all technical aspects, but since it is a first attempt, it remains to be seen how efficient all its innovations are.
Design
The Afeela EV seems to have taken a lot of inspiration from Lucid and Tesla's cars to form the modern coupe shape we can see in the prototype. It is a sedan with a highly minimalist design and certain technological features that will certainly draw some attention.
These features have to do with the contribution of Sony, which, unlike companies like Apple and Google that only took care of their cars' software, also had a say in the design. The Afeela EV is not only modern, it looks modern.
The VW ID.4, on the other hand, offers more of a traditional design, similar to what you would expect from a family SUV, with a sporty yet streamlined look. Its design is more spacious but still modern, with a minimalist interior.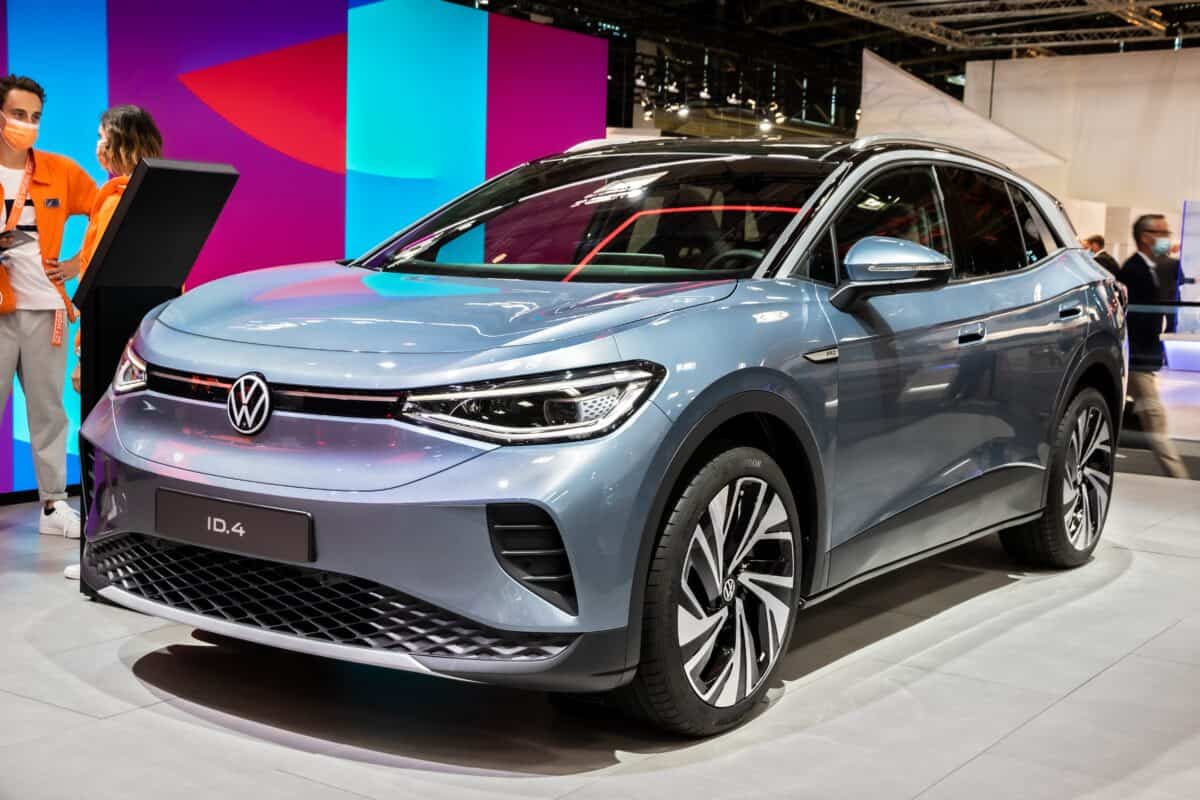 Technology
Being a Sony project, the Afeela EV promises to make technology its flagship. This car will feature a display that will cover much of the interior, an unprecedented infotainment system, integration with the PS5, and an exterior Media Bar.
For its part, the VW ID.4 features a comfortable 12″ display to enhance your travels with apps, device integration, and voice control. In addition, this car has wireless phone charging and other features that you can get by paying a subscription.
Both vehicles are equipped with driver assistance, although the Afeela's system will be much more complete: level 3 automated driving with 45 internal and external cameras and sensors. The VW ID.4 does not lag behind with its IQ.DRIVE system assisting in various travel situations.
Performance
Unfortunately, Sony did not disclose too many details about the performance of the brand-new Afeela. According to what was said at the presentation, the Afeela EV will have a battery of approximately 100 kWh and a range of roughly 500 km.
This provides a significantly longer range than that offered by the VW ID.4, which has an 82 kWh lithium battery and between 410 and 470 km of range, depending on the version. Its engine reaches 201 horsepower.
Afeela EV: A New Era
Sony and Honda joined forces to create a solid competitor to other companies such as Tesla, which has a strong lead in the electric car market. Sony, a heavyweight in the technology industry, had already dazzled at the 2020 CES with the Vision S, an electric sedan concept.
Well, that concept finally came to life after its alliance with Honda, one of the world's largest automakers. The vision was to create a car that would be the pure image of automotive modernity: a minimalist and futuristic design, large displays, and top-level driver assistance.
With the unveiling of the prototype earlier this year, we can only wait and see how the project develops in the coming years. Its launch in the American market is scheduled for the spring of 2026, so we still have a long road ahead of us.
Volkswagen ID.4: Combining the Traditional and Modern
At first glance, the ID.4 may seem like a typical family SUV in which you drive your children to school. Underneath a very traditional design, however, is a powerful car with simple but highly efficient technological features.
The goal of this car is for all of its innovations to be purely functional in order to make your ride more comfortable and practical. Everything about this car screams efficiency and comfort, from its smart displays to its wireless chargers and assistance system.
The Volkswagen ID.4 was introduced in 2021, but the company has released several versions with minor performance improvements. Its driver assistance does not take full control of the vehicle since it is designed to make driving smooth.
Volkswagen ID.4 vs. Sony Afeela EV: 5 Must-Know Facts
The Volkswagen ID.4 has been around since 2021, while the Sony Afeela EV is scheduled to be launched in 2026.
The Sony Afeela EV promises to be a one-of-a-kind car with unique PS5 integration and an infotainment display.
Thanks to its SUV body type, the Volkswagen ID.4 is a more spacious car, although both have a capacity for five people.
Sony unveiled the Afeela EV at the Consumer Electronics Show 2023.
Both cars have driver assistance, but the Afeela EV promises to be much more comprehensive, reaching level 3 assistance and providing a fully automated driving environment.
Volkswagen ID.4 vs. Sony Afeela EV: Which One is Better?
Since the Afeela EV won't be released until 2026, the only car you can give a chance to today is the Volkswagen ID.4. It's a spacious car with a design that has both traditional and modern touches and more-than-impressive technological features.
However, if you are interested in having the most advanced technology on the market, you might want to get your hands on the Afeela EV as soon as it launches. This car promises to be the symbol of a new era in electric cars, thanks to its bold technological integrations and modern design.