The Volkswagen ID.4 and Nissan Leaf are comparable electric vehicles with many similarities. However, they also differ in some ways, which may influence your buying decision. With the growing number of electric vehicles and surging demand, consumers often struggle to figure out the best fit. Volkswagen ID.4 Vs Nissan Leaf, which EV is worth buying?
Both cars are from two well-respected automobile brands with a lineup of reliable vehicles. They've been making electric vehicles for many years and have plenty of experience in the industry. While Nissan and Volkswagen build good EVs, the two companies use distinctly different styles, which oftentimes appeal to different people. Let's find out whether Volkswagen ID.4 can hold a candle to the Nissan Leaf.
Volkswagen ID.4 vs Nissan Leaf: Side by Side Comparison
| | ID.4 | Leaf |
| --- | --- | --- |
| Price | $38,995 | $28,040 |
| Horsepower | 145 hp | 147 hp |
| Range | 150 Miles | 209 Miles |
| Weight | 4,317 lbs | 3,516 lbs |
| Interior Volume | 30.3 Cubic Feet | 23.6 Cubic Feet |
| Drive Wheels | Rear Wheel Drive | Front Wheel Drive |
Volkswagen ID.4 vs Nissan Leaf: What's the Difference?
Looking at the ID.4 and Leaf, you will notice a staggering difference right off the bat. While they are similar in size, ID.4 is more of an SUV, and the Leaf is a hatchback car. The insides are also drastically different, with the Leaf resembling a fairly basic car, while the ID.4 looks much sleeker and modern. Now, let's take an in-depth look at all the similarities and differences.
Technology
ID.4 and the Leaf have many modern features and amenities that drivers expect. This includes infotainment systems that connect to your mobile device for music and GPS. But the ID.4 is several steps ahead with a more advanced touchscreen that lets you control many more of the vehicle's functions. Additionally, the ID.4 has other features, like the ability to talk to the car to adjust settings.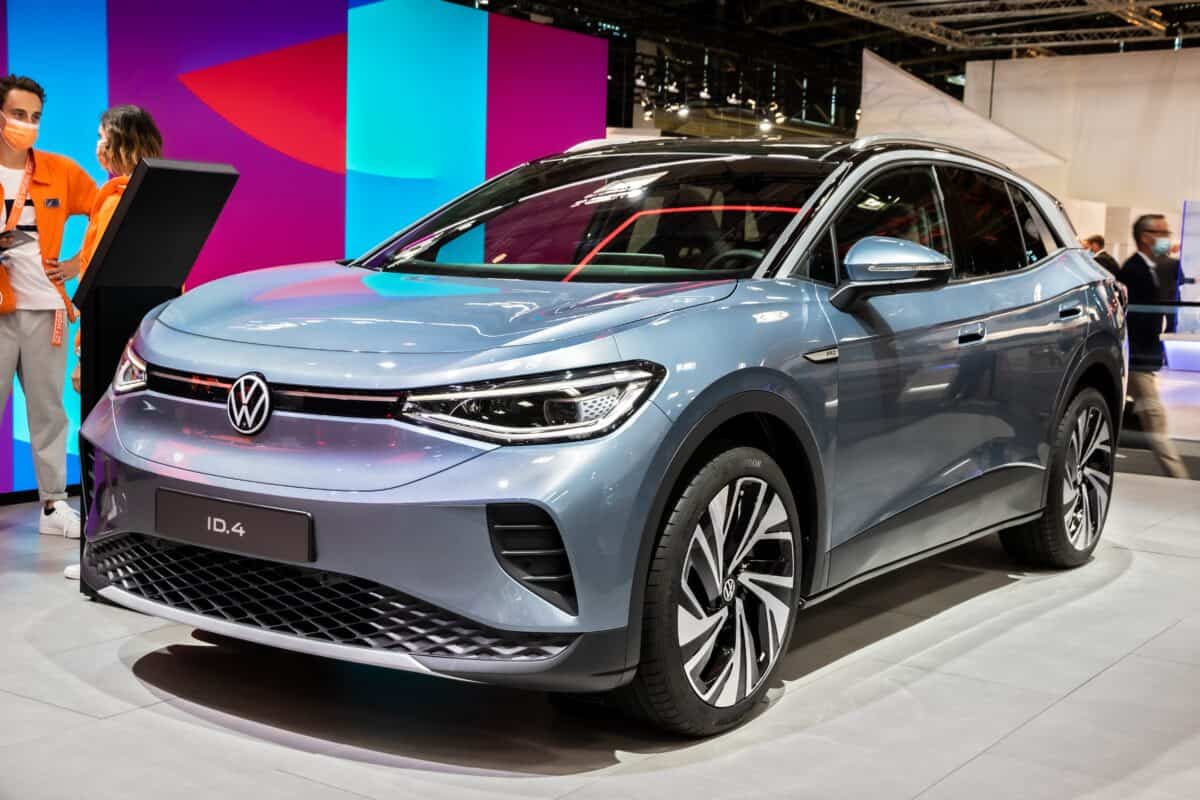 Driver Assist
The Leaf and ID.4 include several advanced safety features and driver assist abilities standards. For instance, automatic braking and collision detection come with each. However, ID.4 has several more capabilities that you can get, including IQ.Drive and Driver Assistance. As for the Leaf, you get automatic braking and Safety Shield 360, but the SV adds Intelligent Cruise Control.
Volkswagen ID.4
The Volkswagen ID.4 is a highly sought-after electric SUV that seeks to reinvigorate the company's electric lineup. The exterior features curvy, flowing lines. The SUV has multiple colors, with a black roof and dark-colored trim across the bottom. The ID.4 also has striking trim pieces, like ones down the side, that make the car's lines stand out.
An all-black roof blends with the large glass roof, giving all passengers an unobstructed view of the sky. Speaking of the interior, it holds up to five passengers and has plenty of rear cargo space. The best way to describe it is modern, with sleek lines and a low-sloping dashboard. Another small detail you may not notice right away is the fixed triangle windows on the door.
Lighting is also taken care of on the ID.4. Small LEDs in the interior create an even more unique look at night. Moving around to the rear, the cargo area has plenty of room, and the rear seats fold down for more space. Unfortunately, there is no front trunk as mechanical components have taken up almost every inch of space.
Nissan Leaf
The Nissan Leaf has been around for over a decade now, and it is a great economical option. When you look at the Leaf, it is distinctly a hatchback car. It sits relatively low to the ground and is also rather small compared to many EVs on the market. But the Leaf is still a great car with a nice body that takes many style cues from other Nissan vehicles.
Although the car sits low to the ground, it does not sit quite as low as other hatchbacks. It is also worth mentioning that Nissan uses a strange two-tone color layout on the Leaf. Many vehicles, such as the ID.4 have a painted body and a black roof. But Nissan keeps part of the rear liftgate black and then paints part of the roof to match the body color.
There is nothing wrong with Nissan's use of colors, but some people will not like it. Going under the hood, you will notice that the Leaf does not have a front trunk and the electric motor and other components take up the space. This is unfortunate, but the upside is that everything on this car is accessible and easy to work on. The charging port is also located on the front of the car.
Nothing is special about the inside. It lacks many advanced features found in most EVs. Compared to other EVs, the Leaf has a lot of hard plastic surfaces on the door panels and dash. The controls are all manual, including the radio and air conditioner. Because this is a small vehicle, the center console is very narrow. The driver and passenger often sit close together.
Horsepower, range and price
The Volkswagen ID.4 does have some average specs compared to other EVs on the market. It has 145 horsepower, which is delivered by its rear electric motor. The batteries in the base model provide a range of 209 miles on a full charge, with higher miles coming with larger batteries. The base model also has a starting price of $38,995.
Looking at the Nissan Leaf's specs, it puts out 147 horsepower, which is decent for a car of its size. The motor is positioned in the front of the car and delivers power to the front wheels. The S trim line comes with a 40 KWH battery range of up to 149 miles and starts at $28,040. There is also an SV Plus model that has a 60 KWH battery for a range of up to 212 miles with a starting price of $36,040
Volkswagen ID.4 vs Nissan Leaf: # Must-Know Facts
Both vehicles hold five passengers, but the ID.4 is set up more like an SUV.
The ID.4 has more driver-assist technologies built-in.
Nissan's Leaf has a significantly shorter range at 150 miles compared to 209 miles on the ID.4.
Both vehicles do not have a front trunk for storage.
The ID.4 has a more detailed interior than the Leaf's utilitarian design.
Volkswagen ID.4 and Nissan Leaf: Recent Updates
Sony and Nissan have made a few minor updates to their EVs. Some of the updates they have made since February 2023 include:
Volkswagen ID.4
A 12-inch infotainment screen comes standard in all models.
There is now a low-cost model.
All trims have a heat pump that improves efficiency in cold weather.
Nissan Leaf
The battery pack has been upgraded to give it an increased range of up to 223 miles on a single charge.
The driver assistance system, ProPilot Assist, has been updated with new features and now includes lane centering and traffic jam assist.
Volkswagen ID.4 and Nissan Leaf: What's Next?
We can continue to expect to see general improvements to both the Volkswagen ID.4 and the Nissan Leaf as technology advances. In the next six to 18 months, we might see some of the following improvements:
New battery packs: Technology for batteries is constantly improving. We could see new battery packs that offer increased range of over 300 miles on a single charge and faster charging speeds.
More autonomous driving features: New autonomous driving features could be on the horizon, and the vehicles could possibly drive themselves in more situations.
New infotainment features: Both vehicles could be updated with new connectivity and infotainment features that would make them more enjoyable to drive and own.
Volkswagen ID.4 vs Nissan Leaf: Which One Is Better? Which One Should You Use?
The Nissan Leaf and Volkswagen ID.4 are nice cars that can provide many trouble-free years of use. With that in mind, they are distinctly different, and the best choice will likely come down to your budget and style preference. We feel that the ID.4 is the better vehicle for style and comfort. It also has a longer range and is rear-wheel drive.
However, the Nissan Leaf comes at a hard-to haggle price. At approximately $10,000 less (or 25%), it is understandable that car buyers would compare these two vehicles. After all, they both have similar engine sizes and cargo capacities. However, this isn't an even comparison because the Leaf S has a much smaller battery.
For a more even comparison, we would need to look at the Leaf SV alongside the ID.4, as it has a more comparable driving range and a similar array of features. But the price of the SV is nearly that of the ID.4. With that in mind, the Leaf is still a good choice to see if you will like an EV. Plus, they are much easier to get as the ID.4 is currently not accepting reservations for future sales.
The image featured at the top of this post is ©North Monaco/Shutterstock.com.