VinFast isn't the first company to come to mind when thinking about real challengers to Tesla's EV market dominance, but the fast-growing EV brand may change all that. The Vietnamese EV maker burst onto the scene suddenly in 2017, founded by Vietnam's first billionaire businessman. In five years, it delivered its first 100 SUVs; a mid-sized all-electric model dubbed the VF8. The first units putting VinFast wheels on the road occurred in Vietnam in early September 2022. A PR Newswire press release says international deliveries will follow in December 2022.
VinFast is no small-scale upstart with hazy future plans and a few million dollars in resources. The Vietnamese EV automaker is backed by the technical expertise of powerful European car companies helping to get it running full speed from the starting line. It also has local support from Vietnam's giant industrial conglomerate Vingroup to keep money and resources flowing. Already planning a big US IPO and new headquarters in Los Angeles, the company could blindside market leader Tesla – if it plays its cards right.
VinFast: Vietnam's Spectacular EV Launch
Unlike many automakers with a lengthy pedigree, VinFast is brand new. Like Tesla, it's a fresh, vigorous maverick that isn't tied to a legacy lineup. Contra Tesla, though, doesn't need to break fresh ground or create a whole new market. Instead, it's building on Tesla's success, coming into the EV world at the moment when electric vehicle demand is booming. The EV world has flourished since 2016, giving VinFast all the preconditions for a meteoric rise.
Technology and industrial conglomerate Vingroup launched VinFast as a new EV enterprise in 2017. Vingroup originally started in Ukraine in 1993 until it could return to its home country Vietnam in 2000. The company started making gasoline cars with internal combustion engines, mostly for sale in Vietnam.
Going from 0-60 on Production in Record Time
European automakers gave it significant help getting off the ground. Zev Society reports, that engineers and designers from various Italian car companies helped it create VinFast automobile models. These helpers include Torino Design, century-old design house Pininfarina (which also designs aircraft and high-speed trains), and elite Milanese coachbuilder Zagato, among others. Austrian automaker Magna Steyr completely developed two models for VinFast in 2018, while BMW also lent its expertise.
As a result, VinFast transitioned from founding to assembling and selling complete vehicles in a matter of months. Its flagship vehicles were effectively engineered from the ground up by deeply experienced Italian, Austrian, and German design houses. How much these partners contributed to the recent EVs isn't publicly known, though the collaboration probably continues.
Meanwhile, Vingroup supplied billions of dollars in funding to its new subsidiary company to get it swiftly off the ground. It spent $1.5 billion to construct a huge industrial park in the port city of Hai Phong. The facility was completed in one year, 9 months, and can make at least half a million vehicles yearly. VinFast sold 30,000 of its gasoline vehicles inside Vietnam during 2020 alone, HotCars reports.
A Swing to EVs and International Sales
Going all-electric and dropping its gasoline vehicle production entirely is VinFast's latest strategic move. The pivot began in 2021 and is currently ongoing. VinFast launched an electric scooter and bus, tapping into the newly energized electric market. The company delivered 34 electric cars to Vietnamese purchasers on Christmas day, 2021, Electrek reports.
Backed by European technical know-how and Vingroup's deep pockets, Vinfast has ambitious expansion plans. After several postponements, VinFast currently says it will go public on US stock exchanges in 2022's fourth quarter (Q4). Early 2023 is also possible. Reuters says the IPO could have an initial valuation of up to $60 billion. At the same time, VinFast is moving ahead swiftly with US manufacturing plans for its EVs. This should enable the Vietnamese automaker and its customers to benefit from the Inflation Reduction Act tax credit. Only EVs given final assembly in North America, along with other restrictions, qualify for the new Clean Vehicle Credit.
VinFast looks to build its first American factory in North Carolina, according to Investment U. It plans a $2 billion, 2,150-acre "megasite" factory complex in Chatham County with a capacity to make 150,000 vehicles yearly. The company chose the state because of "North Carolina's strong commitments in building a clean energy economy," according to top-level company executive Li Thi Thu Thuy. It also has a USA headquarters already established in Los Angeles. It's also targeting China, Germany, Australia, and other countries for production and branches.
5,000 VF8 SUVs built in Vietnam will be delivered to American, European, and Canadian markets. US manufacture of VinFast EVs should start in 2024. Here's a look at what to expect to arrive on container ships or roll off the North Carolina assembly line.
VinFast's Comprehensive SUV Range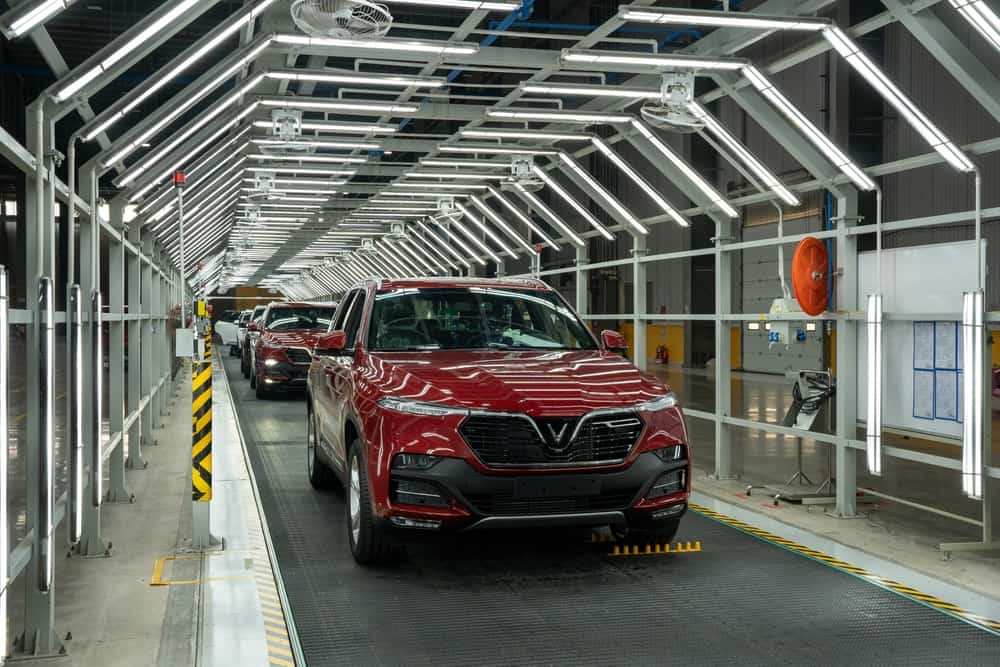 While rumors of a VinFast EV pickup truck are also flying, the company definitively laid out its EV SUV range at 2022's start. As CarScoops reports, the automaker plans to release five SUVs covering a whole range of body sizes. These include the following:
VinFast VF5, mini-SUV, aka "SUV-A"
VinFast VF6, subcompact SUV, aka "SUV-B"
VinFast VF7, compact SUV, aka "SUV-C"
VinFast VF8, mid-sized SUV, aka "SUV-D"
VinFast VF9, full-size SUV, aka "SUV-E"
VinFast has scheduled two of these EVs to appear in the USA first, the VF8 mid-size and the VF9 full-size. Like all of its SUV EVs, these vehicles appear to have the same styling cues, at least from what's currently known. These include a distinctive slender "gull-wing" sweep of LED headlights.
On a more practical plane, all VinFast EVs will come with a 124,000-mile, 10-year warranty. Other incentives are also offered to those who preorder through VinFast's website.
VinFast's Battery Lease Program
In a twist not seen in other automakers, VinFast sells its vehicles and leases batteries for them separately. The company says it reduces up-front vehicle costs for greater affordability. However, customers need to lease the battery to run their EVs, paying a monthly subscription fee. VinFast says it has set battery subscription rates at $169 monthly for the VF8 and $219 for the VF9. VinFast is responsible for battery maintenance, repair, and replacement during the subscription. It also replaces worn-out batteries, typically those holding only 70% of the original charge, at no extra cost.
Perhaps recognizing American and European customers will likely not be interested in a battery subscription, VinFast offers an alternative. Customers can buy the battery up front along with the EV, exactly like buying from most EV automakers. This option adds $15,000 or more to the EV's showroom price but dispenses with the potentially confusing lease arrangement.
VinFast VF8: A Competent, Comfortable Crossover
The mid-size offering in VinFast's first pair of EVs, the VF8 seats five passengers and has a base $42,200 MSRP. Buyers can expect to pay $57,000 base price if they choose an included battery instead of a battery lease. The VF8 comes in two trim levels, Eco and Plus, with two battery options, Standard and Extended. Range varies from 248 miles to 292 miles depending on the combination.
While some details, such as the number of motors, are still sketchy, the VF8 SUV is fairly powerful. Its drivetrain should generate 402 horsepower and 472 ft-lbs of torque. This power gives the VF8 an approximate 0-60 mph time of 5.5 seconds. Safety features include a standard ADAS (Advanced Driver Assistance System). This system protects passengers with automated lane keeping and centering, lane departure warning, and speed adaptive cruise control. It also provides collision warnings and automatic emergency braking.
Vinfast loaded the VF8 SUV EV with comfort and entertainment features. Passengers can watch movies, play games, or connect remotely to their at-home computers. Rear cargo space is good with a small "frunk" or front trunk, since no ICE engine is needed.
The VinFast VF8 is a fairly close analog of the Tesla Model Y crossover. The Model Y Long Range's $58,190 base price is only a thousand dollars more than the VF8. But for this price, the Tesla EV offers a 318-mile range, up to 70 miles more than the VF8. It's 4.8 seconds 0-60 time also gives a slightly sportier driving experience.
VinFast VF9: A Full-Size SUV with a Polished Interior
Seating up to 7 passengers in its three rows, the VinFast VF9 is a full-size SUV EV with more traditional lines. Customers who opt for a separate battery subscription can pick up a VF9 for $57,500. Buying the battery instead of leasing pushes the base MSRP to $76,000. Once again, VinFast gives the option between two trim levels, Eco and Plus. Range varies from 262 miles to 360 miles, depending on trim and choice of Standard or Extended battery.
Electric motors make the VF9 a powerhouse, outputting 402 horsepower and 457 ft-lbs of torque. The SUV's drivetrain is an all-wheel drive (AWD) powered by a dual-motor setup. Acceleration from 0-60 mph takes 6.3 seconds because of the SUV's weight, roughly equal to moderately fast ICE vehicles. The vehicle's dimensions are roughly similar to a Hyundai Palisade or Chevy Traverse SUV.
VinFast builds the interior for both comfort and safety. An array of 11 airbags protects passengers, alongside the ADAS (Advanced Driver Assistance System) standard on VinFast EVs. The seating is heated and ventilated to maximize comfort, and customers can opt to pay for a power adjustment upgrade. The suite of electronics features an intelligent infotainment system and even in-car shopping.
Can VinFast Challenge Tesla?
VinFast's SUVs are workmanlike, comfortable, and include plenty of up-to-date features. Reviewers who have seen the vehicles report the interior is pleasant and the driving experience good. Most trims only have a moderate range, and acceleration is slightly less peppy than Tesla equivalents.
VinFast's awkward battery lease or subscription program is a possible obstacle to the strong US or European adoption. Since US customers will typically finance a VinFast EV purchase, adding separate monthly battery payments isn't saving. Instead, it's creating a separate bill to track and pay, increasing hassle and paperwork.
However, since VinFast added the option to buy vehicles and batteries up front as a complete package, skipping the subscription entirely might not negatively affect VinFast sales. The battery-included vehicles don't display the ultra-low prices of their battery-free counterparts. While this is more or less the true cost of either vehicle, the higher showroom stickers could be slightly less appealing to buyers.
VinFast appears to be making quality EVs based on robust Italian and German engineering. Early reports indicate its EVs are comfortable and pleasant to drive. However, its EVs cost roughly the same as more affordable Tesla models once battery costs are included. It also doesn't offer range advantages, with most of its battery ranges best described as adequate but not outstanding. Combined with the brand's unfamiliarity with American customers and affordable alternative SUVs from Hyundai and Kia, VinFast probably has a long road to travel before it can go head-to-head with Tesla.