Key Points
Our choice for the #1 Best Overall Upgrade from an NVIDIA GeForce GTX 1050 is the NVIDIA RTX 3080.
The GTX 1050 is an old GPU that can't keep up with modern games. It's past time for an upgrade.
You could upgrade to many GPUs, like the NVIDIA RTX 4090 for raw power or the Radeon RX 6600 for a modern graphics card at a reasonable price.
Your next GPU depends on what you want it for and its compatibility with your current gear. 
Graphic cards are some of the most vital PC components for demanding tasks. An old GPU will make it slow or impossible to play newer games, watch videos in the highest definition, or create and edit videos for social media. That's why it's necessary to update your GPU every few years.
But you will have to know certain things to upgrade a GPU successfully. There are more than one brand and many different models. More importantly, you need a GPU that works for your specific needs. There's no necessity for a mighty 4090 to run ten-year-old games.
Here are the best options to upgrade from an NVIDIA GeForce GTX 1050, depending on your needs.
History-Computer's Top Picks to Upgrade From an NVIDIA GTX 1050
#1 Best Overall: NVIDIA RTX 3080 
Best Overall
We earn a commission if you make a purchase, at no additional cost to you.
The NVIDIA RTX 3080 is our top choice for the best GPU to replace a GTX 1050.
This GPU was the second-best of the previous generation of graphics cards, and it remains one of the most powerful while being somewhat more accessible in price.
It has 12GB of VRAM, three times more than the GTX 1050, allowing for better performance on demanding tasks. It also has a 760 GB/s bandwidth — almost seven times that of the 1050 — making it powerful enough for ray tracing.
The NVIDIA 3080 being better than the 1050 GPU isn't a surprise, as this is a higher-tier card from a much newer generation. But in our experience, this card sits right in the middle of all the compromises a buyer would encounter when upgrading from a GTX 1050. The GTX 1050 was an accessible card, and while the 3080 isn't a budget option, it's far from the pricing of the Ti series in its generation or the 40x generation prices. It will give you access to NVIDIA-exclusive software, such as DLSS, and work as a multi-purpose GPU.
The 1050 allowed gamers to play all video games from a few years ago. Similarly, you can play all current video games with the 3080.
The worst mark against the 3080 — beyond not being as potent as the Ti version — is that it can get loud under load. It is also quite power-hungry, demanding a whopping 320 watts!
| Pros | Cons |
| --- | --- |
| It supports DLSS. | It can run 4K games or high FPS, not both. |
| It supports ray tracing. | It can get pretty loud when under load. |
| The 3080 has three times as much VRAM as the 1050. | |
| It is a top-quality GPU at a somewhat decent price. | |
Best Budget-Friendly: AMD Radeon RX 6600
Best Budget-Friendly
We earn a commission if you make a purchase, at no additional cost to you.
If you're on a tight budget, your best bet is an AMD Radeon RX 6600.
The AMD Radeon RX 6600 has DirectX 12 support, 8 GB of VRAM, and 4K support. Still, in our experience, it is better suited for 1080p gaming rather than 4K. It also has FidelityFX integrated, which is AMD's AI upscaling algorithm, allowing for efficient use of resources to improve any game's visual clarity. Paired with AMD's anti-lag technology, this budget card hits hard in graphics and fast response.
Not everything is great about this card, though. The RX 6600 has a higher power draw compared to some other mid-range graphics cards. This can increase energy costs and potentially require a more capable PSU.
This card is still leaps and bound superior to the GTX 1050 for a much more accessible price than any of the cards in this article.
| Pros | Cons |
| --- | --- |
| The RX 6600 can be found at an accessible price. | It is somewhat bulky and may fit only on tall tower cases. |
| It has 8GB of VRAM. | This GPU demands 140 watts of power. |
| It has Fidelity FX and anti-lag tech. | It has prominent driver issues. |
| Decent 4K support for some old games | |
Most Powerful Option: NVIDIA RTX 4090
Most Powerful Option
Gigabyte GeForce RTX 4090
GPU Clock Speed: 2.54 GHz

4th Generation Tensor Cores: up to 2x AI performance
3rd Generation RT Cores: up to 2x ray tracing performance
Integrated with 24GB GDDR6X 384-bit memory interface
We earn a commission if you make a purchase, at no additional cost to you.
If you're looking for absolute power and top-notch graphics, the RTX 4090 is the answer.
This GPU is so powerful it can run a simulation of your future self yelling at you for not buying it sooner! It is the current cutting edge of the market, with a whopping 24GB of VRAM, access to DLSS 3, and a base clock speed of 2,520 MHz. It also comes with ray tracing only cores.
Simply put, the most potent card from the previous generation was the 3090 Ti. The 4090 is at least twice as powerful as the 3090 and, in some cases, four times more powerful. You can play any current game at Ultra graphics with it without losing FPS or run the most power-hungry 3D design programs around. This card is an upgrade from any other card and an immense leap from a measly GTX 1050.
The cost for such high performance is massive. Still, you'll get your money's worth after destroying your opponents with your higher frame rate! Also, you should consider it an investment you likely won't need to replace for many years.
You'll need a beefy computer to go along, as the NVIDIA 4090 uses 450W on itself. You'll get bottlenecks quickly if your CPU isn't up to par. Additionally, with a size of 12.3 × 5.35 × 2.13 inches, you'll need a rather large case.
This card is future-proof, but you don't need this amount of power to play current or older games.
| Pros | Cons |
| --- | --- |
| It has incredible performance and can run all games at high resolution and frame rate. | It is a tremendously bulky graphics card. |
| The RTX 4090 has 24GB of VRAM. | The card is very expensive. |
| It supports 4K without compromising on FPS. | This GPU draws immense power and requires a strong PSU. |
| Excellent future-proof investment | |
Best Generational Jump: NVIDIA RTX 3060
Best Generational Jump
GeForce RTX 3060
NVIDIA Ampere architecture with ray tracing and tensor cores
12GB GDDR6 VRAM, PCIe 4.0 support, 1807 MHz boost clock
IceStorm 2.0 Cooling, active fan control, metal backplate
DisplayPort 1.4a, HDMI 2.1, 8K resolution, DirectX 12 Ultimate support
We earn a commission if you make a purchase, at no additional cost to you.
If you're simply looking to update your PC to current times, you can't go wrong with the RTX 3060.
This card can run any modern game and shines with its performance at 1080p and 1440p resolutions.
The card is modestly priced and comes with 12GB of VRAM. It also has a bandwidth capacity of 360 GB/s and a boost clock of 1.78 GHz. Interestingly, the 3060 can run 4K games at somewhat decent FPS and doesn't need a lot of power to do it. This GPU would also be a leap from the 1050's humble 3GB VRAM and 112 GB/s bandwidth. You'll access newer software and keep your PC up-to-date for a few more years.
Still, keep in mind that it does have a few drawbacks. One of the cons is its relatively higher power consumption compared to other GPUs in its class. Also, availability and pricing can be a challenge due to high demand and potential supply constraints.
| Pros | Cons |
| --- | --- |
| It is a reliable card with 12GB of VRAM. | It's already two years old. |
| The RTX 3060 can run games at 4K resolution decently enough. | The GPU has a power draw of 170 watts. |
| It has great performance at 1080p and 1440p gaming. | |
Best Form Factor: NVIDIA GTX 1650
Best Form Factor
GeForce GTX 1650
1620 MHz GPU clock speed

4GB GDDR6 video memory

128-bit memory interface

DisplayPort, DVI, and HDMI video output interface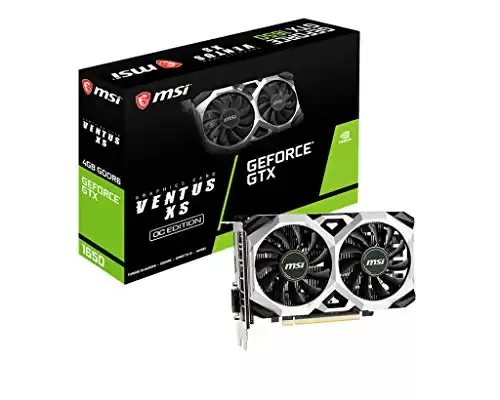 We earn a commission if you make a purchase, at no additional cost to you.
The GTX 1650 was the last GPU that didn't require an external PCI power cable and is the best one around if you want to keep this awesome feature for your next GPU.
It has a low power requirement, which alongside its small form factor, allows you to use it in small cases for portable, practical PCs. This is outright impossible with larger, more modern GPUs.
It runs with only 75W of power, and the GPU is excellently priced by 2023's standards. The card has 4GB of VRAM, 15 GB/s more bandwidth, and overall higher performance. It's a GPU that came out three years more recently and is overall better in every spec.
However, it's still a somewhat old GPU, so it will struggle to run modern games at higher resolutions than 1080p. It is an upgrade from the 1050, but it remains an outdated card. You could purchase the superior AMD Radeon RX 6600 for as little as 40 more dollars.
We only recommend this card if your only concern is to fit it into a compact case. Any of the other GPUs on this list is a better choice otherwise.
| Pros | Cons |
| --- | --- |
| It has 4GB of VRAM. | It is a somewhat outdated card. |
| The GTX 1650 doesn't need an external PCI connector. | This GPU cannot smoothly run modern games at 1440p and 4K resolutions. |
| The card has far better performance than the 1050. | |
How to Pick the Best Upgrade for a GTX 1050: Step-by-Step
The considerations for upgrading from a GTX 1050 are the same as those for upgrading from any GPU. You need to consider the following factors:
Compatibility
Budget
Performance
PC case and cooling
Let's review each in detail.
Compatibility
You need to consider two things about GPU compatibility: hardware and software. Not every motherboard could run any GPU a decade ago, as they needed to be compatible. Nowadays, most modern GPUs are compatible with most motherboards from the last decade.
That leaves two considerations for hardware. One is to pick the best part that won't create bottlenecks with the CPU, but we'll cover that in the Performance section. The other one is power. 
GPUs are the most power-hungry part of gaming PCs, and you need a PSU to run them. Each GPU has its own power requirement, with the highest being the RTX 4090. This mighty card needs 450W to run, making an 850W PSU the minimum to power it. We recommend a 1000W PSU to be safe, as any other GPU needs less than the RTX 4090.
For software, you must ensure the GPU can run the programs you want efficiently. That goes from making sure it has enough VRAM to perform and ensuring it has certain specifications. For example, NVIDIA cards are superior to AMD cards in VR gaming, thanks to how well they transmit data to the headset.
Budget
Unless you have unlimited money, building a PC will always be about compromises. Getting the most powerful GPU could lead to a limited budget for a decent CPU. That causes a bottleneck that wastes your GPU's power. Or maybe you have enough money for a mighty CPU and GPU, but then you ran out of money for a good enough PSU.
That's why you should jot down how much you're willing to spend and pick several cards that fall into your budget. Then, check the compatibility of your other parts in case one needs replacing. Include those other parts, likely the PSU, into your budget, and only then purchase your new upgrade.
Performance
When upgrading, you must ensure the performance of your new GPU is better than your current one's. That goes beyond reading about how much VRAM it has. The cards have other important attributes like clock speed, bandwidth, and the number of cores.
If you have a specific target in mind, like running AI Image Software, crypto mining, or gaming, check how powerful the GPU must be to perform efficiently.
One thing to make sure is to avoid a bottleneck. A bottleneck happens when a potent component is limited by a weaker one. Your PC will only be as powerful as its weakest component. So, if, for example, your CPU is older than your GPU, consider upgrading it first instead of getting a new card.
PC Case and Cooling
As games become more demanding, video cards need to become more powerful. This race leads GPUs to grow in size and generate a lot of heat as they work.
The recent trend of GPUs means two things for people looking to upgrade. First, they need to check GPU measures before buying it, as there's a real possibility it won't fit in your PC case. The second is to invest in superior cooling solutions, as this will improve performance and lengthen your GPU's life. There are many options, from buying more fans, heat sinks, or investing in liquid cooling systems.
What to Know Before Buying an Upgrade for the GTX 1050
Beyond the minimum of buying a GPU that will run with your other components, fits in your budget, and is an improvement over your current GPU, there are a few things to know.
The resolution of your monitor is worth consideration. The best games run up to 144Hz and in 4K resolution, so you need a powerful GPU if you want to reach those heights. But if your monitor doesn't support that refresh rate or resolution, you're wasting the GPU and your money.
Also, if you're upgrading from a GTX 1050, chances are your other components are outdated, too. Consider upgrading your PSU, even if it has enough power for the new card. If it shorts, it could destroy your entire PC.
Lastly, download and install all the necessary drivers for your new GPU. It won't run properly without them. Uninstalling the old ones can help overall performance as well.
Using a New GPU: What It's Like
There are few better, sometimes more terrifying, feelings in the PC world than turning it on after installing a new GPU. The fans run smoothly, the RGB lights paint your room red and blue, and your PC installs its drivers as you wait impatiently to test your games.
While trying new games is always exciting, most gamers tend first to try the ones they're already familiar with. You could play The Witcher 3 with your old GTX 1050, but now you can play the enhanced edition, using ray tracing to improve every visual.
And the newer games are a gem too. Launch the recently released Star Wars Jedi: Survivor from EA to see how Cal Kestis' story continues. Or preorder the much anticipated Bethesda game, Starfield, so you can run it as soon as it drops.
The sky could be the limit, depending on how big of an upgrade you did from your old GTX 1050.
Summary Table
| Rank | Graphics Card | Key Features |
| --- | --- | --- |
| #1 Best Overall | NVIDIA RTX 3080 | 12GB of VRAM, 760 GB/s bandwidth, supports DLSS and ray tracing, good for all current video games |
| Best Budget-Friendly | AMD Radeon RX 6600 | 8GB of VRAM, FidelityFX and anti-lag tech, decent 4K support for some old games |
| Most Powerful Option | NVIDIA RTX 4090 | 24GB of VRAM, supports 4K without compromising on FPS, excellent future-proof investment |
| Best Generational Jump | NVIDIA RTX 3060 | 12GB of VRAM, great performance at 1080p and 1440p gaming |
| Best Form Factor | NVIDIA GTX 1650 | 4GB of VRAM, doesn't need an external PCI connector, better performance than the 1050 |
The image featured at the top of this post is ©DC Studio/Shutterstock.com.