Key Points
The RX 6700 XT 12GB is the best overall upgrade from the RX 580, offering excellent 1440p performance and support for entry-level ray tracing.
The XFX Speedster RX 6600 is the best choice for 1080p performance, providing double the power of the RX 580 at a modest price.
The ZOTAC NVIDIA GeForce RTX 3060 Ti is the top pick for ray tracing, with strong performance in both 1080p and 1440p resolutions.
When choosing a graphics card upgrade, consider factors such as your CPU, power supply, and case size to ensure compatibility.
Upgrading your graphics card can improve gaming performance and overall experience, but higher-end cards may require a larger investment.
The RX 580 is a mid-range graphics card that was initially released back in 2017 as part of AMD's Polaris series. It comes with 8GB of GDDR5 memory and features a base clock speed of 1257 MHz and a boost clock up to 1340 MHz. All of this adds up to a card that can handle most games at high settings and 60 FPS at 1080p resolution with no problem.
Still, it might struggle with newer games and any resolutions above 1080p. If you've been using an RX 580 for the past few years, you might be wondering if an upgrade is a good idea. The good news is that you can get a better experience with a similarly priced GPU — you just need to know where to look.
In today's article, we'll compare some of the latest and most popular graphics cards on the market and see how they stack up against the RX 580 in terms of performance, features, and price. We'll also give you some tips on choosing the right card for your particular needs and budget. Let's jump in!
#1 Best Overall: RX 6700 XT 12GB
Best Overall
We earn a commission if you make a purchase, at no additional cost to you.
The AMD Radeon RX 6700 XT took our spot as the best upgrade from an AMD Radeon RX 580 thanks to its performance at 1080p/1440p resolutions. It's our choice for the best overall GPU upgrade from an RX 580. This GPU sits in the mid-range in both price and performance for AMD in 2023, and it delivers ultra-level performance at 1080p while handling 1440p resolution well. 
The RX 6700 XT was released in 2021, and it comes with 12GB of GDDR6 memory, a nice improvement over the 8GB of GDDR5 memory the RX 580 comes with. It also delivers a base clock speed of 2321 MHz and can run nearly any game at 1440p resolution on high-to-ultra settings. It also supports AMD ray tracing, which isn't as good as Nvidia's, but it does the trick if you want to experience entry-level ray tracing.
Remember, ray tracing can look nice in games that support it. But it's by no means a requirement for beautiful graphics in modern games. We chose the RX 6700 XT to take our top spot because it offers a big performance upgrade over the RX 580 and is a great option if you are upgrading to enjoy the latest games at their best in 1440p or if you want a card that can handle entry-level 4K.
It's also an affordable and in-stock card — something that's not as common as we would like. It will cost you around $350-450. But if you use a price tracker, you should be able to find it on sale quite frequently, where it can drop to as low as $260. 
Pros and Cons
| Pros | Cons |
| --- | --- |
| It offers excellent 1440p performance with upgraded 12GB of VRAM for smoother rendering work. | Ray tracing is not as good as Nvidia's counterpart cards, the RTX 3060 Ti and RTX 3070. |
| It can handle a bit of 4K, assuming you aren't expecting a 60 or 120fps experience. | It is going to be more power-hungry than the RX 580. For the RTX 6700 XT, you will need a minimum of a 650W power supply. |
| It can frequently be found both in stock and on sale. | Several reviewers have noted that on particular 3rd-party cards, the fans have a tendency to be noisy. |
Best for 1080p Performance: XFX Speedster RX 6600
Best
XFX Speedster RX 6600
Memory Speed:14 Gbps
8 GB GDDR6 RAM
AMD RDNA 2 architecture elevates and unifies the gaming
Boost Clock: up to 2491 MHz
Features the XFX Speedster SWFT210 Dual Fan Cooling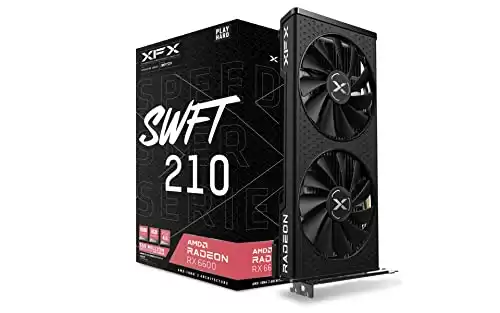 We earn a commission if you make a purchase, at no additional cost to you.
If you're looking for an upgrade from the RX 580 that you can actually find at an affordable price point, and if you want to improve your 1080p experience, you should consider AMD's Radeon RX 6600. This card will offer a solid performance boost over the RX 580, especially in games that have come out in the past two years and look ahead to the next two years. 
The RTX 6600 comes with 8GB of GDDR6 VRAM. Sure, this isn't substantially better than the 8GB of GDDR5 that the RX 580 comes with. But the RTX 6600 has a base clock speed of 1626 MHz, and a boost clock all the way up to 2491 MHz, making it around two to three times faster than the RX 580. Coupled with the newer graphics architecture, this translates to both smoother graphics and higher frame rates in 1080p.
Another big factor in us picking the RX 6600 as the best upgrade for the RX 580 if you just want to continue gaming in 1080p is that it's a modern refresh of the RX 580, in essence. Additionally, with AMD now in the early waves of releasing 7000 series GPUs, we are beginning to see a more steady sale schedule for the RX 6600. You'll have no difficulty scoring an RX 6600 if you're willing to pay $200, a modest price for such a solid GPU.
Pros and Cons
| Pros | Cons |
| --- | --- |
| The RX 6600 is double the power of the RX 580. | It's not as powerful as competing RTX 3060 or RTX 3060 Ti.  |
| It's cheaper than both the competing 3060 and 3060 Ti, and is more often in stock. | While it can handle some light 1440p, it's not that capable beyond 1080p. |
Best for Ray Tracing: ZOTAC NVIDIA GeForce RTX 3060 Ti
Best for Ray Tracing
ZOTAC GeForce RTX 3060 Ti
NVIDIA Ampere architecture
Features 2nd Gen Ray Tracing Cores and 3rd Gen Tensor Cores
1695 MHz boost clock speed
8 GB 256-bit GDDR6 RAM
8K ready
PCI-Express x16 interface
We earn a commission if you make a purchase, at no additional cost to you.
The RTX 3060 Ti is the first Nvidia card we have highlighted so far, and that comes down to its ray-tracing capabilities. We've mostly stuck to AMD graphics cards due to how in-stock and low-priced they are in 2023, or at least when compared to Nvidia.
The Nvidia RTX 3060 Ti is one of the best overall value GPUs that you can buy, especially if you are playing games between 1080p and 1440p. It's also the only card on this list that fully features ray tracing, and it's your only choice if you want DLSS, which is Nvidia's AI upscaling technology.
The card itself comes with 8GB of GDDR6 memory, so when it comes to VRAM, it's in the same league as the RX 6600, RX 580, and RX 6650. It features a boost clock speed of 1665 MHz and will handle games in both 1080p and 1440p resolutions with high settings.
In real-world performance, the RTX 3060 Ti is roughly 15% faster than the RX 6600. We've also noticed that when it comes to 1440p, the RTX 3060 Ti is a clear winner over the RX 6600.
The only bad news is that the RTX 3060 Ti is one of the most expensive cards on this list, currently in the range of $350 to $500. It's also struggled significantly since its release with stock issues and can be difficult to find at various times throughout the year.
Plus, the RTX 3060 isn't as power-efficient as many of the AMD cards on this list. It has a total power draw of 200W, and many reviewers claim that it runs much louder and hotter than the comparable RX 6600 and RX 6650. 
Pros and Cons
| Pros | Cons |
| --- | --- |
| Strong performances in 1080p but especially strong performance in 1440p resolution. | It can go out of stock for long periods of time and is often overpriced. |
| It's the absolute best entry-level card for ray-tracing and DLSS AI upscaling technology. | Depending on the model and fan system, the RTX 3060 Ti is known to run extremely hot. |
How to Pick the Best Graphics Card Upgrade: Step-by-Step
Upgrading a graphics card can be a great way to improve the performance of your PC, especially for gaming, video editing, or any other graphics-intensive task. Before you get too excited, though, there are some things you should consider to make sure you get the best value and compatibility for your system.
First, you will want to plan a graphics upgrade around your system's current specs or intended upgrades. Factors such as your CPU, RAM amount, power supply, and case size will all be important in determining which graphics card to get.
You will want to ensure that your CPU doesn't bottleneck the performance of your new GPU. Similarly, you will need to make sure you have enough power in your PSU to support the new graphics card. 
What to Know Before Buying Graphics Cards
Before you buy a graphics card, make sure you have a powerful monitor for the resolution you want to play in. A 4K capable graphics card isn't going to be much use to you if you are using a 1080p monitor.  
Case size is becoming more and more important with graphics cards. If you've been following graphics cards for a while now, you've probably noticed that they're getting bigger, and some are far too big for a small-form-factor build. Always make sure to check how much headroom you have in your PC case before committing to a new graphics card.
Using A New Graphics Card: What it's Like
There are many reasons to upgrade a graphics card. Doing so can have a wide range of benefits for your PC. If you're a gamer, a GPU upgrade can improve your framerate, allow you to play your favorite titles in a higher resolution, and improve your overall experience. 
Of the graphics cards that we've selected today for this article, they are all designed to offer a better experience than the RX 580, while keeping to a similar price point. While many of them don't go all the way up to 4K or high-end builds, neither did the RX 580.
If you want to take a massive leap upwards in performance from the RX 580, you'll need to pony up even more cash. That being said, there are plenty of deals on the most powerful graphics cards today if you want to be on the bleeding edge of GPU technology.
The image featured at the top of this post is ©Grzegorz Czapski/Shutterstock.com.