A good projector is an excellent investment for those who want to upgrade their home theater. But that means installing the projector far up on the ceiling, across the room. There is a solution for this problem: Ultra Short Throw Projectors. You can get a 100-inch display from one of these projectors by placing it as near to the wall as six inches. The standard ultra-short-throw (UST) projector can show a 100-120-inch image at a distance of less than a foot. A UST laser projector is even better.
Here are the best short-throw laser projectors for 2022.
The Overall Best Ultra Short Throw Projector: Samsung LSP7T
The Best Budget Ultra-Short Throw 4kProjector: Wemax Nova 4K
The Best Ultra-Short Throw Projector for Gaming: Epson EpiqVision Ultra LS500
The Best Short-Throw Laser Projector for Watching TV: Optoma CinemaX
Best Ultra-Short Laser Projector for Entertaining Guests: Samsung 120
The Best Ultra-Short Throw Dolby-Enabled Projector: Hisense PX1 Pro
The Best Ultra-Short Throw Projector with Single Laser: BenQ V7050i
The Best UST Projector for Color Performance: " title="Hisense L9G"]
The Overall Best Ultra Short Throw Projector: Samsung LSP7T
Samsung The Premier LSP7T 120 inches 4K Smart Laser Projector TV SP-LSP7TFAXZA (2020) (Renewed)
4K UHD ULTRA BRIGHT LASER: Cutting edge laser technology and 4K resolution deliver cinema like picture and contrast with 2200 lumens
SMART TV POWERED BY TIZEN: Go beyond Smart TV with next gen apps, super easy control, and a host of enhancements that elevate the Projector watching experience
ULTRA SHORT THROW & COMPACT MINIMAL DESIGN: This compact projector can turn any room into a home theater. Ultra Short Throw technology allows for product placement within inches of any wall to seamlessly blend into your space
2.2 CHANNEL SOUND SYSTEM: Elevate your home theater experience with a 2.2 channel system, the powerful subwoofer and 30W speakers deliver a room filling sound
MULTIPLE VOICE ASSISTANTS: Built in Alexa, the Google Assistant, and Bixby voice assistants let you control your Projector with your voice, get information, and do so much more.
Samsung LSP7T comes with a great design, solid build quality, and delivers cinema-quality pictures on any screen size.
The white outside chassis is the first distinguishing feature that catches the eye of nearly everyone. It produces a native 4K 120-inch image at a distance of just 16.4 inches from the screen, with gorgeously vibrant and bright colors. In addition to the high quality of the native 4K resolution, the picture also benefits from HDR10+ processing, which improves the contrast and color accuracy for a more lifelike experience.
The LSP7Filmmaker T's Mode is sure to amaze movie aficionados. This option improves the picture quality further by modifying the preferences so you can watch movies in sharp detail. Streaming services like Disney+, Netflix, and others in 4K resolution without a dedicated streaming stick are a welcome addition to this projector's feature set, which is otherwise unusual for its price range.
The image seems brighter, with more uniform across-the-board brightness than nominally superior competitors, like the Optoma P2, mainly due to the projector's clever use of light management. For those looking for a premium ultra-short throw projector at a reasonable price, the LSP7T is the way to go.
Check out the Samsung LSP7T on Amazon.
The Best Budget Ultra-Short Throw Projector: Wemax Nova 4K
WEMAX Nova 4K UHD Ultra Short Throw Smart Laser Projector – Android TV – HDR10 150" Projection – UST Laser TV for Movies, Video, Gaming – Voice Command Remote – Projectors with WiFi Bluetooth
4K UHD LASER PROJECTOR – Superior Resolution might be an understatement. With 4K UHD and bright 2100 ANSI lumens (5000 lumen light source), you get 4x resolution of full HD or 1080p. Nova is built with industry-leading patented ALPD 3.0 and TI DLP technology. ALPD allows for light to be used more efficiently for finer detail across a wider color gamut and deeper vibrance for breathtaking video resolution. Short throw projector reduces eyestrain by diffusing light without losing picture quality
MAX 150-INCH PROJECTOR SCREEN SIZE - With the WEMAX Nova laser projector, you can choose from four different projector sizes. A massive screen size of up to 150" will be the center piece of your home theater. Choose the right size for your setting beginning at 80 inches, 100 inches, 120 inches, and 150 inches to project from. The 8-Point keystone correction dials in image quality, making micro adjustments for the perfect home cinema experience
POWERFUL SOUND – The Nova laser projector offers more than just stunning picture quality; it also boasts powerful 30W Dolby Audio DTS HD Speakers. This stereo provides crystal-clear audio precision tuned to accentuate the home theatre experience. If you already have a home cinema sound system, the Nova laser projector can be connected via HDMI output for best audio experience
SMART PROJECTOR, 5K APPS BUILT-IN – The Nova is a smart projector that comes loaded with thousands of apps at your fingertips powered by Android TV. Stream your favorite shows from Hulu, HBO Max, Showtime, Disney+, and many more. Use the voice command button to tell Nova what you want to watch. NOTE: Netflix is recommended in Aptoide TV or with a streaming device such as a connected Fire TV stick
MULTI-DEVICE VIDEO COMPATIBLE – Wireless casting to Nova with WiFi Bluetooth connection, compatible in projecting from iPhone, Android, iPad, Laptop, tablets, and other streaming devices. Multiple HDMI video slots, USB, built-in casting for video mirroring. Connect soundbar or stereo system flawlessly via HDMI
One of the reasonably priced ultra-short 4K projectors, the Wemax Nova 4K provides not only high-resolution visuals but also incorporates crisp, clear sound.
With its ultra-short throw ratio of 0.233:1, it can produce a 150-inch image while only a few inches away from the wall. Moreover, with a rating of 2,100 ANSI lumens, the projector is bright enough to easily illuminate a roughly 110-inch, 16:9 screen in modest ambient light, making it an ideal choice for a living room.
Nova 4K's sound quality is impressive; the Dolby Audio 30W speakers guarantee a theater-like experience. Yes, there is no 3D or HLG HDR support, but it is expected when you opt for a budget project. Once again, this is among the best projectors for a cinematic home experience when you have a limited budget.
Check out the Wemax Nova 4K on Amazon.
Sale
Epson EpiqVision Ultra LS500 Laser Ultra Short Throw Projector, 4000 lumens, 4K PRO-UHD, HDR, Android TV, Google Assistant, HDMI 2.0, Built-in Speakers, Sports, Gaming, Movies & Streaming – Black
Stunning Picture Quality up to 130" — Delivers an immersive, bright viewing experience for TV shows, sporting events, gaming and movies by accepting content up to 4K – for an amazing Full-HD HDR picture (1).
Ultra-Short Throw Laser-Array Technology — A new type of laser projection that produces a stunning picture, while being just inches from the wall itself. No complex wiring or ceiling mount required.
4K PRO-UHD (2) Projection Technology — advanced processing for resolution enhancement, color and image processing, resulting in an exceptionally sharp picture
Advanced HDR Processing — 10-bit HDR (3) processing accepting 100 percent of the source information to faithfully reproduce HDR content for an exceptional visual performance
Incredibly Bright Picture — displays 4K HDR (3) content at an exceptional level of brightness of 4,000 lumens in color; for all-day viewing in virtually any lighting environment
The Epson EpiqVision Ultra LS500 is a laser-powered, 3LCD projector with 4000 lumens and an ultra-short throw design
The projector comes standard with a 100″ or 120″ screen. The ultra-slim profile of the bezel is contemporary and chic, making it an ideal decoration for any interior. Interestingly, it eliminates the need for a cable management system. The gaming champion can be placed next to a screen or wall to project a massive 130″ image. The 16.7ms input lag is perfect for competitive play. And, of course, 4K gaming is available. The 10W stereo speakers add to the fun factor of any game. It is also worth noting that the 60 Hz refresh rate guarantees a fluid gaming experience.
The LS500 has an Epson SilverFlexTM Ultra augmented reality display as standard equipment. This ultra-high-definition display is made with 4K video in mind. It boasts a very broad 178-degree viewing angle, ensuring everyone has an excellent viewing experience.
The 4,000 ANSI light brightness eliminates any chance of a rainbow effect while delivering the most spectacular and realistic images possible. The laser technology also makes it more long-lasting than incandescent bulb alternatives.
This projector boasts better audio than any traditional flat-screen TV, and more importantly, it creates an image so large and clear that it gives a 65-inch LCD TV a run for its money. It has some ports for connecting to other devices, such as USB, Ethernet, and HDMI 2.0.  
Check out the Epson EpiqVision Ultra LS500 on Amazon.
The Best Short-Throw Laser Projector for Watching TV: Optoma CinemaX
Sale
Optoma CinemaX P2 White Smart 4K UHD Laser Projector for Home Theater | 3000 Lumens Superior Image with Laser & 6-Segment Color Wheel | Ultra-Short Throw | Built-in Soundbar | Works w/ Alexa & Google
4K UHD plus HDR10: Enjoy a high-quality, cinematic home theater experience with 4K Ultra HD, HDR10 technology and an incredible 2,000,000:1 contrast ratio
6-SEGMENT COLOR WHEEL: Experience richer colors and enhanced brightness with the six-segment color wheel; The RGBRGB color wheel brings accurate cinematic color to your home, reproducing movies, TV and games the way the director envisioned it
BRIGHT, RELIABLE LASER: Laser technology delivers outstanding brightness up to 30,000 hours of light source life that maintains stunning image quality throughout its lifespan; 3,000 lumens of brightness enable lights-on viewing in a variety of rooms, any time of day. Zoom Type: Fixed
ULTRA-SHORT THROW: The CinemaX P2's space-saving, ultra-short throw design provides convenient placement for a huge screen experience – up to 120" image from only inches away
EASY IMAGE SETUP: Using Optoma's SmartFIT app, ensure easy place and play using your smartphone; the auto geometry correction system allows hassle-free image alignment; auto focus enables simple setup
Optoma CinemaX with laser technology is a high-end home projector that's suitable for casual viewing.
Due to recent price drops, the Optoma CinemaX P2 is now an excellent buy. It has a 3,000-lumen brightness, a 15,000:1 contrast ratio, and DCI-P3 color accuracy for 80% of the screen. You will still receive a near-4K image, but it is not nearly as sharp as the more expensive projectors because it employs TI's 0.47-inch DLP technology rather than 0.66-inch.
Unlike the P1, the CinemaX P2 is white and maybe a better aesthetic fit for your home. The P2 menus include a user mode and four other preconfigured modes for 1080p SDR content, all of which may be fine-tuned or fully calibrated according to your preferences. If you are watching TV or a sporting event in a dark room, the Cinema mode is your best bet because it provides accurate color with the factory settings, strong contrast, the deepest black level, and fine shadow detail.
As an added bonus, it comes with the NuForce Dolby Digital 2.0 soundbar. This 40-watt soundbar is among the most powerful found on any ultra-short-throw projector. Moreover, it also has app support, though the quality is inferior to what you would find on, say, Google's Chromecast. Still, it works fine with Google Home and Amazon Eco, letting you direct the projection with your voice.
Because it is lightweight, you can take it anywhere and set it up in minutes. Moreover, the projector's numerous inputs make it compatible with various devices, such as portable media players, computers, and mobile phones.
On the flipside, it suffers from more frequent rainbow artifacts than is normal for laser-based DLP projectors. For people who do not care about these artifacts and do not notice them easily can certainly go with the P2.
Check out the Optoma CinemaX on Amazon.
Best Ultra-Short Laser Projector for Entertaining Guests: Samsung 120
Sale
SAMSUNG 120" The Premiere Ultra Short Throw 4K UHD Smart Single Laser Projector for Home Theater, HDR, 2.2Ch Surround Sound System w/ Alexa Built-In, SP-LSP7TFAXZA, 2020 Model
4K UHD ULTRA BRIGHT LASER: Cutting edge laser technology and 4K resolution deliver cinema like picture and contrast with 2200 lumens
SMART TV POWERED BY TIZEN: Go beyond Smart TV with next-gen apps, super easy control, and a host of enhancements that elevate the Projector watching experience
ULTRA SHORT THROW & COMPACT DESIGN: This compact projector can turn any room into a home theater; Ultra Short Throw technology allows for product placement within inches of any wall to seamlessly blend into your space
2.2 CHANNEL SYSTEM: Elevate your home theater experience with a 2.2 channel system, the powerful subwoofer and 30W speakers to deliver a room filling sound
MULTIPLE VOICE ASSISTANTS: Built-in Alexa, and Bixby voice assistants let you control your Projector with your voice, get information, and do so much more*
If you are searching for a high-quality projector to entertain a large group, the Samsung 120 is a great choice.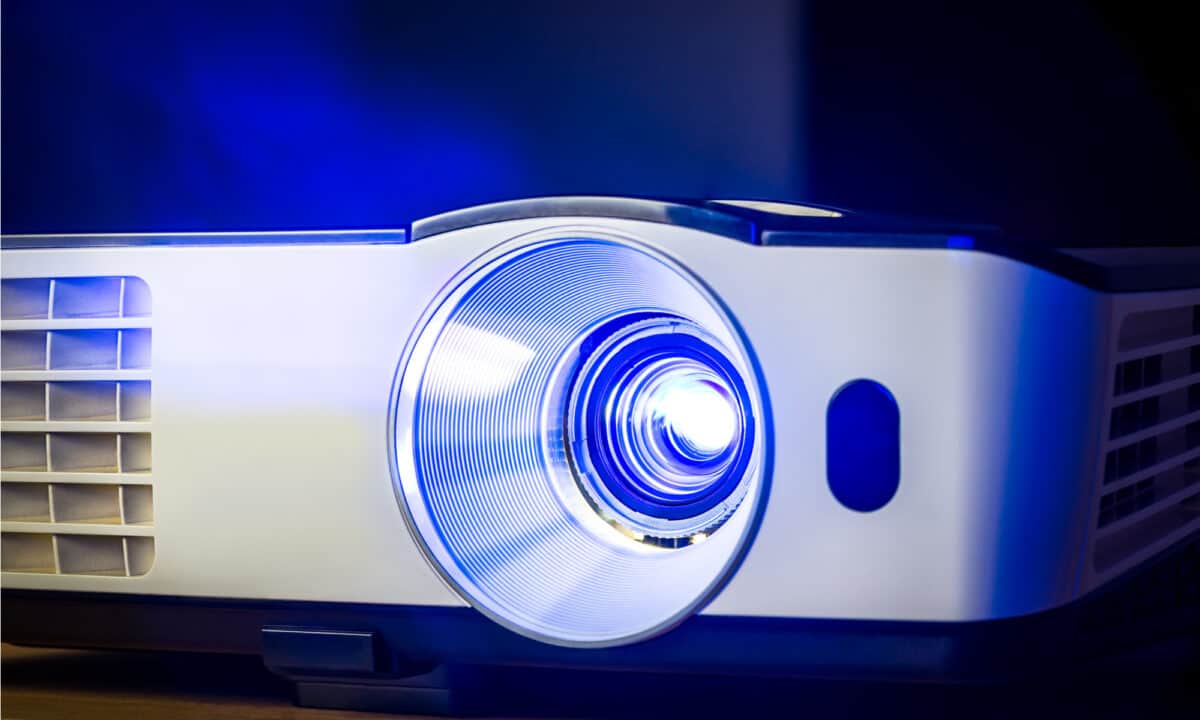 This projector uses state-of-the-art laser technology to convert your living room into a cinema. A superior operating system and user interface set it apart from the competition. It works great to entertain your guests because of its ability to play 4K Netflix and Disney smoothly.
Expect a bright display, thanks to its 2200 lumens brightness capacity. It supports the HDR10+, which allows for vibrant colors and a 4K 120-inch display at just 16.4 inches from the wall. The connection/HDMI stability is extremely reliable, with no problems from many sources. It works awesome even if your setup includes an Nvidia Shield Pro, an Xbox One X, a Fire TV Stick 4k, and more. There will be zero hiccups!
 In addition, the projector supports multiple voice assistants from which you can pick your preferred interface. Some examples are Bixby, Google helper, and Alexa from Amazon. And to provide you with a better viewing experience with a large crowd, it has an amazing sound system. The 30W speakers will make your living room sound like a movie theater.  
Check out the on Amazon,
The Best Ultra-Short Throw Dolby-Enabled Projector: Hisense PX1 Pro
Hisense PX1-PRO 4K UHD Triple-Laser UST Ultra Short Throw Projector, 2200 Lumens, Android TV, HDR10, 30W (Stereo) Dolby Atmos, Built-in Alexa and Google Assistant
The PX1-PRO UST Projector features a TriChroma laser engine to achieve full coverage of the BT.2020 color space for a true-to-life picture; it also offers a razor-sharp 4K image from 90 to 130-inches, eARC for lossless audio, Filmmaker Mode, and smart home integrations.
TriChroma really is R, G, B-eautiful. The PX1-PRO triple-laser UST uses pure red, green, and blue lasers to achieve new levels of color performance, reaching 107% of the BT.2020 color space--that's color you've never seen on a display before.
Get ready to take movie night, your next streaming binge, or gaming with the boys to a whole new level. With Variable Focus the PX1-PRO ultra short throw projector can project images from 90 to 130 inches with razor-sharp focus for maximum viewing immersion.
4K Ultra HD brings over 8 million pixels to create incredible clarity across an extra-large projection. High Dynamic Range expands color and contrast so you can enjoy a stunningly vibrant picture with incredible depth and detail.
At 2200 Lumens peak brightness, the PX1-PRO shines with brilliance so that everything you watch hits those sparkling highlights, voluminous colors, and deep blacks. PX1-PRO UST Projector is perfect for home cinema, be it in the media room or dedicated theater room.
If you want a Dolby Atmos-capable home theater in a compact package, the Hisense PX1 Pro is one of the finest options available.
The PX1-PRO, when mounted within a few inches from the wall, can project a 130″ image with remarkable edge-to-edge sharpness and brightness uniformity. One of the best things is its 30-watt Dolby Atmos sound system built into its front cabinet, which provides surprisingly high-quality audio and deeper bass for a projector of its size.
Besides sound, it also maintains an excellent display. Featuring a Tricolor RGB laser and an ANSI lumen rating of 2,200, the Hisense PX1-PRO is a clever ultra-short-throw projector with a low throw distance. The PX1-PRO is unlike any other screen in terms of color performance.
Compared to lamp light engines, the PX1-PRO's TriChroma Laser light engine provides superior color depth, accuracy, and brilliance, reproducing 107% of the BT.2020 color space. Even an OLED TV will struggle to reproduce such a wide range of the BT.2020 color space.
The PX1-PRO is more affordable because it does not include a screen, and you can use any screen you like. In addition, this projector's unique digital zoom feature makes it possible to change the screen size. So, overall, it is an appealing ultra-short-throw RGB laser projector due to its smart features, great color reproduction, cheap maintenance, and powerful sound.
Check out the Hisense PX1 Pro on Amazon.
The Best Ultra-Short Throw Projector with Single Laser: BenQ V7050i
Sale
BenQ V7050i 4K Laser Smart TV Projector l Ultra Short Throw l 2500 ANSI Lumens Bright and Beautiful l HDR-PRO l HDR10 & HLG l Android TV l Wireless Casting l HDMIx2 & SPDIF I ARC I 3 Year Warranty
UPGRADE TO TRUE 4K: 2500 ANSI Lumens powered by DMD ECD for comfortable viewing in brightly lit rooms. True 4K 3840 × 2160 or 8.3 million Pixels give incredible clarity. NOT double HD or 2K.
ULTRA SHORT THROW: 100" projection size at 8.7" projection distance; up to 123" projection size. The built-in rulers provides accurate measurements to project screen size. Installation guide with visual instructions provided fore easy DIY set up.
MOVIE NIGHT: Unique 98% DCI-P3 super wide color gamut and HDR-PRO technology delivers vibrant color performance. Choose filmmaker mode for your movie night. Utilizes Google-certified Android TV to easily stream/cast anything.
AWARD WINNING PROJECTOR: Editor's Choice Award - Projector Central, HIGHLY RECOMMENDED - ProjectorReviews, & BEST PRODUCT AWARD 2021-2022 - EISA.
DLP TECHNOLOGY: DLP is the leading technology used in 90% of the world's cinemas and 100% of digital IMAX theaters. You will experience a longer lasting, sharper and crisper image with the V7050i projector
BenQ V7050i's 2400 lumen Laser TV produces a notably clearer, more detailed, and brighter picture than other models in its price range.
BenQ's CinematicColorTM technology is used in the V7050i to produce an expanded color gamut reaching up to 98% of the DCI-P3 color space. The Fimmaker setting of the projector also performs a fantastic job of rendering colors correctly. You can enhance the quality of HDR content and the depth of its shadows by taking advantage of HDR-ProTM (High Dynamic Range).
It is worth noting that the BenQ V7050i achieves a somewhat higher brightness than its stated 2,500 ANSI lumens. Laser Light Source and BenQ's patented HDR-Pro and CinematicColor technologies contribute significantly to its brightness. It is also great for those who want a great gaming experience on a projector. It has the highest lag time (69.1ms) for gaming on any single laser projector you can find today.
The V7050i has what BenQ calls a "DSP-IC" for its virtual surround audio that puts out 5W by 2. Thanks to its speakers and psychoacoustics tuning powered by MaxxAudioTM, users may experience enhanced 3D surround sound, distinct highs, and more robust vocals.
Overall, it is one outstanding single laser short-throw projector. Those in the market for a Laser TV need go no further than the BenQ 7050i, since it is both aesthetically pleasing and functionally superior.
Check out the BenQ V7050i on Amazon,
The Best UST Projector for Color Performance: Hisense L9G
Hisense 100L9G Laser TV Triple-Laser Ultra Short Throw Projector with 100" ALR Screen, 4K UHD, 3000 Lumens, Dolby Vision, Android TV - Black
3 Pure Color Lasers: TriChroma really is R, G, B-eautiful. The L9G uses pure red, green, and blue lasers to achieve new levels of color performance, reaching 107% of the BT.2020 color space - that's more color than you've ever seen on a TV.
Big Screen Experience: Get that child-like grin of excitement as you re-experience all your favorites at a scale that makes everything feel brand new. The massive 100-inch Ambient Light Rejecting (ALR) screen produces incredible picture clarity.
A Bright Picture in Any Room: 3000 Lumens. That's right, the L9G shines with brilliance so all your 4K HDR content hits those shimmering highlights, vibrant colors, and voluminous blacks that make everything pop off the screen.
Powerful Sound: With built-in 40W Dolby Atmos sound, L9G is a big soundstage upgrade over those tinny speakers in your last TV. Get clear speech, titillating highs, and booming lows without having to invest in any extra gear.
Buttery Smooth Motion: MEMC technology gives the L9G microsecond-level processor response and a motion rate 10 times faster than OLED so you never miss a moment of the action. Fast-moving images are buttery smooth and crystal clear.
While the Hisense L9G produces stunning images even in the brightest of rooms, you have to make a long-term investment in it financially, and in terms of the amount of wall space it takes up.
This UST smart projector uses a Tricolor laser and is among the more expensive Laser TVs on the market, usually depending on the size of the screen. But it is undoubtedly the best-designed UST projector you can buy. Moreover, the color quality of the L9G sets it apart from other Laser TVs, mainly due to its TriChroma RGB 3 Laser light engine.
The L9G can render an amazing 107% of the BT.2020 color space, resulting in images with greater realism in terms of depth, color accuracy, and brilliance. It is so impressive that no LCD or OLED can match the BT.2020 color gamut you notice with the L9G. Moreover, the menus and Android TV on the projector work together logically and intuitively, making the device easy to use. To top it all, it comes with a Dolby Atmos sound system (40W) for a vastly superior soundstage.
Overall, the Hisense L9G is an attractive alternative to a regular flat-screen TV because of its high picture quality, advanced functionality, and low maintenance requirements. So, if you are looking for a huge screen for your living room or home theater, the L9G is the way to go.
Check out the Hisense L9G on Amazon.
How to Pick the Best Ultra-Short Throw Laser Projectors?
Consider the following recommendations when shopping for a short-throw projector.
Look for a Brighter Projector
If in the market for an ultra-compact projector, brightness should be a top priority. A more powerful beam means a clearer picture. A well-lit environment can change how a picture appears, which is why the brightness of your projector matters a lot.
Brightness varies from projector to projector. Be aware that certain projectors fare better in the dark, while others perform better in bright environments. So, think about the setting in which the projector will be used.
As a rule of thumb, the brightness of an Ultra Short Throw Projector 4K is somewhere about 2,000 lumens. There are, however, models that can reach a brightness of 6,000 lumens. Projectors brighter than 3000 lumens are recommended for watching videos. But if the ambient light in the room is low, a lumen output of less than 1500 will do just fine.
In most cases, a projector with higher brightness will perform better. On the other hand, you need to check the projector's contrast ratio to ensure it is high enough to create sharp, colorful images. Remember that there is no universal rule when finding the optimal brightness setting for an Ultra Short Throw Projector 4K. Everything is going to be determined by your own wants and needs.
Do Not Overlook the Audio Quality
For audio, the vast majority of ultra-short projectors come with a built-in soundbar or speaker. To be sure, not every built-in stereo system delivers excellent audio.
The projector you choose must produce not only high-quality visuals, but also high-quality audio. This becomes much more important if you cannot access an external sound system.
Consider the Display Technology
The quality of each projector varies widely depending on the technology it employs. Standard projector technologies include liquid crystal display (LCD), digital light processing (DLP), and light emitting diode (LED), among others. Images created by each are of differing quality and function differently.
Due to the complexity of the technology, DLP devices can produce a rainbow effect. Conversely, LCD is more dependable and does not have the rainbow effect. Pick a projector that supports the features you care about.
Get the Right Resolution
Before you buy a short-throw projector, check to see if its resolution is appropriate for the content you intend to display. Projectors with an Ultra Short Throw include a range of resolutions from 720p to 1080p and even 4k.  Just remember that the projector's price increases in correlation with its resolution.
You can expect good-quality visuals from a 1080p projector, but a projector with 4k resolution has four times as many pixels. Therefore, the colors and pictures are more accurate and of greater quality. Ideally, you should use a projector with a high resolution if you plan on watching movies or playing video games on it.
What to Know Before Buying the Best Ultra-Short Throw Laser Projector?
Once you have decided to invest in an ultra-short throw projector, consider your unique circumstances and how you will use the projector for entertainment. Here is what you should know before making a buying decision.
Installation area
A portable model allows you to mount it wherever you like. Ultimately, it all boils down to personal taste, but you should still consider where you will place your projector and if you will move it often.
 If you do a lot of class presentations or hold business meetings, you want something portable. However, if you only plan on using the projector in your home, you probably will not need a highly portable model.
Distance to wall
Although laser projection TVs are defined as having a throw ratio of less than 0.4, this still requires a projector distance of 4-ft to display a 10-foot screen for optimum image presentation.
Some of the best USTs, including the Epson LS500 and the Optoma P2, have throw ratios of only 0.25 or 0.19. This allows the projector to be installed with its back completely flush with the wall.
Make sure it will fit on your credenza before purchasing. Just do not settle for something that is not suitable because projectors designed specifically to accommodate very low throws are available.
Usage
Are you buying a projector for movie nights, or will you use it in the daytime? If you use the projector in a room with more light than usual, such as a conference hall, classroom, or even the great outdoors on a sunny day, ensure the brightness setting is sufficient for clear viewing.
Want your projector image to be visible in daylight? Find a projector with a brightness of at least 2,500 lumens. Choose a device that lists its brightness in terms of an ISO or ANSI standard. This suggests the maker has taken the time to measure and publish this statistic using a trusted and repeatable process.
Projection area
You can achieve great results by projecting onto a wall; however, the faults in the surface may lead to small distortion. The solution is straightforward: go with a fixed screen.
There is a wide variety, from inexpensive manual models to more expensive electric ones. When choosing a screen for installation, look for one that is ceiling light rejecting (CLR).
Gaming
Indeed, manufacturers have not quite gotten their laser-TV options down to the 1ms response rates required for extreme gaming. But, the latency is now acceptable for casual gaming sessions.
But not all models can achieve that, so you may want to take some time and look for projectors with gaming specs, especially if you want to connect a PC, console or gaming device.
Budget
You just cannot buy the best ultra-short throw laser projector unless you know how much money you can spend. Determining your budget is an important consideration. If you want a projector for the ultimate movie-watching experience, you cannot go wrong with Hisense PX1 Pro. But, it is off-limits if you are on a tight budget. Projectors for home theatres tend to be expensive, but you can find decent ones for $300. Take your time and shop around before settling on a single purchase.
Using the best ultra-throw projector: what it's like
If you have used other similar devices, getting started on ultra-short throw projectors shouldn't be a big problem. Set up is easy, and you can start your presentations within minutes. You can set up yours fast if you have a flat surface like a shelf or table. Don't worry about space. If you have an incredibly short throw projector, you can put it almost anywhere.
Ultra short throw projectors provide a more convenient placement, allowing them to be set up closer to the screen, resulting in a more vivid and clear picture. With ultra-short throw projectors, glaring will be a thing of the past. These devices eliminate obstruction and glare, two common problems in standard projectors.
Next Up…
Check out some of this awesome content:
Last update on 2023-01-20 / Affiliate links / Images from Amazon Product Advertising API