As television gets better with time, so does the quality of home videos. It's been the case ever since videotapes emerged in the mid-1970s. Interestingly enough, there always seems to be a debate that goes along with each new format, as well. Whether it be Betamax vs VHS, LaserDisc vs DVD, or HDDVD vs Blu-ray, the rival formats duke it out until one falls by the wayside. But what about UHD vs HDX?
Two of the most high-definition streaming qualities for films and television online today, UHD vs HDX represents the next step in the decades-long battle of the formats that reignites itself on the regular. But can the naked eye even tell the difference? And is one markedly better than the other? Let's deep dive to see how they differ with side-by-side comparison, must-know facts, and overviews of their histories.
Ultimately, you'll get to make a decision on which format is best: UHD or HDX.
Side by Side Comparison: UHD vs HDX
| | UHD | HDX |
| --- | --- | --- |
| Debuted | 2008 | 2008 |
| Quality in Pixels | 2160p | 1080p |
| Full Resolution | 3840 x 2160 | 1920 × 1080 |
| Audio Quality | Dolby Atmos | 5.1 Dolby Digital Plus Surround Sound |
| Bandwidth for Streaming | 11 Mbps or higher | 4.5-9 Mbps |
| High Dynamic Range | Yes | No |
| Availability | Discs, video game consoles, streaming services, televisions, cell phones | Vudu |
UHD vs HDX: 5 Must-Know Facts
While UHD can be found across many films, televisions, video games, and streaming services, HDX is only available as a streaming quality option on Vudu.
UHD has been around since 2008 when Samsung debuted its 82-inch LCD TV.
Vudu's HDX option has the same number of pixels as regular 1080p HD, but they make those pixels look better by following a superior encoding process compared to other streamers.
HDX first appeared on Vudu in 2008, the same year UHD was first conceived.
Neither UHD nor HDX is the best possible video quality available to consumers today. That honor belongs to 8K or 16K.
What is UHD?
Ultra High Definition, or UHD, is the natural successor to HD, and is the official name for display resolution of 3,840 by 2,160. 4K UHD and 8K UHD, with an aspect ration of 16:9, are two common video formats for modern televisions. Because of their greater dynamic range, UHD TVs allow for brighter highlights and greater dreater in greyscale. UHD also allow for up to 120 frames per second and a viewing angle of 100°.
Our Pick
Amazon Fire TV 43″ Omni Series
Supports vivid 4K Ultra HD, HDR 10, HLG, and Dolby Digital Plus
Delivers a clearer and more vibrant picture with brighter colors
Features built-in microphones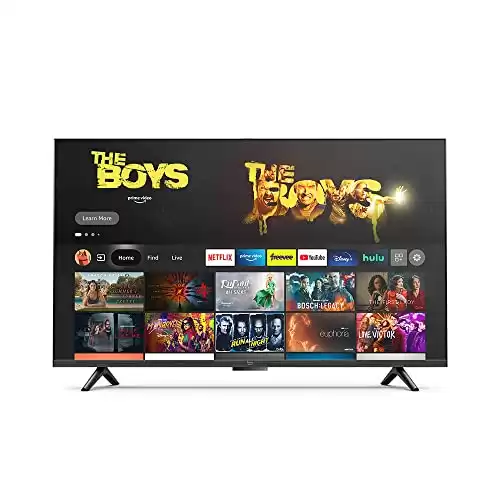 We earn a commission if you make a purchase, at no additional cost to you.
ProsConsSuperior quality to HDXNot compatible with older TVs and streaming devicesDelivers Dolby Atmos audio and Dolby Vision videoMay be eclipsed by 8K very soon
What is HDX?
HDX is a video format developed by Vudu. It allows people to stream video at a better quality than traditional HD streams from iTunes and Google Play. HDX video typically stream at 1080p and 24 frames per second.
| Pros | Cons |
| --- | --- |
| Superior quality to traditional HD | Only available on Vudu's streaming service |
| A good middleground between HD and UHD for Vudu users | |
UHD vs HDX: Key Differences
Resolution
Despite what their names might suggest, UHD and HDX are drastically different streaming formats. Perhaps HDX was named HDX to make streamers think their viewing quality was comparable to the much higher quality UHD. Here's how it all breaks down: UHD's quality in pixels translates to 2160p, while HDX's quality translates to 1080p. That makes UHD twice the quality of HDX.
Audio quality
Another area where UHD and HDX also differ is audio quality. The best audio quality UHD can provide is Dolby Atmos. It's the same sound quality you'd expect from a movie theater. HDX, on the other hand, can only offer up to 5.1 Dolby Digital Plus Surround Sound. That's still a fantastic audio quality, but it pales compared to UHD.
Pixel Per Inch (PPI)
Their respective full resolutions paint an even clearer picture. UHD measures 3840 pixels by 2160 pixels, while HDX is 1920 pixels by 1080 pixels. This makes the difference between the two crystal clear. UHD doubles the video quality of HDX and significantly increases the audio quality.
Availability
Beyond simply making a full comparison of audio and visual quality, there's also the question of availability. Where can you find these two formats in the real world? As it turns out, one is much more accessible than the other.
HDX is exclusive to Vudu, an online digital video store and streaming service in America. It's run by Fandango Media, making it a joint venture between two separate titans of the entertainment industry: NBCUniversal and Warner Bros. Discovery. You won't find HDX on Netflix, Hulu, Disney+, or on any sort of home video format.
UHD, on the other hand, is much more widely available. From discs to streaming services worldwide, UHD is the industry standard for 4K home video and streaming quality. UHD is found all over the world, not just on Vudu. UHD is also available as a streaming format on Vudu.
History of UHD
UHD emerged as the next step in the natural progression of graphics display resolutions. From the early days of 640 x 360 (also known as SD, or standard definition) to the emergence of 1280 x 720 (also known as HD, or high definition), UHD is just one step in a long line of steps toward the highest quality possible. 1920 x 1080 and 2160 x 1080 — also known as 2K — emerged next, but that was back in 2005. High-definition quality has changed drastically in the years since then.
UHD was first seen commercially in 2008 with the debut of Samsung's 82-inch LCD TV. Various other television manufacturers began experimenting with ultra-high definition over the next few years. Also known as 4K UHD, computer monitors hopped on the bandwagon around 2013 — the same year that HDMI began supporting the format, as well.
As the '10s gave way to the '20s, UHD is now widely known to be the best video quality you can get at home. From our video games to our streaming services, our home video formats, to our cell phone cameras, 4K and UHD are synonymous with the most optimal, absolute best-of-the-best quality. However, some have begun to look toward the future toward 8K and even 16K.
History of HDX
When comparing UHD vs HDX, it's worth noting that HDX is not exactly an industry-standard graphics display resolution. As a matter of fact, it's a streaming quality exclusive to Vudu and Vudu alone. In other words, you won't find HDX on a disc, a video game, or a cell phone camera. You'll only find it when renting, purchasing, or streaming a movie or TV show on Vudu's site or app.
HDX originated on Vudu to distinguish their platform's HD format from their competitor's HD format. Compared to Amazon, iTunes, and the like, Vudu's HDX is superior to standard HD, even if it doesn't compare to the far superior 4K UHD quality. Even though HDX is the same resolution as everyone else's 1080p HD, it still looks marginally better.
Back in 2008, Vudu detailed its newly debuted HDX format. For one, it encodes streaming video at a far higher bitrate, anywhere from 9.5 to 20 Mbps. Additionally, it preserves the 24 frames-per-second standard of most film and television shows instead of increasing to 30 fps or decreasing to the slightly lower 23.976 fps. With these two factors, Vudu's HDX optimizes its 1080p to look better than other 1080p streaming formats. In theory, HDX has less pixelation, less blurring, and less distortion than your typical 1080p streaming.
UHD vs HDX: Which Is Better?
While UHD and HDX sound very similar, the difference between the two has been made abundantly clear. UHD is double the visual resolution of HDX — not to mention much higher in audio quality, as well. Beyond simple aesthetics, UHD is also far more available across many more platforms and sources compared to HDX. The former is the 4K standard for movies, video games, television, and other forms of entertainment regardless of brand or company. The latter is only available for films, and television shows streamed on Vudu's platform.
With these things in mind, there's a very clear winner here: UHD takes the cake. It offers better audio and visuals, higher bandwidth, supports High Dynamic Range, and is available across various sources and outlets. It's by far the better of the two. However, HDX holds some weight. It looks better than standard HD as it pays more attention to the finer details of streaming quality. If your device can't support 4K, then HDX is a nice second-best over traditional HD.
Up Next…
Interested in more comparisons? Click on the links below: