The types of different SUVs you can buy nowadays are surprising. When Sport Utility Vehicles first came out, we were pretty much limited to Jeeps and Subarus. But now, vehicle manufacturers like BMW and Mercedes are getting into the SUV game.
SUVs are the new and improved mini-vans of the 1990s, making any parent proud to roll up to a soccer game in one of these vehicles. But there are still rugged choices for going off-road. Here's a list of the types of different SUVs you can buy in 2023. There's sure to be a style to meet your needs.
Types of SUVs
SUVs come in all shapes and sizes, from luxury models to full-size three-row options that will fit your whole family. In addition, some SUVs are eco-friendly, with hybrid versions and electric models.
1. Luxury Compact SUVs
Luxury car makers like BMW and Lexus compete for your vehicle purchasing dollars with excellent choices. These SUVs are for drivers who want the functionality of a sport utility vehicle combined with sleek exteriors and interior design comfort.
These luxury compact SUVs come with high safety standards and increased comfort preference. The rising HNWI population also means that luxurious types of SUVs are in demand.
Options like digital rearview mirrors and personalized, hands-free multimedia experiences are part of luxury SUV ownership.
| SUV Name | Starting Price |
| --- | --- |
| SUV BMW X3 | $46,200 |
| Lexus NX 250 | $40,205 |
| Genesis GV70 | $43,150 |
2. Luxury Full-Size 3-Row SUVs
The Lincoln Navigator screams luxury in a full-size three-row vehicle. This type of SUV is popular with the HNWI population segment and consumers with high-quality standards.
High levels of net worth in today's population, and the availability of different SUVs available for purchase, lead to the growing luxury SUV market. Drivers not only want to get from point A to point B, but they also want to get there with increased safety levels and comfort.
At the upper end of the luxury market lies the Land Rover Range Rover Autobiography LWB 7. Yes, that's a mouthful. However, it combines an elegant interior with impressive on- and off-road performance.
But this luxury SUV costs more than houses in some parts of the U.S. At close to $200K, the Autobiography LWB7 is definitely a luxury SUV.
| SUV Name | Starting Price |
| --- | --- |
| Lincoln Navigator | $79,725 |
| Jeep Grand Wagoneer | $87,995 |
| Land Rover Range Rover Autobiography LWB 7 | $178,865 |
3. Off-Road SUVs
The 1976 Ford Bronco is a classic off-road SUV. It is one of the original types of SUVs. And, thankfully, with its recent comeback, the Ford Bronco is still one of the various SUVs you can buy today.
Like the Bronco, many off-road SUVs have rugged-sounding names that instill a sense of adventure in their owners. For example, Range Rovers live up to their adventurous names while even making England's royals look good.
And the Jeep Wrangler is one of the best-known off-road SUVs. Of course, what you wrangle is up to you, but this Jeep will get you to the most backcountry, secret fishing holes.
Beyond their inspiring names, off-road SUVs thrive at the end of the pavement. They're ready for whatever adventure you throw at them with high obstacle-clearing suspensions. In addition, their four wheels crawl over rocks in low gear while the underbody plates protect the vehicle's mechanics.
Like the Bronco and Wrangler, the Mercedes Benz G-Class has been slogging up mountainside gullies since the 1970s. Its rugged abilities combine classic style with cutting-edge technology. This is one iconic icon in the luxury off-road type of SUV!
| SUV Name | Starting Price |
| --- | --- |
| Ford Bronco | $32,295 |
| Jeep Wrangler | $31,195 |
| Mercedes-Benz G 550 | $139,900 |
4. Hybrid SUVs
There are two general types of hybrid SUVs.
Mild hybrid: A internal combustion engine (ICE) is still the primary power supply, but electric motors kick in when starting from a standstill to ease the energy demands on the ICE. These hybrid powertrains do a great job of balancing performance with eco-friendly options.
Plug-in hybrid: Charge and drive it like an electric car. When the batteries are nearly depleted, the ICE kicks in.
The best hybrid type of SUV is one that meets your needs. So, a plug-in hybrid like Hyundai's Santa Fe PHEV might be perfect if you primarily drive around town but want an SUV for the extra cargo space.
Plug-in hybrid vehicles like the Santa Fe PHEV let you ease into the world of all-electric cars. But if you think plugging in all the time isn't for you, a regular hybrid might work better.
SUVs like the Kia Sportage Hybrid have impressive fuel economy with interior functionality that families love. There are plenty of cupholders to go around, and the rear seats are comfortable. You'll also find a spacious cargo area for sports equipment and a stop at that neighborhood garage sale.
Some hybrid types of SUVs have comparable price ranges to their non-hybrid equivalents. That makes them very attractive. Buyers appreciate the improved MPG and affordable buying prices.
| SUV Name | Starting Price |
| --- | --- |
| Santa Fe PHEV | $41,860 |
| Kia Sportage Hybrid | $27,490 |
| Toyota Highlander Hybrid | $40,220 |
5. Electric SUVs
Electric SUVs (e-SUVs) have electric motors powered by rechargeable batteries. You plug the e-SUVs into charge points where they get electricity from the grid. Since e-SUVs don't produce emissions or dangerous gases, families love them.
E-SUVs have four-wheel drive (4WD) and all-wheel drive (AWD) options, so you can take them off-road or drive comfortably around the city, even in extreme weather conditions.
Hyundai's Ioniq 5 has a futuristic design and super-fast charging capabilities, putting it at the top of many electric car lists. To top that, it beat out a long list of other electrics, hybrids, and gas motor SUVs to win the Motor Trends 2023 SUV of the Year Award.
It's the first fully-electric vehicle to top the list, which tells you what high praise the Ioniq 5 deserves. It uses cutting-edge 800-volt electric architecture with lightning-speed charging. As a result, you can seriously recharge this SUV in about the same time it takes for a regular road trip rest stop.
| SUV Name | Starting Price |
| --- | --- |
| Hyundai Ioniq 5 | $41,450 |
| Tesla Model Y | $54,990 |
| Subaru Solterra | $44,995 |
6. Subcompact SUVs
Subcompacts are types of SUVs describing the smallest crossover-type vehicles. The Honda HR-V was one of the first vehicles of these different SUVs you could buy. However, the newer models don't get as good reviews as previous ones.
This subcompact SUV type features Kia's popular "hamster car," the Soul. Marketed to loud-music-loving hamster-hipsters, the subcompact Soul is zippy, boxy, and full of, well, soul.
You won't find an all-wheel drive Soul, which some buyers find critical in an SUV. But its excellent entry price still appeals to a broad buyer market.
The Subaru Crosstrek is another subcompact SUV. But this one takes all its bigger siblings' positive traits and shrinks them into a smaller vehicle. It has a good ground clearance and rugged good looks.
| SUV Name | Starting Price |
| --- | --- |
| Kia Soul | $19,890 |
| Subaru Crosstrek | $23,645 |
| Honda HR-V | $23,800 |
7. Compact SUVs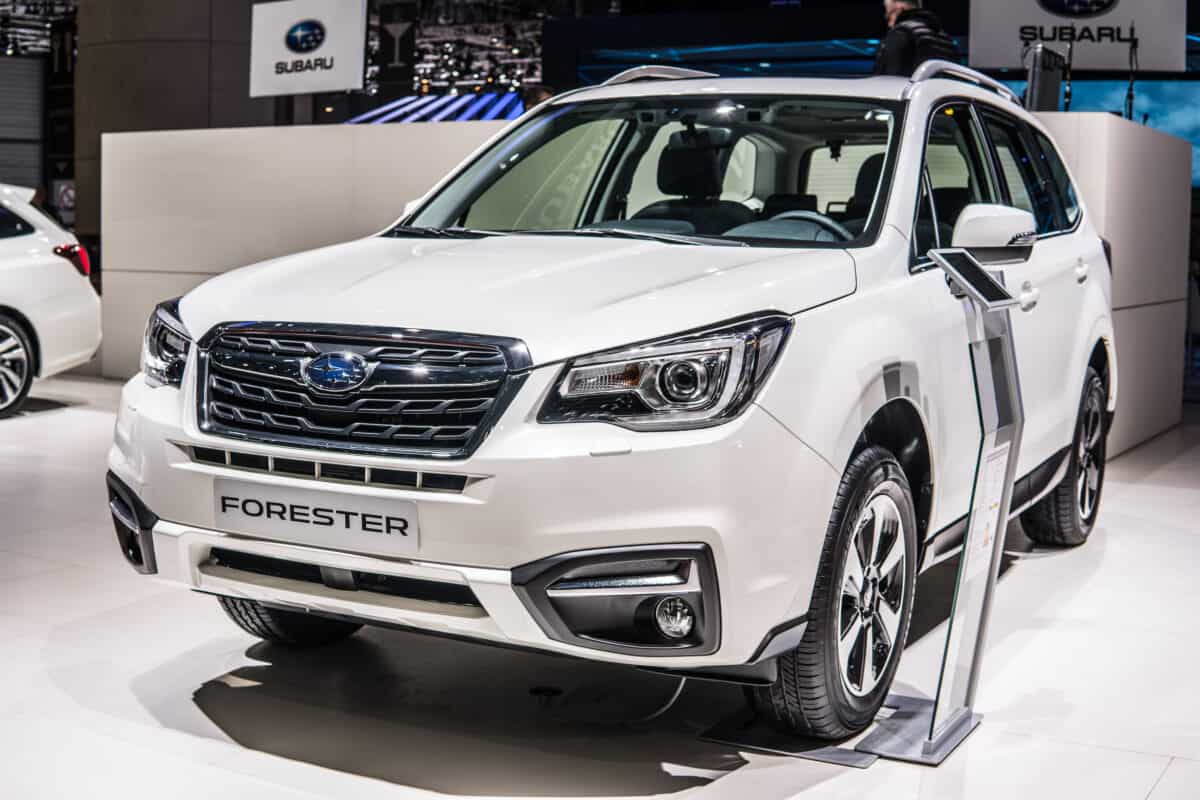 Compact SUVs come with traditional gas motors and electric and hybrid models. They are efficient, refined, and offer more cabin space than subcompact versions.
The compact size of these different SUVs you can buy gives them fuel efficiency and excellent visibility. In addition, buyers appreciate their smooth rides on all-terrain tires.
In addition, options like the panoramic moonroof on the Mazda CX-50 make compact SUVs attractive even to diehard sedan lovers. The Subaru Forester is another tried and true compact SUV with a dedicated fanbase.
However, some compacts try to fit in third-row seating, but the space is a little cramped for adults. Stick with a larger type of SUV if you need more seating options.
| SUV Name | Starting Price |
| --- | --- |
| Mazda CX-50 | $27,550 |
| Honda CR-V | $31,610 |
| Subaru Forester | $26,495 |
8. Midsize SUVs
The Subaru Outback is the quintessential midsize SUV. It's comfortable and efficient, and it doesn't care what the weather is like. It gets you where you need to go safely, whether to the office or the snowy mountain.
Midsize SUVs deliver safety ratings and value for your money, making them a solid option for family or commuter cars. The Jeep Grand Cherokee is a midsize type of SUV that delivers quality materials and handles being on the road well.
Buyers appreciate Jeep's all-terrain and all-weather functionality that helps you arrive safely. The Grand Cherokee is stylish around town and still takes you off-road to that hidden camping spot.
| SUV Name | Starting Price |
| --- | --- |
| Subaru Outback | $28,395 |
| Jeep Grand Cherokee | $41,035 |
| Chevrolet Blazer | $35,100 |
9. 3-Row SUVs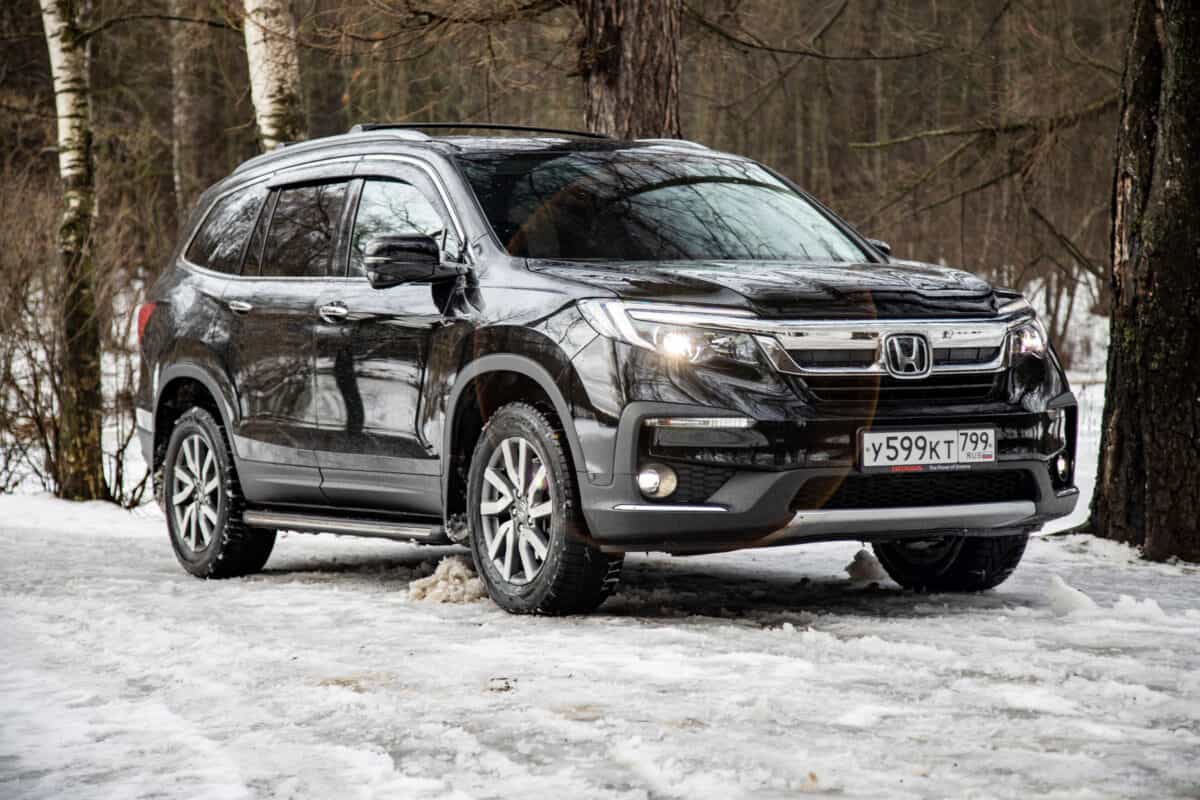 The 3-Row SUV models have a lot of competition as car manufacturers fight for the minivan market. However, as you start moving up in the size of the different SUVs you can buy, you may notice a slight reduction in gas mileage. There's a trade-off between driving a group of people and miles per gallon achieved.
The good news is that you and your friends can all ride together on your next adventure. And you'll be pretty comfortable on the drive. The best 3-row SUVs offer ample seating for up to 8 people with plenty of cargo space.
The bad news is that the third row is often best fitted for your kid-sized companions. (So, your shortest adventure buddy might act hostile when you reach the destination.)
However, 3-row SUVs like Kia's Telluride offer trim packages that appeal to every driver and passenger. Safety ratings are high. Technology options are on point. And you can even get two 12.3-inch screens to keep the longest car rides free from the dreaded "Are we there yet?"
| SUV Name | Starting Price |
| --- | --- |
| Honda Pilot | $38,080 |
| Toyota Highlander Hybrid | $36,420 |
| Kia Telluride | $35,890 |
10. Full-Size 3-Row SUVs
Your passengers find the most comfortable rides in full-size 3-row SUVs. While these types of SUVs take a fuel efficiency hit, they are definitely roomy. The Ford Expedition, for example, is the car manufacturer's most spacious SUV. Choose from standard or extended lengths for the interior that fits your family best.
You'll also be delighted with the infotainment options in full-size 3-row SUVs (and smaller SUVs):
Big displays — 12.0-inch standard and 15.5-inch high-end options
Apple CarPlay
Android Auto
USB ports
Superb speaker systems
Off-road capabilities and hands-free driving options differ depending on the brand and model. For example, Chevrolet's beloved Suburban offers a potent powertrain and so much space you'll consider moving in. In addition, its third-row entry is more accessible than some competitors, for which your passengers will thank you.
| SUV Name | Starting Price |
| --- | --- |
| Ford Expedition | $53,875 |
| Chevrolet Suburban | $56,900 |
| Toyota Sequoia | $58,365 |
The image featured at the top of this post is ©Ivan Kurmyshov/Shutterstock.com.