All types of Subaru cars are known for their all-wheel drive system, providing exceptional traction and handling on all terrain and in various weather conditions. In addition, their rugged, outdoor-oriented designs make them popular choices for adventurous drivers who enjoy off-road excursions.
It's hard to drive to any backcountry hiking trail without seeing at least one Subaru on the gravel road. Subaru also commits to environmental sustainability and has been a leader in producing eco-friendly vehicles, such as the hybrid Crosstrek and the all-electric Forester.
In addition to its off-road capabilities, the brand has a loyal following among performance car enthusiasts. They appreciate Subaru models' unique features and performance capabilities, such as turbocharged engines and sport-tuned suspensions.
Subaru owners love their cars. And there are so many reasons for that devotion. But, of course, different types of Subaru cars and crossover SUVs exist, so let's dive into their full lineup today.
Types of Subaru Cars: The Full Lineup
Below is a list of all nine 2023 Subaru cars on the market today. Of course, they have different trim packages to personalize your ride.
Crosstrek
Forrester
Outback
Ascent
Solterra
Impreza
Legacy
BRZ
WRX
Types of Subaru Cars: SUVs
Subaru builds quality vehicles with quality parts. Their precision engineering means that Subaru cars last for years. Owners rave about their long life, while automotive experts keep piling on the awards. Subaru owners are loyal, and the company's SUVs are the primary reason why.
Crosstrek
The first type of Subaru car we'll look at is the Crosstrek. This crossover-style SUV comes with a gasoline combustion engine and a hybrid model. You can read more about the hybrid features below.
The Crosstrek has five trim levels, so you can choose the car that suits your needs and budget. In addition, all packages come with Subaru's Symmetrical All-Wheel Drive. If you've ever driven a Subaru, you know it's all about this.
Subaru allows drivers to hit the road no matter the weather conditions they face. Their AWD vehicles get you where you need to go. And they get you there safely. Just check out some of the safety features below.
Subaru says that 97% of Crosstreks sold over the last ten years are still driving today. That's a higher percentage than the Jeep Compass, Toyota RAV4, and Honda CR-V.
And if that's not enough reason to check out this SUV, Kelly Blue Book has awarded it the Best Resale Value in its class for the last three years. So, Crosstreks last a long time and hold their resale value. Check and check!
Forester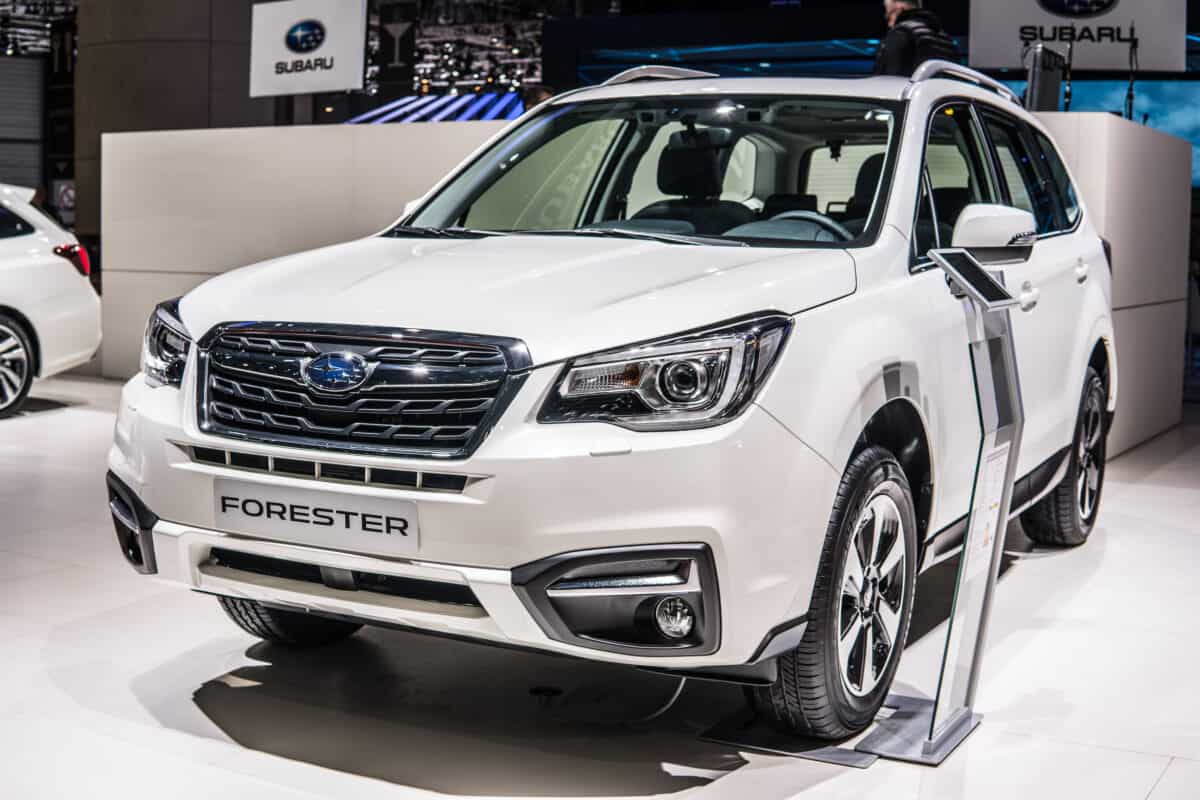 Like the smaller Crosstrek, all Foresters are equipped with Symmetrical All-Wheel Drive, so you feel confident on all roads in any weather. Choose one of the five trim packages to build the type of Subaru car that's best for you. Or, live a little on the wild side and choose the sixth Forester Wilderness option.
The Forester Wilderness has a ton of all-terrain upgrades to take your party to the backcountry. You'll feel confident on mountain trails in this beast built for a rugged adventure.
It features matte black wheels with all-terrain tires and over nine inches of ground clearance to take you through the brush. The front skid plate protects your engine from rocks and other obstacles.
And Subaru's X-Mode got an upgrade. Select your setting depending on driving conditions, and the additional wheel slip helps you power through snow, deep snow, dirt, and mud.
Outback
The Outback is the ideal type of Subaru car in their full lineup today. It brings sport and style to off-road or around-town driving. Like its compatriots, the Outback comes standard with Symmetrical AWD, but you'll get up to 32 MPG in this fuel-efficient SUV. Drivers love the quick response times the Outback offers to road conditions. So, your family arrives safely.
Outbacks are time-tested and have been found worthy of that infamous Subaru loyalty. If it sounds like we drank the Kool-Aid, you might be right! Ours has been a Subaru family since the end of the last century. How's that for an endorsement?
Choose from five trim packages and the Wilderness option in the Outback to make it your own. Its spacious interior and off-road capabilities make Outback the perfect choice for adventurous families or anyone who enjoys exploring the great outdoors.
Ascent
The Ascent is Subaru's largest SUV, offering up to seven or eight passengers, depending on your chosen model. This three-row vehicle is bigger than ever for 2023. So, you can fit kids, friends, and all the camping gear you need for a weekend on the Coast.
The Dual-Function X-MODE is available in the Ascent this year, so you can customize how your vehicle's traction responds to slippery conditions. This three-row SUV is made for family fun. It comes standard with Apple CarPlay and Android Auto, so you'll be singing down the road in style.
Of course, the primary downside in many three-rows, the Ascent included, is that the third row is made for small children. Most adults would balk at sitting back there for any trip longer than one to the grocery store.
Solterra
The last type of Subaru car in the SUV lineup is the Solterra, which gets its name from the combination of the Latin words for "sun" and "earth." You can read more about it below in the electric car section.
Check out eight different types of Jeeps, too.
Types of Subaru Cars: Sedans and Hatchbacks
Subaru carries its impressive Symmetrical AWD through to its cars and hatchbacks. So, you can feel safe on the road, no matter what Mother Nature throws your way.
Impreza
The Impreza is a compact car manufactured by Subaru since 1992. Since it is currently in its fifth generation, it's safe to say they've worked out the bugs.
The Impreza is available in sedan and hatchback body styles and is known for its sporty driving dynamics. The high-performance variant of this sedan is the WRX, which has a turbocharged engine and a reputation for its rally racing heritage.
Subaru's Impreza is a compact car with excellent fuel economy, so even city dwellers who don't drive mountainside roads will appreciate it. However, the hatchback gets higher marks for its cargo space than the sedan. Also, some drivers think the sedan has too little trunk space to be very useful.
Still, a compact car with good gas mileage and Subaru's quality, safety, and AWD features is always a contender in its field.
Legacy
The seventh-generation Subaru Legacy is a midsize sedan that competes against top dogs like the Toyota Camry and Honda Accord. And it holds its own with its standard AWD and powertrains.
Legacy got a slight makeover for 2023, so you'll find new technology in this hard-to-beat sedan. Choose from five trim packages for personalization, and you'll be driving your way. What about that heated steering wheel in the Legacy Sport and Touring XT models? Cold weather, move over.
The Camry or Accord might look a little sleeker to some drivers, but what the Legacy lacks in vehicle sexiness, it makes up for in safety features. The 2023 Legacy, like its predecessors, scored five stars in each category of the NHTSA's safety grade.
That's five safety stars for overall performance, frontal crashes, side crashes, and rollovers. It's an impressive rating. The Legacy also got a Top Safety Pick rating from the IIHS.
Types of Subaru Cars: Performance
Subaru's performance cars are light, nimble, and fast, making drivers fall in love. Moreover, they make driving fun, and in a traffic-jam-world, fun is good.
BRZ
The BRZ has excellent steering feedback so that you can zip along confidently. Combine its impeccable steering with its six-speed manual transmission and a low driving seat position for performance driving that just might earn a "Whoop! Whoop!"
This little coupe packs in power with its 228-horsepower, 2.4-liter, flat-four engine. It has the "get-up and go" to bring a smile to your face. But there are plenty of useful storage cubbies for tucking away your valuables, so don't worry that this car is small.
The rear jump seat is similar to those of Porshe's 911. It also folds down, so if you need to haul something more significant than a bag of groceries, you can.
Subaru's BRZ has an automatic transmission option, which may take some of the fun out of this sports coupe. It only comes in two trim packages, the Premium and Limited, but that's enough to customize this little beauty to your liking.
WRX
Subaru's 2023 WRX sports the biggest turbocharged engine among its competitors. This sport compact has a 2.4-liter engine with a whooping 271 horsepower. This type of Subaru car is a born rally car that seats five in a compact sedan.
The WRX grips paved roads like a sports car, and its AWD capability makes it competitive with some luxury cars. It's one of the slowest models of its type in recent years, but still a respected competitor.
You'll find four trim models in this speedy sedan for your desired ride. It has good leg and headroom for the driver and passengers. However, it doesn't have a lot of cargo space.
Types of Subaru Cars: Electric
Subaru's Solterra is the company's prototype electric car. Rather than a gas tank and an internal combustion engine, electric vehicles (EVs) have a battery and an electric motor. You'll never need to buy fuel, so you'll have to come up with another reason to "run inside real quick" and purchase that enormous frozen drink!
EV owners appreciate owning environmentally friendly cars that aren't polluters. Plus, lacking a gas engine means quieter driving conditions without engine vibration. Instead of a fuel stop, plug the car in at home nightly so you're ready to hit the road in the morning.
You'll need the Level 1 120V charger included with the Solterra. Or upgrade to a Level 2 240V charger for faster charges. But note that the upgrade requires professional installation in your home.
Solterra
Subaru's Solterra drives about 220 miles on an overnight, full charge. So, you shouldn't need to recharge while running errands or going back and forth between home and work or school.
There are nearly 50,000 Level 2 or DC fast-charge stations nationwide for public use. So, if you need to charge on the go, DC chargers will get you going in about an hour, with up to 80% of battery power restored.
Solterra is an SUV with three trim packages: Premium, Limited, and Touring. You'll enjoy driving any one of the three versions. But the Touring edition stands out for its panoramic glass roof and retractable sunshade. Cruise in electric style, plus see the stars at night? Yes, please.
Types of Subaru Cars: Hybrid
Crosstrek is the Subaru model that has a hybrid version in 2023. While chatting with a Subaru representative, we learned that Foresters have hybrid versions, which aren't available in the United States.
The Crosstrek Hybrid is Subaru's fuel-efficient SUV. You can plug it in at home for running errands and heading to work or school. Or, you can gas up for long road trips. In addition, the Crostrek's electric battery gets charged by its gas engine, so you won't run out of electric power, even if you can't plug it in.
You'll get about 90 MPGe with the Crosstrek Hybrid. MPGe stands for miles per gallon equivalent, which is a way to measure cars that run on non-liquid fuel, like hybrids and electric vehicles.
Types of Subaru Cars: Safety & Reliability Features
Subaru has a reputation for safety and reliability, with many of its models earning high scores on crash tests and performing well in long-term reliability studies.
All types of Subaru cars rate highly with the Insurance Institute for Highway Safety (IIHS) and the National Highway Traffic Safety Administration (NHTSA.) Here are a few reasons why.
EyeSight Driver Assist Technology
Subaru's EyeSight monitors your road position and lets you know if you're leaning out of your lane. It also detects and alerts you to objects in front of you. Then, the Pre-Collision Braking gives an alert and applies full brakes during emergencies so you avoid frontal impacts.
Emergency Automatic Steering
This safety feature uses the EyeSight sensors to detect potential crashes with vehicles and objects in front of the car. Then, it steers the vehicle to avoid a collision.
DriverFocus® Distraction Mitigation System
This safety system uses an infrared camera to monitor the driver's head and eye position. So, if the driver starts to fall asleep and nod off, the DriverFocus system will sound an alert. It also notifies the driver and passenger if the driver isn't facing forward.
Subaru Starlink Safety and Security
Starlink keeps you and your vehicle safe with roadside service, stolen vehicle recovery, automatic collision notification, and remote services.
LED Steering Responsive Headlights
This safety feature keeps your headlight beams pointing in the direction your Subaru travels, making driving on curved roads easier.
The image featured at the top of this post is ©Ivan Kurmyshov/Shutterstock.com.