Kia is a South Korean automaker, which, together with Genesis, is an offshoot of the parent company, Hyundai. Kia is well known for its sports cars like the Stinger and midsize sedans like the K5.
The Seoul-based auto manufacturer promises to satisfy the needs of a contemporary car owner looking for a family-friendly commuting car with enough cargo room, a sporty SUV to handle outdoor equipment, or a compact vehicle for city life.
Regardless of the size or class of a Kia vehicle you are interested in, Kia models come with decent cargo space, and overall it's a well-mannered ride. Kia is also best known for providing a more extended warranty for a new vehicle than most car manufacturers.
We know you are pretty excited about the Kia vehicles lineup, so in this article, we will focus more on the latest models of SUVs, crossovers, Kia sedans, and hybrids. This article will also review the specs and features of each model in the lineup to help you make an informed decision.
Let's get into it!
Sedans
Kia Forte
The 2023 Kia Forte sedan specializes in moderation and value. Unlike the Rio model, the Kia Compact vehicle is still available in the sedan and five-door formats, hence the Forte5. However, the two models are only separated by nomenclature as most components are similar.
Most things have stayed the same compared to the previous Kia Forte 2022 model, except for the optional GT technology, which hasn't been carried over. Also, the FE trim has been replaced by the LX Trim.
The Kia 2.0-liter four-cylinder horsepower and the 2.0-liter four-cylinder engine will be standard for the LXS, FE, and GT-line trims. It also drives the front wheels through a variable automatic transmission.
Kia Forte's notable features include a five-seat compact sedan, automatic and manual transmission, wireless Apple and Android Car Play, automatic emergency braking, 201-horsepower, and turbo-charged GT Trim. The car is an excellent fuel-efficient choice though not for straight-line speed.
Kia Forte passed the Car Seat Check, making it an even better option for toting the little ones as regularly as possible. It's still a perfect choice for anyone who will love more tech and safety features without climbing expensive levels.
Previously, Kia offered manual transmission Forte. However, its performance could have been more compelling than the automatic options.
Kia's powertrain warranty, which covers ten years or 100,000 miles, sets it apart from other manufacturers.
Pricing
We have listed Kia Forte pricing based on trim levels, with the highest being the GT Manual.
LX – $19,690 starting MSRP
LXS – $20,890
GT-Line – $21,890
GT – $24,390
GT Manual – $25,090
Kia K5
The 2023 Kia K5 symbolizes style, featuring a winning design and a snazzy nomenclature. Kia K5 features two turbocharged four-cylinders, including the gutsy GT-specific 290-hp or the standard 180-hp option.
The 2023 K5 doesn't change much from last year's version. After the LX model was discontinued, the LXS took over as the entry point, though it is no longer available on all-wheel drive. K5's fancier EX trim features acoustic front door glass to combat road noise.
Additionally, acoustic glass has been added to the GT line. The newly added optional package comprises a glass-black body molding and a panoramic roof with LED interior lighting. K5 all-wheel drives GT-line versions have a standard heated steering wheel with acoustic glass.
We believe that Kia K5 is the best non-hybrid sedan that you can buy. Since its introduction in 2020, the model has been an instant hit, thanks to its predecessor — the Kia Optima's — winning formula. The K5 brought in what most of its rivals couldn't.
While sedans significantly lose out to more spacious, practical, high-riding SUVs, K5 is still in the game. What can quickly draw you to Kia K5 is its efficient fuel economy, easy-to-use infotainment system, spacious front and back seats, and well-sized trunk.
In a nutshell, the Kia K5 continues to offer unrivaled value and an all-around experience. It provides multiple optional and standard driver assistance technology, and you can learn more about the model's crash-test results from the National Highway Traffic Safety Administration (NHTSA).
On the downside, the Kia K5 is undesirable for highway speeds as it needs more time to execute passes. But all in all, the K5 is worth it, as any trim offers value for money, and it only gets better when you choose higher trims.
Pricing
There are five trims for K5.
LXS FWD – $25,290
GT-Line – $26,690
GT-Line – $28,390
EX – $29,190
Kia Stinger
Inventions, technological advancements, and computing have become mainstream and important in our lives today. Kia has mastered this concept to bring Kia Stinger, created to perform. The car is propelled by 300 horsepower with a 2.5 L turbocharged engine.
Kia Stinger features an interior trim with a carbon fiber pattern, a black exterior trim with exhaust tips, fender garnishes, and mirror caps. You'll love the new Stinger special edition of the GT-Line. The model is all-powerful, designed to impress, and has some exciting features you'll love.
Kia Stinger's notable features also include a 10-inch touchscreen with navigation, a standard suite of advanced features for driver assistance, Brembo brakes, all-wheel drive, and a leather interior with heated front seats.
You'll also love its expansive sunroof, Harman Kardon 15-speaker premium audio system, and 8-way power-adjustable passenger seat. The 2023 Kia Stinger offers three trims: GT Limited, GT Elite, and GT Elite, with an optional Swedish package.
Pricing
GT Line – $36,690
GT2 – $51,890
Kia SUVs
Kia Soul
The Kia Soul is one of the unique vehicles on the road. In it, you'll find the reliability you've been looking for and plenty of room to accommodate people and cargo despite its small footprint. It might not be the most exciting car, but it delivers multiple virtues and a compliant ride.
The 2023 model slightly received a makeover with bumper designs and a new grille. You'll notice the reshaped headlights and a variety of 17 and 18-inch wheels to choose from. However, the spunky 201-hp turbocharged 1.6L engine has been dropped, leaving the 2.0 L four-cylinder of 147-hp as the sole engine.
Pricing
LX – $19,890
S – $22,390
GT-Line – $23,490
EX – $24,190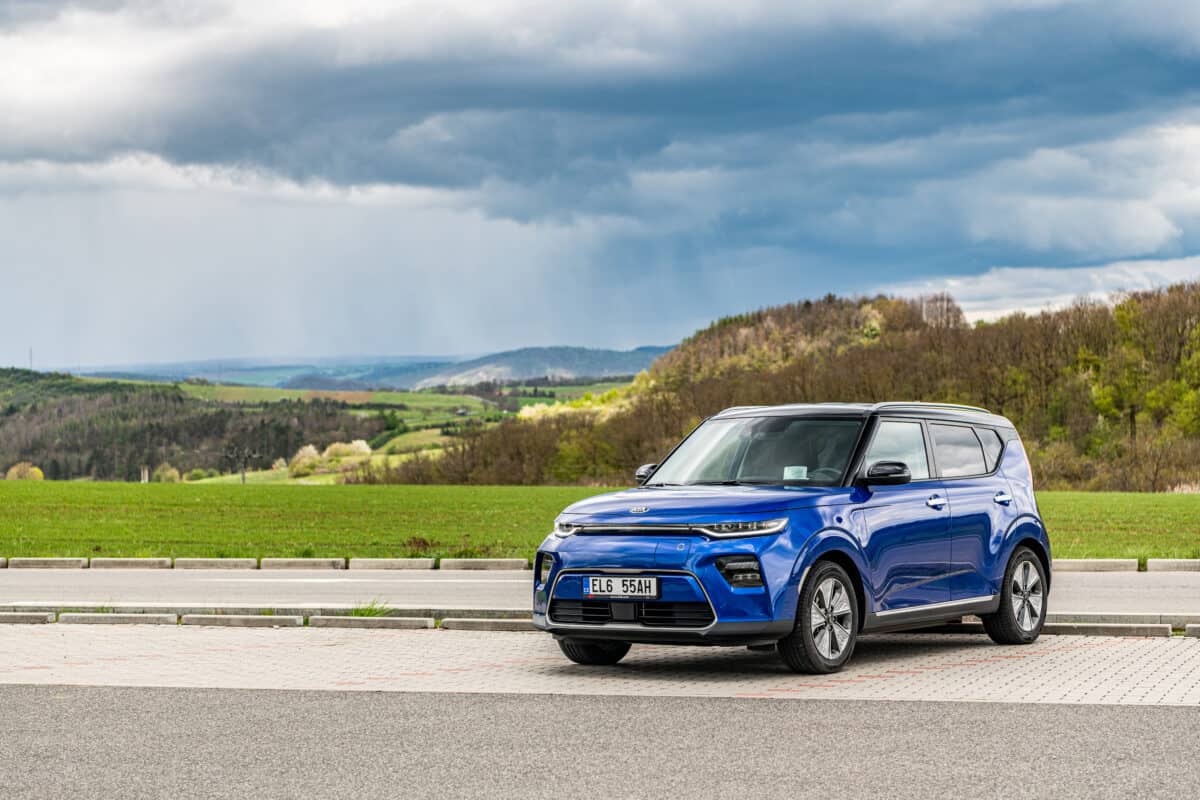 Kia Niro
Kia Niro is an excellent option for anyone looking for efficiency and a compact crossover. The 2023 model is the renewal of the Niro version. It features a more assertive design, though it retains its previous triple personality with pure electric configurations and plugin hybrid in the lineup.
The auto manufacturer has equipped Niro with a 1.6 L cylinder engine hooked to a hybrid system and a 6-speed dual-clutch transmission. While its acceleration is slightly lackluster, the model can offer helpful driving aids, a smooth ride quality, and value for your money.
Other exciting features include an updated infotainment screen, more space for passengers and cargo, and all-new interior and exterior designs. Niro is a compact model that splits the difference between hatchback and SUV.
The 2023 Kia Niro's closest competitor will likely be Toyota Corolla Cross Hybrid. It could also be cross-shopped with other hybrid cars like Toyota Prius. Its increased dimensions could also be considered against other compact SUVs like Honda CR-V, Toyota RAV4 Hybrid, or even Kia Sportage Hybrid.
Pricing
Niro LX – $26,590
Niro EX – $29,190
Niro EX Touring – $31,490
Kia Seltos
The 2023 Kia Seltos has an impressive interior space and a cargo hauling practicality that you wouldn't find with such a small yet affordable SUV. The intuitive infotainment package, standard safety features, and extended warranty further enhance its appeal.
Kia Seltos is an excellent solution if you are looking for a subcompact SUV. It is a terrific combination of value and quality, and despite its small outward appearance, the car still boasts a tremendous amount of space for passengers and cargo.
It's expected that the 2024 Seltos will get a new design for both ends, and the inside will feature Kia's unique dual-screen dashboard.
Pricing
LX – $23,340
S – $23,390- $24,890
EX – $26,640
Nightfall – $27,540
SX – $28,840
Kia EV6
The Kia EV6 is Kia's most snazzy, all-electric model, dazzling people with its good looks and performance. The Kia EV6 was named the North American Utility Vehicle of the Year in 2023.
Its outstanding features include auto emergency braking technology, blind spot view monitor, standard blind spot collision avoidance, and surround view monitor. The car is rare on our roads, like its close sibling Hyundai Ioniq 5.
2023 also marks the debut of the GT Variant of the Kia EV6. The model now targets performance lovers with the GT sporty version. The version is discreet outside but with oversized wheels and a braking system with florescent green calipers.
The EV6 is still available in other accessible versions. It is available in two rear-wheel-drive configurations, while the variants have a four-wheel drive and two motors, all benefiting from the extended range of the battery pack.
Pricing
2023 Kia EV6 wind – $48,500 (for the most popular W/AWD)
2023 Kia EV6 GT-Line – $52, 700
2023 Kia EV6 GT – $61,400
Kia Sportage
The Kia Sportage was redesigned in 2023 as a striking first release for its singular design, making it stand out in a reasonably conservative category. Kia refined its approach with this long-wheelbase version, which also has an aggressive bumper.
In pursuit of keeping up with the trend, the Sportage has three engines: regular, hybrid, and plug-in hybrid. The model boasts a 2.5 L four-cylinder engine with 187-hp and 178 lb-ft torque. However, the hybrid and plug-in versions have a 1.6L turbocharged block embedded in an electric motor to deliver 227-hp and 261-hp, respectively.
With three models to choose from, the Kia Sportage has something for everyone. It has the best-in-class cargo room, premium interior, and powerful engine options, and is always ready to go wherever the road leads you.
Pricing
LX – $27,205
EX – $29,205
Hybrid – $28,505
X-Line – $32,005
SX – $32,705
Kia Sorento
The Kia Sorento is available in three iterations, like the Kia Sportage. You can choose the gas engine only, hybrid, or plug-in hybrid. The 2023 Sorento has standard blind-spot monitoring, rear cross-traffic alert, and a wireless smartphone charging pad.
The mid-size crossover and SUV section has options, but Kia Sorento is worth considering. It has a seating space of up to seven people. It's powerful, with multiple powertrain configurations and better fuel economy.
Kia discontinued the Hybrid S model to introduce a fully-fledged Hybrid SX-P. The Hybrid SX-P features standard all-wheel drive, leather seats, 17-inch wheels, and a captain's chair on the second row. A 191-hp 2.5-liter four-cylinder engine is standard for the model, but a 281-hp turbocharged 2.5 liters four-cylinder engine is also available.
Pricing
LX – $30,090
S – $32,590
X-Line S AWD – $34, 590
EX – $35,990
Kia Telluride
The Kia Telluride was introduced in 2020 to Kia's SUV brand lineup. Since then, the model has outperformed itself, winning numerous accolades. In 2023, the car is getting a makeover with a slightly modified design as Kia is keen not to mess up the success of big SUVs.
The automakers are keen to attract weekend warrior users to this model. This year, an X-Line trim and X-Line Pro will be added, a more rugged adjunct. Since not so much has changed with the Kia Telluride, the 3.8L V6 remains as well as 291-hp and 262-lb ft. torque, respectively.
Another aspect that remains is the 8-speed automatic transmission and the standard all-wheel-drive system with enhanced traction to offer added confidence on the road. All-terrain tires also give you the confidence to venture into beaten paths.
Pricing
LX – $35,890
S – $37,790
EX X-Line – $45,685
SX – $45,690
SX X-Line – $49,085
The Only Minivan
Kia Carnival
Kia broke away from the mother company Hyundai shortly after Hyundai called off the Entourage minivan. Kia's Sedona minivan has been on the lineup, but in 2022, it officially became the Carnival, though the name has been used in other markets for years.
The 2023 Kia Carnival remains unchanged. The powertrain and trims (LX, LX+, EX, EX+, and SX) stay the same. One thing to watch out for is whether Kia will finally enter the electric race within this segment.
Pricing
LX – $33,100
LX Seat Package – $35,100
EX – $38,600
SX – $41,800
SX Prestige – $46,200
The image featured at the top of this post is ©Mateusz Rostek/Shutterstock.com.