Electric motors play a major role in most industries today thanks to their diverse and adaptable nature. Therefore, with several types of motors being available in the market today, the choice of an ideal motor depends on its intended application, voltage, and operation. For a motor to function well, it has to align well with its purpose and achieve the performance goals needed. 
For a motor to be complete, it must have both field and armature windings. While the field winding produces a fixed magnetic field, the armature winding acts as the conductor arranged within this magnetic field. The magnetic field makes the armature winding generate enough torque to rotate the motor shaft, generating motion.
Currently, there are three main types of electric motors, two of which are classified based on the type of current they use. AC motors use alternating current, while DC motors use direct current. In addition, specialized motors that are configured for specific functions also exist. In this blog, we will examine the different types of motors and how they work. Let's dive in. 
DC Motors
DC motors convert direct current into mechanical energy. There are five main types of DC motors. 
DC Shunt Motor
A DC shunt motor uses DC current, with its armature and field windings being linked in parallel. We refer to this parallel linking to as a shunt. The parallel connection between the armature and field windings exposes the two to the same supply of voltage. However, DC shunt motors have separate branches that facilitate the flow of armature current and field current. The windings having similar voltage supply, resulting in a low starting torque and constant speeds regardless of the load on the motor. Further, the motor can also reverse easily.
DC shunt motors are also known as shunt wound motors and we commonly use them for belt-driven applications both in the automotive and production industries. Common applications include lifts, centrifugal pumps, weaving machines, fans, and lathe machines.
DC Shunt Wound
We earn a commission if you make a purchase, at no additional cost to you.
Separately Excited Motor
A separately excited motor has the stator and rotor connected using different power supplies. The stator is the static part of the motor and it consists of the field windings. On the other hand, the rotor contains the armature windings and is the moving part. This type of motor is controlled from the shunt, with the armature windings being strengthened to generate flux. Thus, the power supplied to the rotor can be variable, but it is always advisable to use independent constant DC voltage on the stator. 
Since the motor is separately excited, armature control can easily alter the rotation speed. We use separately excited motors mostly for industrial applications, with most being used as actuators.
DC Series Motor
DC series motors have their rotor windings connected in series. They operate under the electromagnetic principle, whereby a current-carrying conductor uses an external magnetic force to create a rotating motion whenever a magnetic field is formed. In a DC series motor, field and armature windings are coupled in series with each other and they receive equal current. The motor then uses large amounts of current to generate strong magnetic fields which provide tremendous amounts of torque to the armature shafts, causing motion. 
To control the rotary speed in a DC series motor, you can either control flux or armature resistance. In addition, the motor has a high starting torque, a simple and cost-efficient design, and is easy to assemble. Common applications of DC series motors include car stator motors and elevators. 
PMDC Motor
Permanent Magnet DC Motor, commonly known as a PMDC motor, is a kind of motor that features an inbuilt permanent magnet to generate the required magnetic field. The permanent magnetic fields communicate with the perpendicular fields generated by the flow of current within the armature windings, resulting in the production of mechanical torque. This torque rotates the rotor, reducing the distance between the stator and rotor fields, causing the torque to reverse in a 90-degree rotation. In addition, PMDC motors included a commutator in the rotor shaft to maintain the torque on the rotor. This commutator will activate the current supplied to the stator, resulting in a continuous 90-degree angle among the fields. Thus, as current flows through the windings, the current in every stator winding exchanges at a frequency similar to the number of magnetic poles and speed. 
PMDC motors have constant speeds and low starting torque. They are also smaller and cheaper to maintain. Therefore, PMDC motors have a wide range of applications, from windshield wipers in cars, computer drives, electric toothbrushes, food mixers, and drilling machines, among others.  
PMDC Motor
We earn a commission if you make a purchase, at no additional cost to you.
DC Compound Motor
DC compound motor incorporates the mechanisms of both the DC shunt and series motors in its operation. In this motor, the stator and rotor are connected to each other using a compound motor that has both series and shunt windings. The series windings are mostly designed with several windings of wide copper wires to lower resistance, whereas the shunt windings are designed using several copper wire windings to achieve the maximum I/P voltage. In addition, DC compound motors have good speed regulation and a high starting torque owing to their incorporation of both shunt and series DC motor mechanisms.  
We can categorize DC compound motors into cumulative compound motors and differential compound motors. Cumulative compound motors simultaneously use both shunt and series fields to result in more flux at any given current. This increased flux results in higher torque and constant speeds. On the other hand, a differential compound motor uses both shunt and series fields, with both fields opposing each other. This mechanism results in a reduced flux and thus low torque at higher speeds. Differential compound motors are not commonly used since they are unstable, with their speed increasing with an increase in the load. 
To control the speed in a DC compound motor, you can use armature and field control methods. Common applications of this motor include elevators, steel rolling mills, heavy planers, cutting machines, printing press machines, and mixers. 
DC Compound Motor
We earn a commission if you make a purchase, at no additional cost to you.
AC Motors
AC motors operate by converting alternating current to mechanical energy. Let us examine the two main types of AC motors. 
Synchronous Motor
A synchronous motor depends on the stator and rotor interaction with magnetic fields to operate. The stator consists of three-phase windings and is supplied with power in these three phases. This three-phase power results in the stator producing a three-phase rotating magnetic field. The rotor now rotates in synchronization thanks to the rotating magnetic field produced by the stator windings. There is usually no air gap between the stator's current speed and the rotor. The speed of a synchronous motor depends on the frequency of the AC current. 
We commonly use synchronous motors for applications where the speed needs to be more precise and constant. Some of these applications include positioning machines, clocks, robot actuators, ball mills, and record player turntables. 
AC Synchronous Motor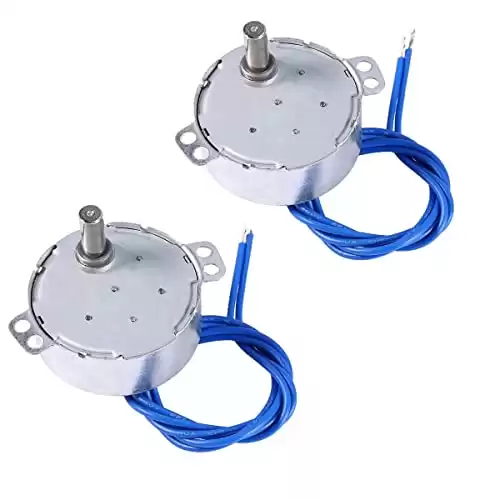 We earn a commission if you make a purchase, at no additional cost to you.
Induction Motor
An induction motor is an AC motor that runs at an asynchronous speed. Also known as an asynchronous motor, an induction motor uses electromagnetic induction to change electric energy to mechanical energy. We can classify induction motors into 1-phase and 3-phase induction motors with the 1-phase induction motor using a single-phase AC power supply. In contrast, the 3-phase induction motor connects to a three-phase AC current. 
Single-phase induction motors are not self-starting and some common applications include pumps, compressors, mixers, toys, electric shavers, and drilling machines. In these motors, the start windings normally have capacitors and a centrifugal switch. On the other hand, three-phase induction motors feature no capacitor, start winding, or centrifugal switch since they are self-starting. We commonly use these types of motors in commercial and industrial applications from lifts, cranes, crushers, hoists, and oil-extracting mills. 
AC Induction Motor
We earn a commission if you make a purchase, at no additional cost to you.
Specialized Motors
Specialized motors are a group of motors that are designed for certain special applications.  
Stepper Motor
Stepper motors are used to offer step angle revolutions, which is an alternative to stable revolutions. While normal rotors rotate at a 180 degrees revolution angle, stepper motors separate their complete revolution angle into several steps. A stepper motor can, for instance, separate its revolution angle into 18 steps, 10 degrees each. Stepper motors use electro-magnetism as their working principle, with the rotor being made of a permanent magnet and the stator using electromagnets. Power is supplied to the stator windings, resulting in a magnetic field within the stator. The rotor now starts to move with the stator's rotating magnetic field. Stators are powered in series in order to rotate the stepper motor. Some applications of stepper motors include plotters, process control tools, automotive gauges, medical scanners, and automatic digital camera focus and zoom functions.
Stepper Motor
We earn a commission if you make a purchase, at no additional cost to you.
Brushless DC Motors
We can make a Brushless DC motor in two ways. You can place the rotor outside the core and the windings in the core whereby the rotor magnets will act as an insulator by reducing the motor heat dissipation rate, allowing it to operate at low speeds. Fans use this type of arrangement. You can also place the rotor inside the core and the windings outside the core, allowing the motor to dissipate more heat, thus increasing the torque. Hard disk drives commonly use this type of arrangement. Other applications of Brushless DC motors include consumer electronics, transport, model engineering, and industrial engineering. 
Hysteresis Motor
A hysteresis motor is a synchronous motor that uses the hysteresis effect in a solid rotor of a permanent magnetic material to achieve synchronization. The magnetization of the rotor lags behind in the magnetic field, causing a hysterical effect. A hysteresis motor is able to maintain torque at all speeds, even at a synchronous speed. Further, this motor is among the smoothest running motors and they maintain very low noise levels. This quiet operation makes it perfect for applications in sound recording equipment and ultra-quiet generators.
Reluctance Motor
Reluctance motors operate by inducing temporary magnetic poles on the rotor. The rotor is made from a ferromagnetic material, which makes it easier for this induction process. The rotors generate torque through magnetic reluctance. Reluctance motors are the best choice for applications that require high-density power at affordable costs.
There are two types of reluctance motors, namely switched reluctance motors (SRM) and synchronous reluctance motors (SynRm). SRMs have concentrated windings that produce a higher torque ripple, giving out loud noise. SynRms use distributed windings. These motors produce a lower torque ripple, giving you a quiet operation. Additionally, synchronous reluctance motors have a lower magnetic flux density, giving them lower efficiency. We use reluctance motors in signaling devices and electric clock timers.
Reluctance Motor
We earn a commission if you make a purchase, at no additional cost to you.
Universal Motor
The Universal motor is the hybrid of electric motors. It can use either DC or AC power. It creates its electric field by using an electromagnet as a stator. The coils in the stator field have a series of connections with the rotor windings. A commutator makes all this possible. The Universal motor shares some common features with the AC motor. However, it has some modifications that allow it to operate and function with AC power.
Most universal motors can maintain operating speeds of up to 3500rpm. However, the speeds vary depending on the type of current. For example, they run at a higher speed on DC supply compared to AC supply when connected to the same voltage. The reactance voltage drop present in AC causes this spinning difference.
Smaller universal motors have efficiency levels of about 30%, while larger universal motors are up to 75% efficient. These motors are best suited for applications requiring high speed and control. Some notable applications of universal motors are table fans, hair dryers, portable drill machines, and kitchen appliances.
Universal Motor
We earn a commission if you make a purchase, at no additional cost to you.
Types of Electric Motors: Bottom Line
In conclusion, understanding the different types of electric motors and how they work is essential for choosing the right motor for your specific application. This article covers all you need to know about electric motors. These motors come with different specs and rotating speeds which make them flexible for use and application. Whether you need precise control over motor movement, high-performance speed regulation, or reliable and efficient motor control for industrial applications, there is a type of electric motor that can meet your needs. By considering factors such as speed, torque, and power requirements, you can select the right motor for your application and ensure optimal performance and efficiency.
180 Volt DC armature
1750rpm (base)
2HP (Horsepower)
Brushed and shunted

Buy Now on Amazon

We earn a commission if you make a purchase, at no additional cost to you.

04/27/2023 09:23 am GMT

high torque, low speed, low noise DC motor
3rpm (base)
Gearbox size: 20mm
6V power

Buy Now on Amazon

We earn a commission if you make a purchase, at no additional cost to you.

04/27/2023 09:28 am GMT

For use in forklifts and stackers
Power: 45V
1550rpm (base)
Motor Weight: 11Kg

Buy Now on Amazon

We earn a commission if you make a purchase, at no additional cost to you.

04/27/2023 09:32 am GMT

Use for DIY, school projects, craft models, etc...
127V
6rpm (base)
Robust, low noise, 50/60Hz AC motor

Buy Now on Amazon

We earn a commission if you make a purchase, at no additional cost to you.

04/27/2023 09:36 am GMT

Uses 220V AC power (single phase)
60rpm (base at 200V)
speed regulator for motor included
40W power

Buy Now on Amazon

We earn a commission if you make a purchase, at no additional cost to you.

04/27/2023 09:39 am GMT

for use in the CNC XYZ 3D printer
high torque motor (42Ncm)
CE Certified
Low resistance for lower temperature operation

Buy Now on Amazon

We earn a commission if you make a purchase, at no additional cost to you.

04/27/2023 09:43 am GMT

34,000rpm (base)
800W Horsepower
220V
4/2 pole

Buy Now on Amazon

We earn a commission if you make a purchase, at no additional cost to you.

04/27/2023 09:50 am GMT

AC and DC enabled
10,000rpm
115V
Open, drip-proof enclosure

Buy Now on Amazon

We earn a commission if you make a purchase, at no additional cost to you.

04/27/2023 09:52 am GMT