In 2023, we've seen more push for sustainable energy than ever before. From residential panels to the latest solar gear for camping, harnessing the sun offers many benefits. If you're one to find yourself spending quality time outside, these updated tools and devices offer power where you wouldn't normally have it.
So, how do you know what gear to search for? We've reviewed the latest gadgets from the best manufacturers to acquaint you with the equipment you need. From solar speakers to rechargeable smartwatches, you'll want to read on to learn more.
11. Solar Table (GOSUN)
We earn a commission if you make a purchase, at no additional cost to you.
As a power station and workstation combined, GOSUN innovates solar gear for camping with this all-in-one electric table. The SolarTable 60 comes with a tempered-glass covered, 60W panel for charging a portable power bank. This lets you connect to the company's electric cooler, which fits perfectly under the table for shade. 
10. Solar Speakers (ABFOCE)
ABFOCE Solar Bluetooth Speaker Portable Outdoor Bluetooth IPX6 Waterproof Speaker with 5000mAh Power Bank,60 Hours Play Time Dual Speaker with Mic, Stereo Sound with Bass Home Wireless Speaker-Black
【Super Solar Experience】This solar bluetooth speaker utilizes a high-performance mono-crystalline silicon ETFE laminated solar panel, which has superior light transmission and absorbs solar energy...
【Superior Stereo and Bass】10 Watts high power, double speakers. Two 40 MM loudspeakers.Total harmonic distortion of less than 1% with powerful stereo and independent bass. Amazing sound even at...
【60+ Hours Playtime & Mobile Power】  5000mAh lithium-ion batteries - powerful battery life allows you to play music up to 60 hours after a full charge. This speaker can also be used as a power...
【Outdoor waterproof bluetooth speaker 】Waterproof rating IPX6, Shockproof, Dustproof.  Stylish, Compact and Easy to Carry.  Built in LED flashlight. Detachable aluminum carabiner hooks and...
【Bluetooth 4.2 Technology】Compatible with all Bluetooth devices including tablets, smart phones and laptop computers. Compatible with non-Bluetooth devices equipped with 3.5 mm audio line (MP3,...
We earn a commission if you make a purchase, at no additional cost to you.
In our opinion, there's no better way to enhance a weekend trip to the lake than with your favorite jams. These solar speakers from ABFOCE make it easy to set up a playlist without worrying about connecting it to a power source.
The speaker comes with a native, 5,000mAh battery that's capable of 60 hours of life. But if you're out on a long holiday, the monocrystalline solar panel will give it that extra boost so you can keep the groove going.
9. Solar Lantern (PackLite)
LuminAID PackLite Nova USB Solar Inflatable Waterproof Light
Bright solar powered lantern with 75 lumens of LED light. Multiple brightness settings make it a perfect indoor or outdoor light.
Lightweight, inflatable, collapsible, waterproof (IP67), shatterproof, and dustproof. Completely safe for children.
Great for camping, hiking, fishing, emergency preparedness, patio parties/picnics, fun in the pool, and more. Makes a perfect gift.
Long Battery Life - Up to 24 hours of light when battery is fully charged. No additional batteries needed!
Two Ways To Recharge (Solar & USB) - Recharges in approximately 10 hours of direct outdoor sunlight or by micro USB input (cord included) in 1-2 hours.
We earn a commission if you make a purchase, at no additional cost to you.
Lightweight, collapsable, and waterproof, there's no reason to leave for the outdoors without one of these solar lanterns by PackLite. The LED light uses hardly any power, giving it a battery life of nearly three nights.
Put it in the sunlight and the small solar panel on top can charge the battery from completely drained in about 10 hours. When you need light for those critical moments in the dark or just simply enjoying the evening with your friends, solar lanterns come in clutch.
8. Solar Oven (GOSUN)
GOSUN Solar Oven Portable Stove- GoSun Go PRO Camp Stove Solar Cooker | Camping Cookware & Survival Gear, Outdoor Oven & Solar Powered Camping Grill, Camping Stove & Sun Oven For Backpacki...
✅ Solar Powered Camping Grill: The solar oven is designed to work in all seasons as long as the sun is up. It can effectively capture ultraviolet rays and maintain their heat. 
✅ Maximum Solar Oven Temperature Range: The long-lasting vacuum tube camping cookware provides insulation to keep the heat in and the cold out. This Solar grill oven takes only 20 minutes to cook a...
✅ A Convenient Way: Just load with food and relax. No monitoring is required. The portable stove retains your food's flavor and nutrition while cooking from 360°, like a slow cooker, but faster....
✅ Camping Stove for any event: Solar cooking is even tastier since there's little air movement in a solar oven. The food cooks evenly and stays moist and tender.
✅ Portable Design: The solar stove can be set up and stored in seconds with a zipper design on both sides, as you can see in the image. The external shape of the solar oven is similar to the...
We earn a commission if you make a purchase, at no additional cost to you.
Why does camp food have to stop at sausages, cast irons, and dutch ovens? GOSUN has a solar oven that uses sunlight to superheat food in less than 30 minutes. Simply load the funnel with food and position the oven in the sun.
With this tool, you can bake, roast, steam, and even saute with a maximum temperature of 550 degrees Fahrenheit. When finished, the solar stove fits into a protective storage bag for easy portability.
7. Portable Solar Panel (Dokio)
DOKIO 300W 18V Portable Solar Panel Kit Folding Solar Charger with 2 USB Outputs for 12v Batteries/Power Station AGM LiFePo4 RV Camping Trailer Car Marine
【FOLDABLE AND LIGHTWEIGHT EASY TO STORE】-- This solar panel photovoltaic packs 300W of power yet is only 1.1inch(2.8cm )thick and weighs only 17lb(7.5kg), making it easier to mount,transport,...
【COMPLETE KIT,WORKS OUT OF THE BOX 】-- Solar charger for all 12V batteries ,with its 18V optimum power voltage.Protection against: overcharging, overload, short-circuit
【PERFECT CHOICE FOR OUTDOOR AND EMERGENCY LIFE】-- 9.85ft (3m) cable length from panel to controller, For most power stations (Jackery,Goal Zero,Ecoflow,Paxcess) and 12-volt...
【PUT A LOT OF POWER INTO YOUR BATTERY BANK】-- powerful high conversion efficiency with high efficiency monocrystalline solar cell, you will get greater power efficiency even though the panel is...
【WELL PACKAGED, QUICK DELIVERY】-- Amazon US warehouse shipping, Receive goods in time,come with a 30-day money back Guarantee, 1-year warranty and forever support from DOKIO customer care.
We earn a commission if you make a purchase, at no additional cost to you.
Whether you're trying to power a battery bank, a generator, or an inverter, you will want to pack along a portable solar panel. These are essential for the nomadic type that might try to sneak in a little work on the road or for those that just can't get enough of their devices.
What makes these portable panels ideal is their design; with an accordion-folding setup, you can easily pack them with you among your camping gear. Pair them with your favorite power station for optimal power.
6. Solar Flashlight (Hybridlight)
We earn a commission if you make a purchase, at no additional cost to you.
If you're the type to come prepared, then a solar lantern probably won't cut it. These high-powered flashlights from Hybridlight offer up to 300 lumens with a lithium-ion battery.
Providing nearly 50 hours of illumination, you can charge this flashlight with USB or the onboard solar panel. This way, you've got all the light you need wherever you are.
5. Solar Weather Radio (Raynic)
Emergency Radio Raynic 5000 Weather Radio Solar Hand Crank AM/FM/SW/NOAA Weather Alert Portable Radio with Cellphone Charger, Headphone Jack, Flashlight, Reading Lamp and SOS Alarm (Yellow)
AUTOMATIC NOAA WEATHER ALERT RADIO - This weather alert radio may save your life! Especially important at night while you are sleeping! It auto-scans for emergency and weather alerts when you turn the...
LARGE HD LCD DISPLAY - A must weather radio with a large HD LCD display screen and digital tuning, you can see the battery level and current tuning frequency, which can provide reliable AM/FM/SW/WB...
6-WAY CHARGING OPTIONS - An NOAA Weather radio with multiple charging backup options is the ideal choice. 6-way charging options including a built-in rechargable backup battery, an AC adapter, DC 5V...
EMERGENCY RADIO & SOS ALARM - When hurricanes, tornadoes, earthquakes, flooding, or other emergencies may occur, an NOAA alert radio can provide life-saving information. A built-in super-bright 3W...
PORTABLE RADIO & HEADPHONE JACK - This portable radio is small, light, and IPX3 water-resistant, only 1.2LB, measures: 6.8×3.7×2.9 inches, which is easier to carry with you anywhere. Includes a 3.5...
We earn a commission if you make a purchase, at no additional cost to you.
Following along with emergency equipment, this solar weather radio presents a reliable way of tracking the forecast in disconnected areas. In addition to having a solar charging battery, this piece of equipment by Raynic also features a cellphone charger, headphone jack, flashlight, and SOS alarm. Tune the radio to AM, FM, SW, or WB for the most accurate weather reports in your area.
4. Solar Headlamp (MPOWERD)
MPOWERD Luci Beam: 2-in-1 LED Solar Powered Headlamp and Flashlight | Up to 300 Lumens, Lasts up to 30hrs | 4 Modes | Rechargeable via Solar or USB | Camping, Backpacking, Emergency Kits
VERSATILE transformative, 2-in-1 design gives you the ability to switch from handheld flashlight to headlamp in a snap.
SET INCLUDES: 1x headlamp body, 1x headlamp mount, 1x flashlight body, 1x headband/wrist strap, 1x micro-USB cable.
COMPLETELY SOLAR & NEVER NEEDS BATTERIES. The handheld flashlight base has a built-in high efficiency solar panel, which means that no batteries are needed - ever. Recharge fully via solar or quick...
BUILT-IN RECHARGEABLE LITHIUM-ION BATTERIES. The headlamp features a 650 mAh battery and the flashlight features a 4,000 mAh battery. Both components have battery charge indicator lights.
POWERFUL, PORTABLE, AND ADVENTURE READY. With its compact size, this little light can travel with you on any adventure. Plus, the dual-use adjustable strap can be used as a secure headband for the...
We earn a commission if you make a purchase, at no additional cost to you.
When you're trying to work in the dark, it's difficult to maneuver a flashlight at the same time. With this solar headlamp from MPOWERED, you have a two-in-one flashlight that charges with sunlight. With a 4,000mAh lithium battery and an 8-hour charge time, this headlamp makes it one of the most reliable solar gear for camping. 
3. Solar Shower (KIPIDA)
We earn a commission if you make a purchase, at no additional cost to you.
One of the best feelings after a long day on the trail is coming back to camp and rinsing off. This solar shower bag by KIPIDA uses sunlight to warm 20L of water up to 113 degrees Fahrenheit for a hot soak.
Simply hang the bag full of water in the sun for three hours and it's ready to go. When you're finished, the solar shower rolls up small, making it easy to pack anywhere you explore.
2. Solar Smartwatch (Garmin)
Garmin Instinct Solar, Rugged Outdoor Smartwatch with Solar Charging Capabilities, Built-in Sports Apps and Health Monitoring, Graphite
Vastly extended battery life through solar charging.Supported Application:GPS. Connectivity technology:GPS. Wireless comm standard:Bluetooth
Rugged GPS Watch is water-rated to 100 meters and constructed to U.S. military standard 810 for thermal, shock and water resistance
Built-in 3-axis compass and barometric altimeter plus multiple global navigation satellite systems (GPS, Glonass and Galileo) track in more challenging environments than GPS alone
Track your activities for running, biking, swimming, strength and more
Help understand your health and wellness better with all-day health monitoring and Pulse Ox (this is not a medical device and is not intended for use in the diagnosis or monitoring of any medical...
We earn a commission if you make a purchase, at no additional cost to you.
Truly a piece of gear a cut above the rest, having a smartwatch that charges with sunlight provides essential applications. In addition to the standard time and date, this device from Garmin comes with GPS and a 3-axis compass, ensuring your safety when off the grid.
It's also military-rated for thermal, shock, and water resistance up to 100m. And featuring an incredibly efficient lithium battery, the watch can last months with solar charging.
1. Solar Generator (Jackery)
Jackery Portable Power Station Explorer 300, 293Wh Backup Lithium Battery, 110V/300W Pure Sine Wave AC Outlet, Solar Generator (Solar Panel Not Included) for Outdoors Camping Travel Hunting Blackout
SPEED UP YOUR RECHARGEABILITY: It takes only 2 hours to recharge 80% battery of the power station through the wall outlet and 60W PD USB-C port simultaneously. You can also recharge your power station...
SAFE & STEADY POWER SUPPLY: Armed with a 293Wh lithium-ion battery pack, the Explorer 300 features 2 Pure Sine Wave AC outlets that deliver stable and safe 300W power. The portable power station...
POWER YOUR EXPECTATIONS: Featuring 2* AC outlet, 1* PD 60W USB-C port (input/output supported) , 1* fast charge 3.0 port, 1*USB-A port and 1* DC car port, the power station can recharge itself and...
GREEN POWER SUPPLY: The power station is compatible with the Jackery SolarSaga 100 solar panel. The integrated MPPT controller enables the solar generator set to operate at its max power point, so...
WHAT YOU GET: 1* Jackery Explorer 300 Portable Power Station , 1*AC adapter, 1* car charger cable, 1* user guide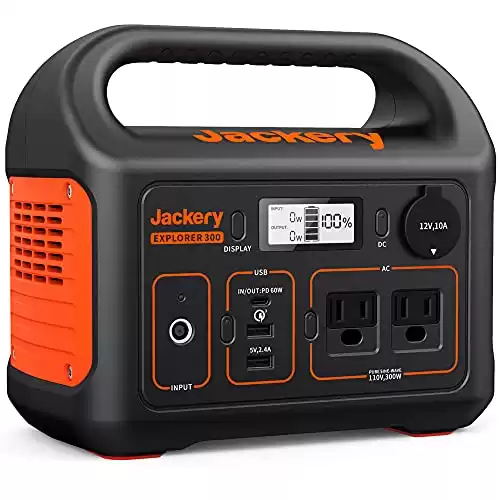 We earn a commission if you make a purchase, at no additional cost to you.
There's no system better than a portable generator for connecting all of your devices. These versatile power stations, such as this one by Jackery, feature an easy port for solar compatibility.
These generators come loaded up with a variety of AC and  DC outlets as well as USB ports for anything you need to charge or power. And weighing under 10 pounds and featuring a massive handle, these power stations go everywhere you do.
What to Know Before Buying Solar Gear for Camping
When considering an upgrade of your camping equipment to solar options, it's essential to understand that the solar component isn't meant to counter power usage. Much of the gear on this list features small panels that only provide marginal energy.
Thus, only rely on the solar component to supplement a charge for extra battery life. When you have an opportunity, take time to charge your equipment using an alternate input, such as USB or AAA.
Summary of Solar Gear for Camping
| Type | Recommended Brand |
| --- | --- |
| 1. Solar generator | Jackery |
| 2. Solar smartwatch | Garmin |
| 3. Solar shower | KIPIDA |
| 4. Solar headlamp | MPOWERD |
| 5. Solar weather radio | Raynic |
| 6. Solar flashlight | Hybridlight |
| 7. Portable solar panel | Dokio |
| 8. Solar oven | GOSUN |
| 9. Solar lantern | PackLite |
| 10. Solar speakers | ABFOCE |
| 11. Solar table | GOSUN |
Solar Gear for Camping: Further Reading
With alternative energy finding more prominence around the world, picking up the latest solar gear for camping is a step in the right direction. Whether you're out in the forest or lounging at home, you can benefit from renewable energy. Check out the articles below for the latest advancements in the solar industry.