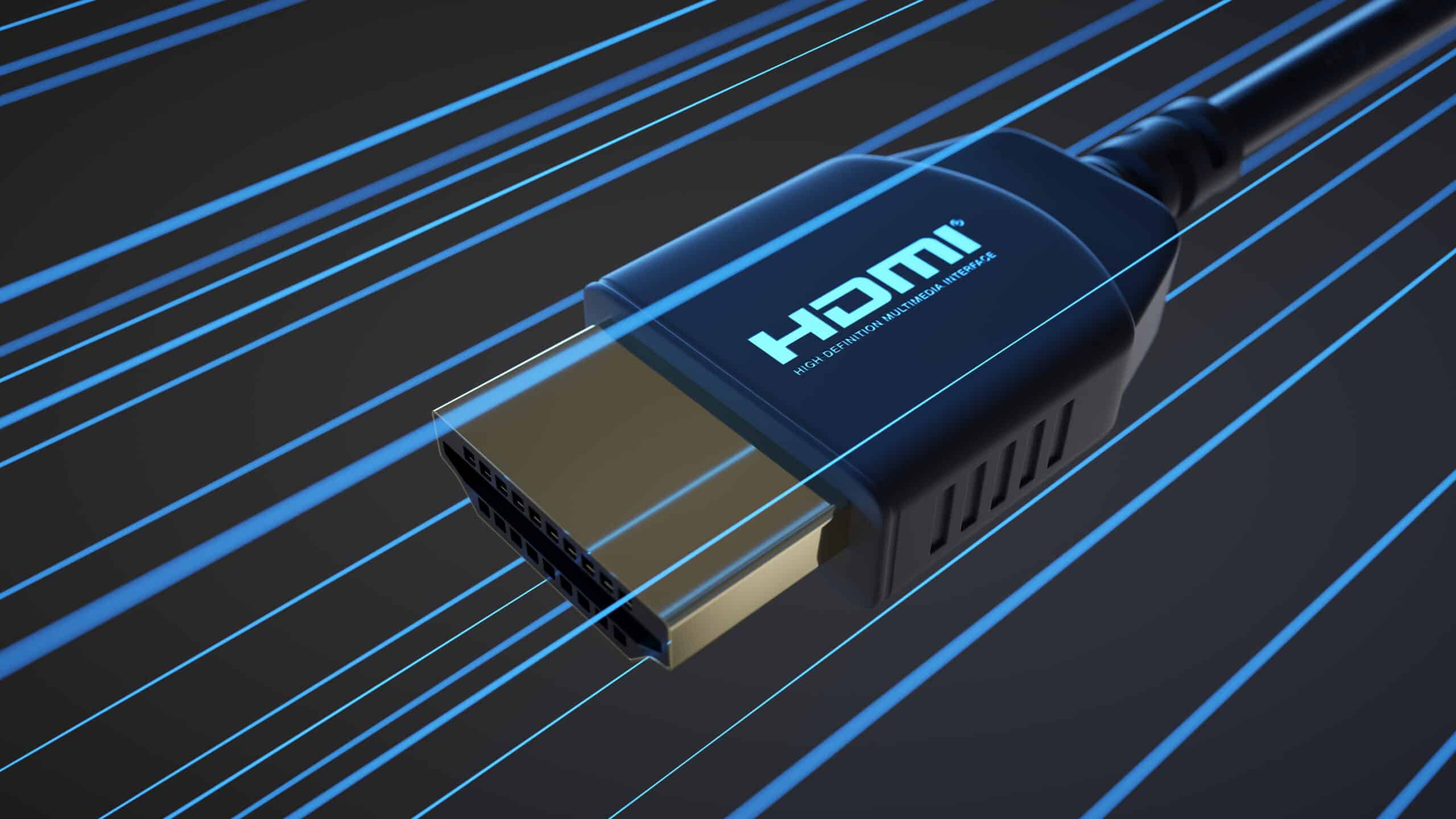 Key Points:
A good HDMI switcher has four or more HDMI connections, with ports powered by the latest HD chipsets to provide the best possible picture and sound quality.
The Kinivo HDMI Switch 4K HDR was the first model to offer 4K. Therefore, it has some of the best 4K technology with up to 60 FPS options.
The budget-friendly Fosmon 5 Port HDMI Switch has five inputs, supports up to 4K at 60Hz inputs, and is compatible with Dolby Vision and HDR.
High Definition Multimedia Interface, or HDMI, is a digital connection standard for video signals. As the name suggests, it's primarily used for transmitting high-definition video signals from devices such as computers or gaming consoles to monitors or televisions. Users with multiple devices that have an HDMI output can use a switcher to connect them all to a single display.
A good HDMI switcher has four or more HDMI connections, with ports powered by the latest HD chipsets to provide the best possible picture and sound quality. They plug directly into one of your TV's many HDMI inputs and boast features such as remote control operation, 4K and 3D support, and automatic input switching.
If you're searching for the best HDMI switchers in the market today, you'll find several different options. Each has its own set of pros and cons, which is why it's essential to do your research before making a final decision. To assist you in making an informed decision, we have compiled a list of some of the best switchers available today, along with detailed information about each of them. So, without further ado, here are our top five picks for the best HDMI Switchers you can buy today!
Kinivo HDMI Switch 4K HDR (5 Port, 4K 60Hz, HDMI 2.0, High Speed-18Gbps, IR Remote) - Compatible with Roku, PS5/PS4, Xbox, Apple TV, Blu-ray Player, Cable Box
Connect five HDMI input devices (e.g. gaming console, DVD player, streaming devices etc..) to a single output display (HDTV) helping reduce clutter from wires being fed into your HDTV
Experience your favorite media through advanced crystal-clear true 4K 60Hz resolution , HDR, Dolby Vision and immersive 3D content (supports 1080p as well)
Can switch automatically (based on active input) allowing you to enjoy your media instantly without the fuss of setting up. Manual switching can be done by IR remote. Not all devices support Auto...
Efficient heat dissipation through hybrid aluminium body and convenient design
Two-year warranty with lifetime US based customer support
We earn a commission if you make a purchase, at no additional cost to you.
Determining the best HDMI switcher can be pretty challenging since they share common features. But, after comparing the performance of several models and taking into account factors such as price and compatibility, we are happy to present the Kinivo HDMI Switch 4K HDR as the best HDMI Switch available today.
An interesting fact about this great switcher is that it was the first model to offer 4K. Therefore, it has some of the best 4K technology with up to 60 FPS options. It also has other incredible features you wouldn't want to miss. Firstly, it has five inputs that make it reliable if you're working on multiple devices. You don't have to worry about switching between the connected devices because the switcher is designed with an automatic switching feature.
This means it can detect active devices and switch between them effectively. Unfortunately, the auto-switching feature may fail to function on some of your devices if it isn't compatible. But that shouldn't bother you as it has a remote control enabling you to switch between input ports.
This switcher supports Dolby Vision and the latest 3D content enabling you to have the best movie and gaming experience. Therefore, after considering its price with the many features it offers, there is no doubt this is the best HDMI switcher you can get today.
Check out Kinivo HDMI Switch 4K HDR on Amazon.
Fosmon 5 Port HDMI Switch, HDMI 2.0 Auto Switch,

[email protected]

5x1 Switcher Splitter Box with Remote Control Support 4Kx2K, Full 1080p, 3D HDR, 18Gbps, HDCP 2.2 for Apple TV, Fire Stick, HDTV, PS4, Xbox, PC
[LATEST HDMI 2.0 STANDARD] Why HDMI 2.0 for 4K? Most High frame rate movies and games are running at 60fps. With Fosmon's 5-Port HDMI switch with HDMI 2.0 version delivers, you can enjoy Full 4K 3D...
[SUPPORT 4Kx2K 60Hz UHD] Fosmon HDMI switcher supports [email protected], [email protected], [email protected], HDCP 2.2, uncompressed/compressed audio formats. Enjoy your PS4 PRO gaming or switch to your PS3, Xbox One, Roku...
[5 IN 1 OUT HDMI SWITCH BOX] Need more HDMI ports? Getting Fosmon 5 Port HDMI switchs is a COST-EFFICIENT way to add more ports to your TV. It can maximize your output device by connecting up to 5...
[HIGH QUALITY PC BOARD] The upgrade PC board enhanced the stability of HDMI switch, helps to minimize the signal loss and screen flickering. With the IR Wireless remote control, you can easily switch...
[LIMITED LIFETIME WARRANTY] Join millions of satisfied customers with our limited lifetime warranty, backed by our experienced and dedicated USA based customer service.
We earn a commission if you make a purchase, at no additional cost to you.
You have to be extra careful when looking for the best cheap HDMI switcher in a market full of dupes. The Fosmon 5 Port HDMI Switch is the best affordable switcher on our list, even though they are all reasonably priced. The most essential features of an HDMI switcher are the number of inputs and its maximum resolution. This one has five inputs, supports up to 4K at 60Hz inputs, and is compatible with Dolby Vision and HDR.
It also has an IR blaster which enables you to use the remote control without pointing at the switch. Besides the remote control, this switcher has automatic switching with an option to turn it off if it switches between devices irregularly.
One of the challenges we found with this HDMI switcher is the installation demands. It requires you to mount an IR sensor via a wire which is quite complex. Also, it's designed with a plastic shell making it less durable compared to other switchers.
Check out Fosmon 5 Port HDMI Switch on Amazon.
We earn a commission if you make a purchase, at no additional cost to you.
If you want to watch 4K content, but don't want to use a separate device for it, the Zettaguard 4 Port 4x1 HDMI Switch with PIP and IR Wireless Remote Control is worth considering. This switch offers up to four ports of HDMI input and output at resolutions up to 3840x2160p @ 30Hz (4:4:4), along with an integrated splitter that makes it easy to connect multiple devices such as game consoles or Blu-ray disk players.
The remote control comes equipped with an infrared receiver so you can operate your switcher from a distance. If this isn't enough, there's also an onboard IR sensor so you can use the included IR transmitter instead. The switcher also features hardware acceleration technology for smooth playback of 1080p video signals over two channels at a 30 Hz refresh rate on any compatible device that supports HDCP 2.2 protocol (which includes most modern TVs).
The main advantage of this switcher is its portability. It's small enough to fit in any backpack or briefcase, and with the included IR transmitter you can use it anywhere in your house without having to worry about running long HDMI cables from one room to another. The build quality isn't bad either; the casing feels sturdy and durable enough to endure regular wear and tear over time. The downside is that switching between ports sometimes takes a few seconds.
Check out Zettaguard 4 Port 4x1 HDMI Switch on Amazon.
FERRISA 4x2 HDMI Matrix Switch,4 in 2 Out Matrix HDMI Video Switcher Splitter +Optical & L/R Audio Output,Support Ultra HD 4K,3D 1080P,Audio EDID Extractor with IR Remote Control
【4 IN 2 OUT Matrix】This HDMI Matrix can connect up to 4 HD Source to 2 HDMI Display terminals with optical fiber or stereo headphone output,it allows four HDMI devices to be switched or split...
【High Resolution】Supports a multitude of video resolutions, including 4K x 2K, 1080P, Ultra HD, 3D, HD audio and etc. Supports 8/10/12 bit deep color. Support HDMI 1.4b and HDCP1.4,Support 3.4Gbps...
【Audio Split&EDID】Supports LPCM/Dobly/DTS 5.1 channel and smart EDID management. Any input HD source can do audio extract by the SPDIF or 3.5mm headphone audio output port separately or at the...
【Premium Quality】This 4x2 HDMI Matrix contains in-built automatic equalization and amplification to ensure optimum transmission without loss in video/audio quality.It is embedded with ESD...
【LIFTIME WARRANTY】We guarantee you a 1 year Money Back Zero Risk purchase. If you have any questions, just contact us via Amazon, your issues is our biggest concern
We earn a commission if you make a purchase, at no additional cost to you.
The Ferrisa 4x2 HDMI Matrix Switch is perfectly designed for multiple displays. Its two output ports can display signals coming from any of the four input ports at the same time. Additionally, the two output ports operate in two modes, Matrix and Splitter, to ensure you get the best performance.
Matrix mode is designed to display input from different ports on each device connected to your TV or monitor, while Splitter mode displays the same input on both monitors. However, it would be best to use matrix mode to display input from devices with the same audio/visual format for maximum performance. Otherwise, there might be some display issues.
Besides the two modes that make this switcher ideal for multiple displays, it has a headphone jack. It is also easy to install and has a remote control that is easy to use. However, this will not be an option for you if you want a switcher that supports full HD. This HDMI switcher supports 4K resolution at 30Hz which may not be suitable for high-resolution games and movies.
Check out Ferrisa 4x2 HDMI Matrix Switch on Amazon.
(Newest Version) ROOFULL 5 Port 4K HDMI Switch with Remote Premium 5 in 1 Out UHD

[email protected]

HDMI 2.0 Switch Box Selector, Support Dolby Vision/ Atmos, HDCP 2.2, HDR 10, Auto-Switch, 18Gbps, CEC, 1080P
【Smart 4K HDMI Switch】ROOFULL 4K HDMI 2.0 switch will provide you with more HDMI 2.0 input ports on your TV to connect up to 5 4K source devices together, no need to switch devices by plugging and...
【True 4K Ultra-HD】The latest HDMI v2.0a HDMI switch support [email protected] 4:4:4 HDR (Maximum 4096x2160), HDCP 2.2 Pass-through, Dolby Vision, Dolby Atmos, CEC, deep color up to 36bit, HDMI bandwidth up...
【Switch Devices Easily】3 switching methods - You can easily switch your multiple source devices through the remote on your couch, press the button, or control your device more intelligently...
【Wide Compatibility】ROOFULL 4K HDMI switch with upgraded A/V solution ensures better performance and easier switching experience during movies, TV, or games. Perfectly compatible with PS3/4/5,...
【Worry-Free Shopping】Get it from a professional manufacturer without any worries! 18-month hassle-free warranty with lifetime professional technical support, do not need to worry about missing the...
We earn a commission if you make a purchase, at no additional cost to you.
While looking for the best HDMI switcher for audio compatibility, get one with an excellent and upgraded audio/visual design. Of course, other factors like 4K support are considered to ensure the best switchers get selected after testing. The ROOFULL 5 Port 4K HDMI Switch was our top pick because it offers the best audio compatibility.
You can use DTS-HD, LPCM 7.1, Dolby TrueHD, and most modern audio processors. Apart from its wide-range audio compatibility, it also supports 4K resolution at 60Hz which is ideal for gaming and movies. In addition, it has five input ports and offers an automatic and manual control system. The fact that the switcher automatically returns to the last used device makes it ideal for work on multiple devices.
Check out ROOFULL 5 Port 4K HDMI Switch on Amazon.
How To Pick The Best HDMI Switcher: Step by Step
When choosing the best HDMI switcher, here are factors you should consider.
Number of inputs
Audio formats
Output resolution
Refresh rates
Let's explore each one in more detail.
Number of inputs
The main reason you are getting an HDMI switcher is to ensure you connect multiple devices to a single output port. Most HDMI switchers have between two to eight input ports. It would be best to consider the number of devices you want to be connected to your TV or monitor to help you find an ideal switcher.
It's also advisable to buy an HDMI switcher with at least four input ports, even if you have only two or three devices. These will save you the pain of buying a new switcher if you want to add a device.
Audio formats
You should always check the audio compatibility of the HDMI switcher you want to buy and the devices you're going to use. Be sure the switcher matches the audio format of your devices for excellent performance. Luckily, most HDMI switchers support DTS Digital Surround and Dolby Digital, which are the main audio signals.
However, this does not mean you can pick on any switcher because some devices are compatible with Dolby TrueHD, DTS:X, and other types of audio formats. Always check for the switcher's compatibility with your existing system.
Output resolution
Similar to audio formats, your HDMI switcher should match the devices you plan to use. A perfect switcher should support at least 1080p, which is the required output resolution for most TVs and monitors. Additionally, the switcher will be compatible with Dolby Digital and DTS audio signals. If you are using a 4K device, you should find a switcher that is 4K compatible.
Refresh rates
You might choose a switcher with 4K support but with a maximum refresh rate of 30Hz. This means it's not a Full HD, which requires 60Hz refresh rates. Therefore, if you are planning to find a switcher to connect your gaming consoles or DVD player, then you should ensure you get one that is 4K @ 60Hz for the best viewing experience.
What to Know Before Buying an HDMI Switcher
Before you buy an HDMI switcher, ensure you know the number of devices you plan to use. This will help you pick a switcher that has the correct number of input ports to connect all your devices. HDMI switchers can have two to eight ports. If you intend to add another device (such as the latest game console), you should consider purchasing an HDMI switcher with an additional input port or two.
The HDMI switcher's output resolution should match the device to which it is connected. The switcher should support at least 1080p for most TVs and laptops, making it compatible with DTS audio signals and Dolby Digital. If you own a 4K device, the switcher should also support 4K resolution.
The HDMI switcher's audio requirements must also be compatible with your system. Dolby Digital audio signals and DTS Digital Surround is supported by all HDMI switchers today. If you need an HDMI switcher for a home theater system that uses DTS – X, Dolby TrueHD, DTS-HD Master Audio, or other enhanced audio formats – you should find one that is compatible with your current system.
Using HDMI Switchers: What It's Like
HDMI switchers help you have your gaming consoles, laptop, DVD players, projectors, Raspberry Pi, and any other external device you want to be connected to your television or monitor. By using an HDMI switcher, you can connect all your devices to a single HDMI port. Therefore, you can control all the devices without the need to manually plug in and out the connected devices to your TV or monitor when you want to use a different one. 
The best HDMI switcher should have the correct number of ports to input all your devices. But remember to keep your eye on other significant factors, such as audio/visual compatibility, output resolution and refresh rates to ensure you buy the perfect switcher.
Up Next…