Key Points:
TSMC, founded in 1987 by Dr. Morris Chang, is the largest chip company in the world, with a market capitalization of $465.54 Billion. The company is headquartered in Hsinchu, Taiwan.
TSMC employs over 50,000 people worldwide, with 12 fabrication plants around the globe.
TSMC intends to mass-produce 3nm chips that will offer 70% more logic density than its 5nm chips, 15% more speed at the same power levels, and 30% less power at the same speeds.
In this day and age, the chip has become essential to our existence. It gets us through everything, from the tiny little devices that help you listen to music and watch videos to big ones that can power your car and keep you warm. The semiconductor industry is very large but still has room for growth. When looking at the semiconductor market, there are two key things to look at—foundries and fabless companies.
The foundries produce the chips and then sell them to fabless companies, which in turn sell them to end users. Taiwan Semiconductor Manufacturing Company (TSMC) is the largest foundries in the world, which means that investors can take advantage of its high demand and strong growth. The company is also one of the leading players in the semiconductor industry by market cap.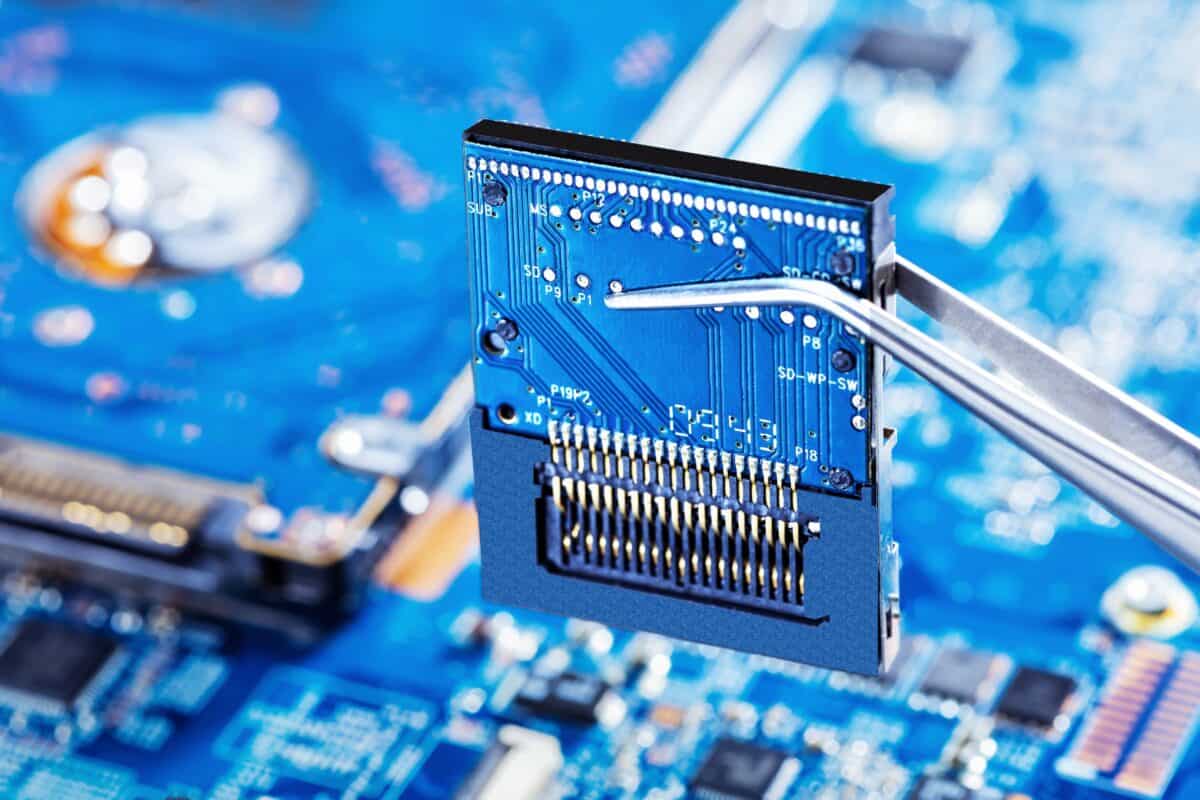 The History of TSMC
TSMC was founded in 1987 by Dr. Morris Chang, and the company has since grown to become the largest chip company in the world, with a market capitalization of $465.54 Billion. The company is headquartered in Hsinchu, Taiwan, and has manufacturing facilities in Taiwan, China, and the United States. TSMC is the largest supplier of chips to Apple Inc. It also supplies companies like Qualcomm, Nvidia, and AMD.
TSMC Through the Decades
1987-1992: Revolutionizing Taiwan's Semiconductor Industry
TSMC was a major catalyst in transforming Taiwan's semiconductor industry when it was founded in 1987. It provided cutting-edge manufacturing processes to supplement Taiwan's strength in chip design. Between 1987 and 1992, TSMC gradually increased its foundry capacity by vertically integrating into related disciplines such as wafer sort testing in 1988, mask-making in 1990, and design services utilizing VLSI Technology technology in 1991. It also improved the technology used in its processes. It began as a six-inch, two-micron wafer-processing fabrication facility, or fab, before breaking the one-micron barrier in 1991.
TSMC was created to serve Taiwan's design houses, which were well-known for their chip designs but did not want to get involved in manufacturing processes. TSMC, on the other hand, quickly evolved into an internationally oriented, profit-driven organization that aided the development of fabless semiconductor companies, that is, companies that did not own their own manufacturing facilities. Fabless semiconductor companies excelled at design but lacked the capital to build their fabrication facilities.
By 1992, TSMC had established itself as the world's leading silicon foundry, producing chips for other companies. TSMC had 250 process engineers and was at the forefront of process technology. TSMC produced 80 percent of Taiwan's SRAM and also a variety of other semiconductor chips, including DRAM and EPROM. In 1992, revenue was around $245 million.
1994-1996: Construction of New Facilities to Increase Capacity
TSMC went public on the Taiwan Stock Exchange in September 1994. Before the year's end, TSMC and Advanced Micro Devices Inc. (AMD) announced a deal for TSMC to provide foundry services for AMD's AM486 processors. TSMC reported sales of $744 million and a profit of $325 million for 1994. Between 1992 and 1994, global semiconductor sales rose by 60%, leading to a wafer fabrication capacity shortage. The majority (60%) of TSMC's sales were to fabless semiconductor companies, while 40% went to businesses without enough manufacturing capacity. TSMC had the highest gross margin in the semiconductor sector at 49%.
TSMC announced in March 1995 that it would invest $1.2 billion in constructing a second eight-inch wafer fab. Compared to the eight-inch, 0.5- to 0.35-micron plants proposed by other Taiwan semiconductor manufacturers, the new plant, TSMC's fourth fab, was initially designed to operate at 0.4 microns and later at 0.25 microns. In November 1995, work on the new eight-inch fab began. Deposits customers made to guarantee long-term fab capacity, an option that TSMC started presenting to customers in mid-1995, helped pay for a portion of the plant.
From 665,000 wafers in 1993 to 1.2 million in 1995, TSMC almost doubled its ability to produce six-inch (150mm) wafers. Its three six-inch fabs, Fab 1, Fab 2A, and Fab 2B, were operating at maximum efficiency, producing 100,000 wafers each month. Eight-inch wafer manufacturer Fab 3 was anticipated to ramp up to a total production capacity of 22,000 wafers per month in 1997 and 35,000 wafers per month in 1998. Fab 4 was planned to go online in 1997 and ramp up to its maximum monthly production capacity of 25,000 eight-inch wafers in 1998. Before 1995 came to a close, Fab 5's Hsinchu construction was announced.
TSMC and Altera Corp. announced a joint venture to establish a wafer fabrication facility in the US in November 1995. After considering locations in Oregon and British Columbia, TSMC decided to build the $1.2 billion plant in Camas, Washington. The facility would be able to manufacture 30,000 eight-inch wafers each month, starting with line geometries of 0.35 microns and moving up to 0.25 microns as needed. The joint venture partners for the facility, to be called WaferTech, were Analog Devices and Integrated Silicon Solutions Inc. by the middle of 1996. (ISSI). With a $140 million investment, Altera acquired 18% of WaferTech. Analog Devices owned 18%, ISSI owned 4%, private investors owned 3%, and TSMC owned 57%.
At the end of April 1996, TSMC raised more than $500 million by selling 305 million ADR (American depository receipt) shares, making it the first Taiwanese company to be listed on the New York Stock Exchange. Philips Electronics then owned about 35% of TSMC. TSMC reported sales of $1.45 billion and a profit of $718.5 million for 1996.
1997-1999: Challenges, Dwindling Sales, and Building Additional Capacity
TSMC began 1997 expecting a drop in sales and a 50% drop in profits. Due to excess capacity and fierce competition, the company announced price cuts. United Microelectronics Corp. (UMC) of Taiwan recently replaced longtime competitor Chartered Semiconductor Manufacturing Pte. Ltd. of Singapore as TSMC's primary competitor by forming three independent foundry ventures with several North American design houses in the last 18 months. UMC was also aggressively lowering its prices. Donald Brooks, TSMC's president since 1991, resigned in March 1997 and was replaced by TSMC Chairman Morris Chang. Brooks later became president of TSMC, rival United Microelectronics' new International Operation unit, based in Sunnyvale, California.
Around this time, TSMC announced a ten-year expansion plan that included a $14.5 billion investment in the construction of six eight-inch and 12-inch (300mm) fabrication facilities, among other things. In addition, the company announced a long-term commitment with the Tainan government to establish a new Science-Based Industrial Park in Tainan, Taiwan's southernmost province. Starting in mid-1997, TSMC planned to build Fab 6 there for $1.4 billion. As previously stated, the company had run out of room to expand in Hsinchu.
Although the global semiconductor industry was expected to grow slowly in 1998, TSMC was fully booked for the first quarter and announced that it would increase its eight-inch wafer production by 40% to 1.67 million units for the year. The company intended to ramp up production at two eight-inch fabs and start construction on several more plants, including two in Taiwan's new Tainan scientific industrial park. WaferTech was supposed to start production in the middle of the year.
By mid-1998, the semiconductor manufacturing industry was experiencing significant weakness, with prices and demand declining. After starting the year at full capacity, TSMC was operating at 80 percent capacity. As a result, the company announced that it would reduce its capital spending budget for 1998 from $1.3 billion to $920 million, with projected spending of $800-900 million in 1999. In 1999, the company appointed a new president, F.C. Tseng, and announced plans to offer a copper-metallization process and transition to 0.18-micron process technology. According to Electronic Engineering Times, TSMC was pushing its process technology at a rate that appeared to be comparable to larger competitors such as Intel Corp., IBM, and NEC Corp.
2000-Present: Acquisitions, Growth, and Expansion
The company has been upgrading its manufacturing capacity for most of its existence. In 2011, the company planned to increase research and development spending by nearly 39% to NT$50 billion. To meet market demand, the company planned to increase capacity by 30% in 2011.  After forecasting higher-than-expected demand, TSMC's board of directors approved $568 million in May 2014 to establish, convert, and upgrade advanced technology capacity. TSMC's board approved $3.05 billion in capital expenditures in August 2014. TSMC began trial production of Apple's A5 and A6 SoCs in 2011. ARM and TSMC announced a multiyear agreement to develop 10 nm, FinFET ARM processors in October 2014.
TSMC signed up for RE100 in 2020, pledging to use 100% renewable energy by 2050. TSMC consumes 5% of Taiwan's energy, more than Taipei. This initiative aimed to accelerate the country's transition to renewable energy. Due to a global semiconductor shortage in 2020–2022, United Microelectronics raised prices by 7–9%, and TSMC increased prices by 20%.
TSMC and Sony announced in November 2021 that TSMC would establish a new Japan Advanced Semiconductor Manufacturing (JASM) subsidiary in Kumamoto, Japan. The new subsidiary will make 22- and 28-nanometer processes. Sony will invest $500 million for less than 20% of the initial $7 billion. Construction of the fabrication plant will begin in 2022 and production in 2024. TSMC announced in July 2022 that second-quarter net income was up 76.4 percent year-over-year. The automotive and data center sectors grew steadily, but the consumer market slowed. Some capital spending is projected for 2023.
Reasons TMSC is The Largest Chip (Semiconductor) Company on Earth
Taiwan Semiconductor Manufacturing Company (TSMC) is the world's largest contract chipmaker. They are also the largest pure-play foundry and one of the largest semiconductor companies in the world. TSMC has been in business for over 30 years, and its clients include some of the biggest names in tech, such as Apple, Qualcomm, and Nvidia.
The company employs over 50,000 people worldwide, with 12 fabrication plants around the globe. Taiwan is currently being courted because of its ability to produce cutting-edge computer chips. In terms of market share, TSMC had a 55.6 percent share of the global semiconductor foundry market in the fourth quarter of 2020, while Samsung held 16.4 percent of the market. One of their major advantages is that they can produce any kind of integrated circuit device, and they're able to meet production volumes necessary for big-name companies like Apple and AMD. Before it recently rose to prominence as the auto industry experienced shortages in chips used for everything from parking sensors to reducing emissions, TSMC's role in the global supply chain was under the radar. The severity of the effects forced automakers like Toyota Motor Corp. of Japan, Volkswagen AG of Germany, and Ford Motor Co. of the US to halt production and idle plants, and now Taiwan's importance is too great to ignore.
Recently, Taiwan's economy minister acknowledged the issue and believed that major Taiwanese chipmakers would be willing to give automakers priority in their supply chains. In a different statement, TSMC said its top priority was addressing the chip supply challenges. "The automotive supply chain is extensive and intricate, and we have worked with our automotive clients to pinpoint their most urgent requirements. These essential automotive products are currently being expedited through our wafer fabs by TSMC. While demand from all industries has used up all of our capacity, TSMC is reallocating wafer capacity to support the global automotive industry", the company CEO said.
The top foundries or fabrication facilities for semiconductors are currently located in Taiwan, South Korea, and the United States. Most of the specialized equipment used in those manufacturing facilities is provided by US and Japanese companies. The largest and most sophisticated contract manufacturer in the world is TSMC. TSMC's high volume production is largely supported by supplying custom chips designed by Apple and Huawei, the two largest smartphone manufacturers. Given that TSMC's supply had already been constrained earlier in 2020 by strong demand from other manufacturers, it had been challenging to meet the increase in demand from automakers for chips in late 2020. Even the US, Europe, and Japan automakers are pleading with their governments for assistance, and Taiwan and TSMC are being urged to step up.
It is clear how important TSMC and Taiwan are as a location for chip manufacturing, and even if the company builds fabs abroad, they will lag behind: TSMC's 5 nm fab in Arizona won't be operational until 2024. By then, the company will already be mass-producing next-generation 3 nm chips in Taiwan. Even with the cooperation of friendly governments like the US, the business ecosystem in Taiwan that has facilitated TSMC's rise is not likely to be quickly replicated abroad under market conditions. Custom chips will be required to meet the computationally demanding needs of machine learning as technology has become more specialized. Having said that, TSMC is in a very strong position in a market that is anticipated to grow to $16 billion over the next three years, thanks to its capacity to design and produce the most cutting-edge chips that can support applications for artificial intelligence.
The Future of TMSC
In the second half of 2022, TSMC intends to mass-produce 3nm chips. It anticipates that these chips will offer 70% more logic density than its 5nm chips, 15% more speed at the same power levels, and 30% less power at the same speeds.
Future chips will all be produced using TSMC's 3nm process, including Qualcomm's next-generation Snapdragons, AMD's Zen 5 CPUs, and Apple's new first-party processors. Even Intel will outsource some of its chips to TSMC's 3nm supply lines, despite recently redoubling its domestic foundry plans. Because of this, TSMC's 3nm node is already fully reserved through 2024.
TSMC intends to increase its CAPEX from $17.2 billion in 2020 to roughly $30 billion this year and invest about $100 billion over the following three years to meet that demand and keep its lead. Additionally, it has already begun working on 2nm chips, and mass production could start in 2026.
Up Next…