Key Points
Post the gaming market crash in 1983, the collective revenue shrank by 97% over the next 2 years.
The market started back up in 1985 when Sega and Nintendo entered the market.
Nintendo had superior display and interesting games that made it the clear winner of the third generation Video game consoles.
The date is July 15, 1983, and the newest video game consoles are set to reinvigorate an industry that almost shuttered completely.
The collapse of the video game market in North America after the second generation of video game consoles left the industry at a crossroads. That is until a company that was virtually unknown in North America released the Famicom and was gearing up to change everything. 
The North American gaming industry crash lasted from 1983 to 1985 and saw industry revenue drop by about 97%. This massive drop led many to think console gaming was finished on this side of the world.
The industry needed something magical to recover and, thanks to the third generation of gaming, they found exactly what they needed. 
Quick Facts
| | Sega SG-1000 | Famicom/NES | Sega Master System | Atari 7800 |
| --- | --- | --- | --- | --- |
| Launch Date | July 15, 1983 | July 15, 1983 | October 20, 1985 | June 1, 1986 |
| Consoles Sold | 400,000 | 61.91 million | 19.17 million | 1 million (approx.) |
| Notable Games | n/a | Super Mario Bros, Legend of Zelda, Metroid | Golden Axe Warrior, Shinobi, Alex Kidd | Joust, Donkey Kong Jr., Commando |
| Colors | 21 colors | 54 colors | 64 colors | 256 colors |
| Media | Cartridge | Cartridge | Cartridge | Cartridge |
Third-Generation Video Game Consoles: Timeline
By all accounts, the third generation of video gaming consoles lasted from 1983 until 1992. To be more precise, the third generation of consoles is best associated with July 15th, 1983. This is the date when both Sega and Nintendo made their first appearance in the home console gaming market. 
During the 10 years that would mark this gaming generation, three companies would lay the groundwork for the future of console gaming, and their names are no surprise. Sega, Nintendo, and Atari would battle for the console crown during this decade of gaming, and it's no secret Nintendo came out on top. 
The end of the third generation in 1992 was marked by the age of 8-bit consoles becoming obsolete in terms of graphics and processing power. They would give way to the likes of the Super Nintendo and Sega Genesis that would dominate the 16-bit era. 
Sega SG-1000
Released in Japan on July 15, 1983, the Sega SG-1000 was the first console created by Sega. The "SG" stands for "Sega Game," though the console is also commonly referred to as the "Mark I." The SG-1000 would only be released in Japan, though rebranded versions would also find their way to Australia and New Zealand, but never to the United States, United Kingdom, or most of Europe. 
Sega projected initial sales of 50,000 units, so they considered the machine a major success when it surpassed 160,000 units sold in 1983. A second model of the SG-1000, the "Sega SG-1000 Mark III," would also be released in Japan, but did little to drive additional sales. After initial successes, Sega would ultimately consider the SG-1000 a commercial failure and would discontinue it in October 1985. 
The system was marked by an 8-bit central processing unit (CPU) and a video processor that could display up to 16 colors. In total, only 42 game cartridges and 29 "Sega My Card" games were released, though the latter required an additional accessory. Popular hits include Sega-Galaga, Congo Bongo, and Flicky. 
Famicom/Nintendo Entertainment System
If any console deserves credit for turning console gaming into a hundred-plus billion dollar industry, it's the Famicom and its better-known American name, the Nintendo Entertainment System (NES). Released on July 15th, 1983, Nintendo's President, Hiroshi Yamauchi, wanted a simple console for homes in Japan that ran on cartridges. 
The Famicom, or "Family Computer," would launch with three of Nintendo's successful arcade games: Donkey Kong, Donkey Kong Jr., and Popeye. After initial hardware difficulties that led to a recall, the Famicom was re-released and its popularity quickly led it to become Japan's best-selling game console by the end of 1984. 
Nintendo's efforts to enter the North American market were complicated by the lingering sense of failure by console games in the market. However, Nintendo decided global success required a North American launch and, in the summer of 1985, would release the NES at the Consumer Electronics Show. By launching in the U.S. as an "entertainment system" as opposed to a video game console, it helped combat public perception. 
All totaled, the Famicom and NES would go on to sell over 61 million units before being discontinued in August 1995. It would help define a generation of gamers and arguably become the greatest video game console of all time.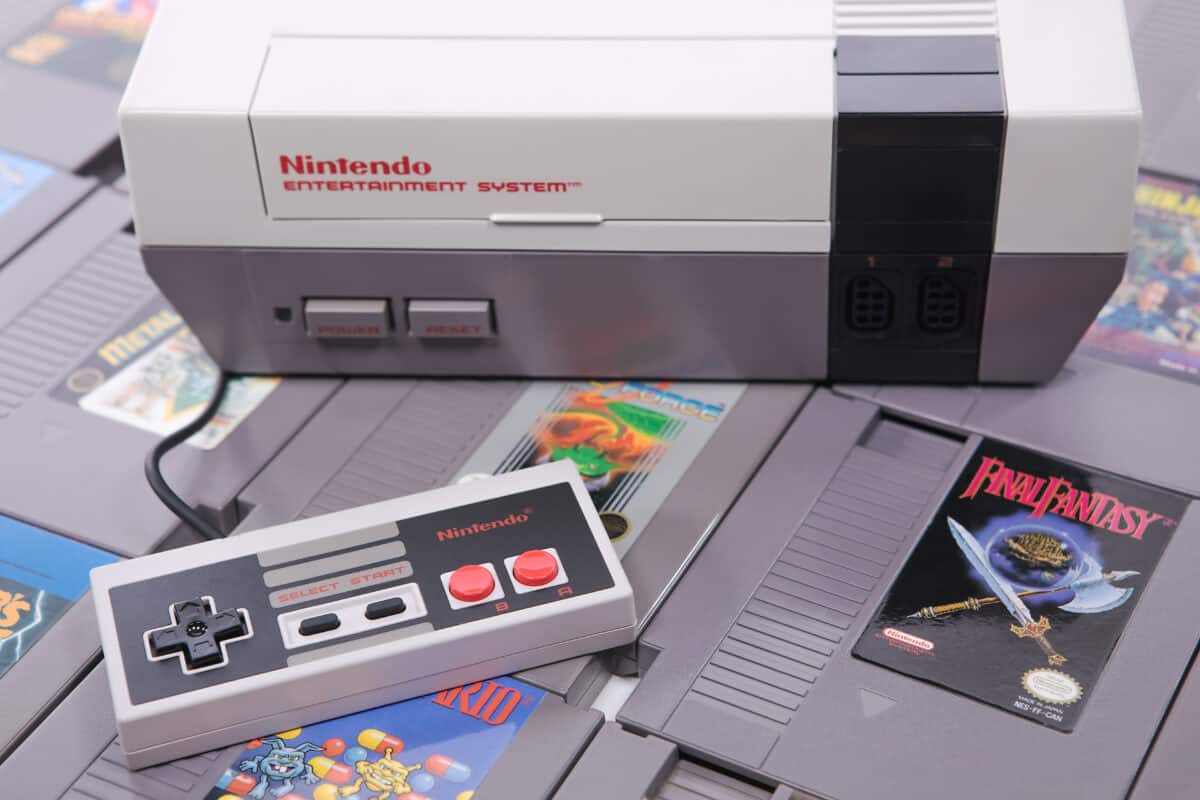 Sega Master System
Originally launched as a remodeled variant of the Sega Mark III (third generation SG-1000), the Sega Master System would launch in Japan in October 1985 and in North America in 1986. After the failure of the SG-1000, Sega's new President, Hayao Nakayama, along with Sega co-founder, David Rosen, hoped the Master System would better compete with Nintendo. 
While it was a more powerful console than the NES with a stronger processor, more memory, and better colors, it could not match the success of the NES. With 19 million consoles sold, it was the second best-selling console of the third generation and was considered a commercial success, but couldn't catch Nintendo. 
Games like Alex Kidd in Miracle World, Sonic the Hedgehog, and Safari Hunt would all help drive sales as would a bevy of accessories to extend the life of the console. 
Finally discontinued in 1992 in North America, the system would live on for a few more years in Europe. In Brazil, where it had runaway success, Sega would continue to support the console years after it was discontinued. 
Atari 7800
Announced on May 21st, 1984, the Atari 7800 would finally find its way to homes in the U.S. in May of 1986. The successor to the Atari 5200, the 7800 would be the first console to offer backward compatibility without the need for additional hardware. 
Right from the get-go, Atari faced an uphill battle as the NES had already taken hold of gaming in the U.S., so it needed a strong lineup of titles. Even with an attractive price point of $79.95, Atari's marketing budget was less than half of that spent by Sega and far less than that of Nintendo. The strong games it needed to succeed never materialized and it offered less than ⅓ the titles of Nintendo. 
By 1987, Atari had only sold 100,000 7800 consoles, while the Sega Master System had sold 125,000, and Nintendo had eclipsed 1.1 million. Atari really felt the impact of releasing two years behind schedule due to the sale of Atari to Tramel Technology. Unfortunately, the 7800, even if it was more powerful than the NES, never really had a fair shot at success. The system would be discontinued in January 1992. 
What Defined the Third Generation?
Defining the third generation of video game consoles really needs to begin with hardware. This console era helped usher aspects of controllers and hardware that we take for granted today. The D-pad, for example, was first released on controllers for the third generation of consoles. This control method has become a staple of consoles over the past three decades and is instantly recognizable. 
Beyond the controller, other definition characteristics helped the third generation of consoles gain popularity. Video resolution up to 256 x 240p, up to five channels of square wave mono radio, and hardware scrolling for tile-based game playfields all helped define this generation's game lineup. 
Smooth hardware scrolling was another defining moment as games felt a little jittery and more balanced during the playthrough. 
Accessories also played an integral role and established the model for console accessories that we know and love today. Nintendo saw success with the Light Zapper, the Power Pad, and Power Glove.   
Other defining moments of this generation fall to the games as the likes of Mario, Zelda, and Metroid were all introduced during this era. Super Mario and Legend of Zelda will go on to become two of the greatest game franchises of all time. Sega also saw big successes with the likes of Phantasy Star and Alex Kidd, franchises that are still going strong today. 
Which was the Best Third Generation Video Game Console?
The answer needs no great fanfare as the Nintendo Entertainment System easily takes the title of the best third-generation video game console. Even if you ignore sales figures, of which Nintendo crushed the competition by 3x, the NES played a major role in revitalizing the North American game industry and its impact is still felt today. 
The Sega Master System was a solid precursor to Sega's Genesis system and was, by all accounts, a commercial success. Unfortunately, its success just wasn't enough to beat Nintendo's marketing power and game selection. Atari suffered a similar fate as it launched a year after the NES and could never find a way to outmaneuver Nintendo or Sega's lineup of titles.
Next Up…