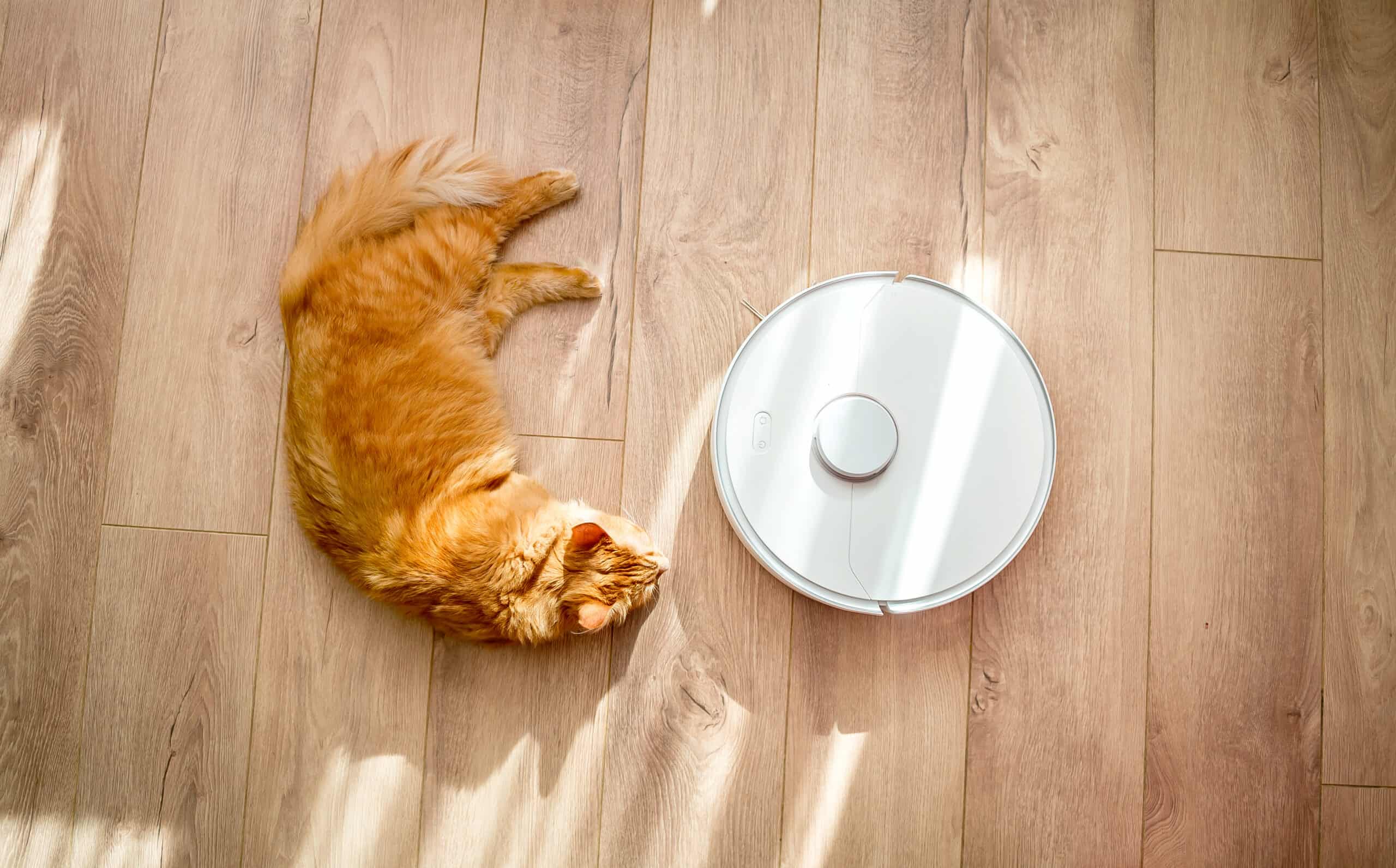 Robotic vacuum cleaners are a great way to keep your home clean without lifting a finger. These intelligent devices can autonomously detect dirt, debris, and pet hair around your house and efficiently remove it. They can be programmed to run at regular intervals, making them ideal for busy people who don't have the time to vacuum every day.
From basic models to high-end options, these robotic vacuums offer a range of features and capabilities to suit your needs. Some models come with advanced navigation systems that allow them to clean efficiently and avoid obstacles, while others offer features such as voice control, automatic docking, and remote control.
Some even come with HEPA filters that help eliminate allergens, dust, and pet hair. To help you make an informed decision, we've rounded up the six top-rated robotic vacuum cleaners on the market.
The iRobot Roomba Combo j7 Plus is the top-rated robotic vacuum on the market today. This high-end machine is designed for homes with pets, offering the best combination of performance, convenience, and affordability.
It features a powerful four-stage cleaning system optimized for pet hair and easily cleans carpets. It is also equipped with a bristle brush and dual rubber rollers that are ideal for picking up dirt and debris.
The Roomba Combo j7 Plus can also be used as a mop. It has an advanced mopping system that sprays a precise amount of water on your floors to clean up stubborn messes. The iRobot Roomba Combo j7 Plus also offers smart home integration, allowing you to control the vacuum using your voice via Amazon Alexa or Google Assistant.
Additionally, you can use the iRobot HOME App to schedule cleanings, customize cleaning preferences, and monitor the vacuum's progress while you're away from home. This robot also offers one of the best navigation systems, using a powerful camera that tracks where it has been and what areas it needs to cover.
This means it can effectively clean up an entire floor in less time without getting stuck or running into walls. The Roomba Combo j7 Plus is also very easy to maintain.
It comes with a self-emptying bin, so you don't have to worry about emptying it after each cleaning cycle. The bin is large enough to hold up to 60 days' worth of pet hair, dander, and other debris, making it ideal for those with multiple pets.
Check out iRobot Roomba Combo j7 Plus on Amazon.
eufy by Anker, BoostIQ RoboVac 11S MAX, Robotic Vacuums丨HomeVac H11, Cordless Handheld Vacuum Cleaner, Handheld Vacuums
All-New RoboVac: Re-engineered to boast our strongest ever suction power (2000Pa Max) while maintaining quiet operation and a super-slim design (2.85").
BoostIQ Technology: Automatically increases suction power within 1.5 seconds when extra vacuuming strength is needed to get the best clean.
A Quiet Clean: Vacuums for up to 100 minutes** on hardwood floors with consistent, powerful suction at a volume no louder than a microwave.
Premium Features: Anti-scratch tempered glass-top cover for protection, infrared-sensor for evading obstacles, and drop-sensing tech to avoid falls. Automatically recharges so it's always ready to...
What You Get: RoboVac 11S MAX, remote control (2 AAA batteries included), charging base, AC power adapter, cleaning tool, extra set of unibody filter, 4 side brushes, 5 cable ties, welcome guide, and...
We earn a commission if you make a purchase, at no additional cost to you.
If you're looking for a great robotic vacuum cleaner that won't break the bank, look no further than the eufy RoboVac 11S. This model is packed with great features at an affordable price.
The eufy RoboVac 11S is equipped with a range of powerful suction that makes it suitable for almost any surface. It boasts a 3-point cleaning system and a powerful motor capable of handling pet hair and other dirt without difficulty.
It also has an advanced gyroscope navigation system, which allows it to move around your house efficiently and effectively. The robot vacuum is equipped with drop-sensing technology, which means it can easily detect ledges or stairs and avoid them while cleaning.
The battery life of this device is outstanding and can last up to 100 minutes on a single charge. You can also set a schedule for when you want the robot to begin cleaning, so you don't have to worry about manually starting it up each day.
When it comes to maintenance, the eufy RoboVac 11S is relatively easy to maintain. The dustbin is simple to empty, and the filters are easy to access and clean.
Check out eufy RoboVac 11S on Amazon.
We earn a commission if you make a purchase, at no additional cost to you.
For pet owners, the iRobot Roomba s9 Plus is the best robotic vacuum cleaner for removing pet hair. It uses powerful suction and innovative technologies to capture pet hair from carpets and hard floors easily.
The Roomba s9 Plus comes with a tangle-free brush roll that prevents long pet hair from wrapping around it and causing blockages. It has two multi-surface rubber brushes designed to capture pet hair and other particles from carpets and hard floors.
Additionally, its advanced anti-allergen system helps capture up to 99% of microscopic allergens, pollen, dust mites, and other pollutants from your home. The Roomba s9 Plus also features an enhanced smart mapping system, allowing it to adapt to the floor layout of your home and create an optimized cleaning path.
It uses Imprint Smart Mapping technology to scan your rooms and create virtual boundaries to help it avoid off-limit areas. It also features Clean Base Automatic Dirt Disposal that empties its dirt bin into the AllergenLock bag.
Check out iRobot Roomba s9 Plus on Amazon.
Best for Multiple Floor Types: roborock S7+
roborock S7+ Robot Vacuum and Sonic Mop with Self-Empty Dock, Stores up to 60-Days of Dust, Auto Lifting Mop, Ultrasonic Carpet Detection, 2500Pa Suction, Black
Self-Empty Dock Support: The Self-Empty Dock empties the robot automatically after cleanup, so you can clean without emptying, for up to 120 Days(Spare 1 Dust Bag Included).
Sonic Vibration Technology: Sonic floor mopping technology scrubs up to 3,000 times per minute. Removing dried-on dirt that some robots may leave behind, from mud to coffee and more.
Auto-Lifting Convenience : After sensing a carpet, S7 lifts its mop to vacuum without wetting the carpet. The mop will lifts when returning to the dock to prevent spreading dirt.
Ultrasonic Carpet Detection: Choose the best way to handle carpets in your home. Options include mop lifting and even wet mopping. Boost mode will also increase suction for deeper cleaning when carpet...
Multi-Layer Air Filtration: Keep dirt inside the dock an onboard filtration system capturing 99.99% of particles as small as 0.3 microns. A quick pull of the dust bag seals it shut, ready for instant...
We earn a commission if you make a purchase, at no additional cost to you.
If you have multiple types of flooring, then the roborock S7+ is the best robotic vacuum cleaner for you. This powerful robot vacuum offers maximum suction power and advanced navigation capabilities.
It combines Sonic Vibration Technology, adaptive routing, and multi-directional cleaning to provide comprehensive coverage of your floors. With up to 2500Pa of suction power, the roborock S7+ can remove dirt, dust, and debris from even the most deeply embedded fibers. The S7+ also offers customizable settings so you can tailor its performance to suit your specific needs.
You can program it to clean certain rooms at specific times or create virtual boundaries to keep it away from delicate items or stairs. With its impressive features and powerful suction, the roborock S7+ is ideal for those with multiple floor types in their home.
Check out roborock S7+ on Amazon.
SAMSUNG Jet Bot AI+ Robot Vacuum Cleaner w/ Object Recognition, Intelligent Cleaning, Clean Station, 5-Layer Filter, Touchless Dust Removal for Hardwood Floors, Carpets, VR50T95735W, White
OBJECT RECOGNITION: No pick-up needed before vacuuming as Jet Bot's powerful 3D camera and LiDAR sensors identify objects, how close to get to some, or whether to avoid them
MONITOR YOUR HOME: Jet Bot AI+'s Front camera can share real time video by streaming to your mobile phone using the SmartThings app
PRECISE NAVIGATION: LiDAR sensors create accurate room maps for the Jet Bot to navigate so no worrying about your robotic vacuum going to places it shouldn't; Mapping can also be controlled via the...
INTELLIGENT POWER CONTROL: Jet Bot AI+ identifies the surface type and amount of dust and automatically adjusts suction so you get a thorough clean no matter the floor type
CLEANER AIR: Advanced 5-layer HEPA filtration system traps up to 99.99% of dust -
We earn a commission if you make a purchase, at no additional cost to you.
The Samsung Jet Bot AI+ is the perfect choice for those looking for a robotic vacuum that offers a full suite of features. It has advanced navigation, multiple cleaning modes, and automatic self-emptying capabilities.
The Jet Bot AI+ has more suction power than other vacuums, allowing it to efficiently pick up dirt, dust, and debris from hardwood floors, carpets, and tile floors. Its advanced sensors allow it to detect and avoid obstacles, while its four-point cleaning system ensures that even hard-to-reach spots are thoroughly cleaned.
With its SmartThings app integration, you can easily monitor your vacuum's performance, start or stop a cleaning cycle, and receive notifications about the status of your cleaning tasks. It's also Alexa-compatible and can be controlled using voice commands. With the Jet Bot AI+, you'll enjoy all the features you could want in a robotic vacuum, making it one of the best options on the market.
Check out Samsung Jet Bot AI+ on Amazon.
We earn a commission if you make a purchase, at no additional cost to you.
The roborock S6 MaxV is a high-performance robotic vacuum known for its impressive battery life. This robotic vacuum can run for up to 180 minutes on a single charge, which is significantly longer than many other models on the market. This makes it an ideal option for those with larger homes or who want to run their robotic vacuum for longer periods without having to stop and recharge.
In addition to its impressive battery life, the roborock S6 MaxV offers a range of advanced features that make it a top-performing robotic vacuum. It has a powerful suction system that can easily clean carpets and hard floors. It also comes with a high-precision laser navigation system that allows it to clean efficiently and avoid obstacles.
The roborock S6 MaxV also comes with a range of smart features that can be controlled through a mobile app, including scheduling and remote control. With the app, you can also monitor the cleaning status and view the cleaning history.
Check out roborock S6 MaxV on Amazon.
How to Pick the Best Robotic Vacuum: Step by Step
Are you looking for a robotic vacuum cleaner to make your life easier? Whether it's for pet hair, multiple floor types, or just because you're ready to upgrade your cleaning game, there are a few things to consider when deciding on the right robot vacuum, such as:
Floor type
Battery life
Size and design
Navigation
Features
Price
Filtration system
Noise level
Pet hair
Warranty.
Let's look at each one in more detail.
Floor type
Different robotic vacuums are designed for different floor types, so consider which type of floors you will be using them on before purchasing. Whether you have hardwood, tile, or carpeted floors, you will want to select the robotic vacuum that is best suited to the job.
Battery life
Most robotic vacuums have a battery life of around an hour and a half, but some can last much longer. If you have a larger home or need your robot to cover more ground, look for models with long battery life or one that can automatically return to their charging stations when the battery is low.
Size and design
The robot's size can make a big difference in maneuverability and how well it can access tight spots. You'll need to make sure it can fit and navigate your home easily. Look for models with a compact design and low profile that can fit under furniture and tight spaces.
Navigation
Look for a robotic vacuum with advanced navigation technology, such as mapping capabilities or obstacle avoidance systems. This will help the robot to clean efficiently and effectively without getting stuck in tight spots.
Features
Some robotic vacuums come with additional features such as voice control, app control, remote control, and so on, so consider what kind of features you need. Do you want a model with a remote control?
What about a model that is equipped with automatic dirt-disposal systems? Think about the kinds of features that you need to ensure your robotic vacuum is doing the job properly.
Price
Robotic vacuums range in price from relatively affordable models to more expensive ones with all the bells and whistles. Be sure to determine your budget before purchasing and shop around for the best deal.
Filtration system
The filtration system is important for capturing small particles and allergens. Look for models with HEPA filters, which can capture particles as small as 0.3 microns.
Noise level
Many robotic vacuums are quite loud, so check the noise level before making your purchase. Quieter models may cost more, but they will make the experience of using your robotic vacuum much more pleasant.
Pet hair
Some robotic vacuums come with special attachments designed specifically for pet hair. If you have pets, check out models that offer these attachments for a thorough cleaning.
Warranty
Most robotic vacuums come with a warranty, but make sure you check the terms and conditions of your chosen model before buying. This will help ensure that your purchase is covered if something should go wrong.
What To Know Before Buying the Best Robotic Vacuum
Before buying a robotic vacuum, it's important to consider the size and layout of your home, as well as the type of flooring you have. Some robotic vacuums are better suited for larger spaces, while others are more compact and designed for smaller homes or apartments.
Additionally, some robotic vacuums are better for carpets and rugs, while others are better for hardwood or tile floors. It's also important to consider the features of the robotic vacuum, such as its navigation system, suction power, battery life, and whether it can be controlled via a smartphone app.
Ultimately, it's a good idea to do some research and read reviews before making a purchase to ensure that the robotic vacuum you choose will meet your specific needs.
Using a Robotic Vacuum: What it's Like
Robotic vacuums have been around for a few years and are rapidly becoming popular for busy households. Using a robotic vacuum is a convenient and efficient way to keep your home clean.
Once set up and programmed, the robotic vacuum will automatically move around your home, navigating furniture and other obstacles while cleaning. Some robotic vacuums come with mapping capabilities, which allow them to create a map of your home and clean specific areas with precision.
You can control the robot remotely via an app on your phone or tablet, allowing you to start, stop, or pause cleaning and schedule cleaning times. Some robotic vacuums also come with voice commands, allowing you to control the vacuum with your voice.
Ultimately, the best robotic vacuum for you will depend on your specific needs and preferences. Considering all the factors discussed above, you'll find a model that will work well in your home and make your life easier.