Key Points:
Now that there are more charging stations, Electric cars are here to stay.
Almost every major car manufacturer has incorporated an electric vehicle option.
Considering the range that you will need day-to-day may be the most important factor in deciding which car to choose.
Not all charging options are fast—like Level 1 charging, or trickle charging—but emerging technology has greatly reduced charging times. The levels run from 1 to 3, with Level 3, or DC charging, being the fastest charging option for your EV.
Electric cars are quickly becoming an accessible, mainstream option. As the EV market rapidly expands, so do the cars' features and ease of use—including their charging capabilities. Gone are the days when it takes several hours on end to charge an electric car's battery!
If your primary barrier to purchasing an electric car is a burdensome charging time, worry not: There are plenty of options for you!
Not only have electric charging options evolved to become much faster, but certain electric car options are renowned for their exceptionally fast charging times.
Our expert team has compiled a list of the fastest-charging electric vehicles on the market today, to save you extra time and help you decide on the one for you.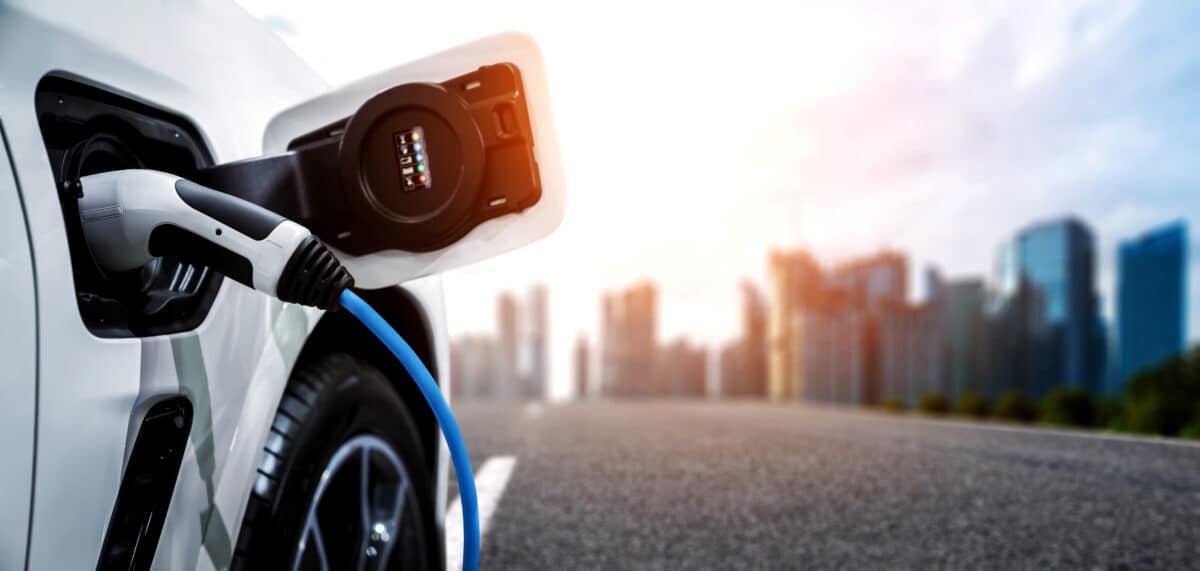 Best Overall EV for Fast Charging: 2022 Lucid Air
Lucid Motors is known for supplying batteries to Formula E race cars. Their models are known for being luxurious, modern, and fast. The Grand Touring, which is the highest level of three lower-priced trims, offers a whopping 1,050 horsepower. That allows an acceleration of 60 mph in 2.6 seconds.
The Lucid Air is styled like an elegant sedan, as it is long and low, with a smoothly sculpted surface. Its thin headlights, taillights, and curvy body shape also make the Air look very sleek.
According to the Environmental Protection Agency, the Lucid Air has the longest range of any electric vehicle to date at 520 miles on a single charge. When plugged into a DC rapid charger, this car can recoup 200 miles in 12 minutes and 300 in 20 minutes. DC charging, or Level 3 charging, is the fastest option available for electric vehicles, using 400 to 900 volts.
Lucid Air models have the 900V Wunderbox charger, allowing them to charge at 20 miles per minute. The 2022 Lucid Air's price begins at $77,400, and new owners get three years of free, fast charging at Electrify America charging stations.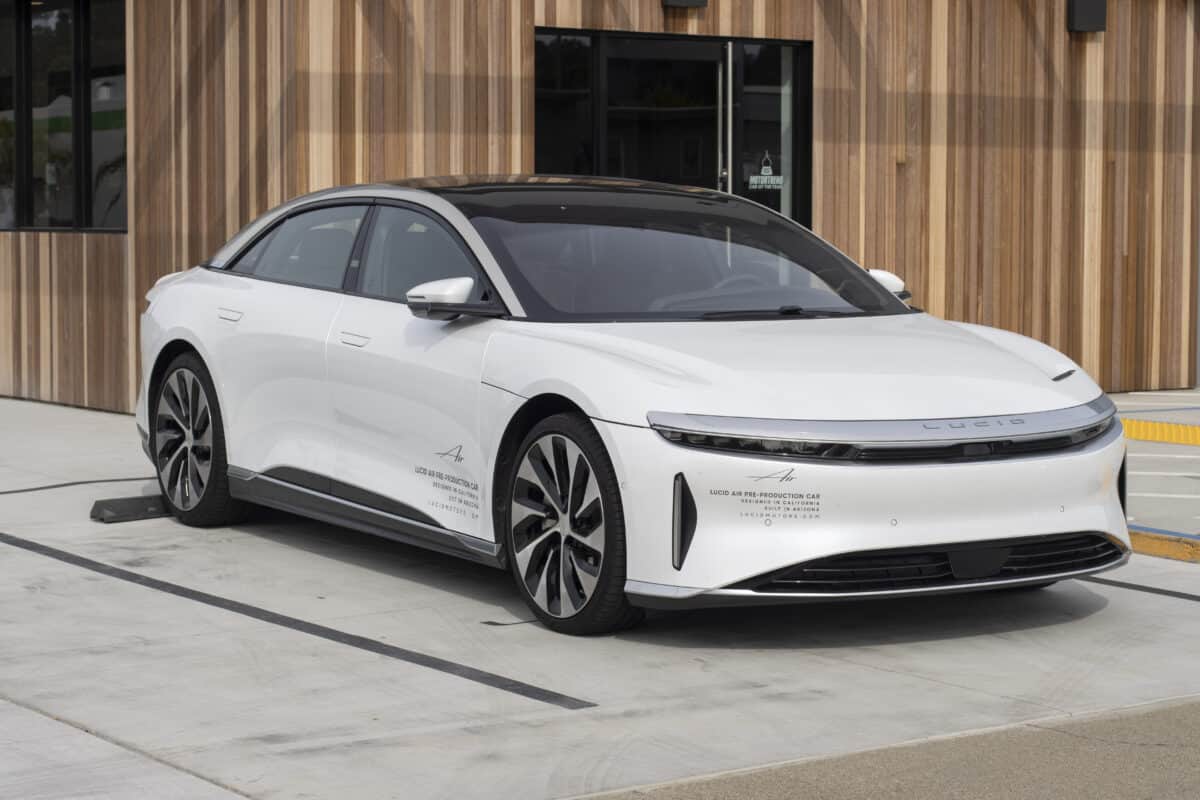 Best Budget-Friendly EV for Fast Charging: 2022 Kia EV6
The Kia EV6 has a unique body shape that resembles a cross between a hatchback and an SUV.
The Kia offers both rear-wheel and all-wheel drive for the EV6. The rear-wheel drive is slightly cheaper, starting at $41,400, while the all-wheel drive starts at $42,695.
Kia's rear-wheel drive model does come with a higher range at 328 miles on a single charge, while the all-wheel drive can travel up to 315 miles on a single charge.
The EV6 also has ultra-fast charging. If you plug it into a 350kW charger, it should reach an 80 percent charge within 18 minutes. Kilowatts are a function of voltage and amperes. A 50kW charger has a 125A and 400-volt capacity, meaning it would take around 73 minutes to fill the EV6 77.4 kWh battery.
The Kia EV6 is a fantastic EV option if you want an affordable, spacious electric car that can charge quickly and drive long ranges between each charge.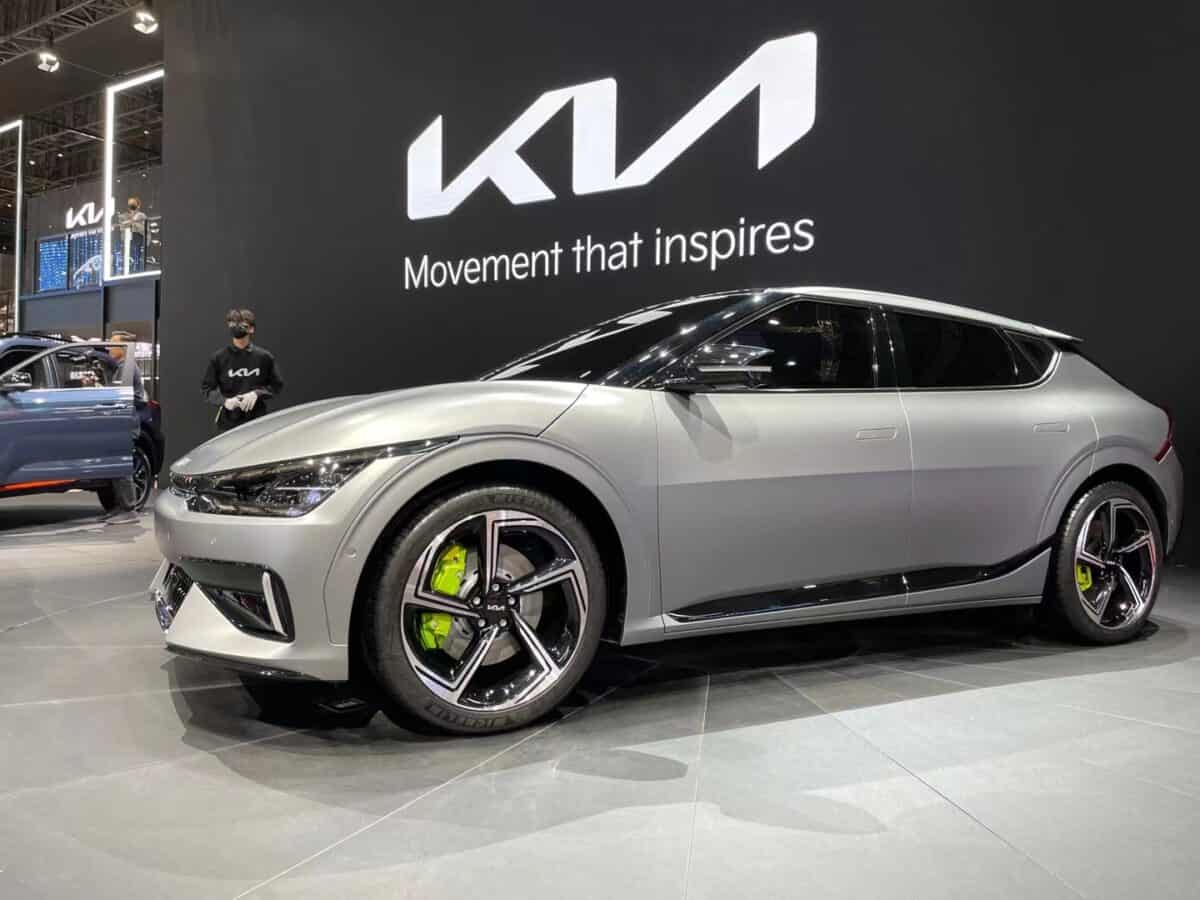 Best Fast Charging Electric Car for Luxury: 2022 Porsche Taycan
The Porsche Taycan was the automaker's first all-electric model and their response to the Tesla Model S. Aside from its performance attributes, like two electric motors and an impressive 616 horsepower, the Porsche Taycan is the height of luxury.
Its cabin comes covered in high-quality materials and various comfort settings, including massaging front seats, 14-way power seating adjustments, and leather upholstery. The digital instrument cluster is 16.8 inches wide, though the vehicle is equipped with three other screens, as well—one of which is even for the front-seat passenger.
The Taycan has a charging capacity of 270 kW and a 93.4 kWh battery, so it can charge from 5% to 80% within 22.5 minutes if you use a DC fast charger.
The battery management system slows charging after 80 percent to prevent the battery from overheating, so you can unplug at that point. Amazingly, you can get 150 miles of charge within 10 minutes of fast charging.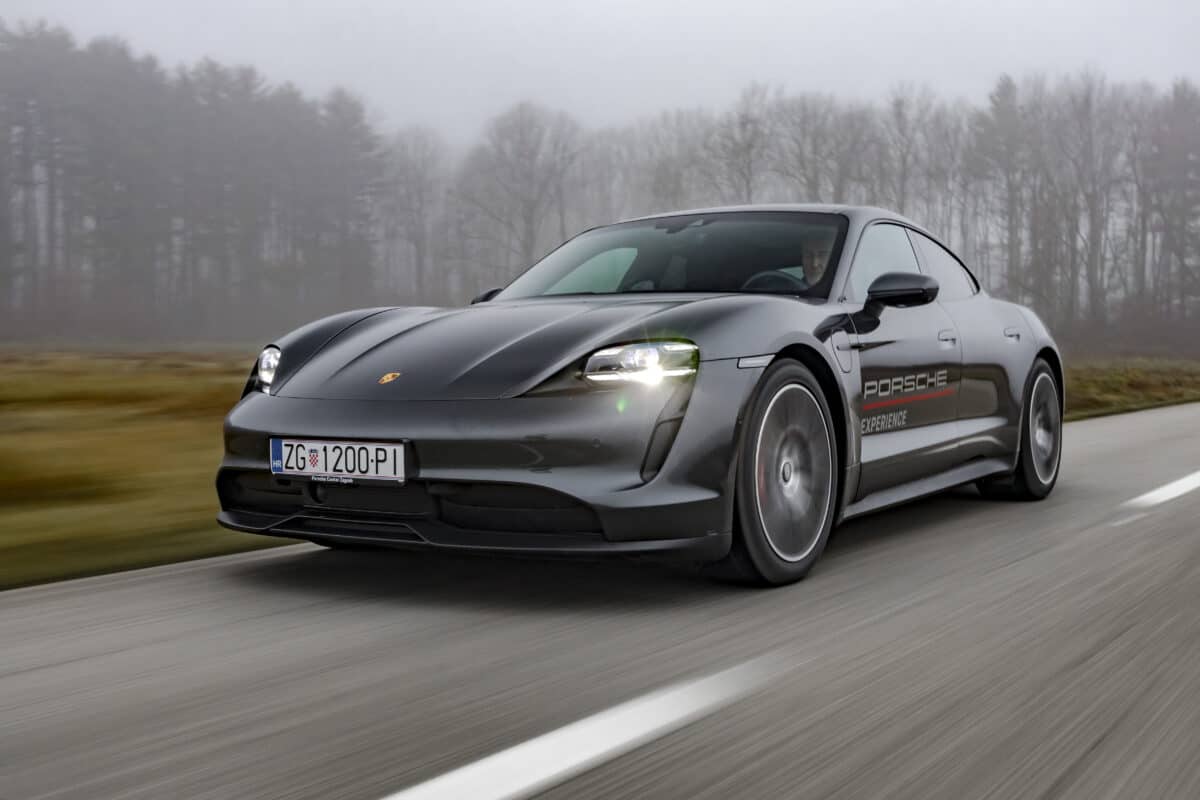 Best Fast Charging Electric Car for Performance: Mercedes Benz AMG EQS
Mercedes recently claimed it would go all-electric by the year 2030, and they have added the AMG EQS to demonstrate this commitment.
The AMG EQS's electric motors have new actuators, inverters, and a stronger current to create a higher rotational speed that translates to a higher power. The EQS boasts 649 horsepower, though a boost function allows it to reach up to 751 horsepower.
The AMG EQS can accelerate from 0 to 60 within 3 seconds, making it one of the fastest AMG models. It is also the highest priced on this list, retailing at $148,550.
It also has a range of 350 miles, and with the 107.8 kWh battery capacity, a fast charger can recharge it from 20 to 80 percent in just 42 minutes.
Mercedes provides free, fast charging access through Electrify America, allowing owners to charge the AMG EQS within 30 minutes or around 9 miles per minute.
Fast Charging Electric Car with the Highest Range: 2022 Tesla Model S
Tesla's Model S is the flagship model for the pioneer, all-electric automaker. The Tesla Model S has come quite a long way since its debut, as it only managed to run 265 miles on a single charge in 2012.
Driving range and acceleration depends on the trim, but the 2022 Model S Long Range can travel up to 412 miles on a single charge. Tesla has a supercharger network that can charge the 99.3 kWh (kilowatt hour) battery to 80 percent within 30 minutes.
Kilowatts (kW) are a measure of power or the rate a device uses energy, while a kilowatt hour is a measure of energy or the capacity to do work. In the case of electric vehicles, kW relates to charging rates, while kWh is attributed to battery capacity.
If you need to get somewhere quickly, it can still provide 133 miles of range in 15 minutes, translating to around 8.8 miles.
The Tesla Model S looks sporty, considering the elongated front, revised rear diffuser, and ducktail spoiler, but follows a minimalist theme for the interior. This includes the rectangular steering and 15-inch touchscreen mounted on the dash.
How to Pick the Best Fast Charging Electric Cars: A Step-by-Step Guide
Though chargers are rapidly becoming more powerful, the charging speed for different EVs can be attributed to factors like the car's voltage limits, charging capacity, and battery management systems.
Consider Models with A Good Charging Capacity
Every electric car has a limit on the charging rate to protect the battery. For example, if an electric car has a maximum charging rate of 40 kW, it will not be able to charge any faster than 40 kW.
In such instances, even if you connect the vehicle to a 150 kW charging station, the charging will still be restricted to 40 kW. The Lucid Air has a maximum charge rate of 300 kW which allows it to use rapid chargers that recharge the battery to full capacity within half an hour.
When selecting an electric vehicle to buy, consider the charging capacity of the model as it determines the time taken to fill the battery.
Check the Car's Voltage Limits
The level of power the battery can reach is measured in kilowatts (kW), which is a function of voltage and amperes. Each electric vehicle has a voltage limit, so those with higher voltage limits charge faster due to their higher capacities.
The standard voltage limit for hybrid vehicles ranges from 100 to 200 volts, though the voltage limits of all-electric vehicles are from 400V. Cars with higher voltage capacities at, say, 600V, will charge much faster than those at just 400V.
Research the Model's Battery Management Systems
Electric vehicles have battery management systems that ensure the battery does not get too hot or cold because extreme temperatures can affect the charging speed. It also determines the battery's overall lifespan.
Charging speeds are controlled by the battery management system, as it determines the thermal management system for fast but safe charging.
When purchasing an electric vehicle, thoroughly research the battery management systems of your desired EV choices and make sure it has thermal resistance and cell balancing. Thermal resistance offers protection from thermal fluctuations and mechanical shocks, and cell balancing ensures efficient energy utilization in the cells of the battery module.
What To Know Before Buying Fast Charging Electric Cars
Fast charging electric cars may appear very attractive on paper, and it's true that you can save significant money annually by making the switch. But, like any major purchase decision, there are important things to consider. Two primary considerations are:
Charging Cost
One of the key selling points for electric vehicles is no longer needing to stop (and pay) for gas. Some public EV charging stations even offer free charging and have fast chargers available for your use.
The primary difference is between rapid charging and ultra-rapid charging.
Rapid charging points can be found on motorway service stations and cost $13.35 for a 30-minute charge. An ultra-rapid charger would cost an estimated $12 per 100 miles.
If you have a fast-charging electric car, that can recharge the battery at 8 miles of range per minute, for example, you could recoup 240 miles in 30 minutes. You would spend $13.35 on the service, though. Some exceptions exist, like the Kia EV6, Lucid Air, and some Tesla models, which can access free, fast charging.
Vehicle Price
Electric vehicles are becoming more affordable due to an increasing supply and widespread demand as petrol and diesel prices surge, and environmental concerns rise.
The most popular electric vehicles this year were the Hyundai Kona electric and the Tesla Model 3, with prices beginning at $34,000 and $48,490, respectively.
The fastest charging models typically cost much more, considering the most expensive option is the Mercedes Benz AMG EQS at $148,550.
So, you may have to spend more money if you want a fast-charging electric car.
Using Fast Charging Electric Cars: What It's Like
A fast-charging electric car is convenient, especially if you travel often or for long distances. Most rapid chargers take 30 minutes to achieve a fully charged battery, so you do not have to wait hours before starting a journey. It is also great for shorter trips when you need to top off.
If you are in a hurry, a 15-minute charge can yield upwards of 120 miles of range, which is excellent for any city driving. You may have to map the rapid charging stations in the area, considering they cannot be used at home. Luckily, there are apps for this that you can download on your phone.
DC fast chargers are available in many commercial settings, and their availability is quickly growing. Due to their high cost and the equipment required, these fast, Level 3 chargers cannot be installed at home.
Fast charging electric vehicles certainly make it more convenient to own an EV and are the next step towards your increased, annual transportation savings!
Up Next…
We've got plenty more articles detailing information about electric cars. Read these next!
The image featured at the top of this post is ©iStock.com/https://www.facebook.com/PlargueDoctor/.