Key Points
Before deciding on the best dehumidifier for your office, consider the size, ease of use, energy consumption, tank capacity, drainage system, smart features, and warranty.
The Frigidaire Gallery model was voted best overall, hitting every category except an internal condensation pump.
Best for your budget is the Vremi 50-Pint Dehumidifier, with many great features. The only downside is it runs a little bit louder than some of the others.
Are you wondering why your office feels stuffy? Or why there are dark spots on the walls? These signs mean something is wrong with your microclimate.
A dehumidifier is your solution to help control humidity levels in your space by taking away excess moisture from the air. With many to choose from, picking the right dehumidifier for your needs can be overwhelming.
To make it easy on you, our expert team put together a list of the five best humidifiers on the market, taking you through the pros and cons of each one and the important factors to consider in choosing the right one for you.
5 Top Dehumidifiers for Your Office Today
Dehumidifiers are an essential addition to your office space. They provide a more comfortable, healthy environment by significantly improving air quality and removing excess moisture from the air. Without this extra moisture in the air, the potential for mold growth, dust mites, and other concerns is greatly reduced.
Choosing the right dehumidifier is imperative to getting the most out of your appliance to solve your room's air quality problems.
We've tested several popular models on the market today that have much variability in their performance, and we compiled a list of our top 5 picks for you:
Best Overall: Frigidaire Gallery FGAC5044W1
Custom Humidity Control
Frigidaire FGAC5044W1 Dehumidifier
50 pint max capacity
Built-in air ionizer
Washable filter is easy to clean
Turn it on or off plus change humidity levels and fan speeds with the Frigidaire App
Compatble with Amazon Alexa and Google Assistant
We earn a commission if you make a purchase, at no additional cost to you.
Frigidaire Gallery FGAC5044W1 is the best smart dehumidifier on this list. It is superior to the other dehumidifiers we tested, as it removes 50 pints of moisture in a day and can cover spaces of up to 1,200 sq ft.
It sports incredible features that offer convenience, like WiFi connectivity, which allows you to monitor and control your dehumidifier remotely. You can also get alerts when the tank is full, so you know when to drain it.
This Frigidaire Gallery model also has an easy-to-install, user-friendly app that is compatible with Google Assistant and Amazon Alexa. 
Pros:
User friendly
Removes 50 pints of moisture per day
Covers spaces up to 1,200 sq ft
Customized humidity control
Easy to track performance
Labor and material defect warranties
Cons:
It does not feature an internal condensate pump. You will require an external condensate pump, where the gravity draining is unavailable. This adds to the cost of the dehumidifier.
| | |
| --- | --- |
| Product Dimensions | 15.9 x 12.7 x 24.75 inches |
| Product Weight | 42.89 pounds |
| Tank Capacity | 2.11 gallons |
Check out the Frigidaire Gallery FGAC5044W1 on Amazon.
Best Portable: Waykar 130-Pint Commercial Dehumidifier
Waykar 130 Pints Commercial Dehumidifier with Drain Hose and Washable Filter for Space up to 6000 Sq. Ft - Ideal for Large Basements, Industrial or Commercial Spaces, Flood Restoration and Job Sites
LARGE-CAPACITY COMMERCIAL DEHUMIDIFIER - This commercial dehumidifier features a high-efficiency compressor which removes up to 130 pints (under 95°F, 90%RH condition) of moisture per day. It is...
INTELLIGENT CONTROL PANEL - Humidity Auto Control: Simply set the ideal humidity level, it will smartly sense room humidity and maintain preset humidity levels. Automatic Shut Off: Shuts off...
PORTABLE DESIGN FOR LARGE SPACES - This is a portable dehumidifier designed with a sleek and modern look. With four universal casters and two ergonomically-placed handles, you can move this...
CONTINUOUS AND MANUAL DRAINAGE - Auto Drain: This dehumidifier comes with a 6.56 ft (78.74 inches) drain hose. Simply connect with drain hose, it will continuous drainage by gravity, just set your...
SUPPORT - All of Waykar dehumidifiers are covered with 30-day money back if you are not satisfied with the product,1 year warranty, 2nd year warranty extension and lifetime expert tech support. Please...
We earn a commission if you make a purchase, at no additional cost to you.
The Waykar 130-Pint Commercial Dehumidifier has a large capacity and tons of great features. The auto-shut and auto-restart features allow this model to shut off once its tank is filled up and then automatically restart after it's emptied.
It's built with a high-efficiency compressor that can control and balance humidity levels in an area of up to 6,000 sq ft, collecting up to 130 pints of moisture a day. The automatic humidity sensor helps to maintain the perfect humidity levels in your space.
Thanks to the auto-restart power outage function, your dehumidifier will automatically resume once the power is restored. Besides manual drain, the dehumidifier has a 6.56 drain hose allowing it to drain the water collected in the tank automatically and continuously.
It also features four universal casters and top-extendable handles, making it easy to move around.
Pros:
Easy to operate and move around
Energy-saving
Great value for the price
Easy to clean
Cons:
Considering this dehumidifier is designed for larger spaces, the 2 meters hose may not be long enough to accommodate all placements.
| | |
| --- | --- |
| Product Dimension | 14.6 x 13.4 x 25.2 inches |
| Product Weight | 61.7 pounds |
| Tank Capacity | 1.32 gallons |
Check out the Waykar 130-Pint Commercial Dehumidifier on Amazon.
Best for Energy-Efficiency: Moiswell 164-Pint Commercial Dehumidifiers
Moiswell 164 Pints Commercial Dehumidifiers with Continuous Drain Hose
👍【164 PPD Dehumidifier】Up to 164 pints (20.5 gallons) moisture removal per day (90 PPD AHAM), this large capacity dehumidifier can dry your basements, warehouses, grow rooms, garages, wine cellars, workshop, and any spaces up to 7,000 sq ft perfectly.
👍【Fast Drying】This large room dehumidifier operates at a high airflow rate of 206 CFM for rapidly eliminating moisture, also works well for urgent water damage restoration, fast structural drying, and other jobs that require fast dry.
👍【Effortless Humidity Control】This commercial dehumidifier featuring automatic humidistat will read the room temperature and humidity level, auto ON/OFF to maintain the room humidity at setpoint, auto-restart after power outages, and auto defrost.
👍【Convenient Drainage Options】Simply attach the included 6.56 ft drain hose to this commercial-grade dehumidifier to drain the condensation automatically and continuously by gravity. This high-efficiency dehumidifier builts in a 1.3-gallon water reservoir allowing to use somewhere without floor drain. The large dehumidifier will auto OFF when the reservoir is full to prevent overflow.
👍【Reliable Construction & Easy Mobility】This heavy-duty dehumidifier is made of a metal outer casing which is anti-collision and anti-corrosion, ensuring long-term use and easy maintenance. With large semi-pneumatic wheels and sturdy bar handle, this industrial size dehumidifier is easy and safe to transport from job to job, and even from downstairs to upstairs.
We earn a commission if you make a purchase, at no additional cost to you.
The Moiswell 164-Pint Commercial Dehumidifiers will help make your mold prevention effortless.
It has auto-humidity control, a 24-hour timer, auto-defrost, and auto-restart features to maintain your indoor moisture at ideal levels. It automatically shuts off when the tank is full to prevent overflows.
This model is built to absorb 164 pints of moisture in an area of up to 7,000 sq ft. And has a reusable, washable filter and a 6.56 ft auto drain hose.
It sports a strong anti-corrosion and anti-collision metal exterior, thus guaranteeing longevity and easy maintenance.
In addition, it has two adjustable caster wheels in the front, two semi-pneumatic wheels (8-inch each), and a strong top-positioned handlebar, making it safe and easier to maneuver.
It also features an efficient fan system that runs at a speed of 206 CFM, which helps promote proper dehumidification and rapid moisture removal. 
Pros:
Easy to move around
Easy to operate
Highly efficient
Two-year warranty
Cons:
It's only available in black and white, thus limiting buyers who prefer different shades.
| | |
| --- | --- |
| Product Dimension | 21.6 x 19.6 x 32.5 inches |
| Product Weight | 88 pounds |
| Tank Capacity | 1.32 gallons |
Check out the Moiswell 164-Pint Commercial Dehumidifiers on Amazon.
Best Pocket-Friendly: Vremi 50-Pint Dehumidifier
Vremi 50 Pint 4,500 Sq. Ft. Dehumidifier Energy Star Rated for Large Spaces and Basements
Our Vremi dehumidifier is rated to remove 50 pints (70 Pint 2012 DOE Rating Standard) of moisture per day, and is ideal for medium to large spaces from 3,000 square feet up to 4,500 square feet
We designed our dehumidifier with convenience and style in mind. This dehumidifier sports a sleek, clean look with convenient built-in wheels and handles, and a quiet fan that does its job without too...
It's a dehumidifier, not a rocket ship, and our user-friendly features reflect this. Simply adjust the appliance to your ideal moisture setting, let it run its continuous 24-hour cycle until the tank...
Dehumidifiers emit heat when in use (that's how they work). This model measures 16.9 x 11.6 x 24.3 inches, with a 1.8 gallon water tank capacity
Our portable dehumidifier also features a Turbo mode that increases fan speed for maximum moisture removal. This product effectively reduces humidity and maintains a level of dryer air that can help...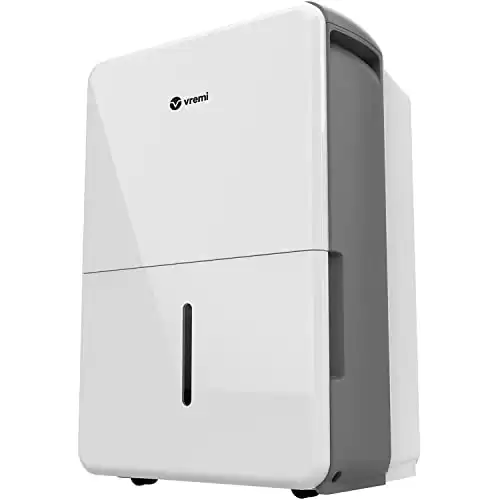 We earn a commission if you make a purchase, at no additional cost to you.
The Vremi 50-Pint Dehumidifier is the best budget-friendly dehumidifier on our list.
It features a sleek, polished design seated on four roll casters. It is built to remove 50 pints of moisture a day from spaces of up to 4,500 sq ft, and it can be adjusted to reach your desired humidity levels.
This model operates in turbo mode to speed up moisture removal. Once the water tank fills up, the dehumidifier will automatically shut off until you empty it. Alternatively, you can attach a drain hose (sold separately) for continuous draining. Thanks to its quiet fan, you can enjoy a peaceful, undisturbed work environment. 
Pros:
Affordable with great value
User-friendly
Easy to clean
Portable
12-month warranty
Cons:
Relatively high noise level (62.1dB). The moving air noise from the side exhaust does not mask the compressor noise as with most units with a similar noise output level.
| | |
| --- | --- |
| Product Size | 16.6 x 11 x 24.3 inches |
| Product Weight | 41.6 pounds |
| Tank Capacity | 1.8 gallons |
Check out the Vremi 50-Pint Dehumidifier on Amazon.
Best for Quiet: Honeywell TP30WK Energy Star
Honeywell TP30WKN Energy Star Dehumidifier for Small Room & Crawl Spaces up to 1000 sq ft with Anti-Spill Design & Filter Change Alert, White
Powerful Dehumidifier for Small Rooms: This powerful beast effectively removes up to 30 Pints per day (20 Pint 2019 DOE Standard) of moisture from the air to protect walls, curtains, furniture and...
Peace of Mind With a Brand You Trust: Honeywell TP30WKN Dehumidifier is the #2 top rated 2020 Small Capacity Dehumidifier by CR Reports and have been top rated by this independent, U. S. -based...
Effectively Removes Moisture and Odor: Effectively removes excess moisture to help protect your home from allergy & odor.
Easy to Use, Easy to Maintain: The durable air filter helps reduce dust & easily washes clean under a faucet. A Filter Clean Alert helps you maintain filter for optimal operation. The detachable water...
Smart & Designed for Comfort: Smart digital humidistat control automatically activates dehumidification based on pre-set room conditions. This Honeywell Dehumidifier also comes with a 24-hour timer,...
We earn a commission if you make a purchase, at no additional cost to you.
The Honeywell TP30WK Energy Star features an easy-to-use control panel and auto-restart function after a power outage. This dehumidifier has two fans that run in normal and turbo modes to offer improved efficiency levels throughout the day, and auto and manual drain options.
It has a built-in 24-hour timer and LED lights to let you know when the tank is filled up as well as when the filter needs to be changed. This dehumidifier is ideal for small offices, covering up to 1000 sq ft and absorbing moisture up to 30 pints.
Pros:
Energy-efficient
Easy to operate
Easy maintenance
Easily portable
Cons:
It is not silent, but its noise is bearable compared to most other options.
| | |
| --- | --- |
| Product Size | 10.5 x 13.2 x 20.1 inches |
| Product Weight | 14 pounds |
| Tank Capacity | 0.75 gallons |
CHeck out the Honeywell TP30WK Energy Star on Amazon.
Finding Your Ideal Office Dehumidifier
There are a few things to keep in mind when looking for the right dehumidifier to fit your space's needs. Here are the main things to look for:
Dehumidifier Size
The dehumidifier's capacity and the size of your room, as well as your room's current humidity levels, are all necessary considerations before purchasing this appliance.
Figure out the square footage of the room where the unit will be put and the amount of moisture the specific dehumidifier can collect in 24 hours. If your space gets extremely humid, you will want to look for a high-capacity dehumidifier. Also, if you have a smaller room, you should opt for a dehumidifier unit that is relatively smaller in size, so it doesn't take up much space.
Ease of Use
The noise levels of the dehumidifier are a big consideration for many buyers when choosing a unit.
Consider a dehumidifier with a sound level equivalent to the decibel level in a quiet conversation (about 49.5 Dba). It will help to offer a quieter environment than units with a higher noise output.
In addition, a portable unit that is easy to move is a simple fix for your office's moisture levels, especially if you change locations or have a larger office space.
Some dehumidifiers are lightweight, and you can move them from one place to another without breaking a sweat. Similarly, heavyweight units with flexible casters and extendable top handles are also easy to move around.
The smart features and controls which make the specific dehumidifier a more user-friendly option for you are also important. So, be sure the unit is easy to operate and delivers the required results.
Energy Efficiency
A dehumidifier that is energy-efficient will save you money and time in the future. Look for a unit with:
Humidity sensor: Units that feature a humidistat keep humidity levels in check. This will ensure your heating and cooling system runs effectively, reducing energy.
24-hour timer: This means you can determine when the dehumidifier should run and when it should be off, which will help save energy.
Frost sensors: A dehumidifier operating in too cold temperatures is likely to frost up, thus reducing efficiency. Frost sensors prevent ice build-up by turning off the unit automatically to allow the ice to defrost.
Energy star certification: These dehumidifiers consume less energy than standard models. On average, you would be reducing your energy usage by 15%.
Tank Capacity and Drainage System
The amount of water a dehumidifier can hold and what you need to do to drain it once full are important to saving you time, energy, and frustration down the road.
Some models have continuous drain capabilities. Others have detachable tanks to allow manual draining, while some sport both auto and manual drainage systems. But auto or continuous drain models are more convenient.
They feature a drain hose that allows the collected water to flow freely from the tank. This saves you the trouble of having to empty the bucket yourself.
Smart Features and Controls
Would you rather get a dehumidifier with automated controls or one you will have to operate manually?
Dehumidifiers with humidistat allow you to control your room's moisture levels effortlessly. The humidistat monitors and regulates the moisture levels in your room automatically to ensure your desired humidity levels are maintained.
For instance, if you set the humidity levels on the control panel to 50%, the humidistat will signal the dehumidifier to turn off when it has reached 50%. If it goes below 50%, it will turn back on.
Other smart features that come in handy are a hygrometer detector, LED light indicator, power outage auto-restart, auto-defrost, auto-drain, and access to supported applications like Alexa and Google Assistant.
Warranty
Most manufacturers offer a one-year warranty for any workmanship and material defects only. Others may offer an extended warranty.
What To Know Before Buying Your Office Dehumidifier
An office dehumidifier is a big investment. So, you can't afford to make the wrong choice.
Ensure you understand the difference between commercial, residential, and industrial dehumidifiers. Residential dehumidifiers are designed to manage humidity levels in small areas. While industrial and commercial dehumidifiers work better in larger spaces. And their humidity absorption rate is higher than that of residential dehumidifiers. However, your choice depends on your preferences and where you want to dehumidify.
Look beyond the dehumidifier's price tag. Consider its maintenance, energy consumption, and any other lifetime costs that come with owning this unit.
Finally, think of your dehumidifier's placement. Remember, these units rely on air movement to absorb excess moisture from your room, leaving the air much dryer. Thus, to get the most out of your unit, you will have to place it in a spot that allows for good air circulation. Any placement obstructing airflow into your space will significantly affect the dehumidifier's efficiency.
Using A Dehumidifier: What's It Like?
We tested these dehumidifiers in damp, stuffy rooms that are prone to mold growth on the walls and ceiling. The dehumidifier should be placed on a flat, stable surface before plugging it into an outlet. After, you want to turn it on and set the humidity to your desired level; we opted for 40% humidity.
Turn the fan on to your desired speed—we chose high speed for maximum function—and set the timer. We set each one for 12 hours to test them during the day so we could monitor the changes in the room's humidity.
If your dehumidifier has a drainage hose, connect it to the drain valve and put the drain hose into the floor drain. You can detach the hose once it's empty and close up the drain valve, or you can permanently leave the drain hose in. This might be the best option if you plan to use your dehumidifier multiple times a week or more.
To ensure the unit works efficiently, we positioned it at the center of the room, at least 6 inches from any object that may obstruct air from flowing freely in and out of it. Be sure to close all the windows and doors to allow the dehumidifier to work its magic, absorbing the excess moisture from the air. It can't work nearly as effectively if you have air flowing in and out from the windows.
Once the filter light highlights or starts flashing, this is a reminder that you need to clean the filter. To do this, turn the machine off, unplug it for safety, and move it to a more open space if you need to for cleaning.
You can clean the water reservoir with a liquid dishwashing detergent and a clean cloth. Be sure not to miss the bucket or air filters; Carefully remove them and wash them gently, rinse them, and then ensure they are completely dry before putting them back in the machine. You can opt for air drying, as it may be safest.
As the water tank and filters dry, consider vacuuming the machine to remove any dust and dirt from the grilles, and then wipe down the entire unit thoroughly. Again, be sure all parts are completely dry before putting the unit back together, and especially before plugging it back in for use to prevent any short-circuiting or problems with your dehumidifier unit.
Always read the manufacturer's manual to understand the procedure to use and care for your specific unit.
Conclusion
Purchasing a dehumidifier is a big decision for your home, and you want to be sure you're choosing the best that meets all of your particular needs. This can be tough, considering how many options are on the market.
After reading this guide, you now have a comprehensive picture of everything you should look for in a dehumidifier, some of the best options offered today, and how to properly care for your unit.
In order to be clear on your particular needs, start by listing the essential features you're looking for in a dehumidifier and then rank them based on their importance.
Be sure to look carefully at customer reviews and go for a 4 or 5-star dehumidifier that aligns with your specific criteria.
NEXT UP…
The image featured at the top of this post is ©r.classen/Shutterstock.com.