It is hard to make a game that looks good after a couple of years, let alone over a decade. However, there are a number of games that have passed that mark and still play just as well today as they did at release. Most of them have also received remasters and are supported on current-generation consoles. Look at our list of the top 10 games from 2011 to find out what you should start playing.
10. The Elder Scrolls V: Skyrim
The The Elder Scrolls V: Skyrim is not just the best game of 2011; it is also a game that defined a console generation. When Skyrim was first released, gamers were blown away by its sprawling open world and hundreds of hours of gameplay. What sets the game apart from anything else is that there is so much to see and do with tons of in-game characters to interact with.
The world looks amazing with a lot of variety, from villages to dungeons to mountainsides. One of the best things about the game is that you have the freedom to explore and complete the game as you wish. Much of the game consists of combat with other people, as well as dragons. Everything in the world feels extremely well thought out, and even ten years later, you are sure not to be disappointed.
9. Portal 2
There really is no game like Portal 2. Even today, it stands on its own as one of the best puzzle games ever made. The original Portal wasn't much more than a demo which should off a remarkable concept. That concept was fully realized in 2011 when Valve released Portal 2 as a full standalone game. However, fans of the first game have a lot to look forward to.
Don't worry if you haven't played the original Portal. The game provides enough context, and you quickly pick up the concept and backstory. One of the real standouts of the game is its voice-acting, in which there are only two voices you will hear in the entire game. Still, this type of game could easily get boring or monotonous, but you get just enough variety and story to keep you playing till the end.
8. Batman: Arkham City
In Batman: Arkham City, you play as the Caped Crusader. He must restore order to Arkham City, which is overrun with criminals. Not only does the game feature a range of Batman's enemies, but also some sidekicks like Robin and Catwoman. The game still looks and plays really well, and it takes many cues from the previous Batman, Arkham Asylum.
The combat system is the most notable holdover from the previous game, which still works, but it also adds in some new mechanics and gadgets. Best of all, you don't have to be a major fan of Batman or even superheroes to play Arkham City. However, Batman fans will love all the easter eggs and nods, but one of the best parts is that the game has Catwoman missions that serve as a prologue to the game.
7. Uncharted 3: Drake's Deception
Uncharted 3: Drake's Deception is a masterpiece in the story of Nathan Drake. Not only is it one of the best Uncharted games, but it is also one of the best games released on the PlayStation 3. It revolutionized how realistic a game could feel with lively worlds that are highly detailed and filled with things to do. It is also a cinematic experience where the game plays out like a cutscene.
The story is an integral part of the game, but the variety of gameplay is what really makes an Uncharted game stand out. Although there are some gunfights, the game isn't non-stop shooting. Instead, it has a lot of puzzle-solving with different ways to progress through an area. If you haven't played Uncharted 3 yet, it is definitely worth picking up, but you should play its predecessors first.
6. Super Mario 3D Land
Super Mario 3D Land is one of the best 3DS games. It is also the first new Mario 3D platformer on a handheld. As a side note, Super Mario 64 came out on the DS as the first 3D Mario game on a handheld. However, this is the first time a 3D Mario game was built from the ground up for a portable console. This game certainly doesn't disappoint as it manages to bring all of the fun of 3D Mario to a handheld.
The gameplay also consists of a lot of new elements that work well with the 3D capabilities of the console. The 3D effects also work really well and don't feel gimmicky like some other titles. While the game starts out easy, it gets significantly harder as you progress with different challenges, such as limited time. Similarly, there are unique uses that only work because of being portable. This includes using binoculars that rely on the gyroscope.
5. Forza Motorsport 4
There are plenty of racing simulators on the market, but few revolutionized the genre, like Forza Motorsport 4. While you could play one of the newer titles, the 4th entry remains one of the best, with some excellent cars. All of the cars in the game are perfectly recreated down to the most minute details. There is even a showcase where you can thoroughly inspect these details.
In all, there are around 500 different vehicles from over 80 manufacturers, with everything from trucks to sports cars and even a DeLorean. Of course, what really matters is the racing and courses are equally astounding with a nice variety of different courses. The game also has some really good AI for the time so that you can race against the computer without feeling repetitive.
4. Gears of War 3
Gears of War 3 is a great shooter that doesn't stray far from its predecessors. Instead, it keeps what works in the previous games and ramps it up for some extreme action. The graphics are also much better, with some very impressive visuals that make the world come to life. The story also feels like a good conclusion to the series.
In this game, you get to know some of the characters better with interesting twists and turns that get you vested in the story. Of course, this wouldn't be a Gears of War game if things weren't a little goofy, so it does have some eye-rolling moments. Nonetheless, Gears of War 3 is one of the best games from 2011. It still feels like one of the best games in the series and it's a very polished shooter that is absolutely worth playing today.
3. Saints Row: The Third
Many gamers were on the fence about the Saints Row franchise since it always felt like a copy of Grand Theft Auto. That is until Saints Row: The Third when the franchise really took on a life of its own. What really sets the Saints Row franchise apart is its zany action that feels comic at times. The characters are also a lot of fun as you play as a member of the Third Street Saints.
Missions consist of crazy activities such as insurance fraud and mayhem. These are also used as mini-games that must be completed if you want to take control of 100% of the territory. The gameplay also consists of a lot of fighting with rival gangs and even government agencies. The graphics are pretty good, with a large city to explore.
2. L.A. Noire
L.A. Noire gives you the unique opportunity to play as a Los Angeles police officer in the 1940s. Even stranger is that this game is from Rockstar, known for the Grand Theft Auto series. As an LAPD officer, you work to solve crimes and rise through the ranks at the department. But the real standout is that it is one of the first games to use motion capture to get very realistic interactions.
Realism is crucial in L.A. Noire because you need to recognize body language to solve a crime. You start by going to a crime scene and searching for clues before getting to interview suspects. During the interrogation, you have to choose whether or not to believe them. However, the game also has some fast-paced action with chase scenes and shootouts as you get closer to the end.
1. Battlefield 3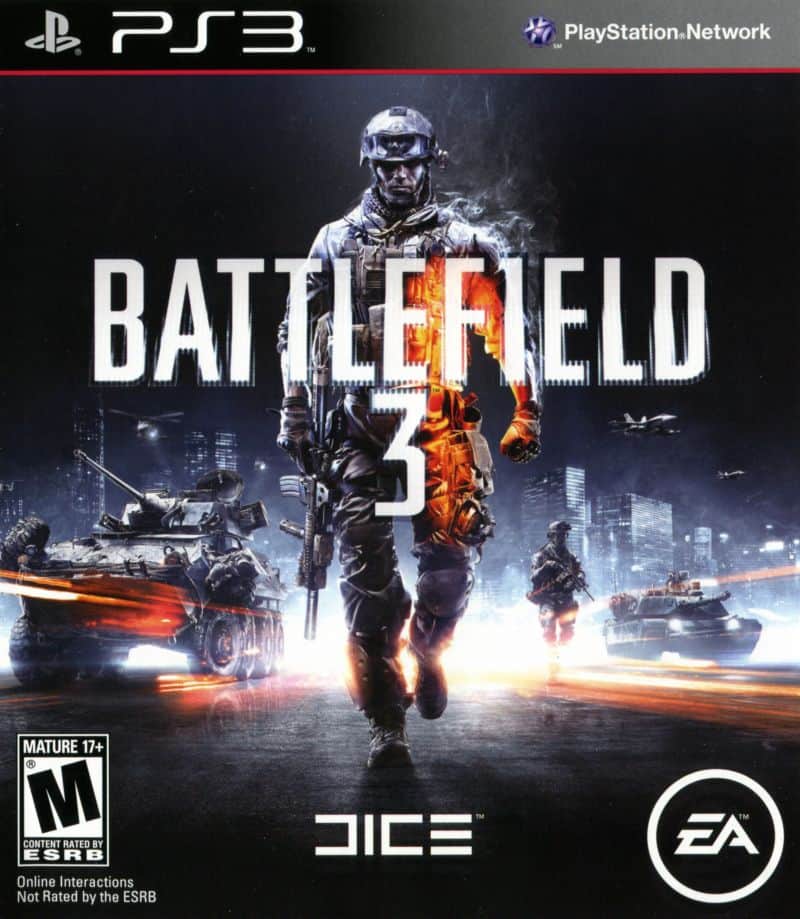 Battlefield 3 is not only one of the best games from 2011, but it is also one of the best Battlefield games ever made. The game has a good mixture of futuristic themes and realistic combat. It is also well-designed, with lots of detail going into level design. The game is a bit cinematic, so you get some really good visuals for a first-person shooter. There is also a good variety in the level design, with a mix of combat locations and even some aerial sections.
However, most of the gameplay consists of standard combat that sees you clearing buildings and taking down enemies. While the game looks really good, the story is a bit lacking with some really basic storyline that consists of typical military fiction.