Key Points
Our choice for the #1 strangest LEGO Minifigure is the Nestle Rabbit.
LEGO minifigures start at surprisingly low prices, sometimes even below $10.
The strangest minifigures will continue to appreciate in value while looking great on a shelf.
When looking at the strangest minifigures, it is important to consider how much they cost, the theme they go with, how rare they are, and what sets they came in.
Minifigures are a staple of the LEGO brand, bringing their building sets to life. Over the years, LEGO made thousands of different minifigures based on various licensed characters and original ideas. However, things don't always go to plan, leading to some of the strangest minifigures.
At some point, you would think the designers at LEGO would run out of ideas. But that doesn't appear to be the case since they continuously produce original sets. A lot of this comes down to trial and error, which leads to some failures.
Let's take a look at some of the best examples of strange LEGO minifigures.
History-Computer's Top Picks for Strangest LEGO Minifigures
#1 Strangest Overall: Nestle Rabbit
The absolute strangest LEGO minifigure has to be the Nestle Rabbit — it's one of the most sought-after minifigures of all time, and it is easy to see why.
In the late 1990s and early 2000s, LEGO had a number of tie-ins with other brands. One of the most notable is Toys "R" Us, which received exclusive LEGO sets like Geoffrey the Giraffe.
But there were a number of weird licensing deals as well, like with Shell and Exxon gas stations. Today, LEGO is much more protective of its image when it comes to product tie-ins. However, they did make an odd choice to partner with Nestle in 2001 to create the company's mascot in LEGO form. Quicky, the Nesquik Bunny became a well-known mascot who encouraged children to drink Nesquik milk.
Unfortunately, something just feels off with the end result. The minifigures use standard brown colored legs, and his body is yellow with the Nestle "N" on it. The problem is the head, which is a molded piece just like a hat is. This piece has the entire face and ears with two holes for the eyes. Because this is essentially a hat, there must be a head underneath.
The included head is one of the creepiest things ever released by LEGO, as it looks like an alien. It is a white headpiece with two eyes and a smiling mouth. Keep in mind that LEGO was only using yellow headpieces at this time. The minifigure came in two polybags, with either just the bunny or as a Studios film set. Unfortunately, the set never came out in North America, which is why it is extremely rare.
| Pros | Cons |
| --- | --- |
| LEGO no longer makes sets with Nestle | The minifigure's head is awkward |
| Although it is rare, it is still pretty cheap | Can be difficult to find |
Nostalgia Alert!
We earn a commission if you make a purchase, at no additional cost to you.
Strangest Headless Minifigure: Spongebob Squarepants
Strangest Headless Minifigure
We earn a commission if you make a purchase, at no additional cost to you.
Minifigures often look pretty similar, but Spongebob Squarepants is one of the few not to come with a head.
Nearly all LEGO minifigures use the same basic components. There is a lower portion that consists of two posable LEGOs, an upper torso with two posable arms and hands, and finally, a head. Some minifigures also come with hair or a hat to go on top of their head.
But the Spongebob Squarepants minifigure has neither a separate head nor a hairpiece. Instead, he has short legs, a blank upper body, and a square piece that covers the body portion. The body portion is entirely yellow, and the arms are still posable. However, the covering that goes over it is printed with Spongebob's face and body.
Surprisingly, the rectangular body covering is fairly rectangular, so it doesn't fully cover the somewhat triangular minifigure's upper body. The backside doesn't have any printing on it, but there is still a stud on the top for placing a hat or other accessory. Over the years, LEGO made a number of different Spongebob minifigures, but the original is Bob001, and it features Spongebob's classic smiling face.
The original minifigure actually came in three different sets, which came out in 2006. Since then, LEGO has also released a number of other Spongebob minifigures in different designs. All of the different designs feature similar parts but with different prints. If you are a Spongebob fan, be sure to check out some of the other strange minifigures, like Mrs. Puff and Squidward.
| Pros | Can still see the triangular body |
| --- | --- |
| Very close to the TV show | Can still see triangular body |
| Uses a unique "square" body piece | Plenty of availability, so not very valuable |
Strangest Fashion Choice: Yuppie
So 80's
We earn a commission if you make a purchase, at no additional cost to you.
The LEGO minifigure with the strangest fashion choice is definitely the Yuppie.
Not every strange LEGO minifigure is based on an iconic TV show or mascot. LEGO makes a number of minifigures based on original ideas. These are often released in waves as blind bags. There are usually around 15 to 20 different minifigures to collect, with each bag having a random figure inside.
The Yuppie came out in May 2017 as part of the Series 17 minifigures release. There were a number of other strange minifigures in this set, like the Corn Cob Man. All of the LEGO Minifigure Series sets feature entirely made-up characters. There are also a number of other blind-bag minifigure series that feature characters from popular games and movies.
But the Yuppie definitely has one of the most interesting fashion choices since he really does look right out of the 1980s. He even has printed-on sunglasses and slick black hair. His ensemble consists of a white jacket with matching white pants. You can also see his pink shirt showing in between his unbuttoned jacket.
Like many other blind bag minifigures, the Yuppie comes with an accessory, and it may be the best thing ever. He comes with a literal brick phone right out of the 1980s. This phone is actually larger than his head and uses a walkie-talkie combined with a printed slope and 1×1 tile. Surprisingly, the Yuppie is very affordable compared to other strange LEGO minifigures.
| Pros | Cons |
| --- | --- |
| Unique printed pieces | Doesn't feature any unique pieces |
| Comes with a brick phone | Only sold in blind bag |
Strangest Costume: Banana Guy Suit
Strangest Costume
We earn a commission if you make a purchase, at no additional cost to you.
The Banana Suit Guy is by far the strangest costumed LEGO minifigure.
Like the Yuppie, the Banana Suit Guy also appeared in the Collectible Minifigure Series. Some of the minifigures appearing in these lines are simply printed pieces; others feature custom-molded costumes. What makes him unique is that the banana goes way above his head and covers most of his lower body.
Banana suits have been a popular Halloween costume for many years. There isn't anything remarkable about the suits besides that they are funny. LEGO has made a number of other food-themed suits for its minifigures, including a Hot Dog Man. But strangely enough, this isn't the only use of the LEGO banana suit.
The original Banana Suit Guy has on a green shirt and blue pants. He also has sunglasses that you can see through the square cut out of the banana. Unlike other minifigures, he doesn't come with any accessories. A later version of the banana suit came two years later in 2018 as part of a collectible set called the Party Banana Juice Bar.
The minifigure in this set is a little different, not bearing the banana across the front. The minifigure is also different, wearing green shorts and a blue shirt with a completely different face. Finally, he also comes with a boombox. But LEGO still wasn't finished with the banana suit as they released a keychain version of the original Banana Suit Guy, but this one also has a flashlight.
| Pros | Cons |
| --- | --- |
| Also available as a keychain | The suit is on top of a plain minifigure |
| Can put the banana suit on any minifigure | Only sold in a blind bag |
Silliest Minifigure: Homer Simpson
Silliest Minifigure
We earn a commission if you make a purchase, at no additional cost to you.
There are a handful of LEGO minifigures that really shouldn't exist, and Homer Simpson is one of them.
When LEGO first partnered with The Simpsons back in 2014, it shocked a lot of consumers. This was at a time before LEGO marketed a lot of sets to adults. While they had the Creator Expert theme, LEGO was still largely looked at as a toy for children.
Creating a LEGO Homer Simpson was a major turning point that signaled that not only was Lego for everyone, but more mature sets were very profitable. The Simpsons theme was so successful that it led LEGO to make sets based on a number of other TV shows like Seinfeld and Friends. Homer Simpson was very popular, and LEGO released a number of different versions.
The original version came out in February 2014 alongside The Simpsons House. The set also came with other members of The Simpsons family and Ned Flanders. This one sees Homer with his eyelids half shut and wearing work attire. His lower portion is light blue, while his upper body has a white shirt, striped tie, and his nuclear plant name badge.
The top of Homer's head is a rounded dome, so you can't put a hat on him. The second Homer Simpson minifigure is the most common as it was included in LEGO Dimensions, the Kwik-E-Mart, and released as part of The Simpsons Collectible Minifigures. There was also a second wave of minifigures which had a variation of Homer Simpson wearing a blue suit.
| Pros | Cons |
| --- | --- |
| Based on the hit show The Simpsons | Lego is no longer making The Simpsons sets |
| Came with a number of different sets | Homer's face doesn't look true to the show |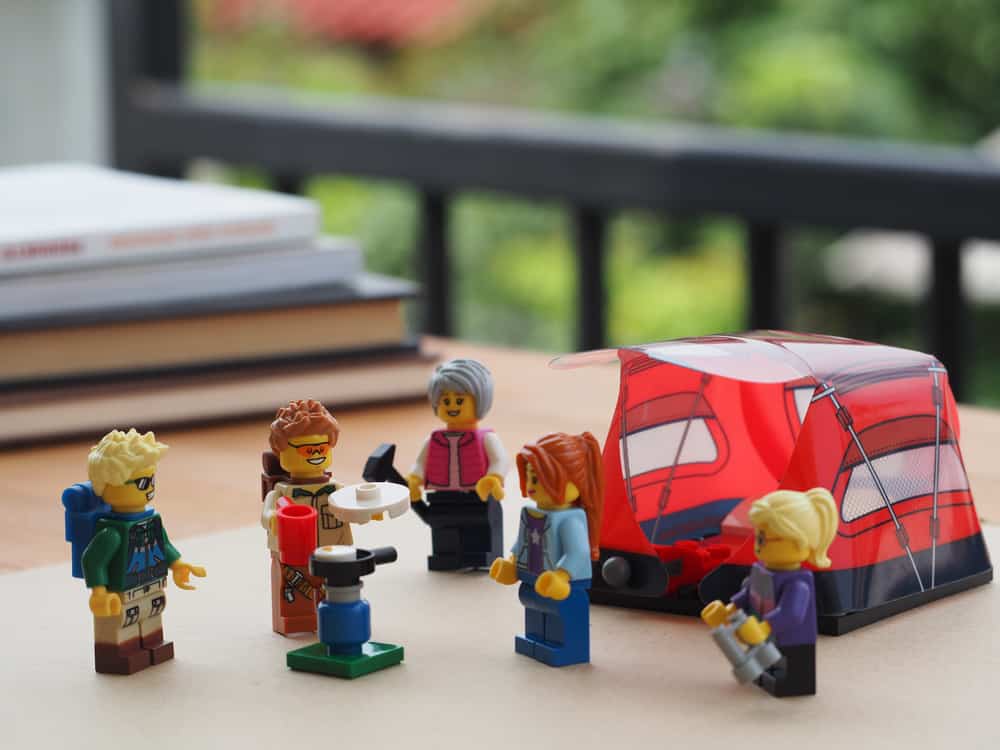 How to Pick the Strangest Minifigure: Step-by-Step
Before buying a strange minifigure, you should consider these four important factors, which we'll go into detail about below.
Theme
The first thing you should always look at when considering any LEGO set or minifigure is the theme. There is no sense in buying something that you aren't interested in. Of course, some collectors look strictly for minifigures. In the case of strange minifigures, you may wish to collect all of the strangest or ones that are part of the same theme.
Availability
The next thing you will want to look at is the availability of the minifigures. Many of the minifigures listed above were sold many years ago. Therefore, it may be hard to track them down, and you will likely have to purchase them from an online site like eBay or Bricklink. Making matters worse, some minifigures are exclusive to various regions.
Price
The most important factor in any purchase is the price. LEGO minifigures are a great thing to collect because they are usually very affordable. However, the price is relative to the availability of a minifigure. For instance, once a minifigure has been retired, it will likely go up in price. When it comes to buying a minifigure, be sure to check the value to ensure you get a good deal.
Included Sets
Finally, you should look at the sets that the minifigure came with. This may seem unnecessary, but depending on how you collect LEGOs, it may be a better value to purchase the entire set that the minifigure came with. This will greatly help if you plan to purchase multiple minifigures that come in a given set.
What to Know Before Buying a Strange LEGO Minifigure
Buying LEGO minifigures can be really fun, but it is a good idea to have some sort of strategy or reason for purchasing. Most LEGO minifigure collectors go for entire sets. This is a fun and affordable option, but it can be overwhelming. Where things can get really overwhelming is the number of different variations of the same character.
For instance, some sets have the same character but with a different print. Additionally, minifigures are available both individually and as a part of a set. In the case of strange minifigures, many are available on their own, but some also came with larger sets. Fortunately for minifigure collectors, you can purchase just the minifgure on sites like eBay.
Using Strange LEGO Minifigures: What It's Like
You probably won't want to play with most of the strange LEGO minifigures mentioned above. Many are considered collector's items rather than toys. However, they are still LEGO, so it is understandable to play with them. On the other hand, some strange minifigures like Spongebob are clearly designed to be played with.
Just keep in mind that the rarest minifigures will likely go up in value, so you may want to be careful with them. If you have a bunch of minifigures to display, you should consider shelving or cases to show them properly. Collectors of blind-bag minifigures even use cases designed to hold the exact number of minifigures from that series to help separate various series.
Summary
| Rank | LEGO Minifigure |
| --- | --- |
| Strangest Overall | Nestle Rabbit |
| Strangest Headless | Spongebob Squarepants |
| Strangest Fashion Choice | Yuppie |
| Strangest Costume | Banana Guy Suit |
| Silliest Minifigure | Homer Simpson |
The image featured at the top of this post is ©Lewis Tse/Shutterstock.com.