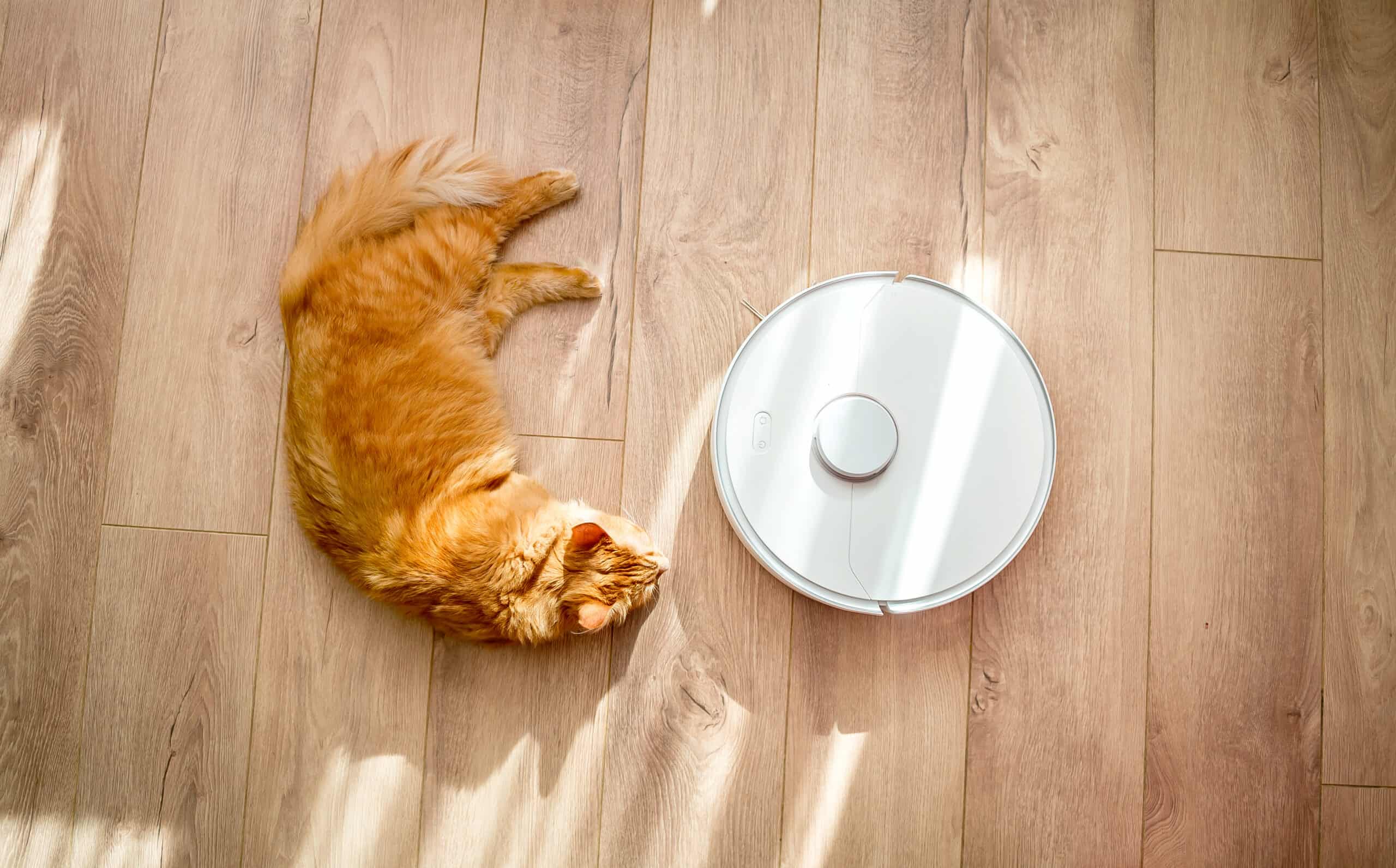 Are you tired of having your peace interrupted by the loud sound of your robotic vacuum cleaner? If so, you're in luck. We've scoured the market and found five of the quietest robotic vacuum cleaners today. 
According to the Centers for Disease Control (CDC), sound levels above 70 decibels (dB) are prone to causing slight damage to your ears. Unfortunately, most robotic vacuum cleaners are about or slightly noisier than 70dB. The high sound levels produced by these robotic cleaners aren't particularly harmful to your ears, but it becomes exasperating and disruptive to daily routines.
On the bright side, many manufacturers are striving to produce noiseless home robot cleaning devices. Below, we'll look at each of these vacuum cleaners in detail, so you can pick the one that fits your needs and budget. All five models provide excellent cleaning power while being as quiet as a mouse. Here are our top five picks for the quietest robotic vacuum cleaners on the market today:
The Zoozee Z70 Robot Vacuum and Mop  Zoozee Z70 Robot Vacuum and Mop is the perfect silent robotic vacuum cleaner because it makes a negligible amount of noise while cleaning your floors. In quiet mode, it produces sound only louder than a whisper at 47.8dB and 62.2dB when set in strong suction mode, making it the most silent vacuum cleaner on our list.
Its quiet operation and large dustbin mean you won't be bothered by loud whirring and rattling as you work or relax in other parts of your home. The motor is also specially designed to reduce noise, providing a quiet yet powerful cleaning experience.
The Z70 comes with two cleaning modes to suit different areas of your home. The vacuum mode is best suited for picking up dirt and debris on hardwood, tile, and laminate floors. The mop mode is great for mopping up spills or refreshing carpets. It's also great for pet owners, as it has a special brush that removes stubborn pet hair from carpets and upholstery.
This vacuum cleaner has many advanced features, including an anti-collision system to prevent it from bumping into furniture or walls It also has an anti-falling system so it won't get stuck on stairs or edges. Additionally, the Z70 has an anti-tangle system that prevents its bristles from getting tangled by long strings or cords. 
Even better, its long battery life allows you to clean for up to an hour and a half without recharging. What's more, it has a long serving battery run time per charge of up to 240 minutes, allowing it to clean up to 3229.17 square feet (300 square meters) during each run.
| Pros | Cons |
| --- | --- |
| Produces the least noise in quiet mode (47.8dB) | Not powerful enough for deep cleaning |
| 5GHz Wi-Fi support | |
| 28 sensors for smart navigation | |
| Longest-serving battery  | |
| High suction power | |
Check out Zoozee Z70 Robot Vacuum and Mop on Amazon.
zoozee Z70 Robot Vacuum and Mop, Compatible with 5 GHz WiFi, Precise Lidar Navigation Robotic Vacuum with 3500 Pa Power Suction, Multi-Floor Mapping, 5200 MAh LG Battery
【5 GHz /2.4 GHz Wi-Fi】: Zoozee robot vacuum cleaner is the First one in the market that is compatible with 5GHz and 2.4 GHz WiFi. Follow your choice. Never worry about your robot vacuum can't connect to your home network.
【Powerful suction】: The blower from Nidec is applied to provide your robot vacuum with continuous strong suction power. The maximum suction power of 3500pa makes your home spotless.
【5200 MAH battery】: LG batteries provide 240 minutes of running time for your robot vacuum cleaner, clean your large house of 300 square meters at a time. Automatically return to the charging base.
【Lidar navigation & 28 sensors】: The ranging frequency of the intelligent lidar is 4000 times per second, and the scanning radius is 8 meters to optimize coverage and the full suite of sensors helps thoroughly clean your home.
【Multiple functions】: With ZOOZEE app, you can select the clean mode, set virtual wall, No-Go zone, and choice the language for your robotic vacuum. You can control your robot vacuum clean a certain area at a certain time.
The Enther Robot Vacuum Cleaner is a powerful and efficient cleaning tool with six cleaning modes to keep your home free of dust and debris. It features an incredibly powerful suction system that can pick up dirt, dust, and debris from carpets, hardwood floors, tiles, and other surfaces while maintaining a noise level of less than 55db. That's quieter than a normal conversation.
This robot vacuum cleaner is the perfect choice for keeping your home clean without worrying about noise or accidental damage. With its powerful suction system, 0.5L capacity dust box, built-in navigation, and range of sensors, the Enther is the best vacuum cleaner for any cozy and quiet home.
It's not just powerful but intelligent, too. The Enther has a built-in gyroscope navigation system that allows it to move around the home easily. Its ultra-slim 2.89 inch profile means it can clean under tight and inaccessible spaces with ease. Additionally, it has a range of 3D sensors that help it detect obstacles and avoid them as it moves around.
| Pros | Cons |
| --- | --- |
| Ideal for multi-surface cleaning | Suction force may not be ideal for fluffy carpets |
| You can schedule cleaning | Lacks an app control |
| Easy remote control | |
| Offers deep cleaning | |
| Smart gyroscope navigation | |
Check out Enther Robot Vacuum Cleaner on Amazon.
Sale
Enther Robot Vacuum Cleaner, Robotic Vacuum Cleaner with Gyro Navigation, 2600mAh, 120mins Run Time, Super-Thin, 6 Clean Modes, Self-Charging for Pet Hair Hard Floors, Carpet, Black
【6 Clean Modes】- The robot vacuum supports 6 cleaning modes including ①auto cleaning, ②max vacuuming cleaning, ③edge cleaning, ④random cleaning, ⑤area cleaning, ⑥deep cleaning. Freely switch between different modes and power levels as you want.
【120-min Runtime and Self-Recharing】- With a rechargeable battery capacity of 2600mAh, the C200 robot vacuum cleaner can continuously work for 120-min, which is suitable for all household or public places cleaning, At low battery power, The robotic vacuum will go back to the charging base automatically.
【Smart Protection】- The robot vacuum has advanced 3D precise obstacle avoidance function plus pressure-sensitive soft bumper, infrared-sensor for evading obstacles, and drop-sensing tech to avoid falls.
【Gyroscope Smart Navigation】-C200 robotic vacuum cleaner with mapping will clean your home more thoroughly following an efficient Zig-zag path, when compared to random path robotic vacuums.
【 Deep Cleaning 】- C200 vacuum cleaner robot ​has a degree of climb of 12-15 °, C200 floor vacuum features dual side brushes which work seamlessly with a nylon & rubber rolling brush to pick up dust, dirt and pet hair.The slim robotic vacuum is smart and quiet(under 55 db) for thorough cleaning.
The Lefant Robot Vacuum Cleaner is an innovative device that combines powerful suction with smart navigation capabilities. It has multiple sensors that allow it to detect and avoid obstacles while locating any dirt and debris that needs to be vacuumed.
In terms of noise, this robot vacuum cleaner has one of the lowest levels in its class. It operates at less than 60dB and has an advanced noise reduction system for extra quiet cleaning. On top of that, it comes with upgraded 6D built-in anti-collision infrared sensors, which prevent it from bumping into furniture and walls.
The robot cleaner can be programmed to clean specific areas of the home with its spot, zigzag, or edge cleaning modes, meaning you don't have to worry about manually controlling it as it cleans around the home. Additionally, its brushless suction force doesn't tangle hair or fur like seen with roller brushes, making it ideal for homes with pets.
Overall, the Lefant Robot Vacuum Cleaner is a great choice if you're looking for a powerful, ultra-slim, and intelligent device that can clean your home efficiently and quietly.
| Pros | Cons |
| --- | --- |
| Most affordable | Ram-navigation model — it has to bump into objects to recognize them |
| Ideal for households with pets | Not automated |
| Terrific suction force for thorough cleaning | |
| Smart app and voice control | |
| Vacuums and mops | |
Check out Lefant Robot Vacuum Cleaner on Amazon.
Sale
Lefant Robot Vacuum Cleaner, Tangle-Free, Strong Suction, Slim, Low Noise, Automatic Self-Charging, Wi-Fi/App/Alexa Control, Ideal for Pet Hair Hard Floor and Daily Cleaning, M210
🐈This Lefant M210 robotic vacuum cleaner is good for families with pets.
🤔Why the Lefant M210 can't connect to the APP: Please make sure you are using the new App-Lefant, waiting for you to unlock more features that were not available in the old App-Lefant Life.
🤖【Small Body Design】: Are you still worried that the vacuum can't go under the furniture to clean? This Lefant M210 with an 11'' diameter and 2.99" Height works easily under or around beds, sofas and other furniture for a thorough cleaning and high coverage.
💪【Unique Brushless Suction Port】: Robot vacuum powered by a strong digital motor provides strong suction power. The unique Brushless Suction structure ensures that pet hair and dirt go into the dustbin easily, unlike roller brushes, suction does not entangle hair.
😃【4 Clean Modes Your Needs】: Vacuum Cleaner Robot offers 4 clean modes including ➊Auto clean➋Spot clean ➌Edge clean ➍Zigzag clean. Freely switch among different modes and power levels as you want via the Lefant App. Note: Do not use Zigzag mode on carpet.
The ILIFE V3s Pro Robot Vacuum Cleaner is a powerful and silent robotic vacuum cleaner. It has advanced features such as no-tangle pet hair care suction, a low profile design, automatic cleaning, charging, and anti-bump and anti-fall sensors. It's easy to start, and with low noise levels (less than 55dB), it provides quiet, discreet, and efficient cleaning.
The anti-bump and anti-fall sensors protect your furniture and home from damage caused by collisions with the robot vacuum cleaner. Additionally, its auto-cleaning mode allows for a minimal supervision cleaning experience. Each full charge allows for 90-100 minutes of run time, which facilitates more cleaning with less effort.
The ILIFE V3s Pro Robot Vacuum Cleaner comes with 10pcs HEPA Filters Replacement and the Mochenli Vacuum Filter Kit Replacement to keep your vacuum in top condition. The reviews from customers are excellent, with many praising the quietness and power of the device.
With its long battery life, low noise levels, anti-bump and anti-fall sensors, plus a 12-month warranty and a responsive customer service team, it's an excellent choice for keeping your home clean without making a fuss.
| Pros | Cons |
| --- | --- |
| Easy to use | Not ideal for small area rugs |
| Quiet  | Random movements |
| Great price and high suction | |
| Offers scheduled cleaning | |
| Allows auto charging | |
Check out ILIFE V3s Pro Robot Vacuum Cleaner on Amazon.
ILIFE V3s Pro Robot Vacuum Cleaner, Tangle-free Suction , Slim, Automatic Self-Charging Robotic Vacuum Cleaner, Daily Schedule Cleaning, Ideal For Pet Hair,Hard Floor and Low Pile Carpet
Fits Pet Owners: With a tangle-free pet hair care suction, V3s Pro Robot Vacuum focuses on picking up hair without tangle; It also tackles dirt, crumbs and debris effectively on hardwood, tile,...
Slim: V3s Pro has a low profile design, capable of running under beds and sofa where dirt hides
Automatic Cleaning and Charging: This robot vacuum can run routine cleaning automatically based on preset schedule; It goes back to charging dock on its own when battery gets low; Each full charging...
Anti-Bump and Anti-Fall: Built-in infrared sensors can identify steps and obstacles, so the vacuum can run away from drop-offs and collisions
Easy to Start: Starts cleaning by remote or one-button touch on the robot vacuum; Tip for easy maintenance: empty dustbin and clean the filter after each use; replace filter every month
We earn a commission if you make a purchase, at no additional cost to you.
The Lubluelu Robot Vacuum 2700Pa Suction is a great option if you're looking for a quiet and efficient robotic vacuum. The powerful 2700Pa suction ensures it can pick up even the most stubborn dirt and debris. The Lubluelu robot cleaner made the cut because it has a 600ml dustbin capacity, while most cleaners feature 500ml and below. This reduces the need to empty it constantly because it doesn't fill up as quickly. 
In addition, it has a unique 3-step cleaning system that ensures your floors are perfectly cleaned. Its silent design (55dB) makes this an excellent option for those looking to keep their home peaceful and quiet. It's also the only bot vacuum cleaner with 12 distinct cleaning modes, and all can be changed using a remote or a mobile application.
The Lubluelu robot vacuum cleaner also has anti-collision sensors to help it maneuver around obstacles and an LED display to let you know what it's doing. It's an excellent choice for a smart, high-capacity vacuum cleaner made by a company that specializes in smart floor cleaning products.
| Pros | Cons |
| --- | --- |
| Highest dustbin capacity | Requires manual charging |
| Suitable for pet homeowners | |
| Ultra-slim | |
| 12 unique cleaning modes | |
| Good for thorough cleaning | |
Check out Lubluelu Robot Vacuum 2700Pa Suction on Amazon.
Sale
Lubluelu Robot Vacuum 2700Pa Suction, Robot Vacuum Cleaner Quiet 55dB, 130Mins Runtime, APP/WiFi/Remote Control, Slim, Self-Charging Robotic Vacuum Cleaner for Pet Hair, Hard Floor,Low-Pile Carpet
🚀【2700Pa Powerful Suction Cleaning】Picks up dust, dirt and pet hair like a tornado.The upgraded brushless motor makes the robot vacuum run smoothly and quietly while working, the sound is <55dB to provide quiet environment for your.
🗑️【2.99" Ultra-Thin Body, 600ml Large Dustbin】Help the smart vacuum robot get in and out of beds and sofas freely for deep cleaning of dead spots, which greatly reduces the frequency of emptying it.
💥【12 Efficient Cleaning Modes】Offered by our robot vacuum cleaner, including Auto, Spot, Edge and Zig-zag cleaning X 3 suction modes Quiet/Standard/Powerful power. SG60 can be switched flexibly between different modes and power levels via Smart Life APP or remote control.
📱【 Remote/APP control】Set schedules and cleaning modes of your robotic vacuum cleaner from the Smart Life APP,support voice commands via Alex, Google Assistant,let you accomplish vacuuming needs with effortless. (APP only supports 2.4G or 2.4_5G dual channel network).
⛳【Advanced Boost Suction Technology】Robot vacuum will increase suction power within seconds when it detects carpets for thoroughly cleaning. Infrared anti-collision for evading obstacles, and anti-dropping sensors avoid falling downstairs.
How to Pick the Quietest Robotic Vacuum Cleaners
A good robotic vacuum cleaner will make cleaning a breeze. However, if you fumble, you may end up with an annoying noisy little robot that runs all over and doesn't get the job done. We want to help you make the best choice that maintains the peace and quiet of your home and cleans effectively. Here are the top features to look at before settling on a quiet robotic vacuum cleaner:
Noise level rating
Cleaning and performance
Cleaning patterns
Battery Life
Extra features
Noise Level Rating
A noisy robotic vacuum cleaner can prove distractive, especially if you have a toddler who naps during the day, you work from home, or have homeschooled kids. A silent robotic vacuum cleaner makes cleaning effortless while also ensuring a quiet living atmosphere where none of your daily activities will be disrupted.
Before settling on a particular model, read customer reviews online to learn from other customers' experiences. These will help you understand whether the vacuum cleaner you're about to get is as quiet as implied by the manufacturer or seller. Although all robotic vacuum cleaners make some noise, being aware of how loud some variants are types operate ensures that you don't get a machine that will interrupt the calm in your house.
Cleaning and Performance
In a robotic vacuum cleaner, performance has to be your top priority. You should check variables such as battery life, suction force, cleaning patterns and modes, slim profile, and types of floors it can clean because each robotic vacuum cleaner is suited for different uses.
For instance, if you have low clearance furniture, go for a slim profile bot vacuum cleaner that can effortlessly fit under these furnishings. Additionally, if you have larger spaces or more rooms to clean, a longer battery life would be ideal. This way, you don't have to wait for long intervals for it to charge while you are cleaning.
The suction force ratings determine the type of floors your bot cleaner can work on, and these can vary between carpets, hardwood floors, tiles, and marble. For instance, not all robotic vacuum cleaners can clean stubborn pet fur from the carpet due to weak suction force or the bot's design. Most bot vacuum cleaners have a strong suction pressure on bare floors but may or may not have an automatic carpet boost that's ideal for runners and throw rugs. Such a vacuum's power may be manually adjusted in its settings. A little trial-and-error could mean the difference between terrific and subpar performance on carpeting.
Cleaning Patterns and Mapping
The software and engineering powering some robots are fantastic, thanks to high-quality motion sensors. Some robots are designed to clean in a systematic to-and-fro pattern with sufficient overlaps to guarantee a deep clean.
Some gadgets are designed to map and recognize your cleaning habits for auto-cleaning cruise control via app connectivity. While mapping the environment, they often estimate the cleaning area and clean in tiny grids along its path.
Battery Life
The fact that robot vacuums are wireless and long-range is a huge advantage. The price of their cordless-ness is that their batteries need to be recharged. Since the majority of robotic vacuums can clean up for over an hour without needing to be recharged. You want to opt for a model with a greater runtime if you reside in a big house. You don't want to have to pause your cleaning to allow your bot to charge.
Extra Features
Some vacuum cleaning bots have in-built object sensors that are pretty good at recognizing objects and moving around (or over) them. Such robots spend more time cleaning the floor and less time bumping into or getting caught under furniture. Other features like spot cleaning, room or zone editing, cleaning history, scheduling, auto-charging, and no-go zones are amazing features that can enhance your bot's performance.
You can also look out for robot vacuum cleaners that have smart capabilities, like cleaning on voice command, Alexa and Google Assistant support, 2.4G or 2.4_5G dual channels, self-emptying, and semi-random navigation systems.
What to Know Before Buying the Quietest Robotic Vacuum Cleaners
Using one of our quietest robotic vacuum cleaners isn't just plug and play, as most people would assume. Fine, they clean your floors effortlessly, at least compared to doing it yourself, but there are things you need to understand before you get one.
The Obstacle Sensors May Not Be 100% Effective 
Robotic vacuums have earned their reputation for navigating through your house without bumping into objects like furnishings or stray objects. Unfortunately, even the best robot vacuums sometimes get stuck, despite having multiple sensors and the ability to map the layout of your room. Monitor your bot cleaner for the first few rounds to identify tough spots they'd barely escape and see if you can change them.
You Can Find Self-Emptying Vacuum Cleaner Bots
Most quiet robotic vacuums ought to be emptied periodically or after each cleaning. However, some self-emptying versions autonomously drop trash into a container at their base of operations. Additionally, the brushes on the bot require regular cleaning.
Charging Station
While it may be enticing to tuck the charging point for your bot vacuum into a corner, it would be better to position it in an easily noticeable location.  For instance, consider placing it against a flat wall with four feet of leeway in front and about 1.5 feet of space on both sides.
Using The Quietest Robotic Vacuum Cleaners: What It's Like
A quieter bot is ideal if you need to be home while the bot operates. You won't need to shout or crank your television to listen over the bot. Typically, these silent models operate at as little as 48-55dB from three feet away. This is comparable to the ambient buzz from a running refrigerator or a typical conversation between two people.
Additionally, it's not total silence, even with the quietest cleaners. Some bot vacuum cleaners may bump into walls and furnishings when moving quickly through your room. For this reason, even the most silent models tend to create a little nuisance. Nonetheless, the sound produced is often bearable, meaning the vacuum bots can sometimes be used even while others are asleep.
However, on their loudest suction levels, some bots can reach 65dB or even 70dB, so loud that, after about 20 minutes, being next to the bot will undoubtedly become unpleasant. The noise doesn't matter if you typically leave the house or are on a different floor because many models allow you to adjust the suction accordingly.
Expect a Few Hiccups at First
Shorter vacuum bots can fit under more furnishings, which is advantageous, but it only matters if your furniture clearance is low from the ground. Generally, your bot requires some effort before it gets accustomed to the surroundings. Besides, you should anticipate a few hurdles throughout the first few sessions. However, after you identify your pain locations and establish a pattern, they'll not cause any worries afterward. Occasionally, your robot cleaner may fail to re-dock. However, if it continues, consider repositioning the dock. 
Robotic vacuum cleaners may also have a scheduling feature that lets you program it to clean even while you are away from your home or asleep. However, you may return home to find the floors still untidy if you didn't clear off your floors. For instance, if you leave a pile of laundry lying around, the bot will somehow end up stuck under some pile in the first 15 minutes and won't serve its purpose. However, if you use one of our quietest robotic vacuum cleaners, at least noise won't be a problem.
Last update on 2023-03-18 / Affiliate links / Images from Amazon Product Advertising API