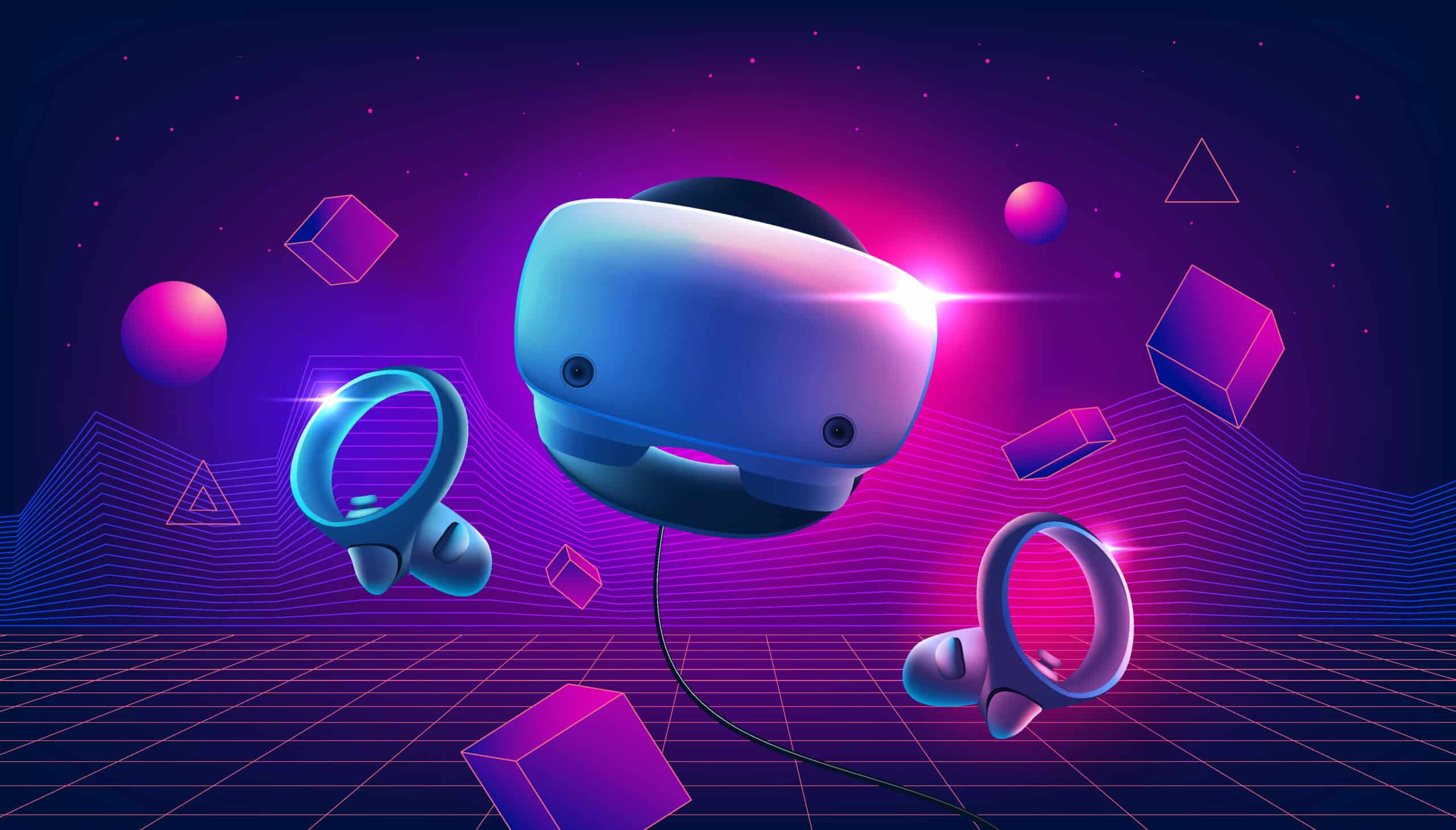 Key Points
The Quest Pro VR headset is Meta Platform's next release following Quest 2.
Color passthrough technology which permits interaction with in game objects is one of the headset's most anticipated features.
In addition to being suitable for gaming, the headset will also be suitable for work based activities.
Meta Platforms (formerly Oculus, purchased by Facebook) has been making a name for itself in the VR space ever since it released its first headset back in 2016. After the Oculus Rift, Meta's line of Quest VR headsets became some of the most popular VR products of all time.
The Quest 2 in particular was the perfect choice for many VR gamers. It offered a great balance between resolution, comfort, and price, which was rare for other headsets on the market. 
With the Quest 2's roaring success, fans of Meta and of VR have been clamoring for when the Quest 3 will release. But instead of being dubbed the Quest 3, the next VR headset from Meta is called the Quest Pro.
Originally, Meta referred to their new VR device by the code name 'Project Cambria'. It wasn't until recently that we had confirmation that the Quest Pro and Cambria are one and the same. 
So now that we've made it this far, what else have we learned about the headset?
When is the Quest Pro's Release Date?
According to leaks from Youtube personality and tech/VR analyst Bradley Lynch, the Meta Quest Pro is scheduled to launch on October 25th of 2022. This is further confirmed by Mark Zuckerberg's own comments in a recent podcast that he featured in (see below).
Initially, the best guess for the so-called Project Cambria's release date was early 2023. Then it was September of 2022. Now, we finally have confirmed information that it is coming in October thanks to the podcast feature.
In the podcast, Zuckerberg refers to a "device that's coming out in October". This is clearly in reference to the Meta Quest Pro. Since we already know that it's releasing very soon and the date aligns with what Brad Lynch said, it would be very unlikely for it to be anything else.
Plus, a video of Zuckerberg trialing Project Cambria was out on Facebook just 3 months ago, on May 12th. The features mentioned for the device in the podcast match up with everything we know about Cambria. All signs lead toward the Quest Pro coming out on October 25th.
How Much Will the Quest Pro Cost?
We don't know exactly how much the Quest Pro will cost once it's released. We do know, however, that it will cost more than the Quest 2.
During the podcast, Zuckerberg stated that the Quest Pro will cost over $800. There is a common misconception that the Quest Pro will be around the stated $800 price tag, but Zuckerberg did say that it would be "significantly higher" than that.
It's hard to say how much it will cost for sure. But it's within the realm of possibility for it to be priced similarly to other premium systems. Apple's upcoming VR headset is reported to cost $3000 once it releases.
We expect the Quest Pro to be less than that, especially considering the cheaper price of the Quest 2. Still, we shouldn't rule out the possibility of the Quest Pro costing $1000 or more.
Design of the Quest Pro
In the demo video of Mark Zuckerberg using the Quest Pro, the headset itself was censored. As such, most of the information we have about the Quest Pro's design isn't concrete. The best sources currently are leaks from Bradley Lynch.
It seems like the Quest Pro is further differentiated by the Quest 2 with its visual design, as it's a rounded black model with its own unique features. According to the leaked images, it looks something like a high-tech ski mask.
The Quest Pro uses a large goggle-like visor that looks quite unlike other VR headsets we've seen thus far. This likely ties into the full-color passthrough technology that it's equipped with, which we'll cover in the next section.
Specs and Features of the Quest Pro
With leaks from Bradley Lynch once again, we have a basic idea of what the Quest Pro's specs might be. Keep in mind that these are supposedly leaks. They aren't confirmed facts just yet!
Here's what we suspect are the specs of the Meta Quest Pro:
| | |
| --- | --- |
| Resolution | 2,160 x 2,160p (MiniLED Backlit LCD Panels) |
| Processor | Qualcomm XR2+ Gen 1 SoC |
| Memory | 12 GB LPDDR5 RAM |
| Storage | 256 GB SSD |
| Battery | 5000 mAh |
The leak also suggests that the Quest Pro will have IR camera eye and face tracking, 6E wifi support, and custom pancake lenses. For outside sensors, there will allegedly be a 16MP color camera that will be used for the color passthrough.
Full-Color HD Passthrough
Color passthrough is the most hyped feature of the Quest Pro as of right now, and with good reason. This feature will allow you to play VR in a mixed reality setting.
In other words, you'll be able to interact with fictional items in the "real" world, augmented reality style. Think Pokemon Go, Snapchat, or IKEA Place, but with a VR headset added to the mix.
Past VR headsets, like the Quest 2, have only allowed passthrough in a black-and-white capacity. The Quest Pro will let you see the world around you in proper full color, which is leagues better for immersiveness and realism.
Meta has named this mixed reality functionality Presence Platform, and you can already see it at work in the demo that Zuckerberg posted to his Facebook. The video showed Zuckerberg using the Quest Pro to play a game with a little fictional monster, but there are endless possibilities.
Social activities, augmented workspaces, and of course, gaming, are all ways that we expect the passthrough features to be used for.
Facial Tracking
Mark Zuckerberg has seriously hyped up the Quest Pro's facial tracking abilities in the past several months. According to him (and actual scientists), there's "more nonverbal communication when people are with each other than verbal communication."
The Quest Pro hopes to capture all of this by using facial tracking to project your expressions onto your virtual avatar. This capability means we're taking huge steps toward the metaverse that Meta is named after, and if all goes well, it will make social experiences in VR more immersive by leaps and bounds.
Based on what Zuckerberg said, it seems like minute changes in your expression and subtly different expressions will all be captured by the Quest Pro.
New Controllers
The Quest 2's touch controllers were great for their time, but the Quest Pro will be introducing some new VR controllers to the scene.
Hand-tracking support, like in the Quest 2, will likely be present in the Quest Pro as well. Beyond that, a leaked video from Brad Lynch implies that the new controllers will be completely different in appearance from the old Quest 2 controllers.
They appear to look something like a stylus with triggers on them and have been dubbed Starlet for now. According to Lynch's leaks, they have built-in sensors/cameras that allow them to locate themselves in the room without the help of the actual Quest Pro.
The Quest Pro's controllers might be available for purchase separately from the headset, along with a charging pad. This isn't unlike what some other VR headsets, like the Valve Index, do with their extra VR accessories.
Gaming vs. Workspace Capabilities
Whereas the Quest 2 is used primarily for games, the Quest Pro is likely intended for productivity and work. The naming scheme reflects that. Quest Pro implies professional use, as well as sets it apart from the numbered names of the Quest 2 line.
Augmented workspaces and Meta's Workrooms were already available with the Quest 2, so it's likely that Meta will continue down this route with the Quest Pro. We might even see some extra productivity-related features added on, aside from the inherent benefits of the Quest Pro's better specs.
Altogether, the focus on professional use is likely why the Quest Pro is so much more expensive. The specs do factor in, but it's important to take a look at the market that Meta is trying to capture the interest of with this headset. In the meantime, the Quest Pro still has all of the gaming capabilities as the Quest 2 did.
Meta has marketed the Quest Pro as being a "laptop for your face", which is a surprisingly high bar for VR headsets of today. In order to make a headset actually match up to the same levels of ease of use and productivity as a laptop, you need to have intuitive and inventive features.
Hopefully, we'll see both of these things from the Quest Pro in the future. 
Up Next…
Interested in more VR-related articles? Click on the links below: