The Oculus Quest Pro and the Quest 2 are the two-star VR headsets released by Meta, a strong contender in the VR space and the company at the forefront of the charge toward the metaverse. As a brand-new VR headset, the Quest Pro is already surrounded by hype.
But is it actually worth the purchase? It certainly has better specs than the Quest 2, including in the graphics department. It is also sold for a high price which puts it far out of reach for many casual VR users. That tradeoff is a hard pill to swallow for people who only want to use VR casually.
For that reason, the Oculus Quest 2 is still a strong contender against the Quest Pro. It has long been an entry-level VR headset thanks to its low cost and overall value. Many VR users, especially casual gamers, have no need to buy a different headset because Quest 2 does everything they need it to!
Either way, both headsets have their benefits and drawbacks. The decision of which to buy or whether or not you want to upgrade is all dependent on what you want out of a VR headset. So, without further ado, let's take a look at the differences between the Oculus Quest Pro and the Oculus Quest 2.
Oculus Quest Pro vs. Quest 2: Side-by-Side Comparison
| | Quest Pro | Quest 2 |
| --- | --- | --- |
| Resolution | 1,800 × 1,920p | 1,832 x 1,920p |
| Processor | Snapdragon XR2+ | Snapdragon XR2 Platform |
| Memory | 12GB RAM | 6GB |
| Storage | 256GB SSD | 128GB or 256GB models |
| Refresh Rate | 72Hz, 90Hz | 72Hz, 90Hz, experimental 120Hz |
| Field of View (degrees) | 106  | Around 90 |
| Price | $1,500 | $299 |
Oculus Quest Pro vs. Quest 2: What's the Difference?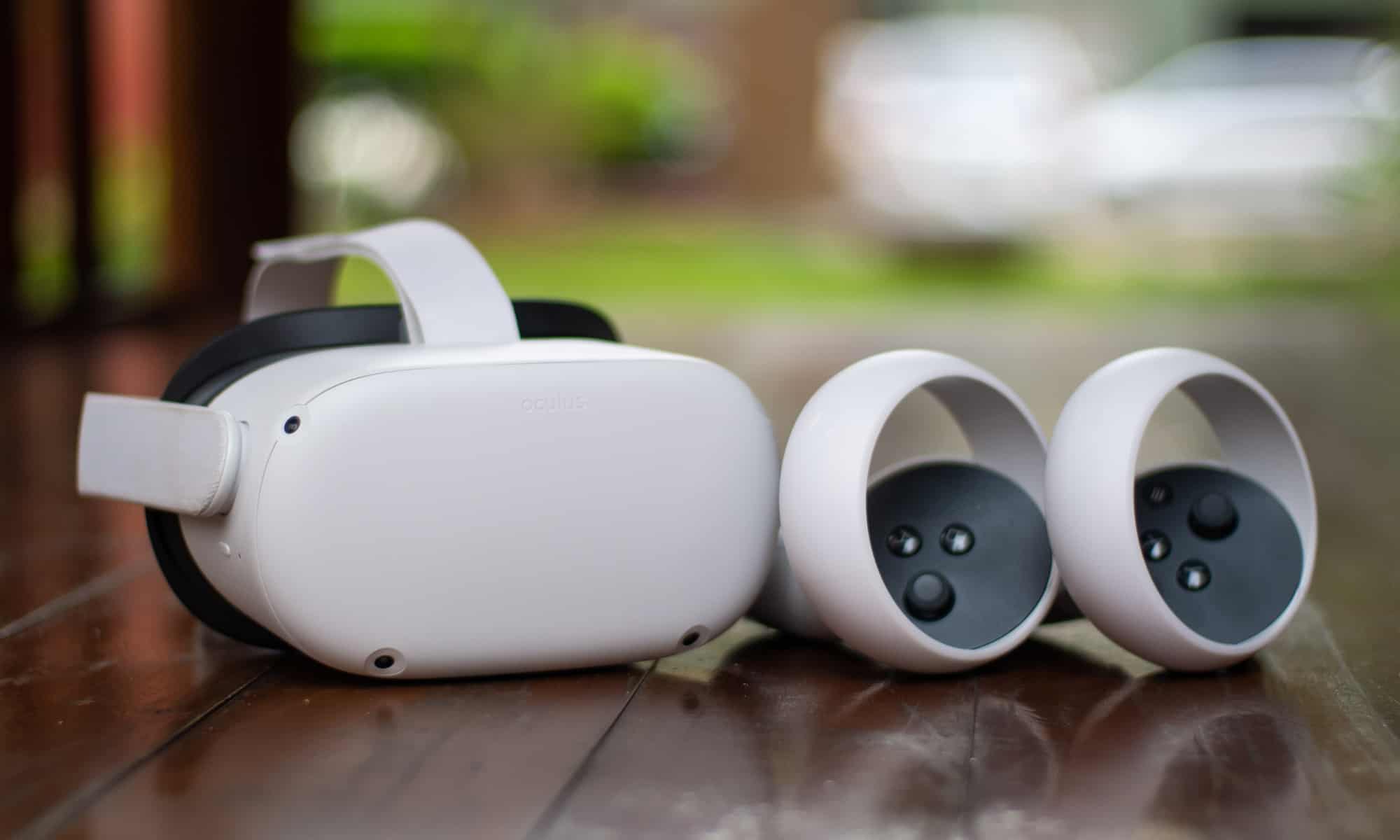 Things look pretty good for both VR headsets after a brief comparison. Still, there's more to the situation than meets the eye. Although both headsets have their place, it's important to know exactly what niche each headset fills!
Oculus Quest Pro
Released this year on October 25, 2022, the Quest Pro currently has the best specs out of all the Meta VR headsets. The biggest difference between this headset and the Quest 2 is that they're not made for the same use cases at all.
The Quest Pro, as the name implies, is geared toward higher-budget professional use. It happens to also be able to play video games because it has higher specs, but that's not the main purpose of the headset.
Oculus Quest Pro Specs and Features
The headset's real purpose becomes apparent once you look at how minor some of the improvements are compared to cost. Graphics are one of the most important features in a VR headset if you're using it for gaming. The Quest Pro has a resolution of 1,800 × 1,920 pixels compared to the Quest 2's 1,832 x 1,920 pixels, which isn't an increase at all. 
It's definitely nicer because of the better field of view, but it doesn't seem so special anymore when you think about the cost difference between the two. The Quest Pro only really shines when you look outside of graphics at its processor, memory, and storage.
During the October 11 reveal of the Quest Pro, Meta stated that the Pro actually did have better graphics because of tech advancements. These improvements don't show up in the resolution specs of the device. Still, they might be just as (if not more) important as an increased resolution.
According to Meta, the Quest Pro has 25% better image sharpness in the center of a user's field of view. It also has a 50% improvement everywhere else. All in all, this could result in clearer images and less nausea while playing compared to Quest 2.
The Snapdragon XR2+ that the Quest Pro is equipped with is a stronger alternative to the Quest 2's processor. Additionally, the Quest Pro has 256GB of storage and twice the amount of memory at 12GB.
These features are great for gaming since you'll be able to run more intensive games and have more games installed in your library. They're also amazing for professional use, which is the main point of the headset.
It's hard to say since the Quest Pro is so new, but it's very possible that it has better comfort than the Quest 2. One of the main complaints users had with the Quest 2 is that they often needed to buy a new head strap to go along with it because of comfort issues.
Even if you want to just power through and keep using your VR headset, fatigue, nausea, and soreness will catch up with you. The Quest Pro's design looks completely (or almost completely) reworked from the old Quest 2, so it's likely that Meta has solved some of the comfort issues from the older headset.
At the end of the day, the Quest Pro really shines when you use it for a combination of tasks, like a laptop.
Oculus Quest 2
The Oculus Quest 2 was a hot topic back on September 16, 2020, when it was first released. Reviews were mixed at the time, and we can't say that the negative opinions were wrong. The Oculus Quest 2 is a great entry-level VR device today. Back when it was first released, though, it was lacking in a lot of categories.
Some of these issues have been fixed in updates. For example, the Oculus Quest 2 no longer requires a Facebook login to use (something that put off many potential buyers) as of this month. The Quest 2 got a couple of other upgrades, like access to a 90Hz refresh rate and a storage increase from 64GB to 128GB.
Today, Quest 2 is a strong contender in the VR space. But it's also in a wildly different position compared to the Quest Pro, which we'll dive into next.
Oculus Quest 2 Specs and Features
The Quest 2 has some really solid specs for a modern VR headset that only costs $299. It uses a Snapdragon XR2 Platform processor, which is fine for most things you'll want to do with the device. Similarly, the Quest 2 has a good-enough resolution of 1,832 x 1,920 pixels.
Pretty much all of Quest 2's specs fall into the same bucket. They work well for someone who doesn't use demanding programs and isn't super invested in VR as a whole. All that being said, the Quest 2's regular upgrades mean that it can face down every other budget headset.
The refresh rate options with the Quest 2 make this very obvious. You can use as low as 72HZ, but you can also go up to 90Hz and even 120Hz with the updates. Additionally, the Quest 2 is available in two models. One has 128GB of storage and the other has 256GB– the same as what the Quest Pro offers.
Ultimately, the Quest 2 can more or less keep up with the Quest Pro in all of these categories. Those minimal upgrades certainly aren't worth the price increase for the Quest Pro. But where the Quest 2 cuts corners left and right in order to save on costs, the Quest Pro can fill in those gaps.
Comfort is a huge factor in VR, and so is battery life. The Quest Pro does better in both of those categories. Meta gave the Quest 2 a flimsy, generally unhelpful head strap that most buyers end up needing to replace. They also supplied the Quest 2 with only 2-3 hours of battery life at most.
These factors are fine if you use Quest 2 for casual gaming, and less so if you want to use VR for anything else.
Oculus Quest Pro vs. Quest 2: 6 Must-Know Facts
The Quest 2 matches the Quest Pro in visuals, including resolution and refresh rate.
The Quest 2 is a quarter of the Quest Pro's price, at $299 compared to $1,500.
For battery life, the Quest Pro is the clear winner.
While the Quest 2 is aimed at gamers or people who want to try VR for the first time, the Quest Pro is aimed toward professional VR use.
The Quest 2 can be purchased with just as much storage as the Quest Pro, at 256GB.
Meta might update the Quest Pro regularly, as the Quest 2 has received regular upgrades over the years.
Oculus Quest Pro vs. Quest 2: Which is Better?
The Quest Pro is the better VR headset. Its specs and features trump that of the Quest 2 in every way, from resolution to battery life to comfort. But even though the Quest Pro has superior technology, it isn't worth it for everyone.
A price over $1,000 is a hard sell for most people, and more so for anyone trying to upgrade from the cheap Quest 2. These two headsets are fundamentally made for different kinds of VR usage. Where the Quest 2 is for entry-level VR users, the Quest Pro is for people ready to invest in virtual reality as their future.
There's far less value in buying the Quest Pro if you plan on using it exclusively for gaming. In that case, you should either purchase the Quest 2 or buy a different headset that's made for gaming. The Valve Index and HTC Vive Pro are both premium headsets that are far better than the Quest Pro when it comes to gaming.
So, it really depends on where your focus is. If you want a VR headset to use like a "laptop for your face", in the words of Meta, then the Quest Pro is one of the best options on the market today. Otherwise, you might want to stick with the Quest 2 or buy a different headset entirely.
Up Next…
Interested in more Oculus-related articles? Click on the links below: