Key Points
Tennessee has just under 1,900 charging stations for EVs and is looking to expand significantly by 2030.
EVs in Tennessee currently make up 0.14% of total vehicle sales.
The most popular EVs in Tennessee include the Tesla Model 3 and Model S, Nissan LEAF, Chevrolet Bolt EV, Ford F-150 Lightning, BMW i3, and Toyota Prius.
What are the most popular EVs in Tennessee? The American South isn't really an area that comes to mind when considering EV adoption. However, Tennessee has shown slow but gradual growth in this direction in the last three years.
With 0.14% of all total vehicle sales being electric, there is definitely potential. Today's guide covers a little of the basics behind EV ownership in Tennessee, along with what you can expect in terms of infrastructure. Also covered are seven of the most popular EVs in the entire state.
EVs are here to stay, so it can be invaluable to gauge where public interests lie. Who knows, if you're a TN resident you might find yourself leaning towards an EV or hybrid.
EV Infrastructure in Tennessee
There are just under 1,900 charging stations for EVs in Tennessee. This isn't a huge number, like you might expect from a state like California, but is admirable. Tennessee's state government has been quick to embrace EV infrastructure and is looking to expand charging stations quite considerably by 2030.
Tennessee is participating in NEVI, the federal program to provide more exhaustive electrical infrastructure. Currently, the state is hoping to see at least 200,000 registered EVs on the roads by 2028. EVs currently number around at almost 14,000 total registrations for the entire state.
Tennessee is well on its way to being a very EV-friendly state. Manufacturers like Volkswagen have already taken steps to headquarter US electrical operations within the state.
Provided Tennessee can readily deploy more charging stations along its interstates and highways, the situation bodes well for potential owners.
Why Purchase an EV?
There are many reasons why you should consider an EV for your next vehicle. Getting past just the eco-friendly method of fueling, the actual cost of fueling is quite low.
When you consider the national average price for gasoline is around $3.60 a gallon in some areas, paying $10 to $20 a week fully charge an EV is quite attractive.
EVs have less cost associated with routine maintenance. That isn't to say they are maintenance-free by any measure. However, you're going to be spending far less on a regular basis to keep your EV on the road.
Most costs for maintenance will come down to regular brake servicing, tire rotation, and tire replacement. Periodic checks of battery and drivetrain health are also recommended. This gives you a better overview of how your vehicle is performing and can help spot potential issues with the battery pack.
An EV might have less overall range when compared to a gasoline or diesel-powered vehicle, but internal combustion engines can't refuel from the safety of your garage.
Most Popular EVs in Tennessee
So what are the most popular EVs in Tennessee? If you have a passing familiarity with electric vehicles, most of this list won't be a major surprise.
The usual suspects are here and well accounted for. As usual, Tesla proves to be the most popular EV in the state, which falls well in line with its status as the most popular manufacturer in the country.
Tesla Model 3
With its current status as the best-selling electric car in the country, it only makes sense that Tesla's Model 3 would be among the most popular EVs in Tennessee. There are multiple reasons why the Model 3 remains a popular choice with EV owners.
You get great operational range, with some trim options giving well over 300 miles on a single charge. Performance is quite zippy, with best-in-class acceleration and traction. All Teslas double as media havens as well, with options for playing music, movies, and video games on the road.
The Model 3 is Tesla's low-cost model. It does rank a little higher in terms of overall price but has a proven track record when compared to other EVs.
Tesla Model S
The Model S is Tesla's luxury option compared to the Model 3. Despite the high cost, it is one of the most popular EVs in Tennessee. It is hard to believe it has been over a decade since the first version of the Model S made it to American markets.
Millions of Model S vehicles have been sold, and it honestly doesn't come as a surprise. The Model S marries luxury sensibilities with a powerful all-electric drivetrain. As such, you get a great operational range, an absolutely plush interior, and multiple features to help it stand out from the competition.
The Model S serves as the test bed for AutoPilot improvements. If you find yourself looking for an EV that can take some of the stress out of highway driving, then the Model S is the way to go.
Nissan LEAF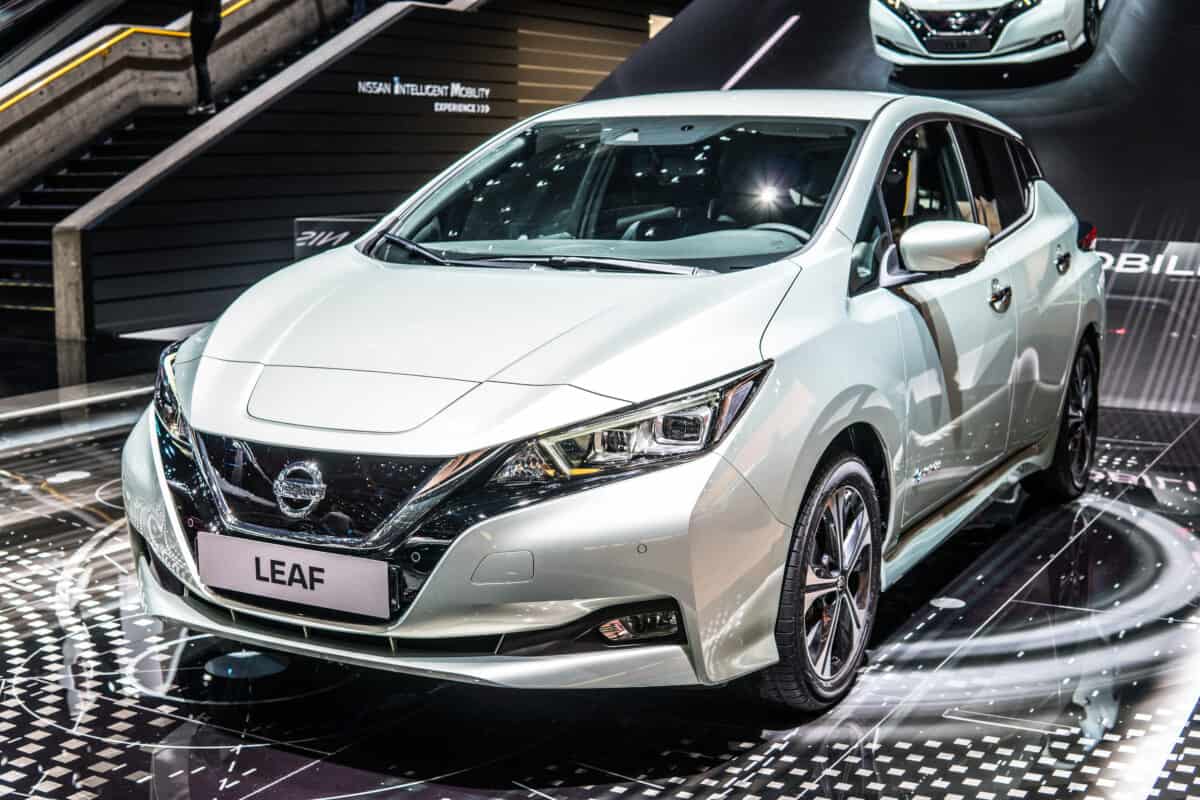 The Model S might hold the distinction of being the first commercially viable EV, but the Nissan LEAF isn't far behind. Nissan's affordable LEAF has been consistently popular with potential EV owners.
Earlier generations of the vehicle had issues with battery cooling, but this has been solved with more recent models. It lacks a lot of the more advanced functionality and perks of a higher-end EV, but as a daily driver, it more than handles most tasks.
Nissan was also instrumental in developing the J1772 and CHADeMO charging standards. While Tesla might have a nationwide network of chargers, the universal standard outnumbers them quite handily.
Chevrolet Bolt EV
The Chevy Bolt EV has had a great surge in popularity thanks to its low cost. Being able to purchase a brand-new EV made in the United States for under $30,000 has made it one of the most popular EVs in Tennessee.
The Bolt is well-equipped for most daily driving tasks, despite the low cost. Users get a full suite of security features, decent crash test ratings, and access to nationwide charging. The only letdown you'll face with the Bolt is just a lack of passenger capacity.
It seats five comfortably, but you'll likely be after alternatives if you have a larger household.
Ford F-150 Lightning
Ford shocked the world with the first real EV pickup truck. As such, it comes as no surprise that the F-150 Lightning ranks among the most popular EVs in Tennessee.
Make no mistake, the F-150 Lightning is built for working. While performance might suffer when towing, you can certainly haul a host of materials with the F-150 Lightning. It also has a massive battery pack, allowing it to maintain a decent range while towing.
The F-150 Lightning is an expensive EV to charge, ranking among the most expensive in the country. However, when looking at the overall cost of diesel and gasoline it comes out as an economical choice for doing any sort of regular work.
BMW i3
The BMW i3 doesn't have the same sort of luxury styling you would expect of the rest of the vehicle's line. However, it has proven to be one of the most popular EVs in Tennessee. The i3 is quite a reliable daily driver and features the same care for fit and finish as the rest of the BMW line.
The i3 has a decent overall range and comes with a gasoline-powered backup generator in the event of the battery falling below a certain capacity. Now, this can be handy for some drivers given that a gas station could help you get to a charging station. For others, it might be a deal breaker.
Toyota Prius
The last of the most popular EVs in Tennessee isn't even truly an EV. The Toyota Prius has been America's best-selling hybrid vehicle for a number of years. Given the recent push towards alternative fuels, it has entered the public zeitgeist as an affordable daily driver.
While the Prius isn't a true EV, it does feature a backup electrical motor and battery pack. These are charged by the gasoline components on the car. The Prius Plus does feature plug-in capabilities, coming with a longer operational range on the battery.
Still, it's a great choice for a fuel-efficient vehicle if you're in an area without stronger electrical infrastructure.
Closing Thoughts
Tennessee has great potential when it comes to being a Southern EV haven. Time will tell how the state embraces further development in its electrical infrastructure. One thing is for certain, the number of owners and registrations is just going to continue to grow.
The image featured at the top of this post is ©Marian Weyo/Shutterstock.com.