As environmental concerns increase, electric vehicles (EVs) have become an increasingly popular option in many cities worldwide, including New York. Due to its large and diverse population, New York's demand for EVs has skyrocketed. Thus, prompting automakers to release electric models designed to meet New York drivers' needs. We will look at some of the most popular EVs in New York based on factors like price range and popularity.
Total Electric Vehicles Sold in New York
New York was home to over 114,000 electric vehicles (EVs) as of September 2022. This followed an unprecedented record sales year for electric and plug-in hybrid vehicles in 2021. That year, electric car sales made up 3.4% of all new passenger vehicle sales in New York City. New York has experienced impressive growth in registrations of electric vehicles since Charge NY launched in 2013.
Electric Vehicle Market Share in New York
New York State saw electric vehicle sales account for 1.51 percent of total light vehicle sales in 2019, including 8,830 battery-electric vehicles (BEVs) and 5,993 plug-in hybrid electric vehicles (PHEVs) sold. By 2022, registrations had grown to 32,590 EVs representing 3.2% market share — this would more than triple by 2030! As of early 2023, approximately 158,000 electric vehicles existed within the New York City metro region alone, with the number expected to increase tenfold by 2030. New York City has set an ambitious goal for 25% of new vehicle sales to be electric by 2025.
Charge NY, an initiative of the New York State Energy Research and Development Authority (NYSERDA), has been actively expanding the electric vehicle market in New York State through education, research, consumer outreach efforts, financial support for charging station installations across the state, and educational efforts. The NYSERDA also developed EValuateNY to track market statistics such as registration locations and which makes and models are the most popular EVs in New York.
The 5 Most Popular EVs in New York
As the world strives towards more environmentally friendly modes of transportation, electric vehicles (EVs) have gained increasing interest worldwide, New York included. Over recent years, their number on New York roads has steadily increased thanks to several state incentives encouraging their adoption. Here we look at the most popular EVs in New York today.
Tesla Model 3
The Tesla Model 3 electric vehicle boasts an array of impressive features. This includes its long-range battery, powerful motor, and comfortable interior. This makes it ideal for those considering switching to electric mobility.
EV Motor, Power, and Performance
The Tesla Model 3 boasts impressive acceleration. The electric motor delivers strong initial acceleration from the start. In fact, rear-wheel-drive Long Range models can sprint from zero to 60mph in only 5.1 seconds. Performance models reach this mark even quicker, at just 3.5, thanks to being battery-powered with precise and responsive steering.
Range, Charging, and Battery Life
Tesla provides three unique Model 3 trims with varying estimated driving ranges. First, the rear-wheel-drive base model can travel up to 272 miles. Second, the Long Range model offers an increased range of 315 miles. Third, the Performance model can reach an impressive 358 miles. Additionally, each trim can access diverse charging options, such as the Supercharger network, DC public charging stations, and home charging stations, to provide added convenience.
Fuel Economy and Real-World MPGe
The Model 3 has been estimated to achieve between 113 and 138MPGe in tests. In fact, it achieved an amazing 84MPGe in the 75mph highway fuel economy test. Its plastic aerodynamic hubcaps also extended the driving range beyond expectations.
Interior, Comfort, and Cargo
The Tesla Model 3 offers an unparalleled experience for its passengers. The passengers can control its features via its large touchscreen in the center of its dashboard. Its front seats are comfortable yet supportive, while the rear ones may feel low and cramped. Additionally, it has folding rear seats that expand cargo capacity significantly.
Overall, the Tesla Model 3 is an outstanding option for anyone searching for an EV vehicle, with its impressive range, powerful motor, and comfortable interior features. This makes it an efficient and dependable electric vehicle option.
Nissan Leaf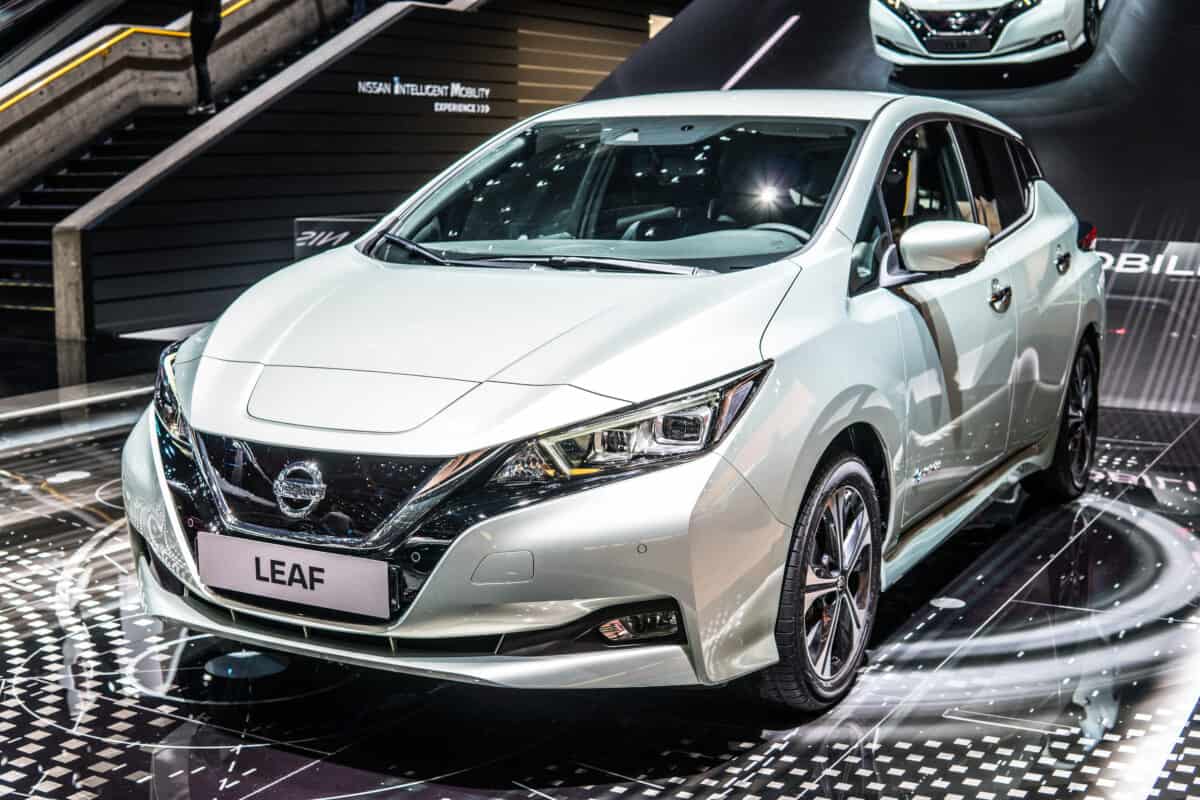 The Nissan Leaf SV Plus electric vehicle is an economical, dependable, and user-friendly EV with features designed to suit the needs of drivers of all kinds, making it among the most popular EVs in New York. Further, it boasts a long driving range, a powerful electric motor, and an array of standard equipment features. It makes an excellent choice for anyone seeking reliable transportation at a reasonable cost.
EV Motor, Power, and Performance
The Leaf S has a 147 horsepower electric motor and a 40.0kWh battery pack. Additionally, its big brother, the Leaf SV Plus, offers up to 214hp with its 62.0kWh battery pack. Both cars also include an e-Pedal feature that lets drivers switch between different regenerative braking modes when lifting off the throttle or taking their foot off the accelerator. One option allows the car to coast as you ease off. At the same time, another uses that energy to regenerate its batteries by slowing it down when taking your foot off the gas. The choice between these modes gives drivers control over this feature when driving either vehicle.
Range, Charging, and Battery Life
The Leaf can be charged via either a regular 120-volt outlet or a 240-volt outlet, with charging times varying significantly between them. On a 240-volt connection, Nissan claims both battery packs are standard and can be fully recharged within seven hours on this connection. DC fast charging connections come standard across all trim levels and provide up to 215 miles of EPA-rated driving range on one charge cycle in the Leaf S and 215 on the SV Plus models.
Fuel Economy and Real-World MPGe
The SV Plus test vehicle exceeded its EPA highway rating of 94MPGe by delivering 98MPGe over the 75mph highway fuel-economy route test route. However, it only managed 180 miles of range during this test. Typically, EVs get lower highway mileage estimates than their EPA rating indicates.
Overall, the Nissan Leaf SV Plus is an outstanding EV with an extended driving range, a powerful electric motor, and an extensive standard equipment package. It also has an efficient charging system and impressive battery life. Its fuel economy and real-world MPGe makes it an excellent choice for anyone searching for reliable yet cost-effective electric transport.
Chevrolet Bolt
The Chevrolet Bolt is an efficient, cost-effective electric vehicle with an impressive 259 miles of range when fully charged. It is fun to drive, offers an upgraded interior, and is feature-packed. In addition, Chevrolet offers significant discounts and tax credit rules to give buyers added value should they consider buying this EV. Keep reading to gain insight into its strengths and weaknesses.
Performance
The Bolt offers surprisingly quick acceleration from 0 to 60mph in 6.9 seconds. Its brakes are consistent and easy to control, and the steering is responsive and precise. The Bolt stays straight ahead on the highway and is nimble and sure-footed when the road curves.
Interior
Chevrolet has upgraded the interior of their Bolt by adding more padding on the front seats and high-grade materials. Its features include an adaptive cruise system and wireless Android Auto and Apple CarPlay compatibility.
Value
The Bolt offers excellent value, thanks to its relatively low entry price and the latest federal EV tax credit rules, which make it eligible for a big discount from Chevrolet.
Hyundai Kona Electric
The Hyundai Kona Electric is an ideal EV car for drivers searching for power, performance, range, charging options, comfort, cargo space, infotainment, and connectivity features. This eco-conscious yet tech-savvy vehicle meets the needs of drivers of all stripes.
Power and Performance
The Kona Electric has two distinct motor options, from its base model boasting one 133 horsepower motor to more powerful variants offering 201hp output. Both models are front-wheel drive. The new model boasts 13 more horsepower than its predecessor, the all-electric Kona, and should outperform the previous test vehicle, which reached 60mph in just over six seconds.
Range, Charging, and Battery Life
The Kona Electric features two battery packs. Its base model has a 48.6kWh unit with an estimated range of 197 miles. Meanwhile, its upgrade version's 64.8kWh unit increases driving range to 260 miles and allows for faster recharge times using its 800-volt architecture. It takes 41 minutes to recharge from 10% to 80%.
Interior, Comfort, and Cargo
Since its last generation model, Hyundai has significantly upgraded the Kona Electric's fit and finish. They made room for front passenger seating by installing a floating horizontal center pad to open interior space more freely. Its ambient lighting adds another personal touch to this car's cabin.
Infotainment and Connectivity
The Kona Electric has two 12.3-inch displays for vehicle info and infotainment. Wireless Apple CarPlay and Android Auto are standard features. Hyundai's Kona Electric cars offer a range of benefits for drivers, including power, performance, charging options, range, comfort, and cargo space. Moreover, its infotainment features cater to both eco-conscious drivers and tech enthusiasts. As a result, this car is an ideal choice for individuals who prioritize environmental sustainability and cutting-edge technology.
Volkswagen E-Golf
The Volkswagen e-Golf provides an economical yet enjoyable driving experience, with features that keep you comfortable and safe on every drive. This electric vehicle offers two trim levels and various customization options, making it a compelling proposition for anyone seeking to switch over.
Powertrain, Charging, and Performance
The e-Golf charges quickly and effortlessly, with just six hours required to reach full charge from a 240-volt outlet. In addition, it features DC fast charging, which lets it reach 80 percent charge in just an hour. Further, its zippy zero-to-60mph time of 8.5 seconds ensures a fun driving experience, as it boasts an athletic chassis design with responsive steering.
Driving Range and Real-World MPGe
The Volkswagen e-Golf achieves an impressive 110MPGe on daily driving, yet has only 125 miles of range compared to other EV models, such as the Bolt EV and Kona Electric.
Interior, Infotainment, and Cargo
The interior of the Volkswagen e-Golf is elegantly appointed and businesslike. It features faux-leather seats with ambient lighting in its SEL Premium trim and an infotainment system with slow response times and sleek visuals. Further, its hatchback body provides ample cargo space.
Safety and Driver-Assistance Features
It comes standard with various driver assistance features, including adaptive cruise control, forward collision warning, and lane-keeping assist.
The Volkswagen e-Golf provides an enjoyable driving experience with efficient performance and advanced features to keep passengers comfortable and safe on every journey. Fast charging capabilities and its athletic chassis make this vehicle a good option for anyone transitioning into electric vehicles.
Audi E-Tron
The Audi e-tron is an all-electric SUV that combines luxury and performance. With two electric motors, AWD, and impressive range and charging capabilities, the e-tron offers a unique and powerful driving experience.
EV Motor, Power, and Performance
The Audi e-tron features two electric motors — one at each axle — producing 355 horsepower and 414 pound-feet of torque. However, this increases to 402 horsepower and 490 pound-feet in Sport mode. Driving impressions suggest the car is swift yet composed with a smooth, quiet ride quality, blending traditional brakes with regenerative braking for a balanced approach. Its towing capacity exceeds 4000 pounds while its flagship models, the e-tron S and Sportback S, increase output to 496 horsepower per 718 pound-feet of torque.
Range, Charging, and Battery Life
The regular Audi e-tron has an estimated driving range of 222 miles, and its Sportback counterpart has a range of 218 miles. Both come equipped with a 150kW fast charger, which allows them to recharge 80 percent in 30 minutes. However, using more conventional 240V outlets, they will complete a full charge within nine hours.
Fuel Economy and Real-World MPGe
The e-tron SUV is expected to earn 78MPGe combined, and the Sportback model is rated slightly lower at 77MPGe combined. It's tested both body styles on the 75mph highway fuel-economy route. The regular e-tron returned 67MPGe, and the Sportback returned 75MPGe.
Infotainment and Connectivity
The Audi e-tron's infotainment system features dual touchscreen displays — one 10.1-inch display on top and an 8.8-inch one below it. The former provides access to Apple CarPlay and Android Auto apps. At the same time, the latter primarily controls climate settings and provides numerous power points, not forgetting an optional Wi-Fi hotspot subscription service.
The Audi e-tron all-electric SUV offers outstanding performance and luxury, featuring two electric motors, AWD capability, impressive range, and charging capabilities. This makes this car sure to meet its mark. The Audi e-tron will surely impress.
Wrapping Up
Electric vehicles (EVs) have quickly become attractive in New York due to the numerous incentives and tax breaks available when buying one here. Charging stations throughout the city make owning and operating an EV even more convenient, while new EVs' impressive range allows drivers to travel further on one charge. All these benefits make the most popular EVs in New York an excellent solution for efficient transportation in New York.
Breaking EV News
Soon, North American owners of Ford and General Motors (GM) EVs will be able to recharge at 12,000 Tesla Superchargers. At the start of 2024, owners of both brands will be able to use an adaptor to recharge at Tesla's charging stations. And at the start of 2025, both manufacturers' EVs will come equipped with Tesla's North American Charging Standard connector.
This collaboration will make recharging more convenient for Ford and GM EV owners. Moreover, it's likely to signal a move towards a North American charging standard.
The image featured at the top of this post is ©mpohodzhay/Shutterstock.com.