The adoption of electric vehicles (EVs) has seen steady progress across the U.S., and New Mexico is no different. With New Mexico's ongoing efforts to reduce greenhouse gas emissions and foster more environmentally-friendly transportation methods, EV adoption in New Mexico is rapidly increasing. This article will overview the current state, potential future growth, and the most popular Evs in New Mexico.
Total Electric Vehicles Sold in New Mexico
New Mexico has witnessed an exponential increase in EV sales over recent years. By 2022, over 4,200 EVs had been purchased statewide – showing more people are becoming aware of its benefits and opting to go electric. This upward trend highlights that more individuals are making the switch.
EV sales in New Mexico have increased recently for various reasons, such as increased awareness of their environmental impact and attractive government incentives. More charging stations are being installed with more EV models available – it's no wonder EVs have become popular.
Market Share of EVs in New Mexico
As more New Mexicans choose electric vehicles, their market share in New Mexico also expands rapidly. In 2020, electric vehicles accounted for just 1% of total vehicle sales in New Mexico; but by 2021. This figure had skyrocketed to 3% as evidence of rapid EV adoption across New Mexico.
Increased market share for electric vehicles (EVs) in New Mexico is encouraging, as it indicates consumers' acceptance of the transition towards electrified transport. Experts forecasted that its market share will continue to increase over time and possibly reach 10% by 2025.
With this in mind, it is clear that electric vehicles (EVs) will only continue their rise and increase in New Mexico. As more people switch to electric transport solutions, their positive effect on the environment and local economies will become ever more apparent.
New Mexico's surge in electric vehicle sales demonstrates a growing interest and trust in these eco-friendly cars. With their increasing market share and support infrastructure, it is evident they are quickly becoming part of its automotive landscape.
The Growth in EV Adoption
New Mexico's electric vehicle adoption dramatically increased due to various incentives and policies supporting clean energy production and lowering carbon emissions. More Mexicans are increasingly opting for electric vehicles as daily modes of transport, appreciating both their environmental and economic advantages.
Expanding charging infrastructure is one key factor contributing to New Mexico's surge in electric vehicle ownership. The state government and private companies have collaborated tirelessly in setting up charging stations throughout New Mexico. This makes it easier for residents to charge their EVs, thus increasing its attractiveness as an option for transportation.
New Mexico has implemented several incentives and policies designed to support the adoption of electric vehicles. These include tax credits, reduced registration fees, and access to carpool lanes for owners of such cars. Furthermore, New Mexico has set ambitious goals to reduce greenhouse gas emissions to transition toward cleaner transportation alternatives like EVs.
Here are the most popular EVs in New Mexico and their unique features:
Tesla Model 3
Chevrolet Bolt EV
Nissan Leaf
Ford Mustang Mach-E
Audi e-tron
Tesla Model 3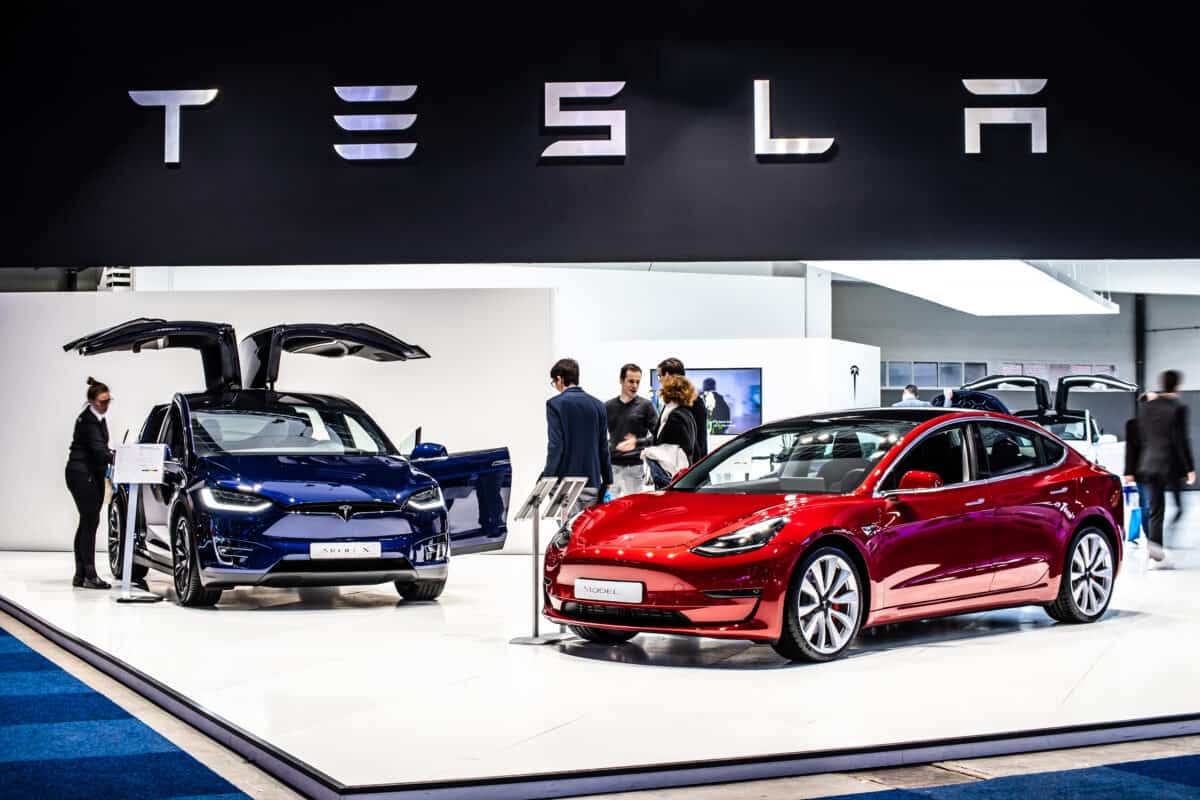 Are You Thinking About Purchasing an EV in New Mexico? Consider the Tesla Model 3. This mid-size all-electric vehicle features an impressive 263-mile range on one charge and boasts an accelerated acceleration of just 5.3 seconds for a smooth yet quick driving experience.
One of the standout features of the Tesla Model 3 is its 15-inch touchscreen display. That can control most vehicle functions. This makes it easy to access information such as your speed, navigation options, and entertainment choices while driving. Additionally, with its autopilot self-driving feature, you can sit back and let the car do all the hard work!
Note that the Model 3's power socket can accommodate accessories requiring up to 12A continuous draw (16A peak). And should you require help pairing your phone or key fob, follow Tesla's easy steps provided for that purpose.
The Tesla Model 3 is an impressive all-electric vehicle with numerous features and capabilities. From daily commutes to long road trips, its smooth driving experience will provide an enjoyable driving experience. Thanks to its self-driving features, you can relax while the car takes care of everything for you.
Chevrolet Bolt EV
The Chevrolet Bolt EV has quickly become the go-to choice for eco-conscious drivers. Boasting an impressive 259-mile range, this compact electric vehicle makes a statement as an eco-friendly transportation solution. Especially in New Mexico, where EVs have become more prevalent; Bolt EV is leading this charge.
Speed enthusiasts will appreciate the Bolt's fast acceleration, reaching 60mph from zero in just 6.5 seconds. Additionally, its top speed clocks in at an impressive 93 mph – impressive performance features for such an affordable compact EV.
Inside the Bolt EV is a 10.2-inch touchscreen display. This central hub controls most features in the vehicle and streamlines your driving experience; intuitive controls at your fingertips make operating it a simple process.
Bolt EV stands out with its innovative regenerative braking system. This advanced technology extends its range by recovering energy during deceleration, thus enabling drivers to extend battery life more easily.
The Chevrolet Bolt EV provides an ideal blend of speed, range, and innovation. As it becomes increasingly prevalent across New Mexico, this electric vehicle stands out as a leader among its counterparts. If you're considering switching over, this Bolt EV should be your top choice to meet performance and eco-friendly objectives.
Nissan Leaf
New Mexico residents have taken to the Nissan Leaf as an all-electric commuter vehicle. This is due to its impressive 150-mile range and rapid acceleration from zero to 60 mph in 7.7 seconds.
The user-friendly touchscreen interface of the Nissan Leaf, featuring a 7-inch display, offers an intuitive experience. Effortlessly enabling drivers to manage a majority of vehicle features for a seamless driving experience. Furthermore, its innovative e-Pedal feature distinguishes it from competitors by enabling drivers to accelerate and brake using just one pedal – something no other vehicle offers.
As such, the Nissan Leaf provides smooth rides and efficient energy usage, and its compact design enables effortless maneuverability and parking. No wonder it has become such a favorite choice among electric vehicle enthusiasts!
Nissan Leaf provides an outstanding blend of performance, convenience, and eco-friendliness that has quickly gained popularity in New Mexico. As demand for sustainable transportation solutions increases, so does its popularity remain an attractive option among those searching for reliable rides that prioritize environmental sustainability.
Ford Mustang Mach-E
Behold the Ford Mustang Mach-E, an all-electric SUV taking New Mexico by storm. Boasting an impressive range and speed, this eco-friendly powerhouse stands out as a game-changer globally.
This hybrid SUV embodies efficiency with style. With an impressive range of up to 300 miles, the Mach-E is designed to cover the distance easily. Additionally, its speedy acceleration from zero to 60 mph in just 3.5 seconds trumps rival vehicles in this electric SUV's class and ensures efficient yet thrilling travel experiences.
Inside the Mach-E, you'll discover an intuitive 15.5-inch touchscreen display for seamless control. This user-friendly interface handles most vehicle features seamlessly for an optimal driving experience. Furthermore, its Phone as a Key feature simplifies life, enabling drivers to unlock and start the vehicle using their smartphone for additional convenience.
Ford Mustang Mach-E has quickly won over New Mexico residents and beyond with its remarkable range, rapid acceleration, and user-friendly technology. As demand for eco-friendly vehicles rises, Mach-E stands out as an industry leader in the EV revolution.
Be mindful when considering EVs in New Mexico of paying attention to the Ford Mustang Mach-E, an all-electric marvel offering unmatched performance, innovation, and sustainability.
Audi e-tron
Audi has gained popularity for their luxury all-electric SUV known as the Audi e-tron. In New Mexico, an eco-friendly car is gaining momentum. It boasts an impressive 222-mile range per charge. Exploring New Mexico becomes an enjoyable experience. The car accelerates from 0-60 mph in just 5.5 seconds. This makes it ideal for New Mexican terrain.
The Audi e-tron offers a user-friendly 10.1-inch touchscreen display, making its functions easily and efficiently managed. Furthermore, its Virtual Cockpit dashboard keeps drivers updated with vital information such as speed and range ensuring they remain fully informed while driving.
Driving around New Mexico in an Audi e-tron will offer both comfort and style. Designed with easy handling in mind, it makes navigating winding roads or city streets effortless while its sleek exterior will turn heads as it makes an aesthetically pleasing statement.
Charging an Audi e-tron in New Mexico is easy! New Mexico's expanding network of charging stations means you won't feel restricted in your travel plans when looking for somewhere to recharge.
Audi e-tron is an outstanding eco-friendly vehicle for New Mexico residents looking for luxury features combined with eco-friendliness. Boasting impressive range, quick acceleration and user-friendly controls makes driving one a delight – not to mention expanding charging infrastructure that makes exploring New Mexico landscapes much simpler. Come discover New Mexico in style with Audi e-tron driving. Embark upon a future of driving.
The Potential for Future Growth in New Mexico's EV Market
Increased Consumer Interest
As more consumers recognize the advantages of electric vehicles, their popularity in New Mexico should continue to increase. Their lower operating costs, reduced emissions, and expanding charging infrastructure should all play a part in fueling an upsurge in demand for them in the coming years.
Technological Advancements
Technological innovations are revolutionizing our world. One example is in the electric vehicle (EV) market. Innovations increase battery life, charging speeds, performance upgrades, and consumer appeal making EVs increasingly appealing for consumers and leading to record EV sales across New Mexico. Furthermore, technological improvements reduce carbon emissions. All of this makes technology essential in shaping sustainable living solutions and helps pave the way toward a greener future. Ultimately embracing technological advancements provides both planet and society benefits – it leads us towards greener living!
Support from the Federal Government
Federal policies and funding play an integral role in encouraging the adoption of electric vehicles, and the Biden administration has shown its dedication to clean energy production while decreasing greenhouse gas emissions, likely providing increased support for their expansion in New Mexico and nationwide.
The Impact on the Local Economy
New Mexico's electric vehicle market is experiencing explosive growth. This development positively affects local economies in various ways. For instance:
Job Creation: More employment opportunities arise as manufacturing and charging sectors expand.
Increased Clean Energy Demand: Solar and Wind power become more significant, providing economic benefits to companies as electric vehicle-related services become increasingly successful.
Tourism boost: Eco-friendly transportation options draw more visitors.
Increased local government revenues: Taxes collected from the EV industry help fund public services.
Direct Public Service Support: Electric vehicle industry taxes help fund essential public services.
Public Transportation and Fleet Electrification
New Mexico presents another promising market opportunity for the electric vehicle (EV) industry. Local governments and businesses who recognize cost savings and environmental advantages may opt to switch out gas-powered buses, trucks, and vans with electric options, not only cutting operating costs but also improving air quality while helping combat climate change. Furthermore, more widespread adoption will make clean commuting accessible, thereby further popularizing EVs in New Mexico.
EV Education and Awareness Programs
Implementing electric vehicle (EV) education and awareness programs in New Mexico can significantly boost its EV market. By working closely with schools, businesses, and community organizations to establish programs that inform the public about its benefits while dispelling misconceptions. Such programs could include public workshops, school curricula, or workplace seminars designed to highlight their environmental, economic, and practical advantages – increasing its demand and further strengthening New Mexico's market.
Environmental Benefits
New Mexico will experience substantial environmental gains through the widespread adoption of electric vehicles (EVs). As more residents switch over, air pollution and greenhouse gas emissions will decline, and it will contribute toward meeting New Mexico's ambitious climate goals while creating a healthier environment for future generations.
Conclusion
Electric vehicles represent a promising and exciting opportunity for New Mexico. As more consumers become aware of their advantages and technology and infrastructure improve, New Mexico could lead the charge in adopting cleaner transportation options while simultaneously positioning itself at the forefront of the clean energy revolution. By welcoming electric vehicle innovation with open arms, New Mexico could reap substantial economic and environmental gains while becoming a pioneer of the clean energy revolution.
The image featured at the top of this post is ©Tim Pleasant/Shutterstock.com.