Are you looking for the most popular EVs in Nevada? Electric vehicles are soaring in popularity across the US and Nevada is no different. In fact, Nevada is one of the fastest growing states in terms of total number of registered electric vehicles.
Although a bit more expensive in initial cost, electric vehicles have much lower maintenance and operation costs, great environmental benefits, better ride quality, and advanced technology. Plus, Nevada's climate and availability of solar power can make charging your EV cheaper than other states.
If you've been wondering about the most popular EVs in Nevada, then this post is for you. We'll take look at the number of electric vehicles sold in Nevada, and show you which vehicles are the most popular.
Total Electric Vehicles Sold in Nevada
Nevada is one of the states with the highest number of registered electric vehicles. It currently ranks in the top ten states with the highest electric vehicle registration numbers. Today, Nevada has over 17,000 EVs registered throughout the state.
Although this number isn't as high as in states like California, the number is steadily climbing every year. For example, in 2019 there were just 7,300 registered electric vehicles and in 2021, there were over 17,000. That's 133 percent growth in just two years.
Plus, the future of electric vehicles in Nevada looks very bright with the help of new and current regulations on the horizon. For instance, the Clean Cars Nevada legislation makes it easier to purchase electric cars and trucks, along with plug-in hybrids. Further, the Nevada Public Utilities Commission has authorized NV Energy $100 million to use to improve electric car infrastructure. Not only that, there's a project called Nevada Electric Highway that links Reno and Las Vegas through an expanding network of electric vehicle charging stations.
Total EV Sales in Nevada
Right now, electric vehicles make up a small portion of the total number of registered vehicles in Nevada. As of the time of publishing, Nevada has over 2.29 million registered vehicles, and of that number only 17,380 are electric vehicles. This means that less than one percent of registered vehicles are electric. However, there's an additional 6,300 registered vehicles that are plug-in hybrids, which can bring this number a bit higher.
Top 6 Most Popular Electric Vehicles in Nevada
Let's take a closer look at six of Nevada's most popular EVs.
Tesla Model S
The Tesla Model S is a very popular luxury electric vehicle for Nevada residents. The Model S has one of the longest battery ranges at 396 miles per charge. Also, it has a lightning-fast 0 to 60 acceleration of 1.99 seconds. It's equipped with some of Tesla's most advanced technology and boasts strong safety features to keep drivers safe. The dual-motor Model S has a starting price point of $84,990.
Tesla Model X
Another very popular Tesla model is the Tesla Model X. This EV boasts a 100kWh 220 V lithium-ion battery that gets 333 miles per charge. Plus, it can go from 0 to 60 between 2.5 to 3.8 seconds. Although Nevada has mostly sunny weather, there are parts of Nevada that get snow, so the standard AWD motor will make winter driving easier. The base model has a starting price of $94,990.
Nissan Leaf
Another very popular EV in Nevada is the Nissan Leaf. This vehicle is one of the most popular used EVs throughout the state. The Leaf has a smaller battery range of just under 200 miles per charge, but it still works great as a daily commuter. It also has a much lower price point, even for a new model, starting at just $28,000.
BMW i3
The BMW i3 is a popular and very compact electric vehicle with great handling and fast acceleration. Although BMW is stopping production of the i3 this year, it remains a very popular model, especially across the used EV market. It has a smaller range of up to 153 miles on a single charge, but it can be incredibly cheap, especially when buying pre-owned.
Volvo XC40 Recharge
The Volvo XC40 Recharge is a great EV for those who live in Nevada. This all-electric SUV has an electric range of 223 miles on a single charge. It also boasts a fast charge feature that'll take the battery from nearly depleted to an 80% charge in 37 minutes. Plus, it has a 0 to 60 acceleration of 4.7 seconds. The XC40 has a starting price point of $43,550 for the base model.
Chevy Bolt EV
The Chevy Bolt EV is another popular EV across the state of Nevada. It offers a more SUV-like appearance and has a 65 kWh battery. This battery gets up to 259 miles on a single charge, making it a great option for both daily commutes and longer road trips. The starting price is only $26,500, which makes it a solid affordable option to get into the EV market.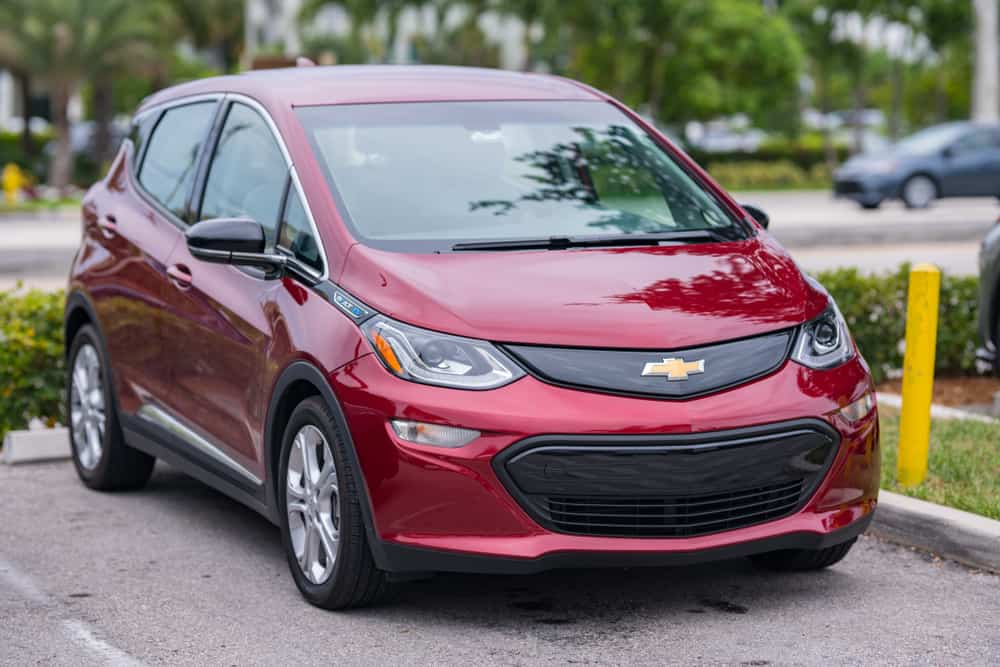 Most Popular EVs in Nevada: Wrapping Up
As you can see, electric vehicles are quite popular in Nevada. The most popular EVs in Nevada are a solid choice for getting around in an environmentally friendly way, no matter if you're commuting for work, or taking a vacation throughout the state. The EVs featured have great battery ranges, advanced features, and modern technology for a comfortable driving experience. Plus, with several incentives available and lower price points for some vehicles, there are multiple ways to get into the EV market.
Additionally, we can expect EVs to only get better in the future. With advancing technology, electric vehicles have an ever-increasing range, more charging stations, and cheaper prices to make them a more viable option.