Electric vehicles (EVs) have become a more environmentally friendly mode of transportation across the country, and Montana is no exception. Montana drivers benefited the most from switching to electricity in 2018, saving an average of $754 in fuel savings by opting for electric vehicles. Montana has made efforts to expand EV use by setting up plans to receive $43 million to build charging stations. We will take a closer look at some of the most popular EVs in Montana and explore why these vehicles have proven popular among their residents.
Total Electric Vehicles Sold in Montana
The Alternative Fuels Data Center at the U.S. Department of Energy recorded 1600 all-electric vehicle registrations as of December 31, 2021. Montana had 1,139 battery electric vehicles and 711 plug-in hybrid electric vehicles registered as of February 2021. According to data from the Department of Energy and Bureau of Transportation Statistics, Montana ranked among US states as having one of the lowest per capita EV registration figures.
Montana lawmakers have proposed bills to impose annual fees on electric vehicles (EVs), citing concerns that their owners must contribute more to Montana's highway maintenance fund as they do not pay gas taxes. Although Montana businesses have reported an increase in the use of EVs, the state remains near the bottom of national rankings regarding electric vehicle registrations. Conversely, California registered approximately 39%, Florida 17%, and Texas 15% of the electric vehicles in the U.S.
Electric Vehicle Market Share
Montana's 1600 EV registrations account for approximately 0.16% of all registered vehicles in the state. Nationally, as of the first quarter of 2023, fully electric vehicles (BEVs) had reached an unprecedented 7.2% market share for new sales market share. All-electric car sales hit 7% market share for January sales, suggesting it may have exceeded this figure during its two-month span.
The United States recently reached a 6% market share for electric vehicle (EV) sales and is making strides to reach 50% by 2030. The current U.S. EV market size was USD 24.03 billion and is projected to grow from USD 28.24 billion in 2021 to USD 137.43 billion by 2028 at an average compound annual growth rate of 25.4% during this time.
The 6 Most Popular EVs in Montana
Montana is seeing a steady increase in electric vehicle (EV) adoption as more consumers become aware of their environmental benefits and cost efficiency. As more charging stations are added, and infrastructure grows, electric vehicles (EVs) are becoming more prevalent among Montanans. So let's look closely at the most popular EVs in Montana.
Tesla Model 3
Introducing the Tesla Model 3, an all-new, revolutionary electric car designed to give you ultimate control and performance.
All-Wheel Drive
The Tesla All-Wheel Drive utilizes two separate independent motors, providing enhanced redundancy. It only has one moving part, so this design requires minimal maintenance and ensures maximum durability. By contrast, conventional all-wheel drive systems rely on digital means to manage torque distribution between the front and rear wheels. Although this method offers superior handling and traction control, Tesla's approach differs significantly.
360° Visibility
Tesla Vision utilizes front-facing, rear-facing, and side-facing cameras to achieve optimal visibility of up to 250 meters. This advanced system not only detects nearby vehicles but also assists with parking and aids in preventing potential collisions.
Premium Interior
Inside, the Model 3 is unlike any other popular EVs in Montana. You can use your smartphone as a key and access all driver controls in the central 15-inch touchscreen. Additionally, the entire roof is made of glass, stretching from the front to the back, giving passengers in every seat a feeling of spaciousness. The top-of-the-line Glass Roof, combined with a custom sound system, luxurious seating, and a 14-speaker setup with a subwoofer and dual amplifiers, guarantees a recording studio-like sound experience within the vehicle.
Performance Features
The Model 3 is equipped with 20-inch Uberturbine Wheels and the option for dual motor all-wheel drive and Performance Brakes to provide optimal control in any weather condition. Additionally, the car features a carbon fiber spoiler to enhance stability at high speeds, enabling it to accelerate from 0-60 mph in just 3.1 seconds. The Model 3 was designed to deliver enhanced capabilities through regular software upgrades introducing novel features, functionalities, and performance enhancements.
Chevrolet Bolt EV
Chevy Bolt EV's electric car ushers in an all-electric era with its exceptional efficiency, cutting-edge technologies, and revolutionary styling. Experience all-electric driving at its finest today by getting behind the wheel.
Stay Connected with Advanced In-Vehicle Technology
Experience exceptional connectivity with the standard Chevrolet Infotainment 3 System+, featuring wireless Apple CarPlay(r), Android Auto, and Alexa Built-In+ compatibility and seamless smartphone integration to access calls, music, and select apps on the go. Plus, use three years of myChevrolet Mobile App remote technology thanks to a Remote Access Plan subscription plan.
Performance Features
The EPA estimates the 2023 Bolt EV can cover 259 miles on a full charge. This matches its predecessor and competes with similarly priced electric vehicles like Hyundai Kona Electric. While Tesla Model 3 Long Range provides up to 353 miles of driving range at an increased price point, Bolt EV stands out with its dual-level charging cord. This prevents the need for many owners to purchase separate home chargers. Additionally, the Bolt EV's maximum Level 2 charging speed has increased to 11 kW. This allows it to charge in seven hours with DC fast charging capabilities fully. Additionally, it supports DC fast charging, which adds 100 miles of range per 30 minutes via Level 3.
Charge Easily with Dual Level Charge Cord
At home or on the go, your Bolt EV has numerous convenient charging options that are easily accessible. With the Dual Level Charge Cord at your disposal, switching between Level 1 (120-volt) and Level 2 (240-volt+) charging modes becomes as effortless as charging your smartphone.
Discover the Power of All-Electric Driving Today
Experience unparalleled efficiency, cutting-edge technology, and style all-electric driving today with the Chevy Bolt EV electric car. Get behind the wheel now to feel its incredible power.
Nissan Leaf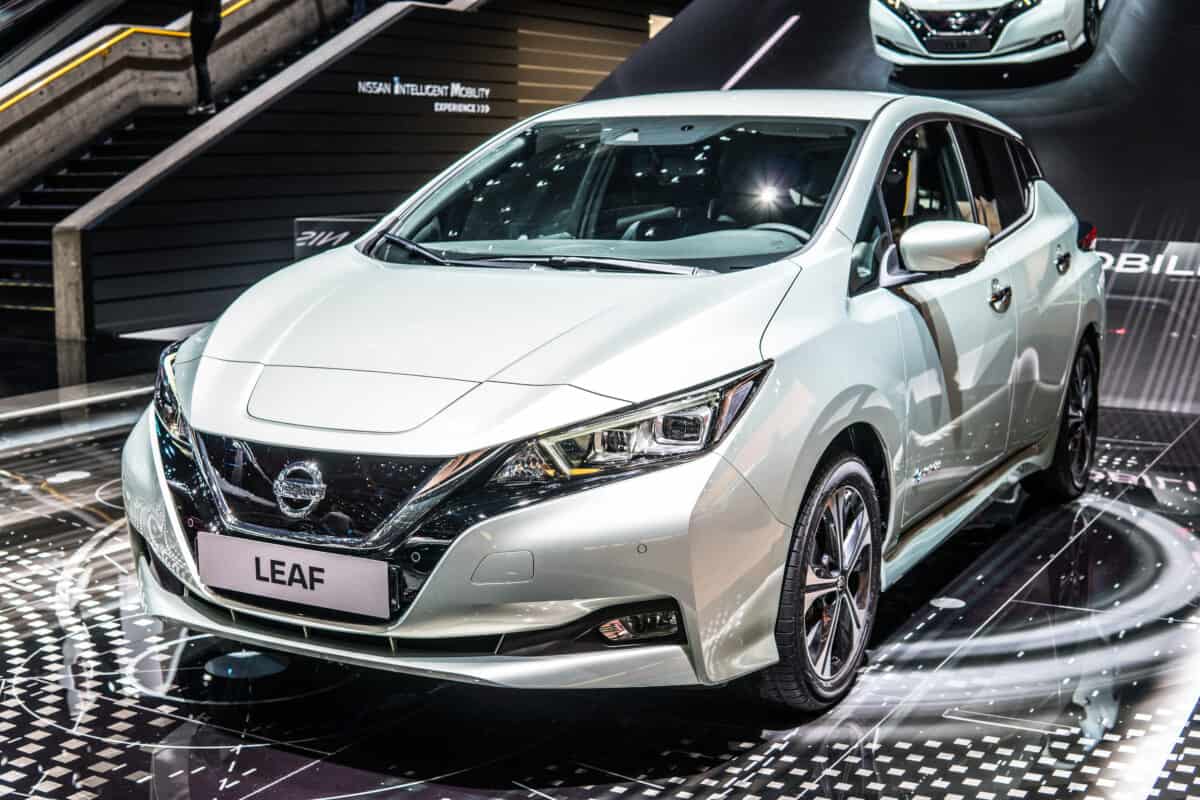 Discover instant acceleration and agile handling when driving the all-electric Nissan LEAF. Experience its impressive range and impressive acceleration, plus its instant handling.
Warranty Coverage and Experience
With your new Nissan LEAF purchase or lease comes an 8-year/100,000-mile Limited Battery Warranty and 3 years/36,000 miles (whichever comes first ) of Prepaid Scheduled Maintenance Coverage. Both include qualifying purchases or leases of a qualifying new LEAF model. Plus 24-Month Road Hazard Coverage coverage on eligible tires. Additionally, you will get out-of-charge towing to the dealership, nearby charging location, or home with 36 months/36,000 miles of Roadside Assistance coverage. Additionally, you will get 60 months/60,000 miles flatbed towing coverage – whatever comes first.
Ford Mustang Mach-E
The 2023 Ford Mustang Mach-E is the perfect crossover for those looking to purchase an EV. Featuring a variety of configurations, equipment packages, and range options, the Mach-E has something to offer everyone. Drivers can choose between the feature-rich Premium model or the higher-performance GT edition. This vehicle offers agile handling, quick acceleration, attractive styling, a well-appointed interior with the latest technology, and a range of up to 300 miles before recharging.
Performance
The Mustang Mach-E is equipped with a standard 70 kWh battery or an extended 91 kWh pack that powers one motor on the rear axle or both axles for all-wheel drive capabilities. The sporty GT and GT Performance models feature 480 horsepower and 634 pound-feet of torque, allowing it to reach 0-60 in just 3.5 seconds. Other models range from 266 to 346 horsepower with 317 to 428 pound-feet of torque. All models come with wheels ranging from 18 to 20 inches, and adaptive dampers for adjustable ride firmness are also available.
Features
In addition to its impressive performance, the Mach-E offers plenty of features. The Premium trim has a slight increase in the estimated range to 290 miles. It also offers more standard content, such as the Co-Pilot360 driver-assistance tech. There is also a Mustang Nite Pony package offered for some Premium and GT Performance Editions, adding black exterior touches and gloss-black wheels. Plus, a panoramic glass roof comes standard on the GT and the GT Performance Edition. Customers can also choose from two new color options: Carbonized Gray Metallic and Vapor Blue Metallic.
Audi E-Tron
Audi's e-tron Electric SUVs provide luxurious driving experiences without compromising power among the popular EVs in Montana. Boasting an all-wheel drive powertrain that produces 355 horsepower for each model (EPA estimated to range up to 218 miles in each case), in sport mode, these vehicles produce 402 horsepower briefly. Both feature LED headlights and taillights as standard equipment and 20-inch wheels as part of their standard equipment package.
Charging
The 150 kW fast charger can replenish batteries to about 80 percent in approximately 30 minutes. This leaves plenty of room in the trunk for adapters, cables, or groceries while charging takes place.
New Features for 2023
It boasts minor changes and new features for 2023. Standard equipment now includes 22-inch five-spoke wheels with orange brake calipers up front, orange rear brake calipers, and rear side airbags. Additionally, you get Audi's Matrix-design headlights and the Black Optic exterior package on Prestige trims of the e-tron Sportback Prestige models. You also get carbon square inlays on both e-tron S and Sportback S models, LED interior lighting packages, and standard equipment on all trim levels.
Pricing
The starting-off Premium trim level costs $71,995, while its more luxurious Sportback model starts at $75,195. We advise pairing the Premium with its Convenience Plus package that adds black exterior trim, adaptive cruise control, lane-departure warning, and 360-degree camera system; additionally, the Tow package has a 4000-pound towing capacity and may also be beneficial.
Performance
Two electric motors — one at each axle — hidden beneath the bodywork- provide electronic all-wheel drive. Their combined output reaches 355 horsepower and 414 pound-feet of torque in normal mode; in sport mode, this increase to 402 horsepower and 490 pound-feet. Acceleration is swift yet controlled while ride quality remains pleasant and quiet.
Hyundai Kona Electric
The all-new 2023 Hyundai Kona Electric is an impressive fully electric crossover vehicle. It's known for its striking appearance and impressive performance. Boasting increased length, width, and wheelbase compared to previous Konas. Additionally, it has two battery packs providing drivers with ample power and a range of up to 260 miles. Its sleek design and impressive performance will turn heads.
Features
The Hyundai Kona Electric offers many features that will please any driver, from its wide-spanning LED headlights and taillights. Additionally, it creates an unmistakably modern aesthetic to improve fit and finish for added comfort and utility. Furthermore, quick DC charging makes powering other electrical components simple.
Pricing
The Hyundai Kona Electric has three trim levels, each offering something unique. Starting at an estimated $35,000 base model price, its higher-end versions cost an estimated $40,000-$45,000. All trim levels share a single battery pack and motor unit, so pick the best trim that meets your needs!
Hyundai Kona Electric won't disappoint in terms of performance. Both its 133-hp and 201-hp motors provide plenty of acceleration for easy travel to wherever it needs to go quickly. Plus, its claimed range is up to 260 miles – so never worry about running out of juice again.
Wrapping Up
Montana lawmakers took steps to promote electric vehicle adoption by passing legislation to expand EV charging infrastructure. They have also authorized utilities to sell electricity to third-party charging station operators. As evidenced by its expanding registrations and infrastructure, Montana is well on its way to creating a more sustainable transportation future. What are you waiting for? Shop for the most popular EVs in Montana today!
The image featured at the top of this post is ©Fly Free Art/Shutterstock.com.