Colorado is one of the most progressive states in the US regarding promoting and adopting electric vehicles (EVs). In 2018, the state set a target of 940,000 EVs on the road by 2030 and Colorado has been working to achieve this goal. Colorado's EV market has grown steadily in recent years with the state government's support and various incentives offered to EV buyers. By understanding which are the most popular EVs in Colorado, prospective buyers can make informed decisions about their purchase and help the state achieve its EV adoption targets.
Tesla Model 3
The Tesla Model 3 is a popular electric vehicle (EV) in Colorado. This is due to several factors, including its performance, price, and the availability of tax credits. The Colorado EV tax credit program, officially known as the Innovative Motor Vehicle and Innovative Truck Credit, offers credits for new EV purchases. It offers a value of $2,500 for the 2022 tax year and $2,000 for the 2023 tax year.
In addition to tax credits, the Tesla Model 3 offers exceptional performance. It has a top speed of 140mph and the ability to reach 0-60mph in just 5.6 seconds. Tesla's Model 3 also offers a range of up to 215 miles on a single charge. This makes it a great option for long-distance travel.
The Model 3's affordability is well known. It competes with luxury models like the BMW 3 Series and the Mercedes C-Class, with a starting price of around $40,000. Further, it has low maintenance costs. This is because it needs less maintenance than traditional gasoline-powered vehicles and has fewer parts to replace over time.
Further, the Tesla Model 3 is known for its sleek and modern design. It features a simplistic yet elegant car cabin with a panoramic glass roof and premium faux leather upholstery. It also comes with a huge 15-inch touchscreen display, providing various infotainment options.
Chevrolet Bolt EV
With a quick acceleration of 0-60 in 6.5 seconds and 200 horsepower and 266lb-ft of torque, the Bolt EV provides a powerful and responsive driving experience. Moreover, it features regenerative braking and one-pedal driving. This allows for capturing energy while slowing the vehicle, increasing the vehicle's range. The Bolt EV also has an advanced energy management system that gives drivers an accurate range estimate. This makes it a reliable vehicle for daily use. It can travel up to 259 miles on a single charge, enough for a week's worth of city and suburban travel. Additionally, its lithium-ion battery is rechargeable, allowing for an eco-friendly and cost-effective driving experience.
The Bolt EV is also popular due to its affordability. In Colorado Springs, CO, buyers can purchase a used Bolt EV for prices ranging from $16,498 to $40,000. This depends on the mileage and model of the vehicle. Further, when new, it has a starting price of around $31,000, making it an affordable EV option for consumers.
In 2017, General Motors introduced the well-known EV model, Bolt, which has undergone several updates and improvements. As of 2023, it competes with other popular EV models such as Tesla's Model 3, BMW's i4, the Nissan Leaf, and the Mini Cooper Electric. Rumors suggest that GM will introduce electrified the Chevy Colorado EV and GMC Canyon EV mid-size pickups by 2026. This makes the Bolt EV a popular choice in Colorado in the coming years.
Nissan Leaf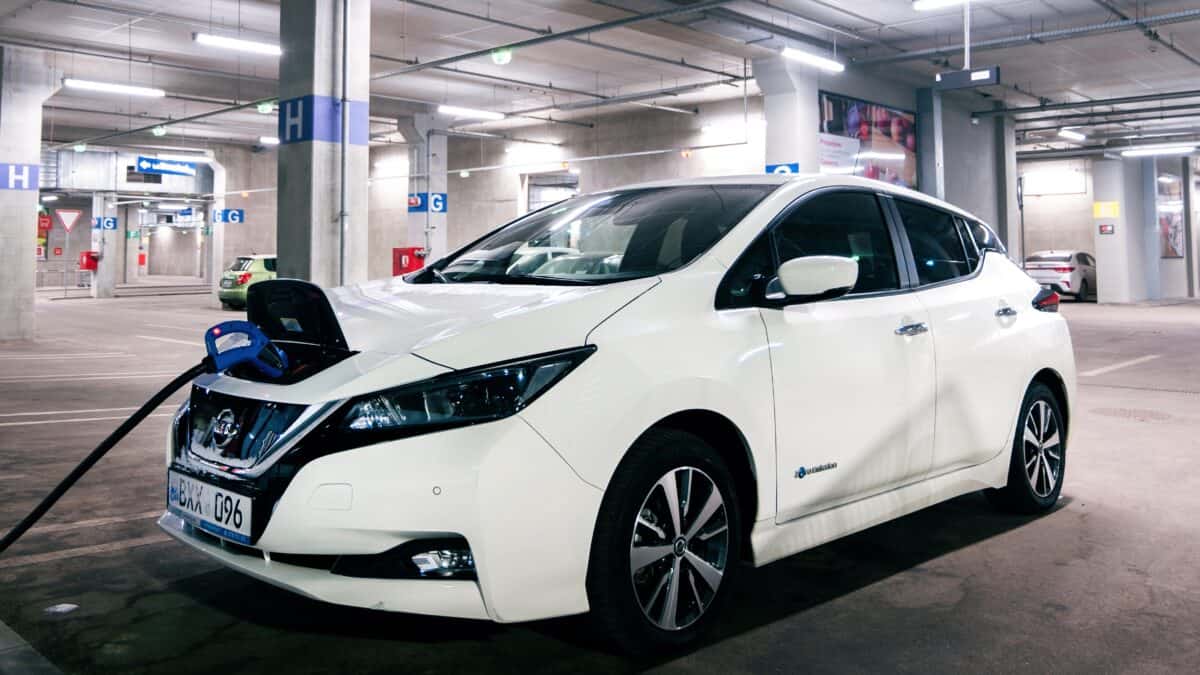 The Nissan Leaf has several features that make it an attractive option for EV buyers. The Leaf is a hatchback-style vehicle that is affordable, spacious, and provides plenty of tech features for the price. Its design also caters to everyday use, making it an excellent option for those seeking a car to manage daily commutes and errands.
One of the significant factors contributing to the popularity of the Leaf in Colorado is its range. According to the manufacturer, the Leaf offers up to 238 miles of range on its three power levels. Moreover, the Leaf Plus offers up to 149 miles of range from its 40kWh battery pack. This range is sufficient for most daily commutes and errands. Further, it is significantly more than other EVs in its price range.
Another factor that makes the Leaf popular in Colorado is its fuel efficiency. The EPA rates the 2022 Nissan Leaf at 99MPG equivalent on the highway. Thus, this is an excellent option for those looking to reduce their carbon footprint. This feature is especially appealing in Colorado, where many residents are environmentally conscious and actively seek ways to reduce their carbon footprint.
The Leaf's connectivity features are another aspect that has contributed to its popularity in Colorado. In the 2023 Leaf, technology enables drivers to stay connected with their surroundings by providing features such as locking doors, sounding the horn, flashing headlights, and remotely activating climate control. Additionally, drivers can use voice commands to navigate, play music, text, and more, hands-free. In short, these features make the Leaf an excellent option for those prioritizing connectivity and technology.
Ford Mustang Mach-E
As an EV designed to meet emissions regulations, the Mach-E offsets the automaker's carbon footprint and is referred to as a "compliance vehicle." In addition, Ford's CEO Jim Farley has stated that it aspires to be the first mass-market competitor to Tesla.
The Mach-E is available in four different trims ranging between $45,995 and $63,995, making it affordable for many buyers. It has an extended-range battery that allows for long-distance driving and a high-voltage battery that provides a powerful driving experience. The Mach-E is also part of the Mustang sub-brand at Ford and has a powerful and sporty design. Additionally, it accelerates from 0 to 60mph in just 3 seconds. This makes it faster than other electric and hybrid options on the market.
The Mach-E's innovative features include a BlueOval Charge Network for worry-free charging on the go. It is also equipped with home solutions that easily allow it to charge at home. As an electric vehicle, it uses batteries slung low beneath the cabin and powerful electric motors. This helps to deliver a smooth and responsive driving experience.
Although the Mach-E has faced some reliability issues, according to the 2022 Consumer Reports (CR) reliability survey, it remains a popular EV in Colorado due to its overall impressive performance, innovative features, and competitive pricing.
Volkswagen ID.4
Volkswagen's ID.4 is an electric vehicle that has gained popularity in Colorado due to its features and performance. The ID.4 was designed with a 50-50 weight distribution, making it highly maneuverable regardless of road conditions. In additon, the AWD version is quick and agile, with a 0-60mph time of 5.8 seconds.
The ID.4 is a compact SUV that competes with other electric vehicles in the US market, such as the Mustang Mach-E and Tesla Model Y. Volkswagen has sold the first vehicle in the US based on its MEB platform. This modular architecture for electric cars underpins the ID.3 and will also underpin future electric models from Volkswagen.
Volkswagen's ID.4 is available in different trim levels, including Pro, Pro S, and Gradient. The base Pro trim level starts at $41,190, including destination charges. The Pro interior features gray and black cloth seating, a 10-inch infotainment screen, and heated front seats. Further, Volkswagen's 2023 ID.4 EV SUV is assembled locally in Chattanooga, TN, and comes with three years of unlimited 30-minute charging sessions at Electrify America DC Fast Chargers.
The Volkswagen ID.4 is a stylish, roomy, fun, and smart electric SUV with an estimated driving range of 275 miles. It can be charged in 30 to 36 minutes at a DC public fast charger. The vehicle comes with IQ.DRIVE technology, which includes advanced driver assistance features such as adaptive cruise control, lane-keeping assist, and emergency braking.
Audi e-tron
The Audi e-tron is an electric vehicle (EV) in Colorado with many features that make it a top choice for drivers in the state. This EV is part of Audi's electric lineup and comes in several models, including the e-tron, e-tron Sportback, e-tron S, Q4 e-tron, and more. Audi has announced plans to release only electric models starting in 2026, which shows the brand's commitment to the EV market.
The Audi e-tron has a variety of powertrains available, with horsepower ranging from 355hp to 447hp, depending on the model. It features an engine combined with a Dual Single-Speed Automatic transmission and an All Wheel Drive drivetrain. The e-tron has a range of up to 249 miles based on the WLTP regulatory cycle and up to 373 miles for the 2023 model.
One feature that makes the Audi e-tron stand out is its available augmented reality heads-up display. This technology provides real-time vehicle information directly in the driver's line of sight, seamlessly blending innovative tech into the driving experience. The e-tron also has various customizable options, including a new 3D Singleframe grille that is available in different colors.
Despite the Audi e-tron's popularity in Colorado, some customers have complained about issues with the electrical system and exterior lighting in the 2019 model. However, Audi has continued to improve the e-tron's design and features with newer models.
Kia Niro EV
The 2022 Kia Niro EV, in particular, is packed with features that make it a sought-after vehicle. Kia's Forward Collision-Avoidance Assist-Ped (FCA-Ped) and Forward Collision-Avoidance Assist-Cyc (FCA-Cyc) systems, Blind-Spot Collision Warning (BCW), and Rear Cross-Traffic Collision Warning (RCCW) are some of the highlights of this model. The 2023 Kia Niro EV is available in two trim levels, and the entry-level Wind starts at $39,550. In addition, Kia Access with UVO link app allows owners to control their EV remotely, giving them access to battery status, charging schedules, remote lock/unlock, remote climate control, 24-hour roadside assistance, and much more.
The redesigned 2023 Kia Niro EV offers a futuristic look both inside and out and has a range of up to 253 miles, making it a practical option for drivers in Colorado. Kia's Niro EV also offers great ride height, which gives drivers excellent visibility while handling broken roads. The Kia Niro EV represents a bridge between the Kia brand's gas models and its new EV-centric nomenclature. The vehicle is as affordable as it is adequate, making it a popular choice for drivers in Colorado.
Kia has been setting EV sales records thanks to models such as the Niro and Soul EVs. However, their EV sales are expected to grow further in the future, as the success of the 2022 Kia Niro EV and the game-changing Kia EV6 indicate.
Hyundai Kona Electric
The Hyundai Kona Electric is a popular electric SUV that has gained attention in Colorado due to its range, charging capabilities, and affordability. With a usable 64.0kWh battery pack, the 2022 Kona Electric has a driving range of 258 miles, making it a reliable option for daily commuting and road trips. Additionally, the Kona Electric has an above-average charging rate of 75.0 kilowatts, which allows for quick charging times when using a 240-volt outlet as recommended for home charging.
The Kona Electric comes in three trims, with the base SE trim selling at $33,550 and the midrange SEL trim at $37,300. The range-topping Limited model starts at $41,550, which is similar to or less than the base price of many class rivals. Additionally, pricing for the 2022 Hyundai Kona EV starts at $34,000 for the SEL trim, which is over $3,000 less than the 2021 model.
The Kona Electric has also gained attention for its features and specifications. In fact, the vehicle comes with an 8-inch color touchscreen display audio system with wireless Apple CarPlay and Android Auto integration. The electric motor has a 150kW (201hp) output, which provides quick acceleration and a smooth driving experience. Moreover, the Kona Electric is available in multiple colors and configurations, including all-wheel drive and EV options.
Summary
In conclUSion, Colorado has become one of the most popular states in the US for electric vehicle (EV) adoption. The state's commitment to renewable energy and sustainable transportation has contributed to the rise of EVs on Colorado's roads. Colorado residents are opting for cleaner and more efficient modes of transportation due to the installation of more charging infrastructure and incentives for EV buyers. Unsurprisingly, the trend toward EVs is expected to continue in Colorado and across the US as technology evolves and more models become available.
The image featured at the top of this post is ©Es sarawuth/Shutterstock.com.