Key Points
The world's most expensive speakers can cost over $5 million, with prices ranging from $1,000 to $5 million.
High-end speakers offer superior sound quality and are often preferred by sound enthusiasts and professionals.
Some high-end speakers, like the Klipsch Heritage Klipschorn Speaker Pair, have a classic design that matches vintage decor.
The Wilson Audio WAMM Master Chronosonic speaker system can be adjusted in five-microsecond increments and has a futuristic design.
The most expensive speakers, like the Hart Audio D&W Aural Pleasure, offer exceptional audio quality and are considered works of art.
Have you ever wondered what makes the world's most expensive speakers different from the ones we use every day? For people who love sound, it's more than just a hobby — it's a passion. They tell us that the cost is worth it for the great sound quality.
Sure, you can find many affordable speakers online. But believe it or not, some sound lovers are ready to spend over a million dollars on speakers!
If you're just getting into this hobby, you might not be ready to spend that much money on fancy speakers. But it's good to know what's out there, for curiosity's sake.
So, in today's article, we'll explore the world of high-end speakers in different price tiers: from $1000 all the way up to over $5 million. That way, no matter where you're at in your audio journey, there's something for you.
Who knows? One day, you might want to upgrade. So, let's dive in and find out what makes these speakers so special.
9. Bang & Olufsen Beoplay A9 — $3000
Our Pick
We earn a commission if you make a purchase, at no additional cost to you.
We'll start at the relatively low price point of around $3000 to get things started. While you can find plenty of sound systems and speaker setups in this price range, finding a single speaker commanding this rate is rare. The ones that do are definitely far above entry level.
Enter the 4th generation Bang & Olufsen Beoplay A9. At first glance, it hardly looks like a speaker. In fact, it more closely resembles a piece of modern art. With its three wooden legs and circular design, your eyes are drawn right to it. But your ears will be even more pleased.
8. LIPINSKI L50 — $6,000
Our Pick
LIPINSKI L-50
600-watt max. power output

8 x 7 x 10.5 inches

Each speaker is bi-amplified

Recommended for mastering studios and audiophiles
We earn a commission if you make a purchase, at no additional cost to you.
The next set of speakers is double the price, which is fair since they come as a pair. While they look like your typical bookshelf speakers, they are actually studio monitors instead of just standard consumer-grade speakers. The LIPINSKI L-50s are right at home in a recording studio or audio enthusiast's living room.
Professionals and recording engineers prefer studio monitors like these since they produce a more accurate sound — perfect for getting the mix right when laying down some tracks.
In the studio, you want to hear your singer's voice and guitarist's notes as crystal clear and close to reality as possible. The L-50s are just the thing to deliver the most accurate audio reproduction.
If you've never heard of the LIPINSKI brand, don't worry. They stick to limited production runs and niche audiences, so they are not exactly a household name. Still, the company is all about sound quality. Hear it from the founder of the company himself, Andrew Lipinski:
7. Klipsch Heritage Klipschorn Speaker Pair — $17,000
Our Pick
We earn a commission if you make a purchase, at no additional cost to you.
Our next pick looks straight out of the 1970s. With its classic wood finish, this set of speakers fits right into your classic studio or listening space, matching whatever vintage decor you might have.
The warm tones are perfect for enjoying the warmth of a classic vinyl record, and the true audiophile will appreciate the handcrafted workmanship of this system.
At around $17,000, the Klipsch Heritage Klipschorn system is not cheap. For that price, you get a meticulously designed listening experience, powered by a horn-loaded three-way loudspeaker, neodymium tweeter, and an enclosed low-frequency horn design.
6. Klipsch Jubilee 75TH Anniversary Edition — $40,000
At number 6, we have another pick from Klipsch. But this one is even more special. The limited editing 75th Anniversary edition can command anywhere from $25,000 to $75,000, depending on where you look. But are they worth it?
The Klipsch Jubilee 75th Anniversary Edition Floorstanding Speaker is more than just a sound device; it's a fulfillment of founder Paul W. Klipsch's dream to create an audiophile's delight. Standing tall as the successor to the previously mentioned Klipschorn, this speaker embodies the latest acoustic innovations that Klipsch is known for.
The Jubilee is a two-way, fully horn-loaded speaker, encompassing a patented horn-loaded, vented low-frequency enclosure, and a brand-new horn-loaded compression driver.
It aims to deliver concert-quality sound with an active crossover designed for perfect phase coherency, providing a smooth, effortless performance that makes you feel as though the musicians are actually there with you.
5. Wisdom Audio Infinite Wisdom Grande — $500,000
OK, we were just getting started with the most expensive speakers. But things can get even crazier. Let's take a big leap in price. For this next pick, we'll have to paint a scene for you to imagine.
Picture a giant, multilevel home with elegant floor-to-ceiling windows. Your posh friends are gathered in the common areas for a party. If you're the host, you want to ensure all your guests are entertained, so you've invested in a surround sound system for your lavish home.
A quaint investment of around half a million should do the trick. The Wisdom Audio Infinite Wisdom Grande is a giant surround sound system that aims to reach every corner of the building it enhabits effortlessly so each guest can hear crisp audio.
At $500,000 to $700,000, the price tag may seem like a lot to spend on a speaker system, but it's actually on the lower end of the scale compared to what we're about to get into.
4. Wilson Audio WAMM Master Chronosonic — $850,000
This futuristic speaker system aims to provide a "lifelike sound" for its users. Standing for Wilson Audio Modular Monitor, the Master Chronosonic speaker can be adjusted in five-microsecond increments.
It is a sizeable speaker, but not quite as massive as the Infinite Wisdom Grande. The WAMM Master Chronosonic is well over 210cm tall, making it taller than many of the most successful NBA players.
The speaker's design suggests that cartoons like The Jetsons were not too far off in their depictions of the future. Our hoverboards may not be nearly as cool as the ones in the TV show, but speakers like the WAMM Master Chronosonic prove that an exciting future is ahead of us, technologically speaking.
Wilson Audio offers a more "budget-friendly" option at "just" $330,000 (Chronosonic XVX).
3. Transmission Audio Ultimate — $2M
The Ultimate is Transmission Audio's pride and joy; reasonably so, too. The manufacturer put a lot of TLC into this state-of-the-art speaker system. It may cost a pretty penny, but those who are fortunate enough to own it know that they have something really special.
Aesthetically, this speaker system is one of the prettiest on our list. Simple, futuristic, and stylish, this system stands out for more than just its major audio capabilities.
It is huge, rising at over 2.1M tall. However, it proves that size isn't everything. Instead, its features do all the talking. With Dipole Subwoofers and plenty of distortion settings, the Ultimate really lives up to its name.
You may even forget that you spent the entire value of a 3-bedroom home to own it. Your bank probably won't forget, but you might!
2. Moon Audio Titan (Limited Production) — $2M
Moon Audio's unique designs feel exclusive enough, but the Titan featured incredibly limited production, making them even harder to access for most people. The exclusivity is largely due to the fact that the parts to make the speakers are very expensive.
Their expertise allegedly makes the speakers worth the hefty price tag. If you've already spent 2 million dollars on the house, buying another 2-million-dollar accessory would be a no-brainer. These speakers would surely impress your friends, as they're difficult to come by.
Even the snobbiest audiophiles would probably confess that they'd never heard of the Titans before because they are so rare. Only a few were made due to the expensive parts.
1. Hart Audio D&W Aural Pleasure — $5M
Investing $5M into purchasing a speaker set might sound crazy to most, but some find immense value in the D&W Aural Pleasure. They wouldn't charge $5M for a mediocre speaker set, we hope. Still, the look of the speakers alone gives the feeling of an art piece.
It's always worth it to invest your hard-earned money in good speakers, but even if the investment costs millions? Once you receive your D&W Aural Pleasure, you might be nervous to use them because they cost you so much.
Their audio quality is among the best in the entire world, though. Beauty is pain, and beauty can be expensive!
How to Choose the Most Expensive Speakers: Step by Step
Whether you're planning to spend $1000 or $1 million on a set of speakers, you should think wisely before you pull the trigger. If you have the kind of money to blow on the world's most expensive speakers, then feel free to ignore these tips.
But if you want to make sure that you actually get some value for your dollar, you'll want to take a few precautions first. After all, the most expensive speakers could be well worth the investment if you're serious about audio quality.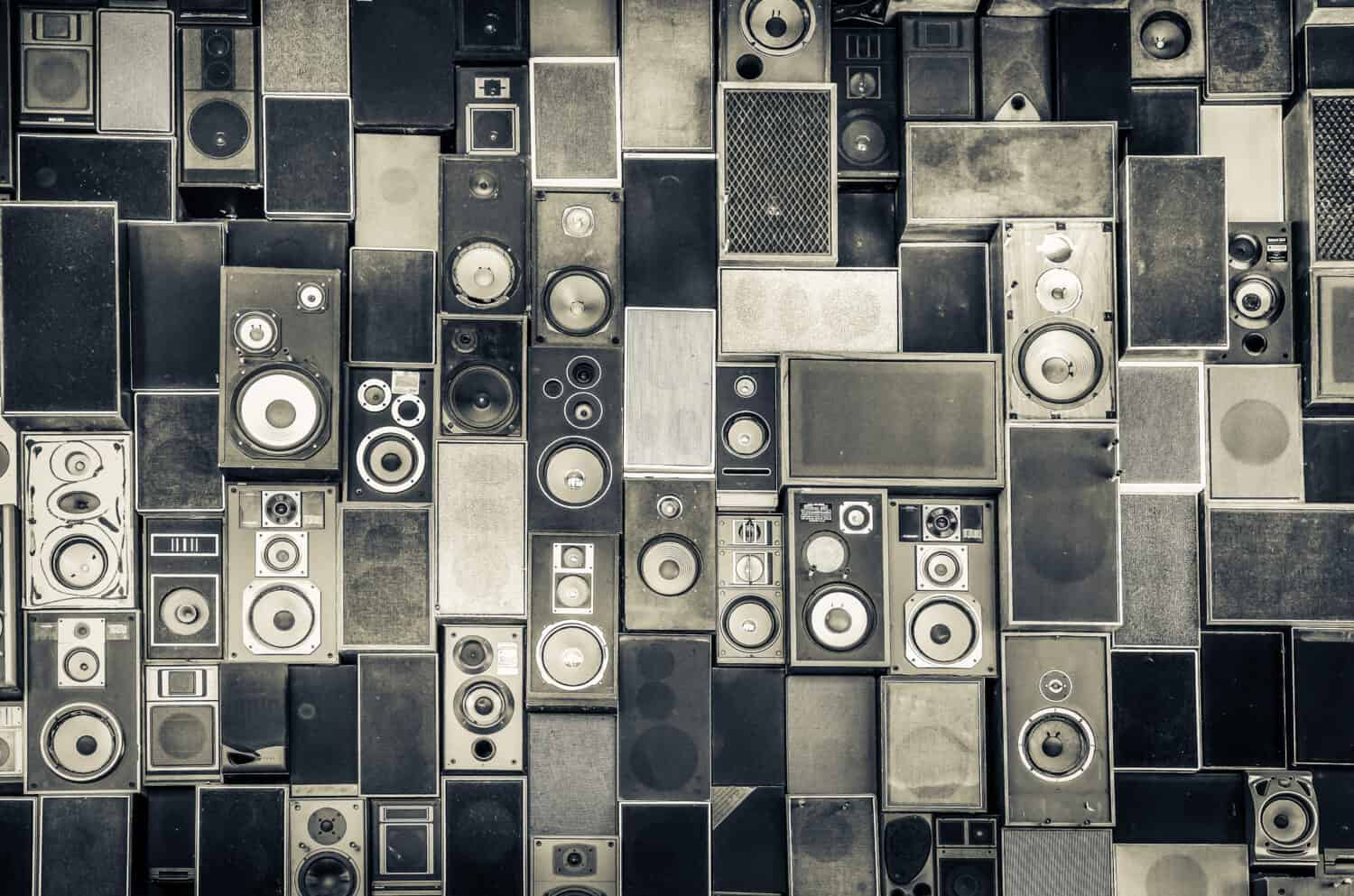 Assess Your Needs
A lot of these speakers are downright huge. You need to know that you can fit your new, expensive speaker in the space you have.
That may seem redundant, but if you're already lured in by a speaker's unique features or appearance, you may purchase one before you think about it.
Get measurements to assess the area that you plan to put the speaker in. From there, you can really begin to shop for speakers.
Budget
Aside from the physical space that you have, your budget will be the biggest determining factor in which high-end, luxury speaker you purchase.
Be completely serious about your budget before you make a decision. These speakers are the equivalent of purchasing a home or a car. You really need to crunch your numbers carefully before you take the plunge on one of these speaker sets.
However, if buying a million-dollar speaker is something that brings you joy, go for it!
Research Your Retailer
Only buy luxury items from reputable retailers. This may sound like a no-brainer, but it's easy for retailers to disguise themselves as more reputable than they really are these days.
There are tons of fake businesses online. If you can avoid buying the world's most expensive speakers online, we highly encourage doing so. It's a much better idea to purchase anything with a hefty price tag in person.
Pick Your Speaker
Now that you've done all the adulting, you can pick your lavish, luxury speaker. Do you want indoor or outdoor speakers? Do you prefer floor-standing models, or would you prefer the smaller-format bookshelf speakers?
These are important distinctions to make, depending on what you want to use your speakers for. If you want some nice speakers for your desk or studio, you might trouble yourself with the dimensions and sizing.
But if you're planning to spend a million dollars or more on a set of speakers, you should ideally have an entire room in your home dedicated to them.
Summary Table
| Rank | Speaker | Price |
| --- | --- | --- |
| #1 | Hart Audio D&W Aural Pleasure | $5M |
| #2 | Moon Audio Titan (Limited Production) | $2M |
| #3 | Transmission Audio Ultimate | $2M |
| #4 | Wilson Audio WAMM Master Chronosonic | $850,000 |
| #5 | Wisdom Audio Infinite Wisdom Grande | $500,000 |
| #6 | Klipsch Jubilee 75TH Anniversary Edition | $40,000 |
| #7 | Klipsch Heritage Klipschorn Speaker Pair | $17,000 |
| #8 | LIPINSKI L50 | $6,000 |
| #9 | Bang & Olufsen Beoplay A9 | $3000 |
The image featured at the top of this post is ©SvetaZi/Shutterstock.com.