6 Facts About the Largest SSD
The largest SSD today is massive and available for purchase. We'd like to introduce you to the Nimbus Data 100TB SATA SSD! Get your credit card handy; this beauty will cost approximately $40,000. (Why not order two?!)
TEAMGROUP QX has a 15TB SATA SDD available for $2,500.
Samsung has several different 8TB consumer-level model SATA SSDs that run approximately $500.
SABRENT Rocket has an 8TB SSD PCIe available for $1,100.
There are two primary types of SSDs. The first type of Sold State Drive (SSD) is a Serial Advanced Technology Attachment (SATA), and the second type of drive is the Peripheral Component Interconnect Express (PCIe).
A SATA Solid State Drive typically has a transfer speed of approximately 560 MB per second. A PCIe SSD will have a transfer speed of roughly 7,000 MB per second.
The Largest SSD: Specs to Know
| | TEAMGROUP QX | Samsung 870 QVO | SABRENT Rocket |
| --- | --- | --- | --- |
| Drive Configuration | SSD SATA | SSD SATA | SSD PCIe |
| Size of Drive | 100TB | 8TB | 8TB |
| Data Transfer Rate | 500MB per second | 560MB per second | 7,000MB per second |
| Cost | $40,000 | $500 | $1,100 |
| Cost per GB | 40 cents per GB | 6.3 cents per GB | 13.8 cents per GB |
SSD SATA Requirements
A SATA Solid State Drive (SSD) has two cables. One cable is used for data transfer, and the other is used for power. You will need a motherboard that supports SATA. (Unless you live under a rock, far from civilization, you have this already.)
SSD PCIe NVMe Requirements
A PCIe SSD doesn't have any cables but requires that a motherboard have an open slot to install the card. Insert the keyed end of the SSD into the connector and lock it in place.
If the motherboard doesn't have an open slot for an SSD, you can install a PCIe/SSD adaptor into an available PCIe slot. You'll need to run a dedicated data line from the PCIe to the motherboard.
SSD PCIe/NVMe SATA SSD Intelligence Quota Requirements
If you're going to install a drive on your own (no reason not to!), we heartily recommend that you check your product documentation to verify what type of SSD your laptop or desktop can use. There are simply too many hardware configuration variations for us to tell you precisely what SSD you need.
If you're not willing to spend the time and mental bandwidth to figure it what you can use, make an appointment with a Best Buy Geek Squad-type operation. (There's no shame and a whole lot less stress.)
Largest SSD: Where to Buy
You can order it online and have the SSD shipped directly to your desired location or head into a brick-and-mortar store for an in-person experience.
Online
As SSDs explode in popularity, they're increasingly easy to locate online. Amazon stocks both the Samsung 870 QVO and the SABRENT Rocket. NIMBUSDATA handles the Exa Drive SSD as a special order.
Fast Speeds
We earn a commission if you make a purchase, at no additional cost to you.
Top Performance
SABRENT 8TB Rocket 4
NVMe M.2 PCIe Gen4 x4 interface

7,000MB per second transfer rate

Supports the ONFi 2.3, ONFi 3.0, ONFi 3.2 and ONFi 4.0 interface
We earn a commission if you make a purchase, at no additional cost to you.
Retail Outlet (AKA Brick and Mortar)
The Samsung 870 QVO and a Crucial 4TB PCIe SSD are available at BestBuy. You can order online, pick it up in the store, and walk over to the GeekSquad counter. The GeekSquad install of a new SDD will cost $39.
The History of the SSD: What to Know
Solid State Drives (SSD) aren't new; in fact, Solid State Drives have been around for nearly fifty years. In the chart below, we'll look at the brief history of the SSD. Please note the increasing SSD size and decreasing cost per GB over the years.
| Manufacturers | Year | SDD Size |
| --- | --- | --- |
| Bulk Core | 1976 | 2MB |
| STC 4305 | 1978 | 45MB |
| Ramdisk 320 | 1982 | 320KB |
| Flashdisk | 1988 | 8MB |
| ESE50 | 1990 | 120MB |
| Transcend | 2003 | 16MB |
| Samsung | 2006 | 32GB |
| Kingston | 2010 | 60GB |
| Samsung | 2015 | 4TB |
| Western Digital | 2020 | 16TB |
| Seagate | 2023 | 64TB |
| Manufacturer | Cost | Cost per GB |
| --- | --- | --- |
| Bulk Core | $9,700 | $4,500,000 |
| STC 4305 | $400,000 | $8,888,888 |
| Ramdisk 320 | $1,395 | $4,359,375 |
| Flashdisk | $5,000 | $625,000 |
| ESE50 | $40,000 | $333,333 |
| Transcend | $50 | $3,125 |
| Samsung | $699 | $21.84 |
| Kingston | $180 | $3 |
| Samsung | $1,000 | $0.25 |
| Western Digital | $3,200 | $0.20 |
| Seagate | $3,200 | $0.05 |
We played with some fancy math to calculate the cost per GB back in 1976. In reality, GB capability rolled out nearly thirty years after Solid State Drives began to be placed into commercial operation.
If you're like us, the decreasing cost per GB through each technology node is impressive. Good news! The one terabit (Tb) TLC NAND computer chip is already shipping. Expect prices per GB to drop by 50% this year.
Better news! The 2 Tb NAND computer chip will release around 2026. Prices will drop by another 50%.
Do We Need Additional Storage Capacity?
Most home consumers don't need 64TB of data storage, but many commercial Enterprise applications require gigantic amounts of storage. It sounds like a serious yawn fest, but data storage is becoming increasingly critical to our daily lives.
We're (both of us!) generating tremendous amounts of data, and it needs to go "somewhere," and that "somewhere" needs to be robust. Do you think you're not generating copious amounts of data? How about smart connected thermostats, connected appliances (we have a relative who has all his Samsung devices connected to each other, his cell phone, and the cloud!), smart door locks, smart light bulbs, and the list goes on.
As the need for SSDs increases, and Solid State Drive technology development continues, the cost per GB will (continue) to decrease.
Solid State Drives fall into different bus interface categories, so let's look at each type briefly, starting with SATA SSDs.
Serial Advanced Technology Attachment (SATA)
SATA is the most common standard for Solid State Drives. Serial Advanced Technology Attachment (SATA, which replaced PATA) is the bus interface that connects the SDD to the bus adapter.
SATA offers Hard Disk Drive (HDD) systems the ability to replace the HDD with an SDD. The downside is that SDD SATA data transfer isn't particularly fast. You'll see a maximum data transmission speed of approximately 550MB per second.
Peripheral Component Interconnect Express (PCIe)
Just as Serial Advanced Technology Attachment defines a connection standard for SSD, so too does PCIe. A SATA SSD is connected through separate power and data transmission lines. A PCIe SSD is connected directly to the motherboard on an open PCIe slot or to an adapter and connected to an empty PCIe slot on the motherboard.
There are five generations of PCIe standards in play in the SDD marketplace. The data transmission speeds are slow, with a PCle 1.0 clocking in at 8GB per second. PCIe 5.0 has a data transmission speed of 128GB per second. It's expected that SSDs will be released in 2023 based on generation 6 PCIe standards. The generation 6 PCIe standards data transmission speed is 256GB per second.
Largest SSD Versions: A Quick Glimpse
There are several different versions or types of SSDs. SSDs aren't necessarily interchangeable between computer devices. We highly recommend carefully checking your motherboard, laptop, or desktop documentation before purchasing a new SDD. There are many (MANY!) SDD hardware configurations, motherboard configurations, and PCIe configurations.
Let's look at the different types of SDDs.
SSD SATA
The TEAMGROUP QX delivers 15TB of SSD with data transmission (read/write) speeds of approximately 560/480 MB per second.
Super Large SSD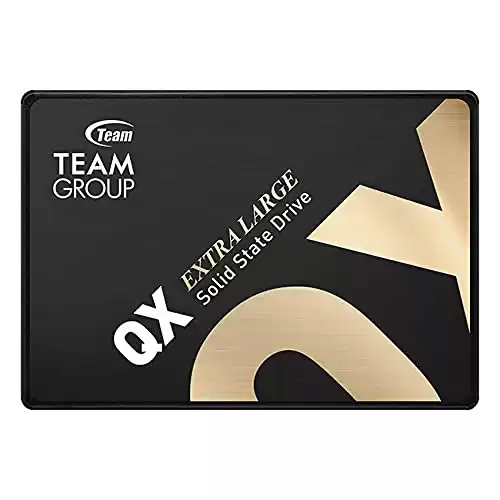 We earn a commission if you make a purchase, at no additional cost to you.
SSD PCIe NVM3 M.2
SSDs with PCIe and NVM3 M.2 are the fastest SSDs. The NNM3 is non-valuable memory. NVM3 SSD contains a controller chip. The chip enables much faster communication between the motherboard and the SSD. The Crucial P3 Plus has 4TB of storage and data transmission speeds of 650K/900K on random read/write and 5,000MB per second on sequential reads.
"M.2" means the SSD is directly attached to the motherboard. The direct connection results in a fast data transmission rate between the SDD and the motherboard. (This is good!)
The SSD SATA drive above has a transfer speed of approximately 500MB per second. The SSD PCIe NVM3 M.2 drive has a transfer speed of around 5,000MB per second. That's a HUGE difference.
Spacious Storage
Crucial P3 SSD
4TB PCIe
Backward compatibility with Gen3 models
Up to 5,000 MB/s
NVMe M.2 SSD
Performs 43% faster than previous-generation SSDs
We earn a commission if you make a purchase, at no additional cost to you.
The Largest SSD: The Public Response
Solid State Drives have no moving parts, make no noise, are substantially faster than Hard Disk Drives, consume less power than HDDs, and last longer. While we might wax poetic about what the public has to say, let's look at actual statistics.
In 2022, the global Hard Disk Drive Market's global sales decreased by 33.4%. What's causing this decrease?
500GB SDD is approaching price point parity with a 500GB HDD.
96% of new laptops are shipping with Solid State Drives, not HDDs.
Enterprise systems use GIGANTIC amounts of HDD storage. While the energy consumption of a single HDD might be inconsequential to us, it's not small to a large company with ten of thousands of servers running 7X24. SDDs decrease power consumption by up to 90%. Slowly and painfully, large companies are beginning to transition away from HDDs to SDDs.
Industry analysts predict that 70% of all data storage (SDD/HDD) will be performed on SDD by 2025. The SDD market had approximately $40 billion dollars in sales in 2021. Projections for future sales place the SDD market at around $105 billion dollars in 2028.
The public has responded, and we're moving away from Hard Disk Drives. Hang on tightly; the largest Solid State Drive today will be considered relatively small in a few short years.
The image featured at the top of this post is ©Sick Visuals/Shutterstock.com.