Key Points
SMA is a pioneer in the solar sector based in Germany and provides energy storage solutions and grid management systems.
JinkoSolar operates in China and Europe and provides inverters, panels, and mounting systems. The company which experienced rapid growth in the last decade relies on IHS Technology.
Sharp Solar is based in Japan and currently operates in over 100 countries. The company which has been operational for four decades has developed some of the most efficient solar panels currently in use.
The solar industry is one of the fastest-growing industries. Thanks to the federal Investment Tax Credit (ITC) enacted in 2006, many Americans are adopting solar power. Today, over 2 million homes in the United States use solar energy, and these numbers are expected to grow over the coming years. Apparently, nothing can hold back the ever-rising demand for clean energy. Many commercial and residential owners are racing to cash in the ITC, despite the soaring cost of photovoltaic (PV) panels. So, if you're looking forward to harnessing the sun's power, it's important you find the right solar panel company for your project. This article introduces the world's ten largest solar panel companies, highlighting their annual revenue and how they're making waves in the industry.
Hanwha Q Cells – Market Cap: $817.76M
Hanwha Q Cells is a South Korean company that manufactures solar cells and modules. Currently, the company is enjoying the number one market share position in the United States residential and commercial markets. It supplies quality products for global-, residential-, commercial-, and utility-scale projects. As one of the world's largest PV manufacturers, Hanwha Q Cells can offer competitive prices for its products. It uses cutting-edge technologies to produce high-quality solar panels that require less space to generate enough electricity for residential use. Its products rank among the most efficient solar panels on the market today.
SMA Solar Technology – Market Cap: $1.70B
SMA is a global leader in the solar industry and one of the largest manufacturers of solar inverters. Its headquarters are in Germany, and they have offices worldwide, but they've established a strong presence in Europe, Asia, and North America. The company offers other products, including energy storage solutions and grid management systems. It has been around since the 1970s, consistently innovating new technologies to improve its products. It is committed to providing high-quality products at competitive prices.
SMA inverters convert the direct current (DC) from solar panels into alternating current (AC), which is then fed into the electrical grid. It has been a pioneer in this technology, and its products rank among the most reliable on the market today.
JinkoSolar Holding Co. Ltd – Market Cap: $2.85B
JinkoSolar is one of the largest solar panel companies in the world, with factories in China and Europe. It offers a wide range of solar products, including panels, mounting systems, and inverters. The company has snowballed over the last decade, expanding its production capacity to meet the growing demand for solar power solutions. It employs IHS Technology, an advancement that ranked it among the top three PV module manufacturers worldwide in 2015. JinkoSolar offers more efficient, durable, and affordable products than comparable panels on the market. It has gained a competitive edge in the solar industry by focusing on innovation and quality.
Canadian Solar Inc. (CSIQ) – Market Cap: $2.86B
Canadian Solar Inc. (CSIQ) is a leading global solar PV module manufacturer with a strong focus on R&D and innovation. It provides high-quality products at competitive prices. Its core competencies lie in manufacturing, engineering, and project development. Though recognized as a leader in solar PV technology, Canadian Solar is ever-expanding its product line and improving its manufacturing process's efficiency. It designed one of the first thin-film modules to be commercially available and strives to provide customers with the best possible products. The company has been in business since 2001 and has its headquarters in Ontario, Canada. It has over 14,000 employees worldwide and offices in the United States, Europe, and Asia.
SunPower – Market Cap: $3.97B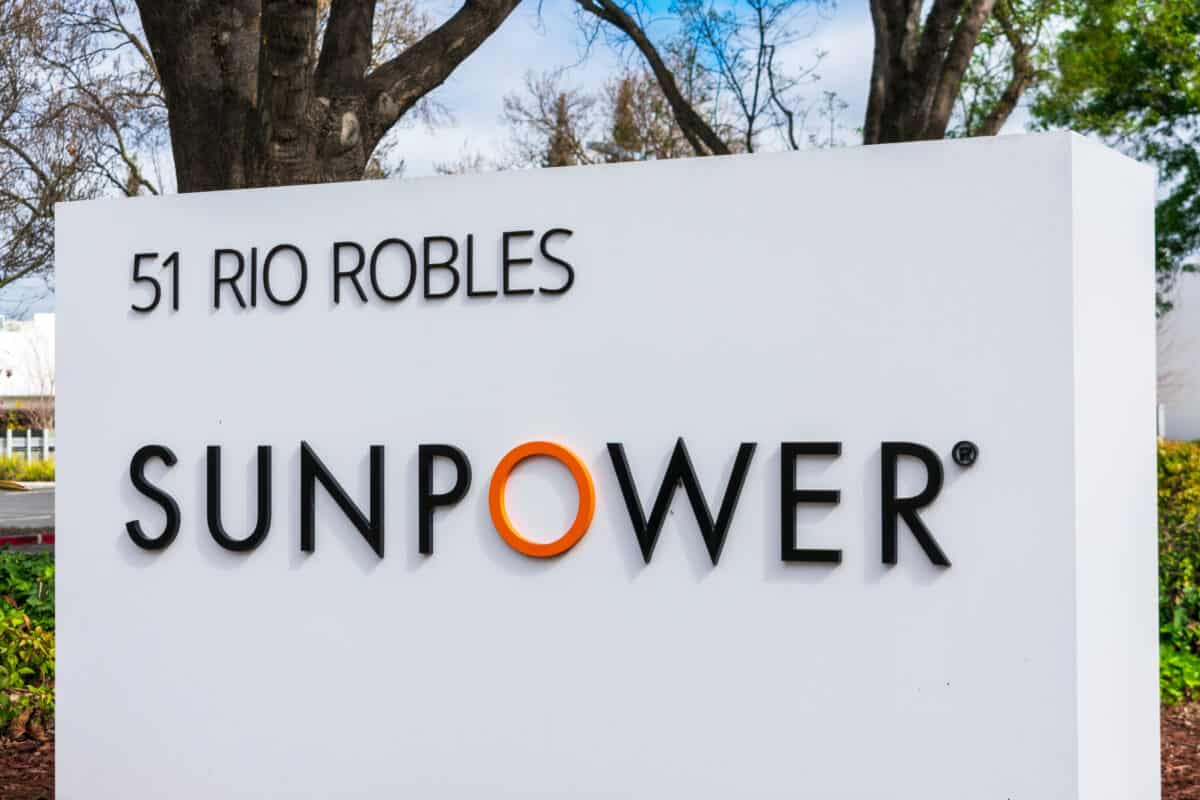 This is a U.S.-based solar power company founded in 1985 and has since grown into one of the largest solar panel makers worldwide, with facilities across the United States, Europe, and Asia. It offers reliable solutions for those interested in installing solar panels on their residential or commercial properties. It has been at the forefront of solar technology since its inception. Hence, it's a one-stop shop for your project modules, design, installation, and maintenance services. It is among the first solar panel manufacturers to develop and deploy high-efficiency solar cells. The company also prides itself on its unmatched customer service and its commitment to providing the best possible experience for its customers.
Sharp Solar – Market Cap: $4.56B
What started as a small company has grown exponentially over the past several decades. Sharp Solar is now a global leader in solar panel manufacturing, with offices in over 100 countries and more than 8,000 employees. It has its headquarters in Japan and has been in business for over 40 years. Committed to the environment, Sharp Solar is one of the world's most innovative solar panel companies. It uses its technology and expertise to help reduce carbon footprint worldwide. It has developed some of the most efficient solar panels today. Its solar panels are suitable for homes, businesses, farms, and schools.
First Solar – Market Cap: $13.47B
First Solar is a global solar energy services provider headquartered in Tempe, Arizona. The company sought to bring the benefits of solar energy to homeowners and businesses by making it affordable and accessible. First Solar started by developing its technology for high-efficiency solar panels, aiming to produce more electricity from each panel than its competitors could. This has seen it become one of the world's most efficient solar companies and one of the largest solar panel manufacturers worldwide. First Solar is a vertically integrated manufacturer renowned for designing, producing, and installing PV systems for commercial, industrial, and utility customers. Its solar panels use thin film technology, which allows them to be more flexible than traditional crystalline silicon panels while also being more efficient.
Trina Solar – Market Cap: $19.94B
Trina Solar is a leading global solar panel manufacturer with over 25 years of experience in the industry. It is headquartered in China, with manufacturing facilities worldwide, including in Europe and the United States. Trina Solar has an annual capacity of over 100 GW. Its products have a strong reputation for quality. This company focuses much on developing innovative technology and maximizing efficiency. It also prioritizes producing environmentally friendly products. That explains its commitment to using recyclable materials and manufacturing processes with low environmental impact.
Kyocera Solar – Market Cap: $20.71B
Kyocera Solar is a subsidiary of Kyocera Corporation, a Japanese company that has been in business since 1920. Kyocera Solar has grown to be one of the world's largest solar panel manufacturers. It has a significant presence in Japan and plans to expand into European, Asian, and North American countries. Its solar panels are for both residential and commercial applications. The company also produces energy storage solutions and solar-powered household appliances. It uses its business model to sell its technology to other industry players.
LONGi Solar – Market Cap: 57.92B
LONGi Solar Technology is one of the most valuable brands in the solar industry. It manufactures PV modules and silicon wafers. This company offers high-quality solar panels and professional advice under the same roof without breaking the bank. It is always on the cutting edge of the most advanced solar technologies, including N-type TOPCON, P-type HJT, P-type TOPCON, and N-type HJT. Though it serves the global market, LONGi Solar has established operations in China, Malaysia, Yunnan, and Kuching.
Why You Should Know These Companies
The most compelling reason that consumers should know these ten largest companies in the solar industry is to be as informed as possible when purchasing solar panels. Solar panels have become increasingly popular, especially for new homeowners and businesses.
As the ten largest companies involved in solar, they are the primary ones who invest in research and development. Knowing these companies allows you to research the values and scientific involvement, to pick which one has the best new products.
Summary of The 10 Largest Solar Panel Companies in The World
| | |
| --- | --- |
| Solar Panel Company | Market Capitalization |
| LONGi Solar | $57.92B |
| Kyocera Solar | $20.71B |
| Trina Solar | $19.94 B |
| First Solar | $13.47B |
| Sharp Corporation | $4.56B |
| SunPower | $3.97B |
| Canadian Solar Inc. (CSIQ) | $2.86B |
| JinkoSolar Holding Co. Ltd | $2.85B |
| SMA Solar Technology | $ 1.70B |
| Hanwha Q Cells | $817.76 million |
Looking for ways to cut down your monthly expenses? A solar panel system in your home or business is a double win! It will save you money and increase your property's value.
Conclusion
Are you planning to transition to solar power? Solar panels are an excellent investment for anyone looking to tap into solar energy; however, you want to work with a solar company that can handle your needs while ensuring quality and value for money. If you are wondering where to find the right experts in the field, our list is a great starting point. Go ahead, evaluate your options, and find yourself a good fit for your project.
Up Next
The image featured at the top of this post is ©Pro Aerial Master/Shutterstock.com.