Key Points
The World Map is the largest LEGO set ever made, with 11,695 pieces and the ability to customize different sections of the map.
The Eiffel Tower LEGO set is one of the tallest freestanding LEGO sets, standing at 59 inches tall and 23 inches wide.
The Titanic LEGO set features 9,090 pieces and includes detailed recreations of the ship's interiors, such as the grand staircase and swimming pool.
The Colosseum LEGO set allows you to recreate the largest amphitheater in the world with 9,036 pieces and learn about its history and architecture.
The Millennium Falcon LEGO set includes 7,541 pieces and offers the opportunity to relive two trilogies worth of Star Wars movies with removable hull panels and interchangeable sensor dishes.
As small as a single LEGO brick may be, these tiny pieces can quickly snap together and create some wonderfully large sets. Over the years, LEGO has raised its game by producing bigger, bolder, and ultimately, more expensive sets. While many might consider size to be a factor of height or width, in the LEGO world, size is based on the number of bricks included with each set. Therefore, you can toss out what you think about physical dimensions and, for the purpose of this list, focus solely on the total number of pieces included.
Let's take a look at the 10 largest LEGO sets ever made.
Bigger is Better
LEGO has never shied away from going big and it's clear its designers love to take on new challenges. Everything from the LEGO world map, the LEGO Colosseum, and even the LEGO Titanic has broken new boundaries with each release. It's incredible to think about what the designers of the original 1949 LEGO sets would think of the work they see today.
The days of LEGO City, Space, and Castles being the boldest LEGO sets around are long gone. In their place are a fantastic number of sets that enable adults and kids alike to use their imagination and go big.
World Map
As the single largest LEGO set currently in existence by piece count, the World Map is undoubtedly one of the company's biggest achievements.
Featuring 11,695 pieces, the World Map is without question the largest LEGO set the company has ever produced. For a company that thrives around its customers using their imaginations, the World Map is as good as it gets. Not only can you build a true map of the world with all of these pieces, but you can even build a focus on one of three different sections of the world. You can customize the map with colorful brick-built pins, so it's so easy to fall in love with this hanging on a wall.
Within this set, you have two different hanging elements, a tile tool for easy building, and 40 different canvas wall decor plates. Measuring 25.5 inches by 40.5 inches, the World Map is great fun for you and the whole family to build. Best of all, the set comes with a link to a dedicated audio world tour to listen to as you build.
Eiffel Tower
One of the world's most important and best-recognized monuments, the Eiffel Tower is a fantastic building that can bring the thrill of Paris right into your home.
Supported by more than 10,0001 pieces, there is little question LEGO set 10307 is already one of the world's largest. Standing 59 inches tall and 23 inches wide, it's not just one of the largest LEGOs by piece count, it's also one of the tallest freestanding LEGO sets ever made. Thankfully, all of these pieces and sizes give way to an incredibly detailed recreation of Paris' most famous destination. Building the set is done in four separate parts to help mirror the same way the Eiffel Tower was created by its real-world builders.
The attention to detail is terrific with all of the famous arches, supports, cross bracing, and railings all accounted for. LEGO even thought to include the esplanade that lives below the tower complete with benches, trees, and shrubs for as true-to-life of a feel as possible. Unfortunately, finding this build is quite difficult a few years after its release but you can substitute it with a 321-piece Eiffel Tower until you can find the real thing, which we've included below.
We'll Always Have Paris
We earn a commission if you make a purchase, at no additional cost to you.
Titanic
Recreating the world's most famous ocean liner, the Titanic requires the kind of detail and wonder that only LEGO can offer.
Within the 9,090 pieces that recreate the Ship of Dreams, LEGO has built a 54-inch long and 18-inch high model that absolutely leaves you wondering what could have been. In typical LEGO fashion, set 10294 is far more than just a showpiece as the build is divided into three different sections to help show off the ocean liner's interiors. This includes the famous grand staircase, boiler room, smoking lounge, bridge, promenade deck, and even the swimming pool.
You even have an opportunity to create working propellers and watch how the piston engines turn inside as everything is connected. LEGO even thought to include a nameplate bearing the legendary Titanic name to help make sure that wherever this is displayed in your home, it's a truly complete set.
The Colosseum
For Glory!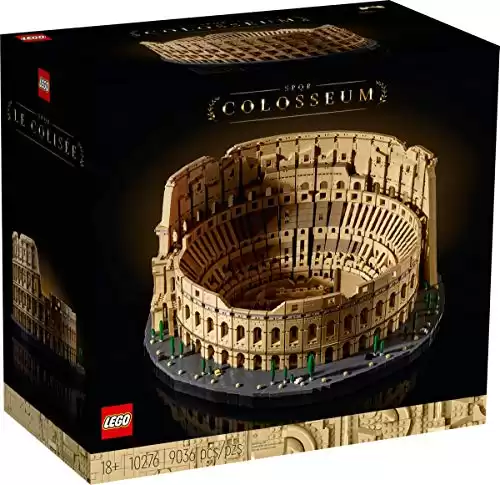 We earn a commission if you make a purchase, at no additional cost to you.
Showing off all of the intricacies that help make up this incredible piece of architecture, the LEGO Colosseum build is a wonderful addition to the largest LEGO list.
To recreate this historic piece of engineering, LEGO had to allow for 9,036 pieces to truly recreate this highlight of the Roman Empire. While this building won't hold up to the 80,000 spectators the real Colosseum once held, you can easily see no matter your wealth, there was never a bad seat. As one of the seven wonders in the world, it was only a matter of time before LEGO jumped in with a Colosseum set as this is the largest amphitheater the world has ever seen.
As you build, you will learn part of the Colosseum's history including the recreation of the Doric, Ionic, and Corinthian orders. Best of all, you even have an opportunity to build the hypogeum, which was the very elaborate structure that lives beneath the arena and was a staging area for gladiator fights and other events.
Millennium Falcon
The Biggest Star Wars LEGO Set
LEGO Star Wars Ultimate Millennium Falcon
7,541 pieces
Lego Ultimate Collector Series
Includes Original Trilogy minifigures of Han Solo, Chewbacca, Princess Leia, and C-3PO, plus Episode VII/VIII minifigures of an older Han Solo, Rey, and Finn
Perfect as a Star Wars movie collectible
We earn a commission if you make a purchase, at no additional cost to you.
Widely considered the most famous starship in the entire galaxy, the LEGO Millenium Falcon is a faithful recreation of the Star Wars icon.
Arriving with 7,541 pieces, LEGO set 75192 offers a faithful build of the starship that performed the Kessel run in under 12 parsecs. While that might not mean much to non-Star Wars fans, to the rest of the galaxy, it's a very impressive performance. A similarly strong performance belongs to the LEGO designers who helped turn all 7,500 pieces into the ability to relive two trilogies worth of movies. Whether you want to defeat the First Order or attempt to take down the Death Star, you or anyone in your family can use the power of imagination to do it all.
Everything from removable hull panels, lowering boarding ramp, four-minifig cockpit, as well as interchangeable sensor dishes help make up this famous starship. The best part is that you get not one but two sets of minifigs, one for characters from each Star Wars trilogy including two versions of Han Solo.
AT-AT
LEGO Strikes Back
Lego Star Wars AT-AT
6,785 piece LEGO set
Massive cargo area holds dozens of figures
24.5 inches tall
Fully posable
We earn a commission if you make a purchase, at no additional cost to you.
Another famous Star Wars LEGO also lives as one of the largest LEGO sets ever made as the AT-AT offers 6,785 pieces.
Quickly earning popularity during the first third of The Empire Strikes Back, this fan-favorite toy is a reminder of just how powerful the Empire truly was. With its superior weaponry in the form of rotating cannons to the number of ground forces it could carry, the AT-AT is truly an imposing site. As LEGO set 75313, the AT-AT is designed for ages 18+ but it's really a welcome addition for the whole family. Measuring 24.5 inches high, there is space for a whopping 40 LEGO minifigs including General Veers and Luke Skywalker.
Where you can really have fun with the AT-AT is with the removable panels that help expose the entirety of the interior. It's here that you can then add the two included speeder bikes as part of your ground force and use them to take down the Rebel Alliance.
The Razor Crest
Yet another Star Wars starship makes the list of the largest LEGO sets ever with the Razer Crest made famous by The Mandalorian on Disney+.
LEGO set 75331 offers 6,187 pieces to anyone who takes on the challenge of building a reminder of the ship that helped reset the Star Wars world. While its unfortunate demise in the show was a sad moment for fans around the globe, you can remember all its glory through LEGO. These reminders include a 28-inch long and 19.5-inch wide set that offers five different minifigs, including the Mandalorian himself and baby Grogu.
Contained within the set is one easy-access interior, which includes removable engines and a cockpit, cargo compartment, weapons cabinet, and a carbon-freezing chamber for those hard-to-capture bounties. Illustrated instructions will help walk you through every aspect of this build, which makes for a great time with family.
The Lord of the Rings: Rivendell
One of the most iconic moments in all of The Lord of the Rings series, The Lord of the Rings: Rivendell is a 6,167-piece LEGO giant.
This celebrated moment in The Fellowship of the Ring centers around 15 different minifigs who all come together with one goal, to defeat the evil lord, Sauron. Everything from the iconic Council of Elrond scene, Frodo's bedroom, and Elrond's study can be seen in intricate detail. Standing over 28.5 inches wide and 19.5 inches deep, LEGO set 10316 is broken up into three different seconds. Between the tower, council ring, and gazebo, there is definitely room for you to get creative with fan-favorite minifigs like Legolas and Gimli.
The perfect gift for Lord of the Rings fans, there is just so much here to work through as you spend a few hours building. It's only right given the large size of the Lord of the Rings universe that a LEGO set carrying the name would be on a list highlighting the largest sets ever.
NINJAGO City Markets
Designed to help explore the wonderful world that is LEGO NINJAGO, the NINJAGO City Markets is a four-floor masterpiece of LEGO fun.
With 6,163 pieces in total, LEGO set 71799 comes in with measurements right around 19 inches high and 21 inches wide. Within that space, you will find (and build) a four-floor market that offers more than enough space to get creative with the 21 different included minifigs. This includes being able to ride a working cable car to and from different levels, play a game at the Karaoke club, ride the wheelchair-friendly elevator, or pick up delicious fresh-baked pretzels at the bakery.
Numerous rooms within this set can be removed to become their own separate play models. Alternatively, you can combine the set with the NINJAGO City Gardens (71741) for a truly large playground for all of your favorite LEGO minifigs. Good for ages 14 and above, LEGO NINJAGO is a great way to enjoy this fan-favorite series and never run out of fun.
Three Stories of Fun
LEGO NINJAGO City Gardens
Celebrate the 10th anniversary of the NINJAGO world
Includes 19 total minifigs
Also includes a collectible golden Wu Legacy minifig
Rooms include an ice cream shop, noodle house, ninja control room, and museum
We earn a commission if you make a purchase, at no additional cost to you.
Hogwarts Castle
No Sorting Hat Required
We earn a commission if you make a purchase, at no additional cost to you.
Hogwarts Castle is undoubtedly one of the most iconic landmarks in the Harry Potter universe and makes for a great way to relive this magical universe.
Offering 6,020 pieces in total, LEGO set 71043 is not only one of the biggest LEGO sets ever made, but it's also the largest castles in LEGO history. With so much detail to relive, it's hard to see and do everything the first time around. Between the Whomping Willow, dining in the Great Hall, or visiting Hagrid's hut, there is so much to see and do. You can even choose whether you dare to enter the Chamber of Secrets on day one or save it for another day. If you can hold off, you can instead focus on the variety of classrooms, chambers, and other secrets this set holds.
Don't forget to unpack four of your favorite LEGO minifigs with Godric Gryffindor, Helga Hufflepuff, Salazar Slytherin, and Rowena Ravenclaw. On top of these four minifigs, there are also 27 microfigs included among which you will find an opportunity to play with Harry Potter himself.
Wrapping Up
With almost 19,800 LEGO sets available as of June 2023, LEGO is constantly trying to one-up itself. One year from now, a list of the largest LEGO sets could look very different but for now, these 10 wonderful sets are here to create memories for you and your families. At least until everyone tries to build at the same time, then you might have a different kind of memory!
The image featured at the top of this post is ©seaonweb/Shutterstock.com.