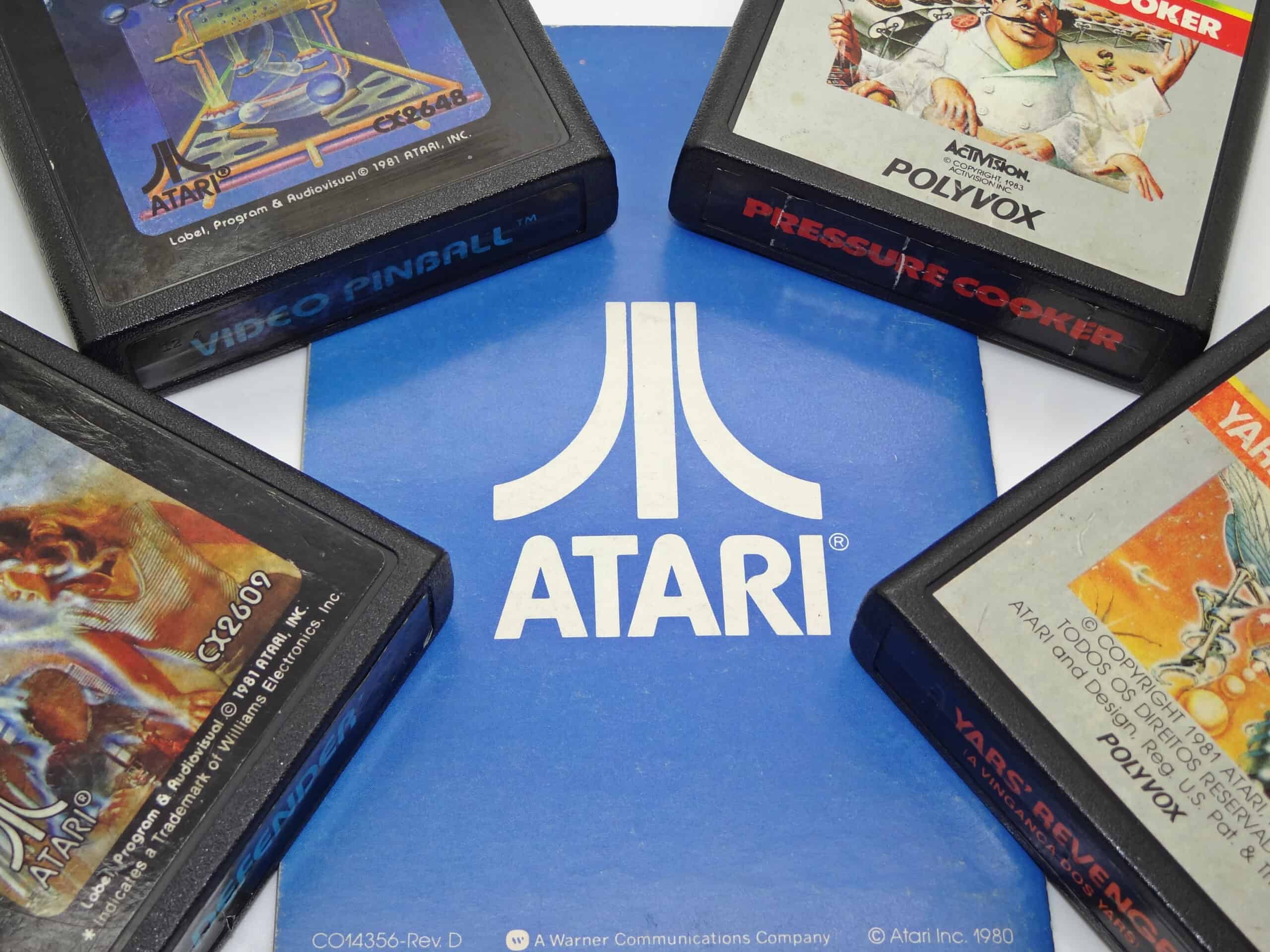 Key Facts
Atari was founded in 1972 by Ted Dabney and Nolan Bushnell.
Its Atari VCS had sold 15 million copies by the end of 1982.
The Atari 2600 was inducted as part of the National Toy Hall of Fame in 2007.
There are few video game consoles that are as iconic and important as the Atari 2600. Today, some 45 years after its release, the Atari 2600, or Atari VCS (video computer system), is best known for changing home console gaming forever. 
Few people knew in 1977 that the release of the Atari 2600 would jumpstart an industry that today would be worth well into the hundreds of billions. While it may look primitive against the likes of the PlayStation 5 and Xbox Series X, the Atari 2600 is a revered game console for good reason. 
Let's take a look at how this console set the stage for the future while simultaneously almost bringing the console game industry crashing down. 
Quick Facts
| | |
| --- | --- |
| Release Date | September 11, 1977 |
| Lifespan | 1977-1992 |
| Units Sold | 30 million  |
| Introductory Price | $199 |
| Key People | Nolan Bushnell, Ted Dabney, Joe Decuir  |
| Notable Titles | Space Invaders, Frogger, Pitfall, Ms. Pac-Man, Missile Command, Donkey Kong |
History
The story of the Atari 2600 begins in the early 1970s when founders Ted Dabney and Nolan Bushnell established Atari in 1972. Atari's first entry into the gaming space is also one of its best-known, as Pong was released in 1972 as a coin-operated arcade game and was a runaway hit. Pong's popularity would eventually become Atari's first home console in 1975. Successful like its arcade counterpart, Atari also discovered with the Pong console that moving beyond the limitations of a single-game console would open up doors for more revenue.  
Developing New Technology
To create a new generation of video game systems, Atari founder, Nolan Bushnell, would have to seek out partners to help develop the future. He founded these partners through Cyan Engineering and their console-in-progress known as "Stella."
Whereas most previous game machines used custom logic boards to play games, MOS Technology, another key player in the Atari 2600 launch, was on a different path. The goal of MOS was to develop an inexpensive microprocessor that was far smaller than what had typically been considered for small entertainment systems. MOS and Cyan engineers came together and worked to build the 6507 microprocessor for Stella, which was both inexpensive enough to make a home console viable and capable of running more than one game.
With Atari and MOS aligned on the deal, the world was one step closer to a true home video game console. 
Selling to Warner Communications
Building the Atari 2600 was no easy feat, and even after Atari hired Joe Decuir, Atari still had plenty of work to accomplish before they could show something to the world. This work started with turning around their financials as the company was struggling as sales of the Pong console tapered off.  To keep funding the development of Stella, Atari needed help. 
Warner Communications and Atari began negotiations in early 1976 and would agree to a purchase price of $28 million by the end of October. The deal provided an additional $120 million in funding, which was money Atari desperately needed to keep the development of Stella moving forward. 
Around the same time of the sale was when Atari dubbed their future console the Atari VCS. The name Atari 2600 wouldn't actually appear until 1982.
Go for Launch
The world first saw the Atari VCS at the Summer 1977 Consumer Electronics Show, at which time Atari indicated a planned launch for October of the same year. Atari would hit their timetable when, on September 11, 1977, the Atari VCS first launched at a price tag of $199 with two joysticks and the Combat cartridge. 
Between September and the end of 1977, the Atari VCS was sold between 350,000 and 400,00 units. As 1978 rolled around, the Atari VCS sold more than 550,000 units and would sell more than 1 million consoles in 1979. 
One of the main reasons Atari saw a big bump in sales between 1977 and 1979 was due to Atari obtaining what is widely considered to be the first third-party license of a game from another software developer. Space Invaders' release for the Atari VCS in March 1980 would help drive another two million consoles off store shelves. 
Fast forward to 1982, and Atari found itself with more than 10 million home consoles sold in the U.S., helped by a new title, Pac-Man. Worldwide sales were equally strong as total consoles sold worldwide approached 15 million by the end of 1982. 
Name Change
With the Atari VCS considered a bona fide hit, Atari didn't waste a moment starting development on its next console, the Atari 5200. As development started, they realized that they would need to standardize the naming of their product lineup in order to not confuse customers. The Atari 2600 is born with its name derived from the manufacturer part number, CX2600. 
Hardware Revisions
Like many video game consoles, hardware revisions for the Atari 2600 were minor but important all the same. In 1980, Atari tweaked the hardware by moving two of four switches that made up the front of the console to the backside. This left four switches on the front while the left and right difficulty switches stuck to the rear of the console. 
When 1982 rolled around, Atari released another variant of the 2600 with the same four and two switch design but without the famous wood grain look and feel. This all-black console was actually the first console to be properly dubbed the Atari 2600. 
Sadly, a wireless version codenamed the Atari 2700 was never released but would have likely been a big hit well before wireless was even a known quantity for console gaming. 
Atari also formed a strong partnership with Sears, releasing several variants of the Atari 2600 between 1977 and 1983. The hardware differences were minimal, but at the time, Sears was a retail giant, so Atari received a boost from the special editions.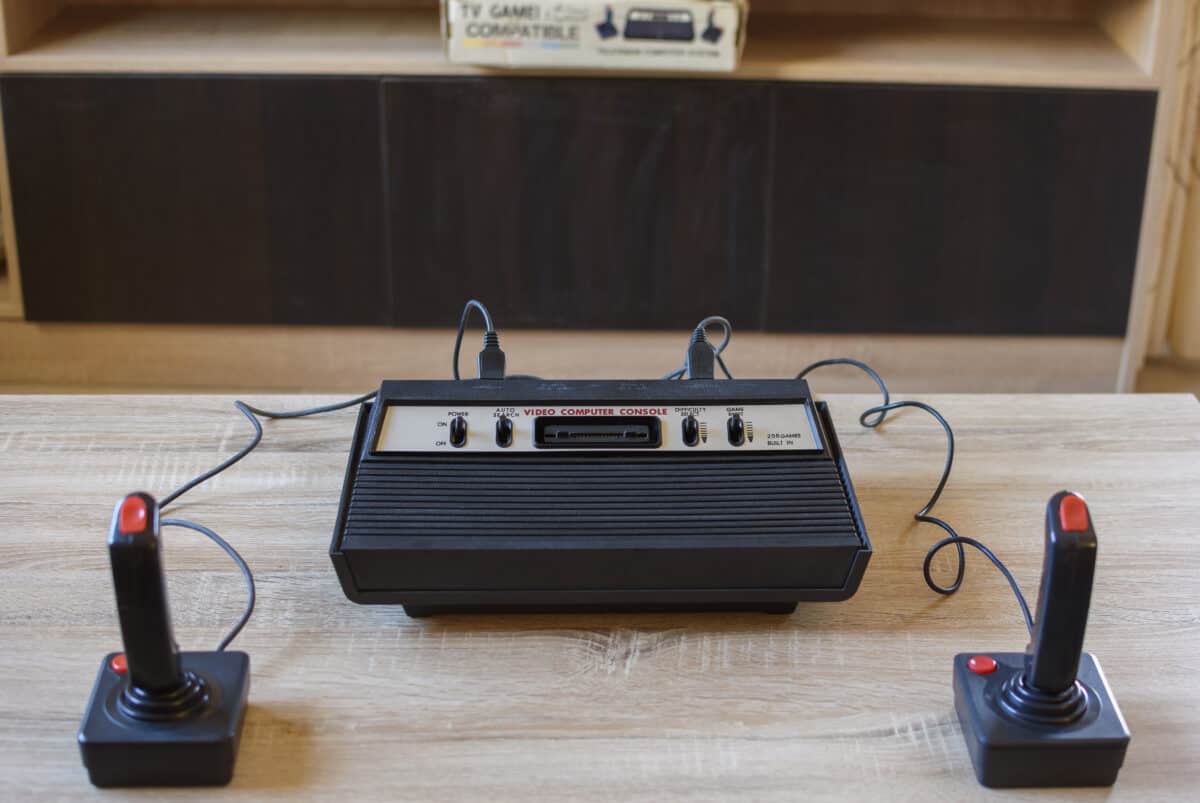 The Decline Begins
As Atari 2600 units flew off store shelves, Atari started to face threats from competitors from the likes of Coleco. Backed by a Nintendo license, Coleco was able to create their own version of Donkey Kong and bundle it with every console they sold. As Coleco gained market share, Atari was forced to spend more money to gain access to a deeper library of third-party titles. 
These efforts, along with huge spending in R&D, created financial headwinds for the company. Pac-Man, one of the console's best-selling titles, was found to have major technical issues which adversely affected gameplay and would anger Atari 2600 owners. While not the critical moment, a moment often considered a turning point for Atari would go on to become one of the biggest failures in video game history.  
Atari hyped up the release of E.T. the Extra-Terrestrial and customer expectations were high. Unfortunately, the game was a colossal failure and, even after it sold 1.5 million copies, poor reviews forced Atari to write off the remaining 2.5 million (some estimates put the number closer to 3.5 million) cartridges they had produced. The after-effect of this was that consumers started to grow concerned over future Atari titles and begin to hold back on purchases. 
Miscalculating Demand
Like the production of too many E.T. games, competitors in the video game console space like Coleco, including Odyssey, Intellivision, and Vectrex, all overproduced in the face of huge consumer demand. However, the demand level was over-projected, leaving many console makers holding on to millions of dollars of unsold inventory. 
At the same time, the home console industry was also facing pressure from the rise of home computers. In 1982, both Commodore and Texas Instruments had a race to the bottom and dropped their prices significantly. In fact, the drop was so low that prices began to match console prices, which was a major threat to video gaming. Computers being able to play games and do far more than just games led to a shift in consumer thinking and a rise in personal computer purchases. 
The Video Game Crash of 1983
Along with poor demand, the rise of personal computers, and an overall library of titles that continuously delivered below-average reviews and quality, the video game industry was hanging on its last bit of hope. Finally, in 1983, what is now known as the "Video Game Crash of 1983."
The video game industry as a whole was set to hit around $3.2 billion in revenue by the end of 1983, but that number had fallen by 97% down to only $100 million in 1985. 
As a result, Warner Communications started to look for a buyer for Atari in 1984 and sold it to Jack Tramiel and his company, Commodore International, in July 1984 for a purchase price of $240 million. This spelled bad news for the Atari 2600 as Tramiel believed that personal computers were the future and halted all game development on the Atari 2600 as soon as the deal closed. 
It would take years for the video game industry to recover and, while it very obviously has recovered and grown exponentially, Atari was never the same company. 
Atari 2600 Legacy
Even if Atari played a heavy hand in the video game crash of 1983, it did little to diminish the legacy or the importance of this console. Not only is Atari a name that has lived on well after the last Atari 2600 was sold, but its name is synonymous with the start of the video game industry itself. The console would also go on to be inducted as part of the National Toy Hall of Fame at The Strong in Rochester, New York in 2007. 
Return to Market
To the surprise of many, Commodore would release a redesigned version of the 2600 in 1986 with a budget-friendly price and the tagline of "the Fun is Back." Commercials hyped the nostalgic aspect of the console and its game lineup with a fun jingle that captured enough attention to keep the Atari 2600 sales train going. Ultimately, the system would finally come to an end in 1992, but by then would be able to take the prize as the longest-selling home video game console of all time with 14 years of retail availability.
Up Next…
Interested in more gaming articles? Click on the links below:
The 10 Best Books About Gaming: Who are the legends in the sector? How do games come to life? What do consoles look like – from the inside? These titles will provide you with the answers to these and several other questions you and other gaming fans may have.
The History of Final Fantasy: It is one of the most successful fantasy franchises on the globe. Find out about this game which continues to provide unique releases and even exists as an MMO.
Zelda Through The Ages: Every Zelda Game In Order with Timeline, and More: Set in the fictional kingdom of Hyrule, this franchise has provided various releases one of which is the highest-rated game according to the Guinness Book of Records.  Find out all you need to know about the game which inspired a generation of developers.