A lot of the time, video game franchises don't have the simplest storylines This is especially true for franchises that have been around for many years — Street Fighter is no exception. With its upgrades, reboots, and retcons, the narrative becomes quite difficult to follow. The fact the games are released in a non-chronological order only adds to the confusion. Still, the Street Fighter storyline is relatively deep and nuanced as far as fighting games go.
Some major themes recur throughout the series, such as righteous vengeance, grappling to balance power with dark and destructive impulses, and outright malicious megalomania. As the lore and character roster has expanded, these themes are explored in greater detail. Some knowledge of these will help you gain an appreciation for the series, especially as we anticipate the release of Street Fighter 6. In this article, we're going to elaborate on the main elements of the Street Fighter storyline and the overall timeline and dive deep into its intricacies and implications.
Features Three Distinct Game Modes
Street Fighter 6 Deluxe Edition - PS5
New game modes, including Fighting Ground, World Tour, and Battle Hub
Choose one of 18 playable characters, including both new and legendary World Warriors
Features Real-Time Commentary in 13 languages, just like a real match
Core gameplay enhanced by Capcom's proprietary RE Engine
Classic controls plus two new options, Modern and Dynamic controls for greater accessibility for players of all skill levels
We earn a commission if you make a purchase, at no additional cost to you.
The Start of it All: Ryu vs. Akuma
A central theme to the storyline is the battle between good and evil, or light and darkness. This is exemplified by two of the main characters — Ryu and Akuma. Often considered the poster child for the series as a whole, Ryu is the first major character we're introduced to. As a practitioner of the ancient Ansatsuken martial art, Ryu has huge power potential, but this comes at a cost. The power of Ansatsuken comes from its delicate balance between light and darkness, one which Ryu struggles with for most of the series.
To contrast this, Akuma is fully willing to embrace the dark side of the art, and as such, represents somebody completely consumed by the darkness within. He's ruthlessly obsessed with defeating the strongest opponents he can, as well as obtaining as much power as possible. Overall, the rivalry between Ryu and Akuma serves as the main example of this dichotomous struggle throughout the series.
Main Supporting Characters and Their Stories
Of course, the Street Fighter story wouldn't be as complex as it is, or the fighting as enjoyable, without a healthy range of supporting characters. With each title, new characters are introduced to the series, who often have connections to existing fighters, and some are removed, either temporarily or permanently. Whether a character is considered part of the main roster or not is open to interpretation, but there are definitely some fighters who have reached icon status. These include:
Chun-Li – She is easily one of the most recognized characters in the series, and potentially the most well-known female fighter. Her most dominant motivation for fighting is to avenge her father's death, which the evil Shadaloo organization was responsible for. Chun-Li's fighting style involves a lot of kick moves, which are almost as memorable as the character herself.
Guile – Another fighter motivated by vengeance is Guile, who is a military man. Arguably more reserved than Chun-Li, Guile has a strong sense of justice but tends to be more reserved and stoic.
Ken – Both Ryu's rival and his best friend, Ken is somewhat similar to Ryu in fighting style, but with a more extravagant nature. He's always competing with Ryu, but usually in good spirits.
Bison – The archetypal villain, M. Bison is the major antagonist in the series. As the leader of Shadaloo, he is dead set on world domination and will do whatever it takes to achieve his goals. He also has possession of a strange psychic power known as Psycho Power, which makes him a deadly opponent but also gradually consumes him.
Other Notable Characters
There are many other significant characters. While they may not play such a pivotal role, they're particularly memorable for their narratives, fighting styles, or a combination. Examples include:
Dhalsim – As a yoga master who can create fire and stretch his limbs for some reason, Dhalsim is a very popular fighter. A pacifist at heart, Dhalsim only engages in combat when necessary, usually motivated by protecting his village.
Zangief – Probably the most typical representation of a professional wrestler, Zangief is known for his super strength and technical prowess. His storyline isn't too complicated, as he mostly wants to show off his strength and expertise in Russian wrestling. Yet he's still a legendary character.
Sakura – A high school student who admires Ryu, Sakura learns from her idol to become a competent fighter herself. She often encounters other characters and is generally concerned with improving her skills.
Sagat – As another prominent opponent of Ryu, Sagat is a fighter from Thailand who is intent on seeking revenge. Sagat's known for his powerful moves and his eyepatch.
Balrog – We have a professional boxer in Balrog, who comes from the U.S. He is one of M. Bison's henchmen, and, while his story has become more nuanced over time, he generally serves as an antagonist. To add to the confusion, Balrog is known as M. Bison in Japan, whereas M. Bison is called Vega. What's more, Vega is an entirely new third character, also one of M. Bison's henchmen, and is called Balrog in Japan.
Cammy– A relatively new addition, Cammy is one of few British characters, and possibly the most iconic. Quickly becoming a fan favorite, Cammy is brainwashed by Shadaloo but breaks free from their spell. As an agent of the British Special Forces, Cammy is an agile and dexterous fighter.
The Street Fighter Antagonists
As briefly mentioned, Shadaloo and M. Bison serve as the major antagonists throughout most of the series, as well as Akuma. As the series goes on, S.I.N., an offshoot of Shadaloo, is introduced as a new menace. After this, the Illuminati strangely appears as the dominant evil organization, with Gill as the head. Most antagonists tend to be associated with Shadaloo but have their own specific motivations for fighting.
Chronology of the Street Fighter Storyline
It's a good time to get into the specifics of each Street Fighter entry. Since the storyline can get complicated, we've broken it down in chronological order, so that it's easier to see how the games are connected. Let's get stuck in.
Street Fighter
The first game introduces many legendary characters and allows you to choose to play as either Ryu or Ken. The ending culminates in Ryu winning the Street Fighter tournament by defeating Sagat. This finale got updated in the remake, where Ryu defeats Sagat by giving in to his dark power. This leads to Sagat essentially having a mental breakdown and joining Shadaloo.
Street Fighter Alpha
Although Alpha came out after Street Fighter II, it connects this game to the original Street Fighter. There isn't a tournament in this game — fighters just tend to encounter each other and battle it out. Since Ryu's win, he's become a highly sought-after opponent, particularly by Akuma. After they fight each other, Akuma destroys his own island and encourages Ryu to follow the darkness within him.
This game also introduces M. Bison, who has many enemies, including Chun-Li and a mysterious fortune teller called Rose. It's later revealed that she partly inherited M. Bison's soul, and their powers are the same. She tries to defeat M. Bison but fails due to this. M. Bison plans to possess Ryu's body, but this plan doesn't come to fruition. Charlie, an Air Force soldier, almost succeeds against M. Bison but gets betrayed and fatally shot by his own men.
Street Fighter II
This title has had many renditions, but the core story is centered around the new World Warrior tournament and the return of M. Bison. There aren't many concrete answers given in Street Fighter II, as it's not really clear who comes out as the victor. It's also fairly uncertain who's responsible for defeating M. Bison. In one ending, Akuma deals the killing blow, but in another, Guile wins the fight but refuses to kill the power-mad dictator. Even with its unanswered questions, Street Fighter II is thought of as one of the best in the series and is the most popular title.
Official Street Fighter Sequel
Street Fighter II
The first official sequel in the Street Fighter series
First player vs. player game where you could choose your characters from a lineup
New attacks, such as grappling moves
Play in matches against your friends
We earn a commission if you make a purchase, at no additional cost to you.
Street Fighter IV
The next chronological entry has a fair amount of retconning going on. Gouken, Ryu's master, is shown to not actually be dead as previously thought, and M. Bison is yet again back from the dead by using a clone. The main premise is M. Bison's creation of genetically modified beings, used for fighting and potentially as hosts for himself. One such "doll," Seth, would rebel against his former master, and create the S.I.N. Organization. Seth introduces a new tournament, where he aims to absorb the abilities of the strongest fighters. It's often assumed that M. Bison kills Seth.
A side plot involves Balrog kidnapping Ed, a small boy who is the result of one of S.I.N.'s experiments. As if there weren't enough stories going on, Akuma also faces off against Gouken, as they fight over ownership of Ryu's soul.
One of the Best Games of All Time
Street Fighter IV – Playstation 3
3D environments and characters
Traditional 2D Street Fighter six-button gameplay
New locations never seen before
Classic characters re-imagined, including the original cast of Street Fighter II
New brawlers: female super-spy Crimson Viper, lucha libre wrestler El Fuerte, mixed martial artist Abel and more!
New special moves including Focus Attacks, Super Combos, and the Ultra Combo system
We earn a commission if you make a purchase, at no additional cost to you.
Street Fighter V
This title ramps up the malicious objectives of the antagonists, with the introduction of FANG, a mad scientist. His goal is to use a worldwide electromagnetic pulse to cause widespread panic, by using a collection of huge satellites. FANG's plan is foiled, however, when one of his maverick hackers interrupts the process by scattering the activation keys for the satellites across the globe.
As well as the typical roster of good-willed heroes, two groups are trying to stop Shadaloo in this game. These are led by Helen and Karin respectively. Helen's faction includes Rashid, a friend of the rebellious hacker, and a monstrous resurrected Charlie from Street Fighter Alpha. Karin, on the other hand, is a snobbish and wealthy woman, who has a rivalry with Sakura. She employs Ibuki the ninja, and wrestler Birdie, previously a member of Shadaloo. Karin manages to collect the pieces needed to stop the satellites, crushing FANG's plans. Charlie also sacrifices himself once more to help Ryu win against M. Bison, who is seemingly destroyed. Helen is also revealed to be a subordinate of Gill, who is the leader of the Illuminati from Street Fighter III.
Subplots include Cammy becoming a fugitive because of her twin sister's actions, Ed leaving Balrog after being warned by a fortune teller about his future, and Ryu facing off against an immensely powerful mythological figure called Necalli.
Great Graphics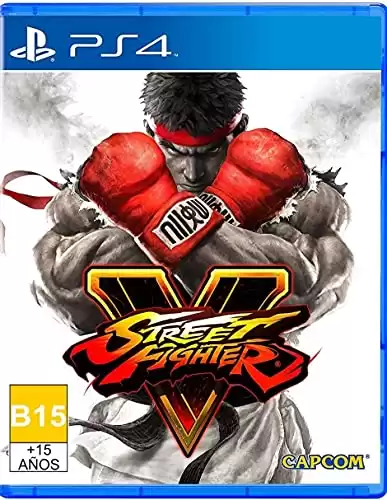 We earn a commission if you make a purchase, at no additional cost to you.
Street Fighter III: New Generation
This is another title where there's no explicit tournament, but this doesn't stop the fighters from engaging in combat with each other. M. Bison's plot this time involves the Psycho Drive, a weapon that can renew his power as well as power a giant laser. Unsurprisingly, the Psycho Drive is destroyed, but whoever is responsible for this is undetermined. Charlie and Guille were originally thought to be the ones to destroy the drive, but this plot element was later retconned.
Ryu becomes corrupted by M. Bison in this game but manages to redirect the negative influence back into M. Bison, which apparently annihilates him once and for good. However, since Rose is partly embodying his soul, he uses her body as a host in order to survive, and clones his body to restore himself.
Street Fighter III: 2nd Impact
As the first update to Street Fighter III, 2nd Impact is where we see the Illuminati for the first time, headed by Gill. He would be revealed to be Helen's master, but not until Street Fighter V. We switch the focus from Ryu to Alex in this game, who is out to defeat Gill after losing in combat against him. Ken takes a step back here, spending his time looking after his son, as well as training a new student called Sean.
Street Fighter: Third Strike
This is yet another update to Street Fighter III. Third Strike doesn't offer much in terms of storyline, but we do discover the Illuminati is still active, and see Alex develop an obsessive motivation to fight with Ryu. Q is also introduced as a mysterious figure, but not much about him is known.
That brings us to the current day, where we're waiting for the imminent release of Street Fighter 6. Will 6 expand on the questions introduced in III? Will Ryu return to the tournament? Maybe we'll get an update on Cammy's story, or possibly find out more about the connection between the Illuminati and Helen, as well as a more concrete indicator behind their intentions. Whether we receive a satisfying update to the storyline or not, we're sure to get an addictive game, with classic fan favorites as well as a slew of new and unique characters.
Includes the Iconic Street Fighter III
Street Fighter 30th Anniversary Collection (PS4)
A tribute to Street Fighter's arcade legacy
An anthology of 12 classic Street Fighter titles, including the original Street Fighter and the fan-favorite Street Fighter III
Play against friends or the CPU
Includes character bios, a Museum Mode with never before seen art
Listen to your favorite Street Fighter tracks on the Music Player
We earn a commission if you make a purchase, at no additional cost to you.
Wrapping Up
Overall, the Street Fighter storyline isn't too complex on paper, but due to retcons, the non-chronological release of the games, and a dizzying number of fighters, it can become confusing for a casual player. At a high level, the series revolves around the struggle between the opposing forces of light and darkness, both on a personal level and a grand scale. While some characters are undoubtedly forces for good or filled with malice, many are more nuanced, including the legendary Ryu. Some mysteries are yet to be answered, mostly involving Ryu's future, whether M. Bison will make yet another comeback, and the objectives of the mysterious Illuminati. We'll have to wait until Street Fighter 6 is released to see if these will be resolved.