There is no denying that the biggest iPad today is absolutely massive. We are, of course, talking about the iPad Pro.
The iPad Pro is a revolutionary device that pushes boundaries and defies expectations. With its blazing-fast M2 chip and mesmerizing ProMotion display, it is also the biggest iPad yet. But how does this device compare to previous generations? And is it worth paying any attention to if you're in the market for a new tablet?
In today's review, we're going to dig into the iPad Pro and discuss its features, specs, and all the pros and cons. By the end, we'll find out if this device is an impressive tablet/computer hybrid, and whether it's worth its price tag or just an oversized ripoff. We won't leave anything on the table. Let's get into it!
iPad Pro: Overview
Release Date and Price
The long-awaited iPad Pro 2022 made its grand entrance on October 26, 2022, captivating tech enthusiasts and Apple fanatics alike with its remarkable features. With a starting price of $799, the 11-inch model caught the attention of the budget-conscious crowd. Meanwhile, the larger 12.9-inch variant, commanding a price of $1,099, aims to please the discerning enthusiast.
It's pretty clear by now that Apple is not focusing on the bottom end of the price range. So, do you really get your money's worth from these tablets? Or is it just the Apple premium?
Different Models
Apple offers two standard configurations for the iPad Pro:
11-inch Model
12.9-inch Model
Both 11-inch and 12.9-inch iPad Pros are similar in terms of price and specs, but the larger model has a more impressive 2,732 x 2,048 XDR display, making it perfect for the artist or professional hungry for extra screen real estate.
Features
Best Overall
Apple 2022 iPad Pro
Brilliant 12.9-inch Liquid Retina XDR display with ProMotion, True Tone, and P3 wide color
M2 chip with 8-core CPU and 10-core GPU
10MP ultra wide back camera, and LiDAR scanner for immersive AR
12MP ultra-wide front camera with center stage
Wi-Fi 6E
We earn a commission if you make a purchase, at no additional cost to you.
There are plenty of reasons to consider an iPad Pro. But the extensive feature set is definitely the biggest draw.
The iPad Pro offers an impressive array of features that upgrade the experience from the previous gen. Now, in the sixth generation, we finally get to enjoy all the capabilities of the M2 chip in tablet form. The advanced M2 chip, which has an 8-core CPU and 10-core GPU, delivers exceptional performance and more potent multitasking abilities than the old M1.
Moreover, you can capture photos and videos with the 12MP Wide and 10MP Ultra Wide rear cameras, enhanced by the LiDAR scanner for precise depth perception. Similarly, unlocking your device is effortless with the TrueDepth Camera and Face ID technology.
Specifications
| | |
| --- | --- |
| Operating System | iPadOS 16 |
| CPU | M2 |
| RAM | 16GB |
| Storage | Wi-Fi 6E, optional 5G |
| Display | 12.9 inches (2732 x 2048 pixels) |
| Front and Rear Cameras | 12MP wide |
| Video | Up to 4K at up to 60 fps |
| Wireless | Wi-fi 6E, optional 5G |
| Battery | 10 hours 39 minutes |
| Size | 11.04 x 8.46 x 0.25 inches |
| Weight | 1.5 pounds (Wi-Fi) | 1.51 pounds (Wi-Fi Cellular) |
| | |
iPad Pro: Review
Design
When it comes to design, the iPad Pro sticks to the legacy established by its predecessors. One of the standout features are its thin bezels, which create an even more immersive display experience that draws you into your content. The bezels elegantly frame the screen and allow for maximum visual impact while keeping the device size compact.
The iPad Pro is not just about looks, either. Thanks to its machined aluminum chassis, it remains durable and exudes a premium look and feel. The aluminum construction not only provides durability but also ensures a lightweight device.
Regarding color options, the iPad Pro only offers two choices: Space Gray and Silver. While many Apple fanatics crave a broader spectrum of colors, the simplicity is something we've come to expect from the company.
The iPad Pro features a button on the top right edge for screen locking and Touch ID. On the right side, there are two volume buttons for easy audio control. At the bottom edge, you'll find a single Thunderbolt 4/USB-C port for fast data transfer and connectivity. These strategically placed buttons and ports don't stray from the ergonomics of the previous generations. No surprises here.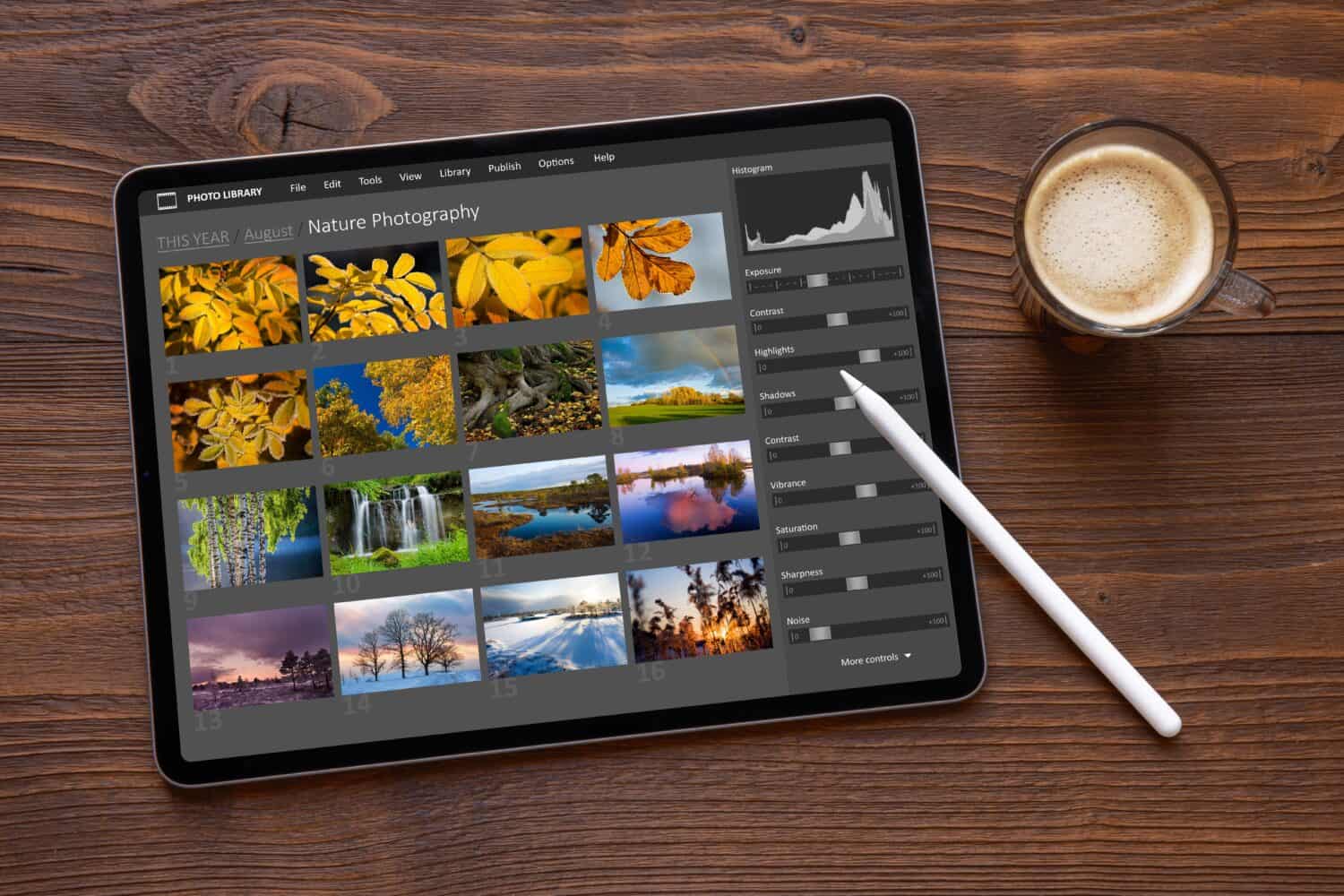 Display
This device offers a truly breathtaking visual experience with its expansive 12.9-inch mini-LED screen. The high resolution of 2,732 x 2,048 ensures that every image and video is rendered with exceptional clarity and detail. If you weren't counting, that's around 5.6 million pixels.
What sets this display apart is its impressive 120Hz refresh rate, which delivers buttery-smooth transitions and responsiveness. Whether you're scrolling through websites, playing graphics-intensive games, or using creative apps, the display's swift refresh rate enhances the experience.
Colors come to life on the iPad Pro thanks to its XDR technology. This advanced feature enhances contrast, resulting in deeper blacks, brighter whites, and a wide color gamut. Brightness is superb, with a maximum of 1000 nits, so you won't have trouble viewing the screen outdoors. Compared to previous generations, this iPad brings images to life with exceptional vibrancy like never before.
Whether you're watching a thrilling action movie or editing your own photos and videos, the display ensures that every visual element is showcased in stunning accuracy. Why bother turning on your TV when you have a miniature theatre in your hands?
Connectivity
When it comes to connectivity, the iPad Pro stands out with its 5G capabilities. Compared to older devices that were stuck with 4G, this is a huge leg up. This means faster download and upload speeds, so you can keep streaming or downloading without having to worry about slowdowns.
It is also no surprise that the iPad Pro comes with the latest Wi-Fi 6 and BlueTooth too. So, when you're not out on the roam, you can link up to your local Wi-Fi network.
When you're just hanging around the house, the iPad's powerful antenna will maintain a steady wireless connection. Plus, you can connect external speakers for jamming out or some Bluetooth headphones if you want to listen to music or watch a show on your own.
Face ID
The iPad Pro takes a step forward in biometric authentication by introducing Face ID, a feature that replaces the Touch ID fingerprint system. With Face ID, you can unlock your iPad Pro, access third-party apps protected by passcodes, verify purchases, and authenticate Apple Pay transactions.
Utilizing the advanced TrueDepth camera system, Face ID captures over 30,000 invisible infrared dots projected onto your face, creating a unique facial scan.
However, the iPad Pro swiftly reads the intricate dot map of your face using an infrared camera and converts it into a mathematical model with the powerful M2 chip. Within a fraction of a second, your face is recognized, and the device unlocks.
Face ID offers enhanced security compared to Touch ID, as photos, masks, or facial imitations cannot fool it. The "Attention Aware" feature ensures that the iPad unlocks only when your eyes are open, preventing unauthorized access.
I know what you're thinking — we've had face ID for a while, right? Yes! But the iPad Pro is significantly faster and more accurate than ever before. Ever had to do a double-take when your phone wouldn't recognize your face? That is a thing of the past with the iPad Pro.
M2 Chip
The 2022 iPad Pro models are powered by Apple's advanced M2 Apple silicon chip, which delivers exceptional performance. With its 8-core CPU, the M2 chip offers a significant 15 percent boost in speed compared to its predecessor, the M1 chip. This means faster and more efficient processing across a range of tasks.
Not only does the M2 chip excel in CPU performance, but it also features a remarkable 10-core GPU. This enhanced graphics capability translates to a remarkable 35 percent increase in graphics performance, allowing for stunning visuals and seamless gaming experiences.
The chip's power is further amplified by including a 16-core Neural Engine. Together with the CPU and GPU, they can handle an astonishing 15.8 trillion operations per second, a remarkable 40 percent improvement over the previous generation. This immense processing power enables smooth multitasking, speedy app launches, and enhanced AI capabilities.
In addition, this chip has a 100GB/s unified memory bandwidth, a 50 percent increase compared to its predecessor. This boost in memory bandwidth ensures smooth data transfer and quick access to information, enhancing overall performance.
Apple has also incorporated a new media engine and image signal processor in the M2 chip. These additions enable the device to support ProRes video, a professional-quality video format, for the first time. Transcoding ProRes footage is now up to three times faster, allowing efficient and streamlined video editing workflows.
Battery
The 11-inch iPad Pro is equipped with a 28.65-watt-hour battery, while the larger 12.9-inch model has a 40.88-watt-hour battery. The battery life of the iPad Pro is truly impressive for a tablet of this size, offering you the freedom to use your device throughout the day without constantly searching for a power source.
It comes down to more than just higher battery capacity, though. We can also thank the CPU for conservatively sipping energy.
With the power-efficient M2 chip, you can enjoy "all-day battery life" on both models. Whether you're browsing the web, watching videos, or working on your favorite apps, this iPad provides up to 10 hours of battery life. This means you can stay productive, entertained, and connected for an extended period.
Now, if you're relying heavily on wireless networking functions, you might lose some time. But for users of the WiFi + Cellular models who rely on the 5G connectivity, the iPad Pro still delivers up to nine hours of battery life while surfing the web.
Apple iPad Pro: Pros and Cons
Pros
Excellent Performance from the M2 chip
Huge XDR display
Impressive speakers
Great battery life
Cons
Limited color options
Inconvenient front-facing camera placement
The accessories can be expensive.
Apple iPad Pro: Is It a Buy?
Buy it if…
…You value top-notch performance.
The iPad Pro has a powerful M2 chip, offering some of the fastest processing and multitasking capabilities we have ever seen from a mobile platform.
…You crave a stunning display.
The iPad Pro features an 11-inch or 12.9-inch high-resolution display, depending on your preference. The 12.9-inch model even offers a Liquid Retina XDR mini-LED display, providing exceptional brightness, contrast, and color accuracy. If you're a graphic designer or artist, you can't go wrong with the iPad Pro's gigantic display.
…You need advanced camera capabilities.
With its 12MP Wide and 10MP Ultra Wide rear cameras and a LiDAR scanner for depth sensing, the iPad Pro allows you to capture professional-quality photos and videos. While most professionals might opt to use their DSLR or camera equipment, it is nice to have such a high-end camera built right into your tablet.
…You want a versatile and amazing multimedia experience.
The iPad Pro offers exceptional audio with its stereo speakers. Apple has come a long way from the early days of tinny, distorted sound on the earliest iPads. The latest generation iPad Pro has the most souped-up speakers of any iPad yet.
Don't Buy it if…
…You have a limited budget.
The iPad Pro is positioned as a premium device with advanced features, which comes with a higher price tag compared to other iPad models. If you're looking for a more affordable option, this might not be the best bang for your buck. If you're on a budget, you would be better off with other iPad models.
There are recent models available at a lower price point, or even previous generations which will work nearly as well. Check out the iPad Air or previous generations of the iPad Pro if you want a more cost-effective option.
…You primarily use your iPad for basic tasks.
If your main use for an iPad revolves around simple web browsing, email, social media, and consuming media content, the advanced features of the iPad Pro may be overkill for your needs. Of course, if money is no object, then why not get an overpowered device? But if you are trying to be practical, you can get the same basic functionality from a much cheaper device.
…You prefer a smaller or more portable device.
The iPad Pro is available in 11-inch and 12.9-inch sizes, which may be larger and bulkier compared to other iPad models or alternative tablet options. You wouldn't be considering the iPad Pro if you weren't looking for the largest tablet on the market.
Technically, you could probably find a bigger device, but the iPad Pro takes the cake for the largest, most powerful mobile platform on the market. If you don't enjoy the size, then look for viable alternatives like the iPad Mini.
Best Overall
Apple 2022 iPad Pro
Brilliant 12.9-inch Liquid Retina XDR display with ProMotion, True Tone, and P3 wide color
M2 chip with 8-core CPU and 10-core GPU
10MP ultra wide back camera, and LiDAR scanner for immersive AR
12MP ultra-wide front camera with center stage
Wi-Fi 6E
We earn a commission if you make a purchase, at no additional cost to you.
The image featured at the top of this post is ©Jes2u.photo/Shutterstock.com.