Key Points
The LG C3 is a mid-range OLED display that is popular among OLED TV enthusiasts and can serve well as a PC monitor.
One of the biggest complaints about the LG C3 is its lack of brightness, especially noticeable in game mode.
The LG C3 has no major improvements over its predecessor, the C2, making the C2 a better choice for budget-conscious users.
The sound quality of the built-in speakers on the LG C3 is average, and users are recommended to use an external sound system or sound bar.
The LG C3 does not have an ATSC 3.0 tuner, which is a disappointment for users wanting to watch 4K broadcasts of local stations.
What are the biggest complaints about the LG C3? The LG C3 continues on the stellar reputation held by the LG C series of televisions. The C3 is an updated revision of the previous C2, and has proven to be quite popular with OLED TV enthusiasts.
However, any television has its drawbacks, and the C3 is no exception. Critics and users alike have had some recurring complaints about the C3 and its place on the market in 2023.
If you've been debating purchasing one of these displays, then you will definitely benefit from reading over some of these.
What Is the LG C3?
The LG C3 is an OLED display that is a fantastic addition to any home theater setup. You get access to great colors, incredibly smooth motion technology, and impressive input latency. This is one of these televisions that is well suited for any situation and can even serve quite well as a PC monitor.
The C3 is a mid-range OLED from LG and sits below the G3 and premium Z3 models. As with other OLED displays, there isn't a traditional array of LED backlights for the LCD screen. Instead, it uses organic compounds to emit light.
This makes for a much thinner display than the likes of a QLED or QNED.
Advanced Features
LG C3 65-Inch OLED evo
LG ThinQ AI voice assistant included
Features Dolby Atmos technology
Superb contrast
Comes in a variety of sizes from 48 inches to 83 inches
We earn a commission if you make a purchase, at no additional cost to you.
Specifications
| | LG C3 |
| --- | --- |
| Resolution | 4K |
| Refresh Rate | 120Hz |
| Display Type | OLED |
| Contrast Ratio | Infinite:1 |
| HDMI Specification | HDMI 2.1 |
| Operating System | webOS 23 |
| Maximum Power Consumption | 239 watts at maximum |
| Screen Sizes | 42 inches to 83 inches |
Complaint #1: Lack of Brightness
The LG C3 features the same excellent contrast and dynamic control as the rest of the LG OLED display line. However, there is a distinct lack of brightness when viewing any sort of content. The display works quite well, make no mistake. However, this lack of brightness is noticeable, especially in game mode.
This is one of the biggest complaints about the LG C3 and is a recurring element that you'll see across quite a few reviews. The C3's lack of brightness can be compensated for in some measure, but will require fiddling with display settings.
Still, this is one of the rare instances where an upgrade to a product line has less peak brightness compared to its forebears. The C1 is noticeably brighter, just as an example.
Complaint #2: No Major Improvements Over the C2
Honestly, most users would be well-suited to just opting for the LG C2. You get roughly the same television, with only some minor improvements when opting for the C3.
You really start having to split hairs to determine where the modifications were made. The C3 is brighter, but not enough to notice with HDR content. It does have better upscaling and handling of legacy media formats. However, there are issues with that.
Excellent OLED Screen
LG C2 65-Inch OLED evo
Great contrast, deep blacks, and over a billion colors
8 million self-lit OLED pixels
Alpha 9 Gen 5 AI Processor 4K, exclusive to LG, intuitively adapts to what you're watching
LG Game Optimizer mode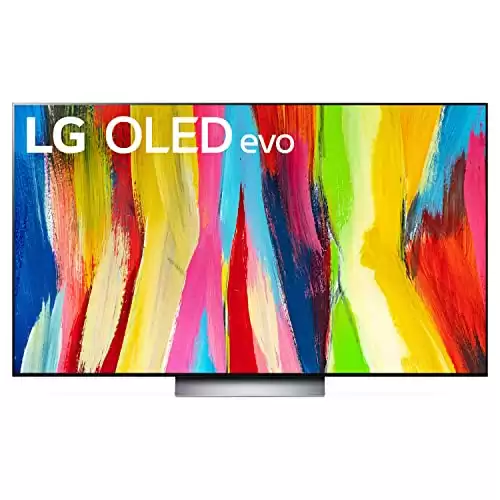 We earn a commission if you make a purchase, at no additional cost to you.
It does come with support for DTS audio codecs, which is crucial for using physical media like DVD and Blu-ray. That isn't to say you can't watch those on a C2, but the C3 will at least have richer sound support.
If you're on a budget, the C2 is still a very impressive offering and will save quite a bit from your final total. Users looking to purchase the C3 might be better served waiting a while longer for the eventual C4 to get the C3 at a substantial discount.
Complaint #3: Average Sound Quality
The speakers that come packaged with the LG C3 are probably the weakest point of the whole package. The C3's frequency response is alright; you'll have a lack of bass and highs like any other built-in speaker set.
However, other issues do arise with the speakers. For one, they don't get loud — there is a general lack of power when trying to push higher volumes. If you are pumping higher volumes out of the unit itself, then you'll get some awful-sounding artifacts.
Powerful Bass
Sony HT-G700
3.1ch Dolby Atmos DTS: X and Vertical Surround Engine
Immersive AE (Audio Enhancer) upscale audio closes to 7.1.2 for each sound
The wireless subwoofer delivers a powerful bass sound
Sound modes to customize listening
Multiple easy connections
We earn a commission if you make a purchase, at no additional cost to you.
They aren't the best at handling distortion, either, which is a shame considering the overall price point of the display. Harmonic distortion will be noticeable quite quickly when listening to very dense mixed material, like films or shows.
It does a fair job with music playback, but most users aren't purchasing an OLED display to listen to Spotify. You'll want an external sound system or soundbar to really get the best out of your C3.
Complaint #4: No ATSC 3.0 Tuner
There are still quite a few users watching terrestrial broadcasts. Users looking to get 4K broadcasts of their local stations will likely be disappointed with the tuner included on the LG C3. LG hasn't opted for upgrading the ATSC tuner to the latest standard; instead, it is stuck at 1.0.
Now, for some users, this might not be a deal breaker. However, this is another of the biggest complaints about the LG C3. If you want to watch local broadcasts, you're stuck with media at 1080p and upscaling.
Given the overall price of this television, this is a curious and disappointing omission. Still, LG will possibly address this with a future television set. For the time being, you might have to see if your local networks have an online streaming component to get your broadcasts in 4K resolution.
Complaint #5: Aggressive ABL
OLED displays utilize something called Automatic Backlight Limiting, or ABL. The ABL present on the LG C3 is one of the most aggressive implementations of this seen on an LG display. You'll notice quite quickly that content can get a bit muted, especially with whites and greens on the screen.
This aggressive ABL does lead to some potential issues, hindering the overall peak brightness of the television. Now, the LG C3 has great reflection handling and some impressively wide viewing angles.
However, if you're looking for a display capable of true whites and no banding in HDR content, this isn't for you. The aggressive ABL is one of the biggest complaints about the LG C3. Still, you could argue that it's there to prevent burn-in, which is a very real issue for OLED displays.
Complaint #6: Stuttering with Lower Framerate Media
When you have quite a bit of physical media, you're likely going to watch it on your TV. That's just common knowledge. The LG C3, and most OLED displays, suffers from poor support for lower framerate media.
Most films are shot at 24 frames per second, which doesn't pair well with the instantaneous response times of the C3. When you consider the LG C3 reacts to motion immediately, it makes for slower framerate media looking like it stutters in motion.
This is especially glaring with slower tracking shots, which are a staple for some directors like Martin Scorsese. Now, the LG C3 can handle this with interpolation and black frame insertion, but this is a subpar solution.
If you've got a lot of DVDs or Blu-rays, considering other options is definitely worth it. You might have to opt for those same films on streaming media.
Closing Thoughts
The LG C3 is a great television, but it isn't a perfect display. Most users would be better off choosing the older LG C1 or C2, as the improvements on the product line are marginal at best. For the time being, the LG C3 is an expensive revision of the C series of televisions.
The LG C series has been a great buy for mid-range OLED displays for a number of years, but it is a bit tough to recommend the C3. If you've already got access to a soundbar, the C2 is just an overall better choice.
You get the same great quality display with the aforementioned drawbacks to brightness, stuttering, and aggressive backlight limiting. However, you're saving quite a bit of cash just by choosing an older model.
Summary Table
| Complaint Number | Complaint |
| --- | --- |
| #1 | Lack of Brightness |
| #2 | No Major Improvements Over C2 |
| #3 | Average Sound Quality |
| #4 | No ATSC 3.0 Tuner |
| #5 | Aggressive ABL |
| #6 | Stuttering with Lower Framerate Media |
The image featured at the top of this post is ©Studio Romantic/Shutterstock.com.