Key Points
The Frame, a cross between a TV and a work of art, has some notable problems including a high price tag and added subscription fees for Samsung's Art Store.
Mounting The Frame perfectly is a challenge, as it needs to be hung higher than a conventional TV and close to the wall to look like art.
The One Connect Box requires special wiring, with the need to run a cable to the TV and limitations on cable length.
The Frame is more expensive than comparable TVs, such as the Samsung QN60C and LG C2 OLED TV.
The Frame's screen still glows even with art, and it is not the best TV in terms of display quality.
Samsung makes a variety of high-end TVs, but one that gets a lot of attention is The Frame. This cross between a TV and a work of art is amazing at first glance. However, reviews indicate there have been customer complaints. The Frame has some notable problems that you must know before buying. The biggest is the high price tag, plus the added subscription for Samsung's Art Store.
If you aren't concerned with the price, having to mount the TV and run wires to its location will certainly be a concern. At the end of the day, The Frame is neither art nor the best TV, meaning it does an okay job at both, but excels at neither. Instead, you are likely better off purchasing a high-end OLED TV and a nice work of art. Continue reading for an in-depth look into the six biggest complaints about Samsung's The Frame TV.
Subscription Fees
The first complaint about The Frame pertains to purchasing art to display. However, before we get into buying artwork, it is worth mentioning that you can display your own photos for free. Most people purchasing The Frame want it for artwork such as paintings. Samsung's Art Store is available on the TV to purchase art to display.
It's easy to purchase artwork to display, but the costs do add up. You can either purchase individual pieces in the Art Store or start a subscription. Strangely, Samsung doesn't even list details of the Art Store on its website and instead encourages going directly to the app on The Frame. At one time, the subscription was only $5 per month, but it has reportedly gone up to $7 or more.
There are also annual subscriptions that are upwards of $80. While that may not be a dealbreaker, it is money you could otherwise use for a streaming service. Samsung has also discussed discontinuing the purchase of individual pieces. That is unfortunate since buying a couple of portraits that you like probably makes more sense than dumping money into a subscription every month.
Even if you don't mind the subscription model that The Frame offers, you may have an issue with the variety offered. Unfortunately, Samsung has a limited number of partnerships and clearly leaves out some very famous artists. For instance, there are no offerings from Andy Warhol, Picasso, or Jackson Pollock. Therefore, you may be better off purchasing the digital files elsewhere and uploading them to The Frame.
Mounting It Perfectly
Most TVs are pretty easy to hang on the wall. You buy a compatible mount, bolt it to some studs and hang the TV on it. While it may be a little more complex than that, it isn't nearly as complicated as The Frame. The Frame uses a standard VESA mounting pattern, but different size TVs use varying hole spacing.
The biggest complaint about hanging The Frame is that it has to go up perfectly, or it will look out of place. For instance, you may mount a conventional TV about the height of your eyes when sitting on the sofa. However, that wouldn't work for The Frame if you want it to blend in as art. Therefore, you need to think about mounting from the perspective of hanging a portrait rather than a TV.
That means you will likely want it hanging about eye height when standing, which puts it higher than most people put a TV. Additionally, you won't want it sitting above an entertainment center because it throws off the illusion. It is a good idea that you think about the best place to put the TV before purchasing to ensure that it will work in your room.
The other problem with mounting is that it needs to stay close to the wall to really look like art. It actually comes with its own wall mount designed to fit flat up against the wall, but you cannot pivot the TV. There are also feet to put it on a stand. You can purchase an easel stand from Samsung, which lets you place The Frame freestanding, but that takes away from the art gallery feel.
The Control Box Requires Special Wiring
The next complaint is also in regard to mounting and setting up The Frame. This customer complaint focuses on the One Connect Box. The concept behind the box is actually genius. The One Connect Box is a receiver or hub that allows you to connect all of your devices to the TV without all of the unattractive wires hanging down. Then, one single cable goes to the TV itself. The problem is that you need to run the cable to the TV.
Samsung claims that the included One Visible Connection blends in with your wall. However, that is a lot of money to spend on a TV just to have a wire hanging from it. You will likely want to run the cable through the wall if you are mounting The Frame. That may be problematic if you are in an apartment or don't feel comfortable running wires through walls.
Another limitation is that the included cable is only 16 feet long. This may sound sufficient until you consider running it up into the attic and back down to where the box is.
It Is More Expensive than Comparable TVs
In the end, The Frame is just a QLED optimized for displaying certain images. Because of the dual uses, there are some tradeoffs, such as cost. A 65-inch version of The Frame has an MSRP of $1,999. For comparison, the 2023 Samsung QN60C has an MSRP of $999. Both TVs are the same size with 4K resolution and QLED technology.
For the price of The Frame, you can also upgrade to an 8K TV. Or, at this price range, there are plenty of other options, such as an OLED TV like the LG C2. This 65-inch TV currently retails for $1,499. Of course, most TVs won't display art, but OLED TVs provide a better viewing experience. Samsung is already an expensive brand when it comes to TVs, so the added cost of The Frame is a hard sell.
Excellent OLED Screen
LG C2 65-Inch OLED evo
Great contrast, deep blacks, and over a billion colors
8 million self-lit OLED pixels
Alpha 9 Gen 5 AI Processor 4K, exclusive to LG, intuitively adapts to what you're watching
LG Game Optimizer mode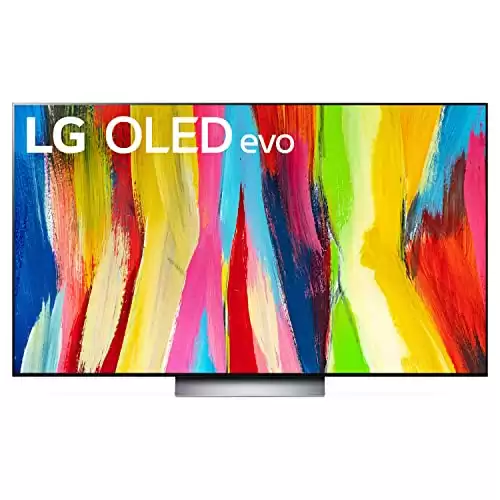 We earn a commission if you make a purchase, at no additional cost to you.
The Screen Still Glows, Even with Art
When looking at a TV, the screen is visible thanks to lights either behind or in the display. This light is critical to getting a bright image that is easy to see even in the lightest rooms. The problem is that a painting is the complete opposite since a canvas or paper is not illuminated. Instead, it relies on ambient light in a room rather than a backlight.
Because The Frame is actually a TV, it will always have light coming from behind it. In most cases, this light is very minimal and is just enough so that you can see the art. The problem becomes much more pronounced as the room gets darker since the image stands out. While this may not be an obstacle, it does ruin some of the illusion of The Frame as a work of art.
It Is Not the Best TV
Because Samsung really pushes The Frame as a work of art, it really doesn't have the best display when it comes to watching TV. With that said, the image is very good, and the TV has a high score on some review sites. However, there seems to be a tradeoff to get that portrait look. The main shortcoming of The Frame's picture is a lack of uniformity, which you can see on a single-colored screen.
The Frame may be a QLED TV, but one of the consumer complaints is it has poor brightness in HDR. Another issue is the viewing angle. Since it uses a vertical alignment LED display panel, it has high contrast ratios but narrow viewing angles. The image quality deteriorates when looking at an angle. In smaller rooms, this isn't as much of a problem, but some of your guests will definitely have a poor view in a large living room.
Alternatives to The Frame
With all of its complaints, The Frame clearly isn't for everyone, so we've put together a handful of great alternatives. Samsung makes some really impressive TVs, and in recent years they have released some really interesting designs. Of course, their conventional TVs are equally impressive. You may also want to consider options from other brands like LG or Sony.
Samsung's The Premiere
Incredible Detail
We earn a commission if you make a purchase, at no additional cost to you.
If you don't want a TV taking up a wall in your living room, then The Premiere may be an option. This 4K UHD Ultra-Bright projector uses laser technology which is much brighter than conventional projectors at 2,200 lumens. The benefit is that The Premiere can sit on a shelf and cast a massive screen on the wall. One downside is that it requires a projector screen for the best picture, but you can get a retractable one.
But because it sits on a shelf below where it casts, you don't need to worry about running wires through the ceiling or mounting it like a traditional projector. Additionally, it has inputs just like a TV, including a TV tuner. Unfortunately, The Premiere does come at a staggering starting price of $3,499 for the 120″ and goes up to $6,499 for the 130″ version.
Samsung QN90A QLED
Best QLED
SAMSUNG QN90B 65-Inch Class Neo QLED 4K
Samsung's ultra-precise Quantum Mini LEDs
Quantum HDR 32X
Neo Quantum Processor 4K uses AI-based deep learning to analyze content and optimize it to full 4K
Anti-glare
Ultra viewing angle
We earn a commission if you make a purchase, at no additional cost to you.
The Samsung QN90A is another great alternative to The Frame. It has similar display technology, but it addresses several of The Frame's issues with the viewing experience. Just like The Frame, it uses QLED display technology, but the image quality on the QN90A is superior. The Quantum Mini LEDs are more precise, controlling individual zones of light for brighter colors and better contrast. The QN90A also offers anti-glare and Ultra Viewing Angle so you have the same picture quality regardless of where you are seated.
Samsung's The Serif
Best TV With Stand
We earn a commission if you make a purchase, at no additional cost to you.
Finally, Samsung has The Serif, which is another unique product that shares some similarities with The Frame. Like The Frame, The Serif has an ambient mode that displays artwork and photos. The Serif also comes with a base so it can stand up in the middle of the room. The stand serves as a conduit for the cables, so there are no unsightly wires hanging down. The Serif is a 4K QLED TV like The Frame and the prices are likewise comparable.
Wrapping Up
If you are in the market for a TV and are considering The Frame, then you should carefully consider all of the complaints mentioned above. If the complaints do not bother you, then it may be a good option. Otherwise, you are likely better off purchasing a high-end OLED or QLED TV that will deliver a better experience for a lower price.
Summary Table
| Complaint | Description |
| --- | --- |
| Subscription Fees | Art Store subscription fees can add up, and the variety of art offered is limited. |
| Mounting it Perfectly | The Frame requires precise mounting to maintain the illusion of being a piece of art. |
| The Control Box Requires Special Wiring | The One Connect Box requires special wiring and the included cable may not be long enough for all setups. |
| It Is More Expensive than Comparable TVs | The Frame is significantly more expensive than other TVs with similar features. |
| The Screen Still Glows, Even with Art | The backlighting of the TV can disrupt the illusion of it being a piece of art. |
| It Is Not the Best TV | The Frame's picture quality and viewing angles are not as good as other TVs in the same price range. |