Key Points
The iPhone can be a powerful tool for capturing high-quality audio.
The three best ways to record audio on an iPhone are using the built-in Voice Memos app, the GarageBand app, or a third-party app like Voice Record Pro.
Tips for improving audio quality on an iPhone include ensuring no objects are blocking the microphone, switching the phone to Airplane Mode, pointing the microphone towards the sound source, and maintaining a reasonable distance between the microphone and the sound source.
The audio recording abilities of the iPhone have really improved over the years. Beyond the obvious camera evolution, its sound recording abilities have seen vast improvement too.
Newer iPhone models have the ability to capture high-quality audio that is clean, crisp, and well-defined. This has made them a powerful tool for capturing everything from casual conversations, meetings, song ideas, and more.
Follow along with us to learn the 3 best ways to record audio on an iPhone today, along with some tips to improve the quality of your audio.
Best Ways to Record Audio on an iPhone
There are several ways to record audio on your iPhone, but we'll focus on the 3 best methods that offer the best audio quality and are perfect for beginners.
Method #1: Using Built-in Voice Memos Feature
Apple has a built-in app called Voice Memos that's incredibly easy to use. It comes pre-installed on every iPhone, so there's no need to sign up or create an account. Simply open the app, tap the red circle to start recording, and hit the same red circle button when you're done.
It doesn't come equipped with great features that'll help you control sound quality, so you'll want to make sure you're in a quiet environment when using the app. However, there are some editing features like changing the playback speed, trimming, and even enhancing your recording. It's also very easy to organize your recordings within the app.
Method #2: Using Built-in GarageBand App
Another common way to record audio on your iPhone is using the GarageBand app. Like the Voice Memos app above, it comes pre-installed. If you're looking for more advanced features, then this could be a great option. Despite being an easy-to-use app, it still packs a lot of features like multi-track recording, looping, a library of musical instruments, and advanced editing tools.
Even if you're not using it to record music on the go, then you can use it to record meetings, podcasts, interviews, and more. Simply open up the app and then go to the Audio Recorder feature. Then, all you have to do is click the record button and the app will start recording your audio. You'll also get more control over your audio output and can adjust the tone, pitch control, drive, vocal hall, and compressor.
Keep in mind that Garageband can record studio-quality audio. However, a lot of this will depend on your equipment and studio setup. So, if you're using the built-in microphone, then the audio quality won't be as high. Still, you get access to more editing effects than the minimalist Voice Memos app.
Method #3: Using Third-Party Voice Record Pro App
Another great way to record audio on your iPhone is with the free Voice Record Pro app. This app is very minimalist while packing some advanced audio recording features. For example, you can manipulate the bit depth and sample rate, and encode the quality of your audio. You also can raise the playback volume and add effects like equalizers and reverbs.
Plus, you'll find a variety of preset options available which will automatically improve the quality of the audio. If you're recording longer audio, then you can also add notes to your recordings to help you remember what the recording is for. Once you're finished you can export the audio and send it via email or SMS, or send it to Google Drive, YouTube, SoundCloud, and more.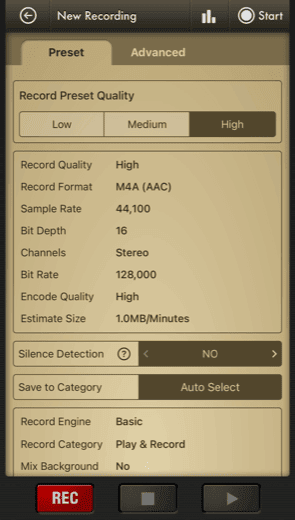 Tips for Improving Audio Quality
Using the apps above will help to record audio, but if you're trying to record the best audio quality possible, then check out the tips below. They'll help you make the most out of your recording without investing in any third-party equipment.
Make Sure No Objects Are Blocking Your Microphone
The iPhone's built-in microphones are small and can be easily covered. When you're recording, make sure no objects are blocking them, including your hand, phone case, or any other items. Obstructed microphones can cause muffled, distorted, or quieter sound, reducing the quality of your recording.
Switch Your Phone into Airplane Mode
Unexpected calls or notifications can disrupt a recording session. To prevent this, it's a good idea to turn your phone on Airplane Mode while recording. Not only will this eliminate the risk of interruptions, but it also helps reduce electronic interference that can sometimes affect audio quality.
Point Your Microphone Toward the Sound Source
When recording, aim the microphone toward your sound source. The closer the microphone is to the sound source, the more direct sound it can capture. This leads to a clearer and more focused recording. The iPhone has multiple microphones, and the bottom one is usually the main one used for audio recording. So, make sure the bottom of your phone is pointed at your sound source.
Make Sure Your Microphone Isn't Too Close
While it's essential to have your microphone close to your sound source, having it too close can cause problems. When a microphone is very close to a sound source, it can lead to a distorted and overly loud recording, a phenomenon known as clipping. Maintain a reasonable distance between your sound source and the microphone to avoid this. Experiment with different distances to find what works best for your particular recording situation.
Wrapping Up
Recording audio on an iPhone is now a pretty simple and convenient process. Whether you're using the built-in Voice Memos and GarageBand apps or using a third-party app like Voice Record Pro, you can easily record high-quality audio right from your phone. Just make sure to implement the tips above, so you're getting the best quality recordings possible, without investing in expensive equipment.
The image featured at the top of this post is ©XanderSt/Shutterstock.com.