Key Points
Our choice for the #1 Best Overall VHS to Digital Converter is Elgato Video Capture
The magnetic tape found in VHS cassettes tends to deteriorate over time, and eventually decay.
Transferring to a digital file makes the video content found on your old cassettes more portable and accessible.
A VHS-to-digital converter can help you pass down memories captured in your home movies to future generations.
After converting VHS video to a digital format, you can import the files into digital archives, edit them with digital editing software, and even upload them to social media platforms.
While home movies had existed for a while thanks to Super 8, it wasn't until the invention and proliferation of the VCR that home movies became a staple of everyday life. This revolution also saw a boom in video stores and rental companies as watching Hollywood films in the comfort of your own home became increasingly commonplace. VCRs allowed average people the ability to collect their own movie library, and camcorders meant most people had small libraries of home videos filled with memories.
Yet as technology shifted towards digital video, the old analog magnetic tapes sat on shelves. Many movie libraries were given to thrift stores, and home movie VHS tapes sat in closets, collecting dust. The problem with magnetic videotape is that it deteriorates over time. So if you are someone with a box of VHS tapes, and you want to convert them to a digital format in order to save them for posterity, you need a video converter.
So, after reviewing several options, our ranking for the best VHS to digital converters today is:
History Computer's Top Picks for VHS to Digital Converters
#1 Best Overall VHS to Digital Converter: Elgato Video Capture
Best Overall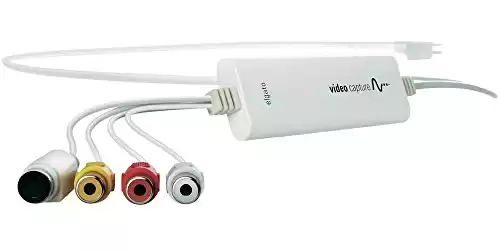 We earn a commission if you make a purchase, at no additional cost to you.
The transfer quality of the Elgato is second to none. Even though the product has been on the market for over a decade, it's still one of the best options out there for analog to digital conversions.
That being said, don't expect the result to be crystal-clear 4K video. Most old videos were created in a lower resolution to begin with, matching the picture quality of CRT TVs at the time. No matter how good the quality of the transfer is, the picture is still going to look a little muddy to a modern viewer. At the very least, the Elgato will give the most accurate digital conversion possible. Plus it will do a good job at preventing any further deterioration of picture and sound.
One of the best things about Elgato is that it supports a wide variety of video inputs including S-Video, RCA, and SCART. This means you shouldn't have any trouble connecting to just about any VHS player, recorder, or camcorder. It also comes with software that allows you to cut a clip from the video, but unfortunately, it won't let you make multiple clips. It's compatible with the most recent updates of Windows and macOS. It should be noted that it's one of the most expensive options here, but the quality is what brought it to the top of our list.
| PROS | CONS |
| --- | --- |
| It provides a high-quality video transfer. | The editing software provided lacks advanced features and customization tools. |
| Elgato is small, compact, easy to use, and effective. | It can't burn a video straight to DVD or Blu-Ray. |
| It can convert analog video to digital using a variety of inputs including S-Video, RCA, and SCART. | The cost is expensive for such a specialty item. |
Check out Elgato Video Capture on Amazon.
Best for Mac: Diamond Multimedia VC500MAC
Best for Mac
We earn a commission if you make a purchase, at no additional cost to you.
If you're a Mac-only user and you need a compatible VHS-to-DVD converter machine, you can't do much better than the Diamond Multimedia VC500MAC. It can convert videos from nearly any analog source and transfer them to digital formats like MP4 or DVD. Even better, it does so while producing high-quality footage that's accurate to the analog original.
The conversion software that is provided includes a few editing tools that offer some creative options. Sharing these digital videos on YouTube, Instagram, and Facebook is simplified by the provided software. It supports output files in a variety of formats, like MPEG-2, AVI, WMV, MP4, H.264, and MKV. The hardware is adaptable enough to be used with other video applications without sacrificing picture quality or file compatibility.
One drawback for those still using older Macs is that the VC500 isn't compatible with older versions of the macOS. A drawback for everyone is that no instructions are included, which means you'll have to search the internet for tutorials.
| PROS | CONS |
| --- | --- |
| It can capture videos from nearly any analog video player or recorder. | The software doesn't work with older Macs. |
| Powerful conversion software is included with the purchase of the machine. | No instructions are included for the software that comes with the machine. |
| The hardware is adaptable and can be used with other video editing apps. | |
Check out Diamond Multimedia VC500MAC on Amazon.
Best for Windows: Roxio Easy VHS to DVD 3 Plus
Best for Windows
We earn a commission if you make a purchase, at no additional cost to you.
Though only for Windows, the Roxio Easy VHS-to-DVD Converter is one of the most user-friendly VHS-to-DVD converters out there. Following a quick connection to your computer and a simple installation of the software, you're all set. Provided you have the right player, it can perform a large number of conversion tasks. Formats include VHS tapes, audio cassettes, vinyl records, and even CDs.
The software does more than just conversion, it can also edit and even clean up fuzzy footage. Basic color correction, tools to adjust lighting, and tools to remove noise and grain all come standard. It can also add DVD menus, overlay audio tracks, add seamless transitions, and end it all with the standard rolling credits. This handy bit of software can also record, convert formats, and burn it all to a DVD for you.
As with any product, the Roxio Easy VHS-to-DVD Converter has a few minor downsides. The biggest one is that it's not compatible with all versions of Windows, particularly the older ones. There have been reports of the software abruptly shutting down. When that has happened, apparently Roxio's customer support team hasn't always been helpful. On top of all that, Roxio doesn't offer any sort of warranty for this product which is a bit surprising given the high price tag.
| PROS | CONS |
| --- | --- |
| The software included has advanced editing tools. | Its software sometimes has compatibility issues with older versions of Windows. |
| The standard conversion speed is remarkably fast. | Some customers have reported poor customer support from the company. |
| Videos are all converted to a surprisingly high video resolution. | There is no SCART input in the hardware. |
Check out Roxio Easy VHS to DVD 3 Plus on Amazon.
Best Commercial Converter: Diamond Multimedia VC500ST
Best Commercial Converter
We earn a commission if you make a purchase, at no additional cost to you.
If you're serious about video, the Diamond Multimedia VC500ST is probably what you are looking for. First off, there is no computer required for the conversion process. Once the video player connects by either an RCA component or S-Video output, the converter requires nothing else in order to transform the analog file to a digital MP4. If you are looking for a machine that will burn your videos directly to a DVD, this one will leave you wanting, unfortunately.
However, the converter doesn't just do VHS tapes. It will record TV shows from standard cable boxes and even do screen recording from most gaming consoles. It comes with a 3.5-inch LCD screen, but you can also connect it to a larger screen via an HDMI cable.
The VC500ST can record playable or editable video files straight to an SD card or any kind of SSD Flash Drive. It produces standard MP4 files which can be imported into just about any video editing program. The software included does have the ability to convert recorded footage to other file formats besides MP4 if you need it, however.
| PROS | CONS |
| --- | --- |
| The software can skip unwanted scenes during the recording process without creating multiple files. | It only produces files in MP4 format. |
| It comes with a screen that displays videos being captured. | There are no storage devices included with the purchase. |
| It has the ability to capture from multiple video sources. | |
Check out Diamond Multimedia VC500ST on Amazon.
Best Budget Converter: Corel Dazzle DVD Recorder and Video Capture Device
Best Budget Converter
We earn a commission if you make a purchase, at no additional cost to you.
The Corel VHS converter comes equipped with both RCA and S-Video inputs. It connects to the majority of analog sources such as VHS, V8 camcorders, and even gaming consoles. It can also support standard analog video formats while exporting files directly to a DVD or other digital file formats.
Cables are not included, so you will have to purchase those separately before you connect to an analog video source. The converter is easy to use. After you complete the software installation and plug in any connectors, it's simply a matter of allowing the devices to synchronize. After that, recording and converting videos is a snap.
Some first-time users might find the software overly complicated and the converter's outdated drivers tend to slow down the installation. Those appear to be the only real downsides, however. Once you get a handle on the controls, however, the toolbox is an amazing asset. Users can trim and edit videos while also adding, effects, transitions, and titles. It also comes with some audio tools to help you change the soundtrack.
| PROS | CONS |
| --- | --- |
| You can transfer video from several kinds of analog players. | The software isn't very intuitive for beginners. |
| Supports a variety of video formats. | Any necessary cables and adapters must be purchased separately. |
| The conversion software that is included is packed with features. | The software's outdated drivers can create low-quality video transfers. |
Check out Corel Dazzle DVD Recorder on Amazon.
How to Pick the Best VHS to Digital Converter: Step by Step
When choosing a VHS to digital converter there are three main considerations for most buyers.
Type of converter
Features
Equipment needed
Let's go over each of these considerations in a little more detail.
Type of Converter
Your specific needs will determine what kind of video converter you should buy. You want to make sure you get one that performs the functions you need while not paying for functions you don't.
HDMI Converters
HDMI converters transform analog signals into digital via an HDMI. These converters typically lack the ability to store or digitize video files. Instead, they mostly connect an old analog video source to a modern one. They basically let you play video from a VCR, camcorder, or vintage video game console and play it on your digital TV, projector, or monitor.
USB Capture Devices
These devices take analog video, digitize it and convert it into files that can be transferred via a USB and stored on a computer. Once stored these files can be used for editing, playback, or uploading to social media. Unlike their digital capture card counterparts typically used by streamers and gamers, the VHS to USB capture devices have either RCA or S-Video jacks, allowing for analog input. That's why video conversion or video editing software is often included in the purchase of these devices.
Standalone Video Converters
Standalone video converters are intended for digitizing analog video and audio without the assistance of any additional equipment. Usually after converting the analog video, these devices will save the digital files to a memory card or external USB drive. These all-in-one devices also contain a display screen to help monitor the conversion process and replay the video. The entire process takes place in-unit, which means these machines do not require a computer. However, it also means that users have less control over the results.
Features
Different features will add different capabilities to your converter. It may be up to you which are a priority and which are not.
Upscaling
Most HDMI converters feature upscaling software, not just for resolution, but also aspect ratio. They can convert 480p video to 720p, 1080p, or even 4K, with a 16:9 aspect ratio. Though it should be noted that changing aspect ratios can change the framing of the image, often resulting in some of it being cropped out. And upscaling resolution may not always lead to crystal-clear images.
USB Ports
A lot of VHS-to-digital converters can draw power through a USB hookup. They can do so via a USB power adapter, or even draw directly from a USB port on a computer. Most video converters with a USB hookup can also transfer digital output to a device through a USB cable. A built-in USB port has many benefits that the majority of users would be able to take advantage of.
Display
Some video converters, particularly standalone ones, come with a built-in screen that allows you to watch the video content being converted, as well as the finished product. A convenience for some, and a necessity for those who do not have access to another playback device. There are also some standalone converters that only offer display output via HDMI, rather than having a built-in screen to watch video content.
Software
Certain devices come equipped with software that can enable the processing, viewing, and editing of recently digitized video. This software may be packaged with the device on a digital disc, or be available via a downloadable app. If you're considering a converter that requires software, make sure it is compatible with your OS. Also, look for one from a reputable and safe manufacturer, to mitigate risk.
Equipment Needed
Some converters require extra equipment that is not included upon purchase. If these are items you already have, it's no big deal. If not, you could be stuck buying an accessory that you may never use again.
Cables
A lot of video converters use HDMI for output and most of us have HDMI cables. However, do you have one ready and accessible, or will you have to unplug it from another device? Composite RCA cables may be needed to connect your old VCR. Some analog devices support S-Video which means you may need an S-Video cable.
USB Drives and Memory Cards
Some converters have storage devices built in, but most don't. Once you convert your VHS videos into digital files, you're going to need somewhere to store them. Most people don't realize just how much memory a video file can eat up. If you are converting a lot of videos you may need a USB thumb drive, SD card, or external hard drive.
What to Know Before Buying VHS to Digital Converter
Be sure the converter you buy has features that accommodate your specific situation. For example, check the video quality of the converter's output. If you want to upscale to 720p, 1080p, or even 4K, make sure your converter can accommodate it. Also, keep an eye on the type of connectors. You can't convert unless you have the ability to properly connect your VHS player or camcorder. If your converter doesn't have the right hookup, you may be stuck buying an adaptor.
Lastly, keep an eye on the warranty. It is not likely that a VHS-to-digital converter is something that you will get use out of for years to come. Knowing this fact, most VHS-to-digital converters on the market offer a one-year warranty. If you buy a converter and let it sit, that shorter warranty could be voided before you even take it out of the box. Make sure you convert those VHS tapes post-haste or buy a converter with a long-term warranty.
Using VHS to Digital Converter: What It's Like
A digital converter can be a great solution for someone who has old VHS tapes lying around the house. Converting those analog tapes into a digital format will make the videos easier to access, edit, and pass down for generations. You do want to use clean video sources whenever possible. Old, mildewed, or damaged VHS tapes won't provide a good picture no matter what kind of software you get. We recommend testing out a video converter immediately after purchase so you can still return it if there are any issues. Before you commit to converting your precious memories, you want to make sure that the specs, process, and quality match your needs.
Summary Table
| Rank | Converter |
| --- | --- |
| Best Overall | Elgato Video Capture |
| Best for Mac OS | Diamond Multimedia VC500MAC |
| Best for Windows | Roxio Easy VHS to DVD 3 Plus |
| Best Commercial Converter | Diamond Multimedia VC500ST |
| Best Budget Converter | Pinnacle Dazzle DVD Recorder and Video Capture Device |
The image featured at the top of this post is ©Vladimir Sukhachev/Shutterstock.com.