Key Points
Our choice for the #1 Best Overall TV under $2000 is the LG C2.
There are dozens of excellent televisions which cost under $2000 including many premium choices.
Both Samsung and LG are considered leaders at this price point but TCL and Sony also make great options.
Finding the right TV at any price point can be a challenge as the competition has all become so good, it's become very subjective as to which television qualifies as the best. Even so, you still want to make sure you are getting the best picture quality with outstanding sound as well as the most advanced smart features available. To that end, looking at the 7 Best TVs under $2000 will net you a host of really fantastic options. The best part is that you really don't need to spend more than this amount to get yourself a really great television so let's take a look at the best options you can pick up today. 
Just take a look at our roundup of the 7 best TVs under $2000:
#1 Best Overall: LG C2
Excellent OLED Screen
LG C2 65-Inch OLED evo
Great contrast, deep blacks, and over a billion colors
8 million self-lit OLED pixels
Alpha 9 Gen 5 AI Processor 4K, exclusive to LG, intuitively adapts to what you're watching
LG Game Optimizer mode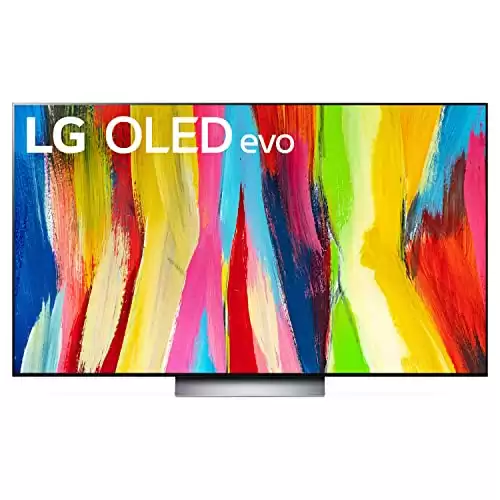 We earn a commission if you make a purchase, at no additional cost to you.
The $1,600 (65-inch) LG C2 has long been considered one of the best television sets and for all the right reasons. Powered by LG's OLED evo technology, the C2 offers some of the best-ever brightness seen on a television. More than eight million self-lit OLED pixels come to life in partnership with the C2's Alpha 9 Gen 5 AI Processor 4K to automatically adjust picture quality to whatever is on screen. Add in Dolby Vision and Dolby Atmos plus a Filmmaker Mode and the reasons to buy the LG C2 just keep piling on. 
As part of the huge pixel count, you'll find some of the deepest blacks ever on a television even as the Brightness Booster gives it 20% more brightness over previous LG TV models. Making great use of the deep blacks and excellent brightness is the C2's gaming mode which comes packed with features including NVIDIA G-Sync, ALLM, VRR and FreeSync Premium.
Last but not least is the LG C2's webOS platform for easily navigating to your favorite streaming service as well as support for Apple HomeKit, Amazon Alexa and Google Assistant. At the end of the day, this C2 the number one option within the category of Best TVs under $2000.
| Pros | Cons |
| --- | --- |
| Offers the best overall picture on the market today under the $2000 price point. | Overall brightness does not match that of the Samsung S95B. |
| The LG C2 offers some of the deepest blacks with its OLED evo panel. | The LG C3 is coming which is going to offer even better features for a similar price point. |
Check out the LG C2 on Amazon.
Best for Gaming: Sony X90K
Best for Gaming
Sony 75 Inch 4K Ultra HD TV X90K Series
Delivers deep blacks with high brightness with a truly life-like picture
Excellent for PlayStation 5 gaming thanks to input lag as low as 8.5ms
Google TV includes over 700,000 movies and TVs
Get hundreds of free streaming movies with BRAVIA CORE
We earn a commission if you make a purchase, at no additional cost to you.
Built with the PlayStation 5 in mind, the Sony X90K is an excellent gaming television that comes in a 75-inch model priced at right around $1,500. That's the perfect price point for the category of Packed with multiple HDMI 2.1 inputs for the fastest possible 4K/120Hz streaming with the PS5, the X90K also comes equipped with VRR and ALLM. Overall, the X90K should deliver an input lag as low as 8.5ms for the PS5 which is pretty great at this price point. 
When you're not gaming, the Sony X90K is still full of features including the arguably current best smart system on the market today with Google TV. Whenever you find a movie or show with one of your favorite streaming services, Sony's deep blacks and Contrast Booster 10 come to life for a true-to-life image that looks far better than the asking price. The same goes for real-world colors with Sony's XR TRILUMINOS Pro which provides billions of accurate colors for a realistic picture for both objects and people.
| Pros | Cons |
| --- | --- |
| The Sony X90K offers proprietary tech which really makes PlayStation 5 games shine. | The X90K doesn't offer the same picture quality as more expensive Sony televisions. |
| Equipped with multiple HDMI 2.1 inputs for futureproof hardware. | The Google TV experience might not be for everyone. |
Check out the Sony X90K on Amazon.
Best for Brightness: Samsung S95B
Incredible Brightness
SAMSUNG S95B 65-Inch OLED
Contains 8.3 million self-illuminating pixels
Built-in Dolby Atmos object sound tracking
Smart TV hub to help find movies, shows, and games you want to play
Xbox Game Pass built-in, no console necessary
We earn a commission if you make a purchase, at no additional cost to you.
Arguably Samsung's best television in recent memory, the Samsung S95B is one of the company's first OLED televisions and competes directly with the best overall choice, the LG C2. Even as these two televisions offer two of the best OLED panels on the market, it's the Samsung S95B that gets a little bit brighter which has benefits for both day and night viewing. 
Where Samsung also wins with the S95B is with Dolby Atmos and Object Tracking Sound which ensure wherever the action takes place on the screen is where you hear the sound originating. It's a unique experience that has quickly become one of the best reasons to pick up this television. Another win for Samsung is the Quantum HDR OLED, which is powered by a Neural Quantum Processor and includes 4K upscaling. All totaled, this is a lot of big words to say that colors pop beautifully and the S95B automatically adjusts the picture based on what you are watching.
Last but not least is the ridiculously thin design of the Samsung which all but eliminates the need for a bezel so you have nothing but a screen to enjoy.
| Pros | Cons |
| --- | --- |
| The Samsung S95B offers the best brightness levels in the sub $2000 market. | The gaming mode isn't quite as good as LG or Samsung. |
| As Samsung's first OLED panel, it absolutely hits a home run. | The larger prices of the TV can get well above $2000. |
Check out the Samsung S95B on Amazon.
Best Value: TCL 6-Series
Best Value
We earn a commission if you make a purchase, at no additional cost to you.
TCL 6-Series of televisions has long been viewed as the best value in all of 4K television. With a 75-inch unit coming in at just under $1,800 MSRP, it fits well within your $2000 max range. For the price, you get TCL's best 4K screen with Mini-LED QLED technology plus Dolby Vision HDR for a truly lifelike picture. The mini-LED tech increases overall brightness and contrast to TCL's best levels in its 4K lineup. 
As good as the screen is, one of the biggest highlights of the TCL 6-series is the use of Roku as the smart operating system. One of the most intuitive smart systems around, Roku is also one of the most prolific smart systems on the market for televisions and it shows with one of the best lineups of free channels and streaming service apps.
A simplified remote with voice control makes it super easy to navigate the Roku menu structure or connect the TV as the centerpiece of your smartphone. Alternatively, you can also simplify everything and use the Roku app to control your television directly from your smartphone.
| Pros | Cons |
| --- | --- |
| Absolutely the best value on the market today for a 4K television. | The TCL lacks a lot of the updated features its LG and Samsung rivals offer. |
| The Roku interface is as good as it gets when you just want to click and go. | TCL doesn't upscale content the same way LG or Samsung do. |
Check out the TCL 6-Series on Amazon.
Best for Gallery Feature: LG G2
Best Dual Purpose
LG G2 Series 65-Inch Class OLED EVO
8 million self-lit OLED pixels provide stunning depth and clarity in 4K resolution with Dolby Vision HDR
Gallery Edition hangs closely to the wall and displays art photography when not in use
Ideal for gamers with a VRR, ALLM, and Game Optimizer Mode
Alexa-enabled with streaming support for HBO Max, Disney+, Hulu, Netflix, and more
We earn a commission if you make a purchase, at no additional cost to you.
Priced just pennies below the $2000 ceiling, the LG G2 has been the flagship LG television for the last 12-plus months. The older sibling to the best overall choice with the LG C2, the LG G2 takes everything about the C2 and makes it better, albeit at a higher cost. Also running an OLED evo panel, the G2 offers Gallery mode which is a nicety that allows the television to function as something of an art piece when it's not in use for streaming the latest Netflix hits. 
The Alpha 9 Gen 5 AI Processor 4K automatically adapts all of the content you are watching to provide the best possible picture as well as upscales non-4K content as high as possible. Dolby Vision IQ and Dolby Atmos also jump out as big benefits to overall picture quality and help hype the G2 as one of the best televisions LG has ever made.
Of course, as an LG flagship you expect strong gaming capabilities and Game Optimizer mode includes an array of features like VRR to ensure motion is as fluid as possible while on screen.
| Pros | Cons |
| --- | --- |
| The LG G2 is LG's flagship television with its best-in-class brightness and deep blacks. | Any size of the LG G2 over 65 inches is going to blow by the $2000 price point. |
| Offers a Gallery Mode which can turn the G2 into an art piece when not in use. | The LG C2 is an overall better value for most people costing hundreds less. |
Check out the LG G2 on Amazon.
Best Smart Features: Amazon Fire TV 
Best Smart Features
Amazon Fire TV 75″ Omni QLED Series 4K UHD Smart TV
Stream over 1 million movies and TV episodes across Prime Video, Netflix, Disney+ and more favorite streaming services.
Hands-free TV support with Alexa built-in so you can turn on the TV and find something to watch all through voice control.
Adaptive brightness helps the Fire TV automatically adjust to different ambient lighting.
All-in-one smart home hub for apps, TV and more.
We earn a commission if you make a purchase, at no additional cost to you.
As good as Roku is across the various televisions it's built-in with, the price-to-feature ratio for the Amazon Fire TV in its 75-inch size is hard to beat. Coming in at $899, you get more than one million movies and TV episodes across subscriptions to services like Netflix, Prime Video, Disney+, HBO, and more. Launching all of these shows is one of the ways the smart features stand out as you can do everything via voice command. Alexa support means the microphones built into the television can hear you ask to turn the TV on or launch a movie on a specific streaming service. 
The QLED picture comes alive on the 4K display with Dolby Vision IQ, HDR10+, and full array local dimming for the best contrast at this price point. Colors look superb for being under $1,000 and adaptive brightness ensures you just get the right level of brightness control whether you are watching during the daytime or in the evening. When you look at the Best TVs under $2000, this is half the price of the ceiling and provides 90% of the quality of the best option.
| Pros | Cons |
| --- | --- |
| The Amazon Fire TV is an excellent value for most buyers who don't need lots of bells and whistles. | The Amazon Fire TV smart system prioritizes Prime Video above other streaming services. |
| Works excellent if you are deep in the Alexa ecosystem. | Fire televisions lack a lot of the better qualities like deeper blacks and increased brightness. |
Check out the Amazon Fire TV on Amazon.
Best for Budget Buyers: TCL 5-Series 
Best for Budget Buyers
We earn a commission if you make a purchase, at no additional cost to you.
If you're not dead set on getting anything more than a 55-inch television, the best budget option out there is the TCL 5-Series for $450. Offering a fantastic 4K price for the price, you get Dolby Vision HDR for a lifelike picture plus HDR10, HDR10+ and HLG for even better contrast and brightness. TCL's AiPQ Engine uses AI to automatically adjust picture quality so you have the best possible picture no matter the level of ambient lighting. 
For gamers out there, the TCL 5-Series offers an Auto Game Mode to make sure the picture looks as good as possible with the lowest latency. While the 5-Series lacks HDMI 2.1 ports, the TCL still works to make sure your gaming experience is more refined than non-TCL televisions which includes the addition of VRR.
The Roku interface is simplified compared to something like the Amazon TV but it also remains one of the most easy to navigate which is a huge bonus for TCL buyers. Plus, you have built-in support for Alexa, Google Assistant, and Apple HomeKit.
| Pros | Cons |
| --- | --- |
| An overall excellent value for the price point for budget buyers who just want something good. | The TCL 6-series is double the price but also double the quality. |
| Roku televisions remain the north star for simplified menu systems for smart TVs. | Auto Game Mode sounds really great but it doesn't compete with LG's Game Optimizer Mode. |
Check out the TCL 5-Series on Amazon.
How to Pick the Best TVs Under $2000: Step by Step
When looking at the Best TVs under $2000 on the market, you should evaluate a few of the following considerations:
Smart TV Features
Price
Screen Size
Gaming
Smart TV Features
You'll be hard-pressed to find a television these days without some sort of smart features which makes buying the right one even more important. Between Google TV, Roku, Fire TV, webOS, and Tizen, there is no shortage of options on the market for customers to consider. A lot may depend on personal preference as many people like Roku for its simplistic layout or choose a Fire TV because they are all-in on Amazon's Alexa platform.
Price
As all of the TVs on the list are $2000 or under, some far under, price is still a factor regardless. Long gone are days when you have to spend upwards of three or four thousand dollars in order to get the latest and greatest features. Instead, you can spend a little under $500 in the case of the TCL 5-Series and get a television that is full of rich streaming support plus a little bit of love for gaming. On the flip side, paying more does get you more with improved brightness, stronger contrast, and a more lifelike picture plus a richer audio experience.
Screen Size
Looking at screen size is definitely a subjective question that has a lot of answers. For the most part, any TV on this list, all of which come in multiple sizes, will still cost you under $2000. The real question is how much room you have for a television and how much television you want. After you determine the answer to both of those questions, then it's just a matter of how much you want to spend.
Gaming
As millions of gaming consoles are sold every month across the likes of Sony, Microsoft, and Nintendo, gaming features are now a critical feature element for all TV manufacturers. The Sony X90K is designed specifically to give PlayStation 5 owners the very best experience while the LG C2 and its Game Optimizer mode will offer outstanding gaming quality regardless of the console. At the very least, you want to look for HDMI 2.1 ports that work best with the latest generation of consoles plus features like VRR and ALLM.
Using the Best TVs Under $2000: What it's Like
No matter what size you go with or what brand you buy, a good television is going to make all the difference in how much you enjoy viewing programs. Washed-out colors, poor software, or not enough brightness and these factors can immediately ruin your experience and potentially force you to turn off whatever you are watching.
The thing with televisions, even the Best TVs under $2000, is that when you see something like the LG C2 or Samsung S95B is that everything else becomes difficult to compare. Ultimately, the picture of the C2 is better than the TCL 6-series but the latter is also a much better value. Using the TCL is also a better overall smart experience as Roku is a joy to navigate whereas webOS for LG has more of a learning curve. It's these subtle differences that can make a huge difference over time and really become subjective factors.
Roku is very much set up and go and that's a huge plus for TCL as is Google TV for the Sony X90K. The latter is also immediately going to shine as soon as it's connected to a PlayStation 5 which is important for buyers of the most popular console on the planet these days.
The image featured at the top of this post is ©Eric Broder Van Dyke/Shutterstock.com.