Key Points
Our choice for the #1 Best Overall TV under $1800 is the Samsung QN75Q70C 75-inch.
The best TVs under $1800 offer a compelling combination of stunning picture quality, performance, and value, making them an excellent choice for budget-conscious buyers looking to upgrade their home entertainment experience.
When you're shopping for the best TVs under $1800, consider factors like screen size, display technology, and connectivity options.
We are in the era of huge TVs. A decade or so ago, 30-inch TVs were considered big. However, today, such sizes are minute when compared to the 75 or 98-inch gadgets that are in vogue. While TV sizes have been increasing, and are expected to increase further in the future, the good news is that you don't have to spend a fortune to get these awesome gadgets. For less than $1800, you can purchase a quality TV.
Whether you're a casual viewer or gamer, in this price range, you can get an awesome and totally satisfying product. Of course, there are TVs that cost thousands of dollars. However, if you don't want to splurge on pricey gadgets, you're guaranteed to find a TV that will meet most of your needs for less than $1800. While the ostentatious TVs are packed with more features and are superior in many ways, lower-priced TVs are also feature-packed. In the under $1800 range, you can still expect to find sizeable TVs with great resolution, high connectivity, and durability, among other attractions.
To help you find a quality TV at a reasonable price, read on to find out the five best TVs under $1800 you can buy today:
#1 Best Overall TV Under $1800: Samsung QN75Q70C
Best Overall
We earn a commission if you make a purchase, at no additional cost to you.
The Samsung QN75Q70C has all the attractive features you normally expect from pricier products, making it our choice for the #1 Best Overall TV under $1800. First, this TV's picture quality is outstanding thanks to its 4K screen and its 120Hz refresh rate. The 4K processor works to improve contrast, render color accuracy, and improve shadow details. To make TV watching comfortable for your eyes, the Samsung QN75Q70C has the EyeComfort Mode feature, which assesses your room's brightness and adjusts contrast settings appropriately.
The Samsung QN75Q70C is a highly connectable gadget that comes with 4 HDMI 2.1 ports, 2 USB 2.0 inputs, an Ethernet port (to make access to the internet possible), an RF port, and a Toslink audio port. Where some TVs in this price range suffer from less than satisfactory audio, the Samsung QN75Q70C has reasonably good sound courtesy of its two built-in 20-watt speakers.
If you need to enhance the audio quality further, this TV is compatible with select soundbars from Samsung. You can also connect the TV to external speakers or use headphones. The TV has a host of smart features. It comes with built-in Google Assistant, Bixby, and Amazon Alexa. If you need to access content from Apple, the TV has also built-in Apple Airplay.
| Pros | Cons |
| --- | --- |
| It has exceptional picture quality thanks to its 4K resolution, which provides stunning clarity and detail. | Sound quality is not on par with the TV's other good features. |
| The TV has a high refresh rate, which ensures smooth and fluid motion on the screen. | |
| This product is competitively priced, making it an affordable option for consumers, while still offering comparable features and performance to some of the pricey high-end products in the market. | |
| A host of smart features make this TV a good addition to a smart home. | |
Check out the Samsung QN75Q70C on Amazon.
Best Picture Quality: LG C2
Best Picture Quality
LG C2 65-Inch OLED evo
Great contrast, deep blacks, and over a billion colors
8 million self-lit OLED pixels
Alpha 9 Gen 5 AI Processor 4K, exclusive to LG, intuitively adapts to what you're watching
LG Game Optimizer mode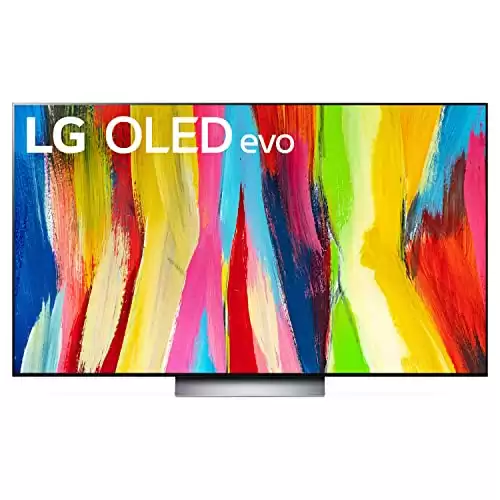 We earn a commission if you make a purchase, at no additional cost to you.
The LG C2 has a gorgeous 65-inch OLED display that offers superb picture quality. OLED technology produces bright and true-to-life colors by offering limitless contrast and deep dark levels. The experience is further enhanced by the color accuracy and wide viewing angles, which let you enjoy the content from various locations around the room. The LG C2's support for Dolby Vision and HDR10+ guarantees high dynamic range and brilliant images with increased details in both bright and dark environments. Because of the TV's fluid motion handling, it is perfect for watching sports or playing action-packed games.
On LG's WebOS smart platform, the LG C2 offers a user-friendly interface with simple navigation and access to a number of streaming services. For gamers wishing to take advantage of features like variable refresh rate (VRR) and Auto Low Latency Mode (ALLM), it offers a wide range of connecting choices, including HDMI 2.1 connectors.
Even though the LG C2 Series 65-Inch offers many benefits, it's vital to take into account its disadvantages. First, compared to other models on the market, it is rather pricey. Additionally, compared to other TVs, it has a lower peak brightness, which may impair the viewing experience in well-lit spaces. Last but not least, OLED screens are prone to burn-in, especially when displaying static images for prolonged periods.
| Pros | Cons |
| --- | --- |
| It boasts a stunning OLED display that captivates viewers with its impeccable picture quality, showcasing rich and deep blacks that add depth and intensity to every scene. | The TV is relatively expensive compared to other models. |
| With its outstanding color accuracy and wide viewing angles, the LG C2 ensures that you enjoy vibrant and lifelike colors from any seat in the room. | It has limited peak brightness compared to some LCD TVs. |
| The TV has Dolby Vision and HDR10+ support for vibrant visuals. | |
Take a look at the LG C2 on Amazon today.
Best Features: Hisense ULED Premium U7H
Best Features
We earn a commission if you make a purchase, at no additional cost to you.
For consumers looking for a high-quality television with impressive features, the Hisense ULED Premium U7H is a great pick. One of its most impressive features is the Quantum Dot Display which produces vivid, life-like colors that boost picture quality. The large color spectrum offered by this technology increases visual realism and immersion.
The TV has local dimming zones, which enable fine adjustments to backlighting and produce deep blacks and better contrast. The fact that this television supports both the Dolby Vision and HDR10+ formats is one of its key advantages. By dynamically altering brightness, contrast, and color, these technologies boost picture quality and produce spectacular visuals with improved detail in both bright and dark environments.
The U7H 75-inch excels at handling motion blur and minimizing lag during hectic action sequences. For gamers and sports fans who demand fluid and smooth images, this feature is especially useful. Plus, the voice control capabilities enable users to control it verbally. Allowing customers to operate the television without using a remote control improves convenience and usability.
Despite its awesome qualities, some minor drawbacks are quite evident. Even though the TV supports HDR, the HDR experience may suffer as its peak brightness for HDR content is lower than that of some higher-end models.
| Pros | Cons |
| --- | --- |
| It features local dimming zones, which enhance the overall contrast and black levels of the picture. | Although it supports HDR formats, the peak brightness level may not be as high as some high-end models. |
| The TV supports advanced HDR formats such as Dolby Vision and HDR10+. | |
| Thanks to its smooth motion-handling capabilities, it delivers fluid and seamless motion during fast-paced action scenes or sports events. | |
| It offers voice control functionality, allowing you to navigate the TV's features and control various functions using voice commands. | |
Check out the Hisense ULED Premium U7H on Amazon.
Best for Small Rooms: Sony X85J
Best for Small Rooms
Sony X85J 43 Inch TV
4K HDR Processor X1 delivers vivid colors and exceptional contrast
Native 120Hz refresh rate
4K database upscales all of your HD content to near-4K resolution
Supports HDR and Dolby Vision
Works with Alexa
We earn a commission if you make a purchase, at no additional cost to you.
The Sony X85J is a television with a ton of features that provide an immersive watching experience and is ideal for people with small rooms. Thanks to the cutting-edge technology used, the TV provides great picture quality. It's also stylishly designed and will enhance the décor of any room you put it in.
To guarantee high picture quality, the Sony TV utilizes a 4K Ultra HD resolution with HDR support. The Triluminos Pro display technology enhances the color gamut, resulting in a lifelike viewing experience. This is coupled with Sony's X-Motion Clarity technology, which minimizes motion blur, ensuring smooth and clear action sequences. This is particularly beneficial for sports and other fast-paced content.
The TV also incorporates two sound positioning tweeters at the rear of the display, delivering an immersive audio experience. The Acoustic Auto Calibration feature optimizes the sound output based on the environment. With the Sony X85J 4K Ultra HD LED 43-Inch, you get great value for your money.
| Pros | Cons |
| --- | --- |
| The powerful TV processing enhances the picture quality, delivering a smooth and clear image with rich colors and detailed contrast. | Limited viewing angles may affect picture quality in some cases. |
| With Google TV integration, you can seamlessly browse and access a vast library of movies and TV episodes from various streaming services, all in one place. | |
| With HDR and Dolby Vision support, this item offers an immersive and engaging cinematic experience. | |
Take a look at the Sony X85J on Amazon.
Best Smart TV: TCL 6-Series R635
Best Smart TV
TCL 65-Inch 6-Series R635
Dolby Vision HDR
3840 x 2160 panel resolution
Quantum Dot Technology (better brightness and wider color volume)
Up to 240 localized zones for a striking contrast
Roku Smart TV
We earn a commission if you make a purchase, at no additional cost to you.
The TCL 6-Series R635 is a well-liked smart TV with excellent picture quality and an easy-to-use UI. Its stylish design and easy access to smart features make it ideal for any family home. Some of the outstanding features of this TV include exceptional picture quality courtesy of its 4K Ultra HD resolution, Dolby Vision HDR, and Contrast Control Zones technology. This combination delivers deep blacks, vibrant colors, and excellent contrast, resulting in a visually immersive experience.
The TV is powered by the powerful Roku OS that provides a seamless and intuitive user interface. Roku offers a vast library of streaming apps, including popular services such as Netflix, Hulu, and Amazon Prime Video. The Roku Channel allows users to access a wide range of free content. While the TCL 4K Roku TV 6-Series is available in sizes ranging from 55 to 75 inches, the 65-inch model price is a steal for such a good product. The TV has Mini-LED backlighting on an LED screen for improved contrast and brightness. To ensure screen smoothness, the TV has a refresh rate of 120Hz.
For seamless connectivity with other devices, the device has several HDMI ports, USB ports, Ethernet, and Wi-Fi. It also offers Dolby Atmos support and its integrated premium speakers provide an immersive audio experience.
| Pros | Cons |
| --- | --- |
| It provides an exceptional visual experience with its high-quality display. | In some fast-paced scenes, it may exhibit occasional motion blur. |
| With its integrated Roku platform, this TV offers a user-friendly interface that is intuitive and easy to navigate. | While the Roku interface is user-friendly, some users may find the customization options to be limited compared to other smart TV platforms. |
| The TV provides access to a wide selection of streaming apps, ensuring that you can enjoy a diverse range of content. | |
Check out the TCL 6-Series R635 on Amazon.
How to Pick the Best TVs Under $1800: Step by Step
While a TV under $1800 is considerably inexpensive when compared to the wide range of pricey TVs, there are some crucial considerations that you should take note of to acquire a quality product. The most important considerations are:
Price
TV Size
Resolution
Smart Features
Speaker Performance
TV Connectivity
Let's look at these categories closely.
Price
Price is an important consideration and, as you might have noticed in our review above, you can spend a few hundred dollars on a quality TV. What might puzzle you is the close price range for TVs from different manufacturers. When you visit the store and find negligible price differences between products from competing manufacturers, read product reviews from independent reviewers and past buyers.
While reviews might vary widely, it is typically better to purchase a product from a respected brand name. In the TV manufacturing industry, some companies such as LG, Samsung, Vizio, and Sony have made a name for themselves due to their reliability. If you find a similarly-priced product from a newer company, you're safer with the big brand product.
TV Size
The desire for a huge TV is almost a craze today. We repeatedly hear, "Bigger is better." Of course, a big TV may be better than a smaller-sized one. However, just because you saw an awesome behemoth in your friend's living room, that doesn't necessarily mean such a gadget would be good in your home.
Choosing the wrong size TV could be one of the worst mistakes you could make. If, for instance, you choose a 100-inch TV for a tiny living room, it would be out of place and it would dominate the room. It is important to remember that TV size influences price and picture quality.
To make sure that you're buying a TV that will fit well in your space, consider where you'll sit when watching and the distance between you and the TV. If you sit 10 feet (or 120 inches) from the TV, for example, divide 120 by two. That equals 60, so the ideal TV for such a room is a 60-inch TV. Similarly, a 70-inch TV would be ideal for a large room and a viewing distance of 140 inches.
Resolution
A TV's resolution determines the picture quality. This will be one of the most crucial considerations when you're buying a TV. For TVs under $1800, you have a wide range of TVs with varying resolutions, so you should ideally aim for the TV with the highest resolution. The terms used to describe resolution could be a bit confusing, but the TVs in this price range most likely have Ultra HD, 4K, or 8K resolutions. This means that a 4K resolution TV has double the pixels of the Full HD one and an 8K resolution TV has four times the number of pixels as the 4K TV.
If you plan to use your TV to watch video content or for gaming, you might get disappointed if you choose a low-resolution TV. When you can afford it, and depending on the content you wish to watch, always choose a high-resolution gadget.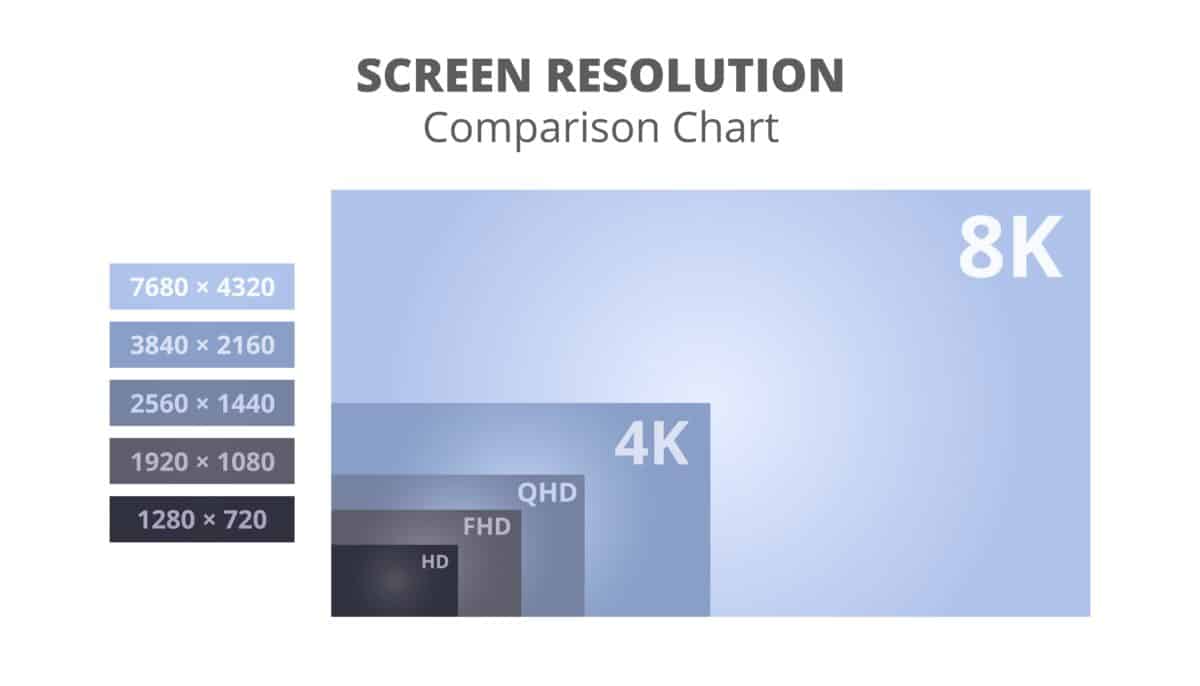 Smart Features
Most modern TVs come packed with a full array of smart features. If you need to access content online, you're best off with a smart TV. Such TVs enable you to watch content from YouTube, access Netflix, converse on social media, listen to music, and play games, among other desirable attractions.
Modern TVs have evolved quite dramatically from the era in which TVs were primarily used to watch the news or an occasional football match. Investing in a smart TV should be a prime consideration, especially when you live in a smart home. Just as you control other home gadgets remotely, you'll be able to do so with your smart TV.
Speaker Performance
While there are some ultra-thin modern TVs that produce awesome sound, the majority of TVs today have audio qualities that are far below the picture quality. It can therefore be disappointing if you invest in a pricey TV to watch action movies. The less-than-optimal sound quality you get from many modern TVs may not be able to match the on-screen action
To get the sound quality you need from many TVs today, you might wish to invest in a soundbar. Should your budget not run to a high-end soundbar, consider connecting your TV to stereo speakers or an amplifier.
TV Connectivity
How many gadgets do you wish to connect your TV to? Do you have media stored in your laptop or smartphone that you might want to watch with others on the big screen? If you do, you must consider investing in a TV that is highly connectable.
A TV's connectivity refers to the number of HDMI and USB ports it has, as well as how easily you can use the TV to access internet content. A good TV should have multiple HDMI and USB ports and come with built-in Wi-Fi and Ethernet ports. A connectable TV will help you access media from many gadgets in your home, making your TV a true entertainment hub.
What to Know Before Buying the Best TVs Under $1800
As noted earlier, TVs in this price range come packed with a host of attractive features. However, it is important to remember that while TVs under $1800 could possess similar features as more pricey TVs, your experience with a lower-priced TV might not be as satisfactory as what you would experience with higher-end products. Although they might advertise the same features, performance varies. Expensive gadgets typically have better technology and their performance is exceptional. It may be worth saving until you can purchase a TV that better suits your preferences.
When you require speed for gaming or action-packed content, lower-priced TVs load more slowly than their more expensive counterparts. Picture quality is a prime consideration when you're buying a TV. However, that does not mean you're out of luck. There are plenty of TVs with 4K resolution under $1800. Moreover, there are plenty of TVs in this price range that have 120Hz refresh rates, which leads to further enhancement of picture quality.
Another thing to consider when buying TVs in this price range is whether you're buying a brand-new or a refurbished product. While there are sometimes good reasons to be wary of refurbished gadgets, such as a lack of information about the TV and the possibility of hidden defects, not all refurbishments should be written off.
Since refurbished TVs are usually cheaper than brand-new ones, try to look for a refurbished gadget that is certified by the manufacturers. Such products are not only less expensive, but they also come with a warranty from the manufacturer.
Using the Best TVs Under $1800: What It's Like
There are several TVs in the under $1800 price range that have immense screens, so if you crave a big screen, you can get one for less money. What this ultimately means is that you can get a quality product for your large living room.
The under $1800 price range also has your needs covered if you have smaller rooms. If you live in a small apartment and need a TV that won't dominate your space, you can get quality small-screen TVs for less than $1800. In this price range, expect higher resolution, and over 60Hz refresh rates for better picture quality and smoother performance. Whether you're a gamer or casual TV watcher, you're certain to find a high-quality product for under $1800.
The image featured at the top of this post is ©iStock.com/Robert Daly.