Key Points:
Our choice for the #1 Best Overall TV that looks like art is the Samsung Frame.
Televisions don't have to be blank, black screens when not in use. They can also be aesthetically pleasing.
TVs that look like art can display your own photos or other visuals.
When shopping for TVs that look like art, here are a few things to keep in mind when looking for the best frame TV: the thickness of the bezel, the image quality, the resolution, and the refresh rate.
TVs That Look Like Art
TV manufacturers have finally accepted the idea that a TV should not just be a piece of screen on the wall that offers no value except when in use. To replace the big, conspicuous black screen with something that blends effortlessly into the interior environment of any room, there are now TVs that look like art. These TVs blend in so well, that to the untrained eye, some would pass for framed artwork.
Even though there are not many options available on the market, there are still enough to give you a hard time choosing. Therefore, to help simplify your task, we have reviewed and sampled the best TVs that look like art. In summary, here are our top picks:
Best Overall
SAMSUNG 32-Inch The Frame
Switch on Art Mode to display your own photos or art from Samsung's Art Store
Anti-Reflection and Matte Display Film to reduce glare
Includes slim-fit wall mount to hang TV flush against the wall
Customizable bezel
We earn a commission if you make a purchase, at no additional cost to you.
Samsung is setting the tone for this emerging category of televisions. It has a complete series of TVs designed primarily to look like wall art — the Samsung Frame TV series. You can watch them, hang them, and even frame them. Switch on Art Mode to display your own photos or display art you can purchase from Samsung's Art Store.
Samsung Frame TVs are available in six different sizes, from 32-inch to 75-inch. One of the main advantages they have over the competition, besides the intentional design, is their price. They are among the most affordable TVs in this category. Part of this, however, is due to the fact that they come with QLED screens instead of high-contrast OLED screens. Even then, it still has the great native contrast ratio that many Samsung TVs are popular for.
Though it comes with a default black bezel, it is easily customizable to match the home's décor. Like all TVs in this category, most connections are at the back with a must-have USB port on the side. It also has Alexa compatibility, making it easier to change images without having to fiddle with the remote.
As for features that make it a work of art, to begin with, these Frame TVs are smart TVs with inbuilt apps such as Netflix, YouTube, and Hulu. The display is 4K with a refresh rate of 60Hz on smaller models and 120Hz on larger models. For those looking for HDR-compatible TVs, the Frame Series comes with HDR 10 and HDR10+.
In addition to not having Dolby Vision, Samsung Frame TVs do not have dimming functionality and an LED backlight array. If these are deal breakers, then there are still four more on this list to choose from.
Check out this product on Amazon.
| Pros | Cons |
| --- | --- |
| The TV is Alexa compatible. | The TV has low contrast. |
| There are many size options. | The Frame does not have Dolby Vision. |
| It is designed to display art. | It does not have dimming or backlighting. |
Best TV With Stand
We earn a commission if you make a purchase, at no additional cost to you.
If you are looking for a television that will resemble a piece of art, not as part of the wall but as part of the room, consider the Samsung Serif. It is pricier than the Frame TV, but its neat design makes it fit perfectly in the décor of any room.
The Samsung Serif has four stylish metal leg stands. However, there are no cables hanging under it because one of the legs is a cable duct for the power cords and other cables. With this TV, you can choose either a white or a black design, depending on your room's colors. The stand sets the screen at eye level when you are on the couch or chair.
As an art display television, the Samsung Serif comes with an Ambient mode similar to the Art Mode in the Samsung Frame TV. In this mode, the TV can display selected photos and art pieces when not in use, solving the issue of a black screen in the room.
As a television, the Samsung Serif has all the features of the Frame TV; Alexa functionality, Quantum 4K processor, and QLED screen. Thanks to the NFC point on top of the television, the Serif can double up as a wireless speaker. If you place your smartphone here, the TV will play the song you are playing on the phone.
The main limitation of the Samsung Serif TV is its bass-less sound system, which makes a soundbar necessary if you need an immersive movie experience. Also, you can only get the Serif in 43-inch, and 55-inch, and 65-inch sizes.
Check out this product on Amazon.
| Pros | Cons |
| --- | --- |
| The Serif has a stylish design that easily fits with the room's interior. | The TV is available in only three sizes. |
| The TV has a minimalist design. | The sound system does not support bass. |
Best Design
We earn a commission if you make a purchase, at no additional cost to you.
LG took Samsung up on their challenge and produced the LG GX OLED TV, designed purely for gallery display. However, unlike the Samsung outfits, it is only available in three sizes, 55-inch, 65-inch, and 77-inch options. If you need something smaller or more humongous, this is not for you.
The LG GX OLED TV is impressively thin, and you can only hang it using the company-supplied brackets. It does not come with a stand, as it is not designed for VESA mounting. Once hung, it offers the best picture quality, which you can vary by switching between Filmmaker and Dolby Vision IQ modes. It also has wider viewing angles and high color accuracy.
As a television, the LG GX OLED TV comes with the 3rd generation of LG's Alpha 9 AI processor that offers better picture quality by upscaling contents with sub-4K resolutions. The refresh rate is 120Hz and has a latency of 14.9ms, which is excellent for gaming.
Even though it has superior reflection handling, the LG GX OLED TV still suffers from glare, especially in bright spaces.
Check out this product on Amazon.
| Pros | Cons |
| --- | --- |
| The LG GX is impressively thin. | It does not support VESA mounting. |
| The TV uses LG's WebOS platform. | The LG GX suffers from glare in bright spaces. |
| It has great viewing angles. | |
| The TV uses high-contrast OLED display. | |
Best for Gamers
We earn a commission if you make a purchase, at no additional cost to you.
If you need a TV that is powerful enough for hardcore gaming but would still pass for art, then the Samsung QN90A Neo QLED TV is the one to opt for. It is available in many sizes, ranging from 43 inches to 98 inches. However, for the best gaming experience, go for a 65-inch size and above.
The QN90A is part of Samsung's Neo lineup, comprising TV models with top-notch aesthetics and display capability. The thin TV has an almost invisible bezel, allowing it to blend into its environment perfectly. Also, while it comes with a VESA mount and a stand, if making it part of the interior art collection is one of the goals, install it using Samsung's no-gap wall mount. This will allow it to hang flush against the wall.
The Samsung QN90A TV can display deep colors and offers exceptional SDR brightness. In well-lit spaces, it reduces glare thanks to the mini-LED lights that make up the screen. They provide excellent lighting and contrast control.
For gamers, the television comes with variable refresh rate (VRR) support, fast response time, low input lag, and HDMI 2.1 support. Add these to its excellent local dimming control, and you will agree it is the top go-to TV on this list for game lovers. Disappointingly, however, Samsung put only one HDMI 2.1 port on this TV, so you cannot use two game consoles.
Check out this product on Amazon.
| Pros | Cons |
| --- | --- |
| The TV is stunningly thin. | It does not support Dolby Vision. |
| The screen has excellent HDR Peak brightness. | There is only one HDMI port. |
| The QN90A has great native contrast ratio. | |
| The TV has gaming support features. | |
Best Upcoming Release: Hisense M1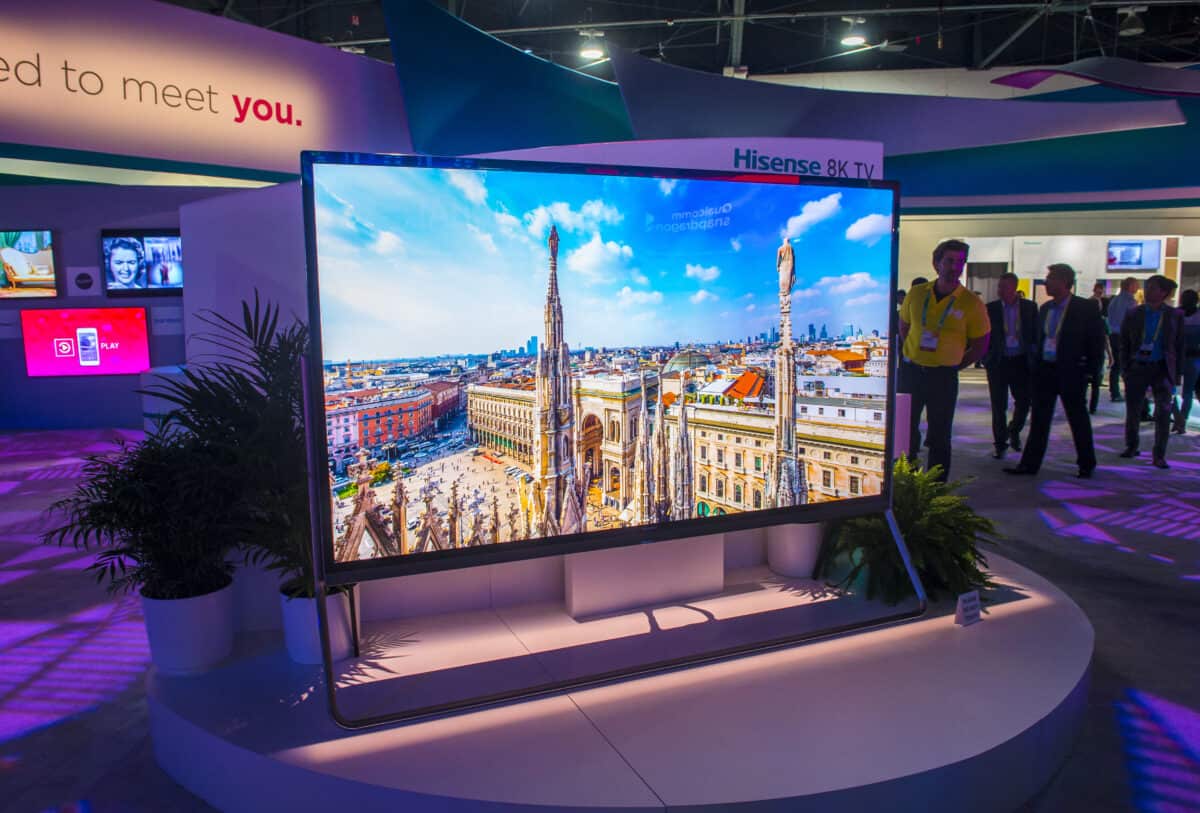 In case you are not ready to buy a wall art TV at the moment, there are several upcoming releases to look forward to. Our pick in this category is the Hisense M1.
During the CES 2023, Hisense announced that it would be adding to its lineup an art-like TV to rival Samsung's Frame TV series, the M1. The available information points to a one-inch-thick TV with a minimal bezel, a customizable frame, and a zero-wall-gap mounting.
Like the QN90A, it will come with a Mini-LED screen, which implies better dimming control. This also suggests the TV will display brighter images and have better contrast than Samsung Frame TVs. Furthermore, if Hisense remains true to its word, the M1 will be more affordable than most of its competition.
Hisense promised that the M1 should be available on the market by the end of the first half of 2023. One can only hope that it will be a smart TV with better capabilities than what will be available on the market then.
| Pros | Cons |
| --- | --- |
| The M1 will have a super slim profile. | The M1 is not yet on the market. |
| The TV will have a minimalist design. | |
| The M1 should have great color quality and depth. | |
How to Pick the Best TV That Looks Like Art: Step-by-Step
Choosing a TV is easy if you do not mind a black screen when it is off. However, it gets slightly complicated if you have the décor of your room to think of. Here are a few helpful steps to follow when purchasing an art-like TV.
Thickness
Consider a one-inch thick TV with a small or almost invisible bezel. This way, it will not protrude from your wall beyond other pictures.
Image Quality
If you want to get eye-catching images from your digital display, it must provide excellent contrast, color depth, and balanced brightness. Fairly-priced Samsung Frame TVs, for example, have good color rendering and resolutions, but high-end models have better brightness, contrast, and viewing angles.
Resolution
As a rule of thumb, avoid TVs with a resolution less than 4K. On the same note, go for HDR-compatible TVs that support HDR10+ and Dolby Vision formats.
Refresh Rates
High refresh rates offer smoother motion in live sports, fast-paced games, movies, and TV shows. While a 60Hz refresh rate is good, 120Hz is always better.
What to Know Before Buying a TV That Looks Like Art
Certain factors are worth considering before buying a TV that looks like art. The first one is that the TV must have a very high picture quality to perfectly and authentically render the work of the art. Consequently, 4K, OLED, and higher display technologies are the ones to opt for.
Secondly, most frame TVs come in white or black bezels as default. However, they also have separately sold customizable bezels that will match the finish and color of the room.
Display modes are also worth knowing before purchasing this type of television. Ensure that the TV has an Art Mode or other modes that will allow it to display selected images in your gallery instead of a blank black screen.
Finally, consider the materials used in making the frames of the television. Generally, these TVs are made of long-lasting, high-quality materials such as anthracite aluminum and handcrafted oak wood. Nonetheless, you still need to confirm the materials before purchasing.
Using TVs That Look Like Art: What It's Like
Having a TV that looks like art ensures your entertainment is seamlessly incorporated into the surroundings of your space. The screen does not stand out unnecessarily, and it is unlikely you will feel the space could have been better used. In fact, these TVs, especially the flush-mounted ones, provide a decorative effect to the room.
They can, however, be as costly and fragile as they are aesthetically appealing. Also, due to their sizes, most budget and mid-range options do not have high-quality sound systems, necessitating the use of soundbars or wall speakers.
The Frame and More in the News
With the need for the modern television to look less like a giant black screen on the wall and more like a work of art when dormant, the Samsung Frame has been a leader on the market. As of 2023, you can purchase the magnetic frame in new colors like charcoal, white, beige, blue, and brown.
In addition to the Samsung Frame, the Samsung Serif is a top competitor when it comes to blending your television with your home décor. Samsung has announced in 2023 that the Serif will feature new upgrades like a built-in sound bar and larger sizes, along with rebranding to focus more on a décor-oriented piece of technology.
Looking Forward
The Samsung Frame, The Serif, and other brands are continuing to add more art to their galleries, along with an Ambient Mode where, in addition to art, users can also choose to display other information when the television is not in use. Ambient Mode can display the weather forecast, news headlines, photos, and other content that users would like to display.