Key Points
Our pick for the #1 Best Overall travel app worth using is Google Travel.
The best travel apps are free to download and can work offline.
While looking for the best travel app, consider the functionality and capabilities, price, and user reviews.
Sometimes, we download apps that don't do what we want or need them to do. Some of these extraneous apps do nothing more than take up valuable space on our phones. However, which apps are actually worth downloading? The apps worth downloading are those you'll want to use because they help you solve problems. When it comes to helpful apps, some of the most useful are travel apps. Covering everything from navigating to lodging, these are the best travel apps actually worth using. We'll also explore what to look for in a travel app and what to know before buying or downloading one. 
History-Computer's Top Picks for the Best Travel Apps
Best Overall Travel App: Google Travel
Our pick for the #1 Best Overall travel app worth using is Google Travel. Travel is not a traditional app, as you will need to use your web browser. However, you can do this from either a mobile or desktop device. The travel app previously known as Google Trips, Travel houses travel options, activities, flights, hotels, and vacation rentals under its umbrella in one convenient place. While you can't book things like flights, you can search for the best times and prices, and Google will aggregate all the information. 
Explore things to do and sights based on location, interest, and activity. Also, you can read customer reviews to get an idea of what's in store. You can save your ideas using bookmarks to help plan future excursions. Conveniently, you'll see these bookmarks also saved on Google Maps.  
| Pros | Cons |
| --- | --- |
| Google Travel is your one-stop app for your beginning planning stages. | You can't book using Google Travel, so you must buy tickets using a third-party site. |
| Bookmarks make it easy to come back to your favorites later. | |
Best For Activity Planning: Recreation.gov
Our pick for the best travel app for activity planning is Recreation.gov. Most national and state parks will require you to book your stay using the Recreation.gov app, but it does so much more than that. Recreation.gov is an excellent source for tickets to events and tours in the parks, as well as special permits for river floating or day use. Additionally, you can check necessary information such as arrival times, check-out times, and need-to-know alerts. 
You can search for places to stay based on location, landmark, or land feature (such as a lake), and favorite them for easy access later. Conveniently, you can do all of this offline, which is especially useful for outdoorsy people without access to reliable internet. Unfortunately, while a reservation system does help protect our parks from overcrowding, some people don't like the fees associated with booking on the app.
| Pros | Cons |
| --- | --- |
| It works offline. | Some people complain about the booking fees. |
| You can look up all the necessary information for any US national park in the app. | |
| The reservation system helps protect against overcrowding. | |
Best For Exploring Nature: AllTrails
Our pick for the best travel app for exploring nature is AllTrails. A great app for those travelers who prefer to explore trails instead of streets, AllTrails also works offline. 
You can use AllTrails to search for places to explore based on location and activity type, including everything from hiking to snowshoeing to paddle sports. Also, you can search by suitability, such as ADA-accessible or dog friendly. 
We also like that you can save a to-do list and save, rate, and review your favorites. You can also add pictures and any tips to help fellow adventurers. The app also has recently included Advanced Conditions. This feature allows you to plan for changes in temperature, weather, and fun-ending pests like mosquitoes. 
| Pros | Cons |
| --- | --- |
| You can save multiple to-do or favorite lists. | Some of the best features require a paid membership. |
| You can save maps to navigate offline. | |
| The app increases your outdoor know-how and security. | |
Best For Booking Lodging: Airbnb
Our pick for the best travel app for booking lodging is Airbnb. Even if you haven't used Airbnb, you've probably heard how easy it can be to find an affordable and unique place to stay.
This is a great app for travelers who want a more local experience, one you won't find in a basic hotel or isolating resort. Also, some hosts are super friendly and can help point you to the local spots, away from major tourist traps. 
Airbnb is a unique app and website, but it has its own problems. For example, Airbnb is known for a lack of standards and risky situations. It can also be hard to cancel a booking or get a refund from some hosts. 
| Pros | Cons |
| --- | --- |
| You can book unique places that make you feel like a local. | The app has had multiple issues, including those stemming from safety, money issues, and even racism. |
| You can connect with locals in the area to get the best insider knowledge. | Some hosts have different cancelation policies. |
Best For Navigating: Google Maps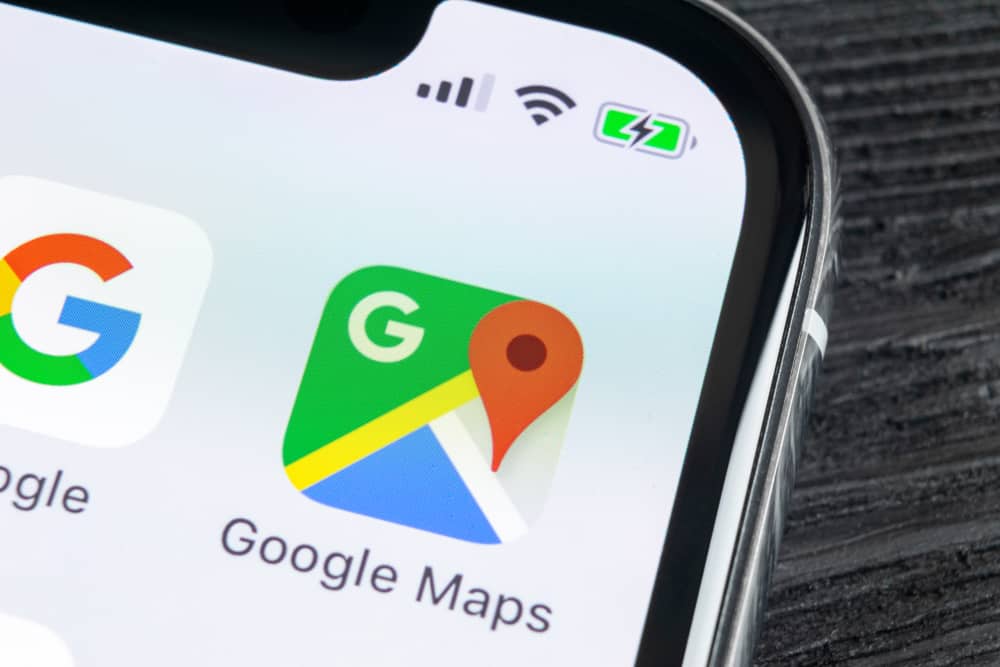 Our pick for the best travel app for navigating is Google Maps. This powerhouse of an app features several options to make getting to your destination easier — no matter your mode of transportation. Plus, if you want to drive, walk, ride a bike, hail a cab or rideshare, or take a train, Google Maps clearly shows the fastest way to get there. 
You get a clear path from A to B, and Maps will conveniently highlight hotels, gas stations, restaurants, and more while on your way. Each location will also include things like operating hours and customer reviews.
Perhaps one of the most convenient features of Google Maps is the ability to save your route for offline use. Offline navigation is super helpful if you ever find yourself without the internet or a data plan while in uncharted territory.
While Maps is a convenient and user-friendly tool, it can also pose some questions about privacy. For example, the app will collect and store your personal data, such as your location and search history. Also, Google Maps relies on third-party sources, so some data may need to be updated before you can say it's accurate.
| Pros | Cons |
| --- | --- |
| Google Maps makes it easy to navigate and search for restaurants and gas stations. | The storing of your data may cause privacy concerns. |
| Your previous searches are saved to refer back to later. | |
| Google Maps is user-friendly. | |
Best for Traveling Abroad: Google Translate
Our pick for the best travel app when traveling abroad is Google Translate. Google Translate allows you to at least appear as though you understand the local language. You can type or use a microphone to enter text and translate it into over 130 languages. 
Translate lets you use your phone's camera to view a translated version of the text, which is super helpful for things like transportation signs. You can also translate an entire conversation with just a button click. In this mode, Translate will record your speech and translate it automatically. It will even "speak" the dialogue out loud to help you with pronunciation. You can choose to save your translations for reference later. Finally, you can also translate when not connected to the internet by downloading a language. 
As with any translation app, you should know that not every translation will be idiomatic or accurate. For example, in English, the word "above" can mean "on top of," but some people also say "over" when speaking.
| Pros | Cons |
| --- | --- |
| Hearing how words are pronounced is a huge help. | Translations aren't always accurate. |
| We love that you can use your phone's camera to translate text instantly. | |
How to Pick the Best Travel Apps: Step by Step
Most people consider a few different factors when picking which travel app to use. These factors are:
Functionality and capabilities
Reviews
Price
Let's review each of these in more detail.
Functionality and Capabilities
You want to ensure you get an app that does what you need it to. If you need to find your way around a town or city, consider Google Maps. If you want to book an Italian Villa, consider Airbnb. To see the nearest family-friendly hiking trail, you can't go wrong with AllTrails. 
Also, consider if you'll need an app that works offline. If you're going to be in out-of-way places or in another country where your data plan may not always work, consider travel apps with offline functionality. 
Reviews
If you're unsure of an app, check the reviews. If the majority of people complain about crashes or the inability to use the app offline, it may be a sign to keep looking. Also, be sure to check that the app is up-to-date so you have the best functionality and security available. If an app's recent update breaks functionality or fixes an annoying bug, you'll probably find that information in the customer reviews. Finally, reviews can illuminate a travel app's functionality that you previously were not aware of. 
Price
While most of the best travel apps are free to download and use, some apps only offer advanced features to paid users. For example, AllTrails lets their paid members create their own maps and export trail information. If AllTrails is an app you think you'll use often, you can opt for the paid version.
The value you get from paid features in a travel app will depend on your usage. For example, if you think you'll only use the outdoorsy app while traveling, you can opt to use the free version instead.
What to Know Before Buying the Best Travel Apps
Before you download a travel app, consider the app's primary purpose. For example, if you need to book plane tickets, try to get an app that pulls data for each airline's routes, flight times, and deals. You'll want to get the most information you can from a single source.
You will also want a travel app that has a simple user interface that makes it easy to find what you're looking for. Poor search and filter features can make or break an app.
Finally, you'll want to download only those travel apps you will actually use. You'll want plenty of space left for all those selfies and pictures of food. 
Using The Best Travel Apps: What It's Like
Using a travel app is like having a travel BFF in your pocket. After downloading just an app or two, you can book tickets, find lodging, get directions, and even translate speech. Planning for your trip can start months in advance, and downloading a handful of travel apps is the best way to begin. These days, the only thing holding you back from traveling may just be your bank account balance. 
The image featured at the top of this post is ©iStock.com/seb_ra.