Key Points
Our top choice for the best smart home device is the Amazon Echo Show 8 due to its price and wide compatibility with an array of gadgets.
Smart home devices fall into a number of categories from streaming sticks to appliances.
You need to have a stable internet connection for many smart home devices.
Security is always a concern with any device constantly connected to the internet.
Do you dream of having a smarter home? Getting started isn't as challenging as you think if you install one of the best smart home devices available today. The hardest part is narrowing down the field considering how many smart gadgets exist.
You can buy a device to automate lighting in your home, open the blinds, or unlock your door. If you're concerned about security, you can set up cameras synced to smartphones and alarm systems. There are also a variety of hubs that control multiple devices or allow users to tackle a multitude of tasks through voice assistants.
Whatever you want to automate, there is an option. We built our list of the best smartphone devices around that concept. That means there is a device for everyone whether you're an Android fan, a tech novice, or you want something with cutting-edge features. After researching the options, here are our choices for the best smart devices:
History Computer's Top Picks for the Best Smart Home Devices
#1 Best Overall Smart Home Device: Amazon Echo Show 8
Best Overall Smart Home Device
Echo Show 8 (2nd Gen)
Crisp 8-inch touchscreen display

Smart device support through Alexa

13MP camera

Auto framing
We earn a commission if you make a purchase, at no additional cost to you.
Amazon may not have been the first company to produce a smart home device, but they've certainly made up for lost time. They have one of the more prolific collections of smart gadgets, but the Echo Show 8 provides the best bang for the buck with most homeowners.
Whether you're looking to sync smart gadgets in your home to a hub or you want to watch cooking tutorials in the kitchen, the Echo Show can do it all. Unlike Amazon's smaller Alexa-powered assistants, the Echo Show 8 has a touchscreen display. You can access info or apps with a swipe or use Alexa to go hands-free in any room.
The screen doubles as a way to video call thanks to a 13MP camera and dual two-inch speakers. It has an attractive design that will go with any décor but doesn't take up much space. As for compatibility, the Echo Show works with OLED TVs, soundbars, smart locks, and a vast range of accessories. You can add more nifty features through Alexa skills, and it's one of the easier systems to use.
The Echo Show 8 is Amazon's best-selling smart assistant with a display, and it is affordable compared to similar products. It's the most compatible device from a mainstream manufacturer as well. If you like what the Echo Show 8 brings to the table, but need something smaller, the Echo Show 5 is an excellent alternative.
| Pros | Cons |
| --- | --- |
| It is responsive and easy to use. | There are limited Apps. |
| It has a great price point. | Video calling could be improved. |
| The Echo Show 8 has auto-framing. | |
| It offers improved sound quality. | |
Best Smart Light Kit: Philips Hue Smart Bulb Starter Kit
Best Smart Light Kit
We earn a commission if you make a purchase, at no additional cost to you.
You don't need to rewire your home to experience automation if you have a smartphone. Philips proved that when they introduced their smart bulbs to the world in 2012. The design and features have changed since that time, but their starter kit is still the best way to bring smart bulbs into your home.
This kit has everything you need to get started with smart lighting. You'll get two A19 60W light bulbs, a Hue hub, and an AC adapter. Once you download the app and sync the hub to your home network, the setup process takes less than 5 minutes. The set may not look very smart, but you'll be impressed once you dig into the features.
Philip's hub can control up to 50 Hue smart lights without dragging down your home network. You can assign lights to specific rooms and areas or set them to work on a schedule. Want your kitchen lights on at 6 a.m.? That's easy, and you can even set scenes or routines around your lifestyle. When you're ready to expand or kick things up a notch, you can add other Hue products to the hub including colored light strips and lamps.
Dozens of companies make smart bulbs that are cheaper or provide more features for the price. That may seem tempting, but their bulbs won't last as long or perform as well as the Philips Hue system. These dimmable bulbs are incredibly easy to install and they work with all major voice assistants from Alexa to HomeKit.
| Pros | Cons |
| --- | --- |
| Control up to 50 bulbs with one hub. | The lights may not be bright enough. |
| It works with Alexa, Google, and Apple assistants. | Finding the right color or hue can be difficult. |
| You can set custom lighting scenes. | |
| It has a wide range of accessories. | |
The Best Smart Doorbell: Ring Battery Doorbell Plus
Best Smart Doorbell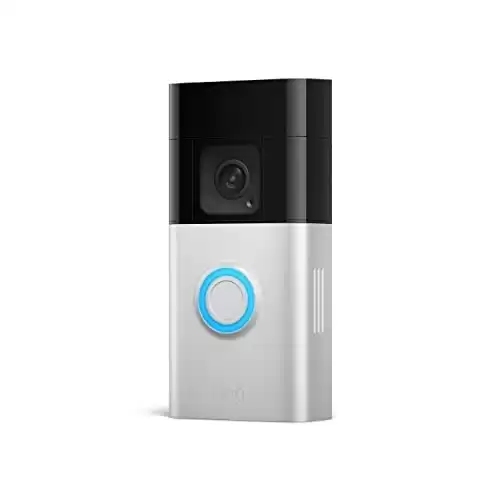 We earn a commission if you make a purchase, at no additional cost to you.
If you've looked for video doorbells in the past several years, there's a strong chance you've considered Ring. While the company has had its fair share of ups and downs, the company's new doorbell is its best, and it's a significant improvement over early models.
Looking for a smart doorbell that's easy to install and doesn't require wiring? The Ring Battery Doorbell Plus checks both of those boxes. Anyone can mount the installation bracket in minutes, and recharging the doorbell is simple. The company's quick-release battery ensures that, but other areas have improved as well.
The video quality and colors are better with the new doorbell. It still has a fisheye, but the field of view is much wider than older models. It can handle head-to-toe video with a higher resolution of 1,536 compared to the Video Doorbell 4 at 1080. Flagship features for this smart doorbell include live view, two-way talk, interchangeable faceplates, and a corner kit.
Ring's new doorbell is their most expensive, but well worth the upgrade if you have an older model. We also feel the Ring Battery Doorbell Plus is ideal for homeowners new to the world of smart devices given how easy it is to install.
| Pros | Cons |
| --- | --- |
| It has head-to-toe video. | The price tag is a bit high. |
| It offers color night vision. | There is no dual-band Wi-Fi. |
| There is a quick-release battery. | |
| The doorbell is easy to use. | |
Best Smart Vacuum: iRobot Roomba j7+
The first robotic vacuum cleaners were incredibly expensive, although prices have dropped thanks to budget-friendly alternatives. When you want the best in this class, you'll need to pay up. While the iRobot Roomba j7+ is in the premium class, it provides a lot of bang for your buck.
How smart is a vacuum if it needs to use physical markers to keep it out of areas in your home? That's a common problem with these devices, but not something to worry about with the j7+. It has smart mapping, so it maps and remembers where it's supposed to go. That means you can set custom "keep out" zones or put the robot on a set schedule.
When the iRobot Roomba j7+ runs out of power, it will return to its dock to recharge. Recharge and resume ensures it completes its job and it can also dump its own bin. Throw in Alexa, Siri, and Google Home compatibility, and you've got a vacuum that's almost entirely hands-free. It's a step behind the s9+ with suction power but has a P.O.O.P. guarantee, or "Pet Owner Official Promise." If it fails to avoid solid pet waste, they'll give you a refund as long as you meet a few stipulations.
You can purchase the Roomba J7 without the self-emptying base, but the ability to go more than a month without dumping a bin shouldn't be overlooked. It's also smarter than other robots in its class thanks to PrecisionVision which helps it avoid cables and pet messes.
| Pros | Cons |
| --- | --- |
| It has a self-emptying system. | The battery life could be better. |
| There is support for Alexa, Google, and Siri. | The Roomba has a premium price point. |
| It features AI-assisted navigation. | |
| There is a recharge and resume function. | |
Best Smart Thermostat: Ecobee Smart Thermostat Premium
Best Smart Thermostat
Ecobee Smart Thermostat Premium
Save up to 26% per year on heating and cooling costs
Built-in air quality monitor
Vibrant display with cinematic interface
Complete home monitoring system
We earn a commission if you make a purchase, at no additional cost to you.
A lot of the best smart home devices strive to make life easier for homeowners, but not many deal with comfort. When you want to add a brain to your HVAC system, the best option for total control is the Ecobee Smart Thermostat Premium.
Interested in saving money every time your air conditioner or heater kicks on? Ecobee's system can do that by adjusting the temperature throughout your home. It can eliminate hot spots and keep your home comfortable whether you're at work or asleep. While that's something many smart thermostats can do, the Ecobee Smart Thermostat Premium does it a little bit better.
This sleek thermostat has a modern design that will look great in any room. It allows you to adjust the temperature with your voice whether you prefer Alexa or Siri. The speaker is a nice touch, but so is the ability to play a podcast or playlist through the thermostat. An air quality monitor alerts homeowners when it's time to change their filters as well.
Ecobee's thermostat lives up to the premium moniker in more ways than one. It alleviates the need to constantly adjust a thermostat while letting homeowners make hands-free changes as needed. This package includes a smart sensor, but a range of add-ons are available for this incredibly intelligent thermostat.
| Pros | Cons |
| --- | --- |
| It is compatible with all leading voice assistants. | Some features require a subscription. |
| You can listen to podcasts and playlists. | |
| It supports dual-band Wi-Fi. | |
| The thermometer doubles as a home hub. | |
Best Smart Plug: Amazon Smart Plug
Best Smart Plug
We earn a commission if you make a purchase, at no additional cost to you.
Amazon has more smart gadgets than several of the companies on our list combined. From speakers to smart TVs, they have something for everyone, including homeowners that want something simple. If you fall into that category, you'll love the Amazon Smart Plug.
Simple and effective. Those are the first words to come to mind after people use this intelligent plug. It's not bulky like comparable plugs, and it is small enough to not clog up a power outlet. The minimalistic design features a button on the side and small LED light on the front with the company's logo emblazoned across the top.
The Amazon smart plug is the easiest smart plug around as well. You simply need a mobile device that can run the Alexa app and a stable internet connection. When activated, it brings a brain to any outlet in your home. You can set routines, schedule lamps to shut off at bedtime or turn on a coffee pot first thing in the morning.
Amazon's plug isn't the cheapest, but it's truly the best for homeowners that want to make an outlet in their home smart. The reviews and ratings speak for themselves, and we love the fact you can use two plugs in one wall outlet as well.
| Pros | Cons |
| --- | --- |
| It is simple to use. | There is only one color. |
| You can set routines and schedules. | It does not support dual-band Wi-Fi. |
| The plug is Alexa enabled. | |
| It as a streamlined design. | |
How to Pick the Best Smart Home Devices: Step by Step
If you're new to smart home devices, the choices available for homeowners today can be overwhelming. The term itself opens the door to a variety of gadgets considering it simply means a device can connect wirelessly.
A Bluetooth FOB that starts a car is a smart gadget, but so is an LG refrigerator that can order food. While the number of smart gadgets is mind-numbing, the list narrows considerably once you enter the home. You can control things in your home with an Apple Watch and the right setup, but it's not an actual smart home device.
Smart home devices generally fall into a handful of categories. There are connected appliances, speakers, plugs, hubs, and bulbs. If there's something in your home you want to automate, rest assured, there is a way to do it. Before you begin to start looking for an automated dog walker, it's a good idea to consider these areas when shopping for any smart home device.
Compatibility
Wi-Fi networks
Security
Branding
Budget
Compatibility
The first step to planning out a smart home system or adding a new component is to check on compatibility. Are you a home that uses a lot of Apple devices? The good news is Apple is known for having high compatibility with smart products. Whether those smart devices all work together is a different story entirely.
Apple and Google have always had trouble getting along, so you can hit some snags between those two companies. It's similar to how you can't use properly use something like the Galaxy Watch with an iPhone or the Apple Watch with an Android handset. In the middle lies Amazon with Alexa, a voice assistant which works seamlessly with smart devices on both platforms.
While those are the main companies to keep in mind with a hub, you can find smart products from thousands of brands. There are smart locks from Yale alongside companies you've never heard of. The same is true when it comes to smart plugs, appliances, speakers, and other connected devices. You can have smart devices in your home without a hub, but compatibility is key regardless of your devices and setup.
Wi-Fi Networks
If you have solid Wi-Fi in your home, adding an Echo Dot or hooking up a smart plug won't take a toll on your bandwidth. Those devices won't draw a lot of data compared to something like a smart TV or security cameras. When you start to add multiple smart home devices, you may need to consider an upgrade.
One of the bigger complaints about smart home devices like video doorbells is connectivity. A spotty signal can leave you in a lurch when someone is at the door. That can happen for a variety of reasons including poor router placement or conflicts in your home network.
It can also simply be an issue of someone watching Disney+ in 4K while other members of a household are gaming, browsing the web, and doing other connected activities at the same time. Increasing your bandwidth can solve a lot of issues, and it is something to think about if you plan on using multiple smart home devices.
Security
One of the biggest problems with smart home devices is security. While it's something manufacturers have improved in recent years, it can still be a concern. One of those problems can be addressed by sticking with a quality brand, but there's only so much you can do about human error.
Are you prone to using the same passwords for several services? It's not the end of the world, but when you have cameras and computers hooked to your home network, security is crucial. Devices with built-in personal assistants are useful, but that means they have the "potential" to be hacked and used against you.
Having strong passwords and using devices with encryption can solve most of those problems. You'll also want to pay attention to terms and conditions when setting up a device. Many require an account, so read the fine print unless you want to risk having your location or buying patterns tracked.
Branding
Most people who have shopped for a smart home device will be familiar with the bigger brands. Google has a number of products in this niche and Amazon has generations of devices. As with most things in life, you'll pay a premium for a well-known name, but it's something that's worth it with smart home devices.
With some products, you know you'll get what you pay for. That's true with smart TVs, as you know what to expect from Samsung and LG compared to Hisense or Insignia. If you're purchasing a smart lock to protect your family and your belongings do you trust Schlage or a company called ULTRALOQ?
The answer should be obvious, even if lesser-known brands tempt consumers with pricing or features. There are some exceptions with smart home devices, however. While we feel Philips has the best smart lights, there are smaller brands with excellent smart bulbs as well. You can also find competitive pricing with smart plugs and other connected devices.
Budget
Smart home devices can set you back anywhere from $20 to more than $2,000 depending on your needs. That's a wide range, but it also only takes one product into consideration. If you intend to buy a hub and accessories to go along with it, you could be in for sticker shock when it's time to check out.
Smart speakers with built-in assistants are the most affordable type of hub for your home. Smart locks are between $100-$350 on average, but you can pick up an intelligent plug for under $30. Want to add a full set of smart bulbs to your home? That could be well over $1,000 depending on how many you need and the number of bulbs the hub can control.
If you're just buying a piece of equipment to add to your smart network, budget may not be a concern. When you need to buy several devices, you'll want to get a better idea of pricing based on the components you need beforehand.
What to Know Before Buying Smart Home Devices
The areas we touched on in our guide are key, but it's also a good idea to lay your system out before you begin picking up parts.
Do you want a full range of equipment indoors from locks to pet cams and connected fans? Where you place these devices can impact performance, regardless of how strong your signals are. You can buy a new router for a boost, but you can't move an entire room or change the materials your home was built with.
This applies to outdoor smart objects as well. Anything connected to your home network that works outdoors may require extended range. That's true for mowers, sprinklers, and other lawn care items if they need to stay connected to function.
Using Smart Home Devices: What It's Like
Using a smart home device should be easy considering that's what most are designed to do. Setting your new device up with your home network is the biggest hurdle most people face. Amazon and other manufacturers strive to make getting started simple, but you will need to rely heavily on online documentation.
We found a lot of smart gear doesn't come with many instructions, so you'll need to access most of that material online. Devices with displays can walk you through the setup process from start to finish. In other cases, you may need to connect to a PC or rely on a mobile device.
That's something you may not find out until after you get your new smart home device. The experience of using a smart gadget varies wildly depending on what you buy. Regardless of the gadget, remember to have your Wi-Fi password handy and prepare to have some patience if you purchase products from lesser-known brands.
The Wrap-Up
Adding a smart home device to your life can be exciting, but it can also be a disaster if you don't keep a few things in mind. Poor installation and unreliable Wi-Fi can quickly turn a smart gadget dumb and put a damper on any homeowner's experience. If you're looking for a way to improve your grilling season with technology, check out our list of the best smart grills!
Summary Table
| Best | Smart Home Device | Description |
| --- | --- | --- |
| Overall | Amazon Echo Show 8 | Touchscreen display smart hub with Alexa voice assistant, 13MP camera, and dual 2-inch speakers. |
| Smart Light Kit | Philips Hue Smart Bulb Starter Kit | Kit includes two A19 60W light bulbs, a Hue hub, and an AC adapter for smart lighting control. |
| Smart Doorbell | Ring Battery Doorbell Plus | Wireless video doorbell with improved video quality, wider field of view, and interchangeable faceplates. |
| Smart Vacuum | iRobot Roomba j7+ | Robotic vacuum cleaner with smart mapping, custom "keep out" zones, and self-emptying bin. |
| Smart Thermostat | Ecobee Smart Thermostat Premium | Intelligent thermostat with voice control, air quality monitor, and smart sensor compatibility. |
| Smart Plug | Amazon Smart Plug | Compact smart plug that allows for easy control of connected devices through the Alexa app. |
The image featured at the top of this post is ©Gorodenkoff/Shutterstock.com.