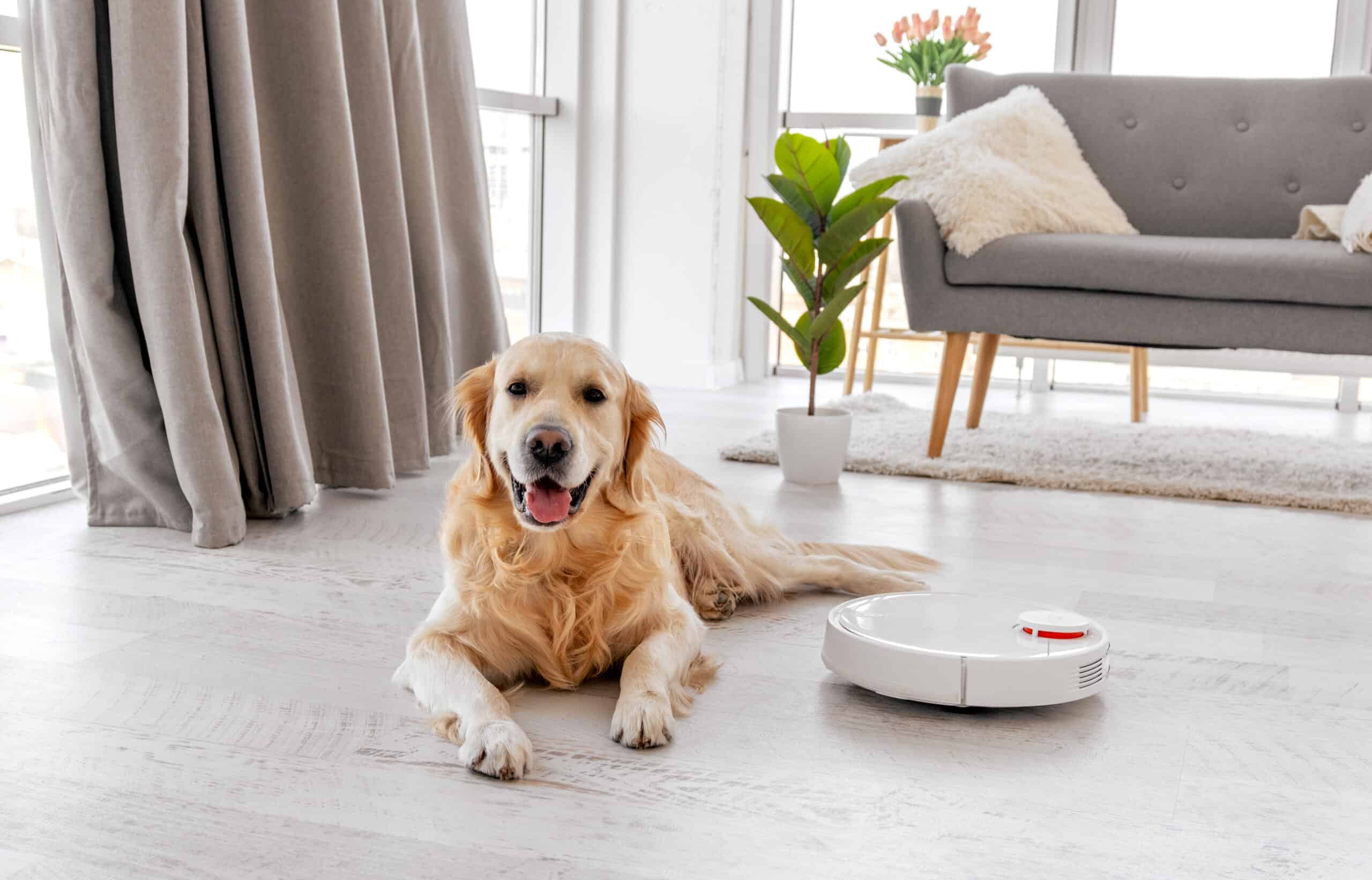 It can be exhausting to keep pet hair under control, especially if your furry friends are shedding a lot. Vacuuming regularly is one way to ensure that you keep your house presentable and free of pet hair. While traditional vacuums can help, they can also be quite a hassle to use. Thankfully, robotic vacuums have been developed to make cleaning up pet hair easier than ever.
In this article, we'll highlight five of the best robotic vacuums for pet hair available on the market today. From long battery life to intuitive navigation, each of these robotic vacuums has something special to offer. We hope this guide will help you find the perfect robotic vacuum to fit your needs and make cleaning up pet hair a breeze.
The Roborock S4 Max is a highly-rated robotic vacuum that is well-suited for pet hair. It has strong suction power (2000Pa), and a range of features make it effective at picking up pet hair and other debris from carpets and hard floors.
It also has a high-precision laser navigation system that allows it to map out the layout of your home and create an efficient cleaning path. This helps it cover more ground in a shorter time and ensures it doesn't miss any spots.
This robotic vacuum is Wi-Fi connected and can be easily controlled via the companion app. It's also compatible with Alexa for voice control. In addition to its strong suction and navigation capabilities, the Roborock S4 Max has a number of other features that make it well-suited for pet hair.
It has a large dustbin that can hold a lot of debris, so you don't have to empty it as frequently. It also has a washable filter that is easy to clean and maintain, which is important if you have pets that shed a lot of hair.
Check out Roborock S4 Max on Amazon.
ILIFE V3s Pro Robot Vacuum Cleaner, Tangle-free Suction , Slim, Automatic Self-Charging Robotic Vacuum Cleaner, Daily Schedule Cleaning, Ideal For Pet Hair,Hard Floor and Low Pile Carpet
Fits Pet Owners: With a tangle-free pet hair care suction, V3s Pro Robot Vacuum focuses on picking up hair without tangle; It also tackles dirt, crumbs and debris effectively on hardwood, tile,...
Slim: V3s Pro has a low profile design, capable of running under beds and sofa where dirt hides
Automatic Cleaning and Charging: This robot vacuum can run routine cleaning automatically based on preset schedule; It goes back to charging dock on its own when battery gets low; Each full charging...
Anti-Bump and Anti-Fall: Built-in infrared sensors can identify steps and obstacles, so the vacuum can run away from drop-offs and collisions
Easy to Start: Starts cleaning by remote or one-button touch on the robot vacuum; Tip for easy maintenance: empty dustbin and clean the filter after each use; replace filter every month
We earn a commission if you make a purchase, at no additional cost to you.
The ILIFE V3s Pro is a budget-friendly option that is effective at picking up pet hair. The V3s Pro is a powerful and efficient cleaning robot with a powerful suction motor and an advanced cleaning system.
It has a small, slim design that allows it to maneuver easily under furniture and around tight spaces. The V3s Pro can easily tackle pet hair on hard floors, carpets, and rugs with its tangle-free suction system. It also features an infrared sensor that helps it to navigate your home and avoid obstacles.
Additionally, this robotic vacuum has a powerful Li-ion battery that can provide up to 100 minutes of continuous cleaning on a single charge. The V3s Pro also comes with a remote control, allowing you to control it from a distance and set up a cleaning schedule.
Check out ILIFE V3s Pro on Amazon.
The Roborock S7 MaxV Ultra is one of the best robotic vacuums for pet hair. This versatile machine can do more than just vacuum; it can mop as well! The Roborock S7 MaxV Ultra features powerful suction and a large dustbin, making it ideal for tackling pet hair. The mop attachment helps you to clean up spills and other messes quickly and easily. It also has an impressive battery life, so you don't have to worry about running out of juice while cleaning.
The Roborock S7 MaxV Ultra features several advanced features that make it great for pet owners. The "No-Go Zones" feature allows you to set areas where the vacuum will not enter, ensuring that your pet's toys and furniture stay untouched. It also has a high-precision laser navigation system that maps out your home to create the most efficient cleaning path possible.
With auto-mop washing, auto-refilling, auto-emptying, and self-cleaning capabilities, the S7 MaxV Ultra makes cleaning your home easy and efficient. Its ability to hold up to 7 weeks of dirt and debris without requiring manual emptying, combined with the 3230 sqft (300 sqm) max mopping range, makes it one of the best robotic vacuums for pet hair and other messes.
Finally, the Roborock S7 MaxV Ultra is incredibly easy to use. Its app allows you to easily schedule cleanings, view cleaning history, and customize settings. Plus, its lightweight design and adjustable handle make it easy to transport from room to room.
The multi-directional floating brush helps to ensure that all dirt and debris are picked up, while the Robot Vacuum and Sonic Mop help to quickly and effectively remove dirt from hardwood floors and carpets. Overall, the Roborock S7 MaxV Ultra is an excellent choice for pet owners looking for a robotic vacuum that can do more than just vacuum.
Check out Roborock S7 MaxV Ultra on Amazon.
Smart Technology
iRobot Roomba i7+ (7550) Robot Vacuum with Automatic Dirt Disposal
The Clean Base automatically disposes of dirt and allows the i7 to empty itself.
75 minutes runtime
3-Stage cleaning system with powerful suction
vSLAM navigation lets the i7 learn your home's layout to build personalized Smart Maps (accessible on the iRobot App)
Alexa and App enabled.
We earn a commission if you make a purchase, at no additional cost to you.
The iRobot Roomba i7+ is a highly effective robotic vacuum for pet hair, and it can also handle pet poop with ease. One of the main features that sets it apart is its automatic dirt disposal system, which allows it to empty its dustbin without your intervention.
This is particularly convenient if you have pets that produce a lot of waste, so you won't have to constantly clean the dustbin yourself. The i7+ also has an Imprint Smart Mapping feature that allows it to scan and map your home. This makes it easier to clean more efficiently, as it knows exactly where to go and what areas need extra attention.
This robot vacuum also comes with a handful of useful features, such as connecting to Wi-Fi, allowing you to control and monitor it from your smartphone. You can also set up virtual boundaries so it won't enter certain areas of your home, making sure it doesn't pick up anything that you don't want it to.
In terms of cleaning performance, the iRobot Roomba i7+ is equipped with powerful suction and unique dual multi-surface rubber brushes, which allow it to remove pet hair from carpets and hard floors effectively. It also has sensors that help it navigate around obstacles and furniture, ensuring that it covers every inch of your home.
Check out iRobot Roomba i7+ on Amazon.
It's worth noting that all robotic vacuums will make some noise as motors and other mechanical components power them. However, the Eufy RoboVac G30 is quieter, making it a good option for pets that are easily disturbed by loud noises.
It is designed with a dual noise reduction duct that is quieter than most other robotic vacuums. This vacuum also features an E11 high-performance filter, which helps trap dust and dirt while keeping your home free of allergens. It also has an efficient suction power that captures fine particles and pet hair.
The Eufy RoboVac G30 can be programmed to clean specific areas or rooms, making it easy to customize your cleaning schedule. It also comes with an auto-recharge feature that allows the vacuum to return to its charging station when it needs to be recharged. The vacuum can run for up to 100 minutes and easily transition from carpets to hard floors.
The Eufy RoboVac G30 is a great option for pet owners looking for a powerful and quiet robotic vacuum. It is well-suited for people with noise-sensitive pets and can help keep your home clean and allergen-free.
Check out Eufy RoboVac G30 on Amazon.
How to Pick the Best Robotic Vacuums for Pet Hair: Step by Step
If you have pets, you know that hair and pet dander can build up quickly in your home. But cleaning up pet hair can be difficult and time-consuming. That's why investing in a robotic vacuum designed for pet hair is a great idea. But before you make a purchase, there are several factors you should consider.
Noise level
For many pet owners, their pets are sensitive to loud noises, and a loud vacuum can be intimidating or even traumatic for them. Additionally, some people prefer a quieter environment at home, and a loud vacuum can disrupt their daily activities.
Therefore, it is important to consider a robotic vacuum's noise level when purchasing. Some models have a lower decibel rating, which means they produce less noise while in operation. These vacuums are a good choice for pet owners who want to minimize the noise level in their homes.
Battery life
A vacuum with a long-lasting battery can help you clean your entire home without stopping and recharge in between cycles. Many vacuums have indicators that tell you when the battery is low, allowing you to recharge before it runs out of power.
This is especially important if you have a large home or multiple pets in the house. High-end models tend to offer more powerful batteries and longer run times, but this comes at a cost. If you're looking for a model with a good battery life and a lower price tag, mid-range options are a great option.
Navigation
Many newer models offer advanced navigation features, such as mapping and obstacle detection. Mapping allows your robotic vacuum to map your home's layout, which it then uses to plan its cleaning path. This ensures that all areas of your house get the same attention.
Additionally, some models feature obstacle detection, which helps them detect and avoid furniture or other items. This can be helpful if you have small pets or children who like to move furniture around. When researching robotic vacuums, look at the navigation features offered to ensure that it meets your needs.
Suction Power
Pet hair can be difficult to pick up with a vacuum, and having a vacuum with strong suction power ensures that all the fur and debris are removed from your floors. Many of the top robotic vacuums for pet hair come with adjustable suction settings so you can ensure the strongest possible suction for the job at hand. It is important to remember that a vacuum with higher suction power may also have a higher price tag, but it is worth it for the added cleaning power.
Special features
Many vacuums offer more specialized features that make them better suited to cleaning up pet hair and debris. Some of these features include:
HEPA filtration: This feature helps trap pet allergens, pollen, and other airborne particles, which can be beneficial if you or anyone in your home has allergies.
Self-emptying systems: If you have a lot of pets, you know that cleaning up pet hair can be a never-ending task. Self-emptying systems can make this process easier by automatically emptying the vacuum's dustbin when it becomes full.
Edge cleaning: Some vacuums are designed with edge-cleaning capabilities, allowing them to clean along baseboards and other tight spaces. This can help catch any hairs or debris that may otherwise be missed.
Tangle-free brush rolls: Pet hair can easily get tangled in traditional brush rolls, which can cause the vacuum to become less effective. Tangle-free brush rolls, on the other hand, are designed to prevent this issue, ensuring that the vacuum can clean up pet hair more effectively.
Automatic docking and charging: If you have a busy schedule, you may not always have time to dock and charge your vacuum manually. Automatic docking and charging can help ensure that your vacuum is always ready to go when needed.
Allergen filtration
Pet hair can contain allergens that can trigger allergic reactions in individuals. These allergens can include dander, saliva, and urine, which can be released into the air during vacuuming.
When shopping for a robotic vacuum with allergen filtration, it is important to look for one that has a high-quality filtration system that is effective at capturing allergens. It is also helpful to look for a vacuum that is easy to maintain and has easily replaceable filters.
What to Know Before Buying a Robotic Vacuum for Pet Hair
Before purchasing a new robotic vacuum for pet hair, there are a few things to consider. First, it is important to consider the size of your home and the type of flooring you have. Some robotic vacuums are better suited for larger homes or homes with multiple levels, while others may be more effective on certain types of flooring, such as carpet or hardwood.
Additionally, consider the type and amount of pet hair you need to clean. Some vacuums may be better equipped to handle heavy shedding, while others may be more suitable for smaller pet hair. It is also important to consider the features and capabilities of the vacuum, such as its suction power, HEPA filters, and ability to navigate around furniture and obstacles.
Lastly, consider your Budget and the vacuum's overall cost, including recurring expenses such as replacement filters or maintenance fees. Considering these factors will help ensure you choose the best robotic vacuum for your needs and Budget.
Using a Robotic Vacuum for Pet Hair: What it's Like
Using a robotic vacuum for pet hair can be a convenient and efficient way to keep your home clean. Once set up and programmed, the vacuum can work independently, navigating your home and sucking up pet hair and other debris.
Some vacuums also can be controlled remotely through a smartphone app, allowing you to start or stop the cleaning process from anywhere. A robotic vacuum can be especially helpful for those with busy schedules or physical limitations that make it difficult to vacuum manually.
However, it is important to remember that a robotic vacuum may not be as thorough as a manual vacuum and may require multiple passes or manual intervention to remove all the pet hair fully.