If you want to buy a Ricoh sublimation printer, then first you must know what the best Ricoh sublimation printers are on the market. The Ricoh Company, Ltd. is a worldwide image and electronics corporation headquartered in Japan. On February 6, 1936, the RIKEN zaibatsu established the company, initially naming it Riken Sensitized Paper.
Sublimation printers use heat to transfer dye from a cartridge to a substrate like cloth or paper. The process of sublimation printing is often used for creating images on T-shirts, banners, and other types of material. Below is a list of the best Ricoh sublimation printers.
Why Are Ricoh Sublimation Printers the Best?
The powerful and forward-thinking printing technology utilized by Ricoh sublimation printers leads to the company's ability to produce exceptional print quality. A variety of affordable sublimation printers are available to meet a variety of needs. Due to their simplicity of use and maintenance, Ricoh sublimation printers are an excellent option for individuals who are new to the printing technology that is now available.
As we noticed, the Ricoh sublimation printers have good quality and a lower price range compared to other similar sublimation brands. These printers also have a longer lifespan and workability. 
Best for High-Resolution Color Printing: Ricoh SG3210DNw Geljet
According to our expert reviews, Ricoh SG 3210DNw is one of the best Ricoh sublimation printers, with Geljet Printer having 4800×1200 DPI color resolutions. It is one of the highest-resolution color schemes a sublimation printer can output.
This sublimation machine from Ricoh is an all-in-one device, which means that in addition to printing and copying papers, it can also scan them. This device has a very high printing speed, producing black-and-white prints at 29 pages per minute (ppm) and color prints at 11 ppm. The default amount of RAM is 256 MB, although it can be increased to 512 MB if needed.
It has a daily duty cycle of 10,000 pages, sufficient for use in homes and small enterprises. This sublimation machine has a maximum paper input capacity of 500 sheets, which may be increased to 250 sheets with the addition of an optional tray. The standard paper input capacity is 250 sheets.
With this machine, you may print papers as large as 8.5 inches by 14 inches. This printer has various connecting options, including WAN and Ethernet connectivity, among others.
Best Ricoh Sublimation Printer for Commercial Use: Ricoh Aficio GX2500
We earn a commission if you make a purchase, at no additional cost to you.
The Ricoh Aficio GX2500 is a gel printer that is ideally suited for commercial use. Although it is less expensive than similar products on the market, its superior print quality more than justifies the additional expense. In terms of printing resolution, this printer can print up to 1200×600 dots per inch.
This printer utilizes a printing method known as drop-on-demand thermal Geljet for its printing needs. This device can print either black-and-white or color pages at a rate of 28 pages per minute (ppm), depending on whatever setting you use. Because it can produce up to 5,000 pages in a month during its duty cycle, this printer is ideal for use in a business setting.
It can connect to a computer using an Ethernet connection and has an interface that is USB 2.0 compatible. This printer can hold up to 500 sheets of paper, a respectable capacity for a commercial printer.
This sublimation printer uses pigment ink, which is resistant to water and fading, which is easily the best feature of this device. This printer has outstanding text quality, and its colors, in addition to their sharpness, have a favorable rate.
Overall, it is an excellent printer suitable for business use, which justifies the cost. That is why it is on our list of the best Ricoh sublimation printers.
Check out the Ricoh Aficio GX2500 on Amazon.
Please Note: As of July 18, 2023, the Ricoh Aficio GX2500 printer is currently unavailable on Amazon. If you can't locate this product elsewhere, please check back later.
Best Ricoh Sublimation Printer for High Performance: Ricoh SG 7100DN
Aficio SG 7100DN 3600 x 1200 dpi Geljet Printer
Deliver high-speed and high-quality printing
Sharp image quality on paper
Impressive resolutions up to 3,600 x 1,200 dpi
Optimized BT System reduces paper misfeeds
Robust design for heavy-duty business use
We earn a commission if you make a purchase, at no additional cost to you.
Do you know why Ricoh SG 7100DN lies in our best-performing sublimation category? It is because it supports fast USB and Ethernet connections. When we tested the printer, its data-receiving speed was equal to the data transfer speed of the Ethernet. In this way, it is one of the best Ricoh sublimation printers. 
Using the gel-jet printing technique gives you high-quality sublimation prints of 3600×1200 dpi. As for the images per minute, it supports 29 prints of Mono and color prints, and 11.5 ppm of color prints.
It includes an automated duplexing function and can accept up to 250 sheets of paper at once. You can also store up to 25MB of document data in it.
The paper size of Ricoh SG 7100DN is up to 11×17 inches. Its average speed for black and white prints is 6 seconds, and for color printing, it gives you an output speed of 8 seconds. The monthly duty cycle of this sublimation machine is 10,000 pages/per month.
Additionally, it comes with a warranty of one year from the company. If your printer faces any problem in printing, you can directly contact customer service, and they will replace your printer or provide you with a solution.
Check out the Ricoh SG 7100DN on Amazon.
(Please note that as of July 18th, 2023, the Aficio SG 7100DN 3600 x 1200 dpi Geljet Printer is out of stock on Amazon. Please check back later.)
Best Budget Option: Ricoh SG 3110DN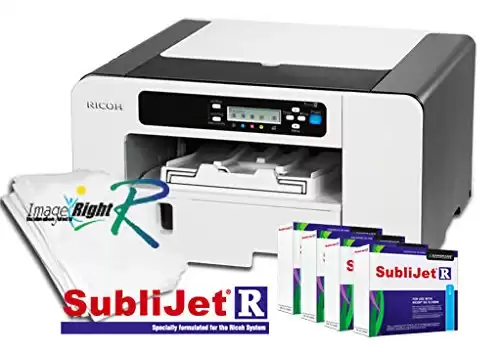 We earn a commission if you make a purchase, at no additional cost to you.
You can say Ricoh SG 3110DN is the best solution for your color printing problems. It is able to print at speeds of up to 30 pages per minute and has a maximum resolution of 1200 dots per inch, making it suitable for producing high-definition images (ppm).
This technique makes it a high-resolution color printer and sublimation machine. You can achieve 3,600 x 1,200 dpi resolution with high-quality ultra HD results. It can use both pigment and dye inks for printing.
The printer also has wireless connectivity, which makes it simple to connect to and print from mobile devices. You can also connect it through a LAN network if you have a commercial setup.
Ricoh SG 3110DN also supports a USB connection and is an auto duplex. It means you just have to insert the duplex command, and the rest of the task will be done by your Ricoh SG 3110DN. As for the paper capacity, you can store 250 paper sheets at a time in this sublimation printer.
During testing, this printer gave the best printing results as it used the Gel-jet printing scheme. The best thing about gel-jet printing is it uses fast drying and low permeable color coating.
It means the colors stay original and vibrant even if the sheet touches the liquid. Overall, it is a budget choice and one of the best Ricoh sublimation printers.
Check out the Ricoh SG 3110DN on Amazon.
Please Note: As of July 18, 2023, the Ricoh SG 3110DN printer package is currently unavailable on Amazon. If you can't locate this product elsewhere, please check back later.
How To Pick the Best Ricoh Sublimation Printers
Ricoh produces a number of sublimation and printing machines. But what should you consider before buying the best sublimation printer? What are the key points? Our guide will help you decide on the right printer according to your needs and requirements.
Compatibility
Before buying the sublimation printer, always check the compatibility of your laptop or computer. Specifically, if it has the ability to install and run the application that is needed to place the command for the printer, and whether it supports your operating system.
Price Range
It is a matter of fact that price range and budget are the key aspects you must consider before buying the product. There is no need to buy expensive sublimation printers when you can get the same quality for a much lower cost. So, always search for the best quality with the lowest cost.
Performance
If a sublimation printer is expensive, but the performance is not satisfactory, then you don't need to compromise. Performance is the most important aspect, even in selecting the best Ricoh sublimation printers. So, always compare and review printers before buying.
Connectivity
When choosing the best Ricoh sublimation printers, connectivity is important. Your Ricoh sublimation printer will likely connect either through WiFi, USB, or an Ethernet cable. Today, most printers have wireless connectivity, which makes it easy to connect and print from mobile devices, which is super convenient.
Print Quality and Speed
Last but not least, the importance of print quality and speed cannot be overstated. Before buying, review various products and their printing quality. Also, compare the speed of different printers before making a final decision.
What To Know Before Buying Ricoh Sublimation Printers
Before buying the Ricoh sublimation printers, you must know some facts about them. If you are buying it to use in a home with few prints per day or per week, consider buying a printer with 5000 prints per month, which is more than enough for you.
In case you intend to start a small commercial business, then you must go with the sublimation printer with at least 10000 print duty per month. Such printers have special cartridges and extra paper storage. Last but not least, you need to consider the page-per-minute (ppm) speed of the printer. Each printer has its own specific ppm.
Using Ricoh Sublimation Printers: What It's Like
Ricoh sublimation printers give you the best overall printing experience. These printers range from low range to high range. The average page per minute (ppm) of Ricoh sublimation printers is 29 to 20 ppm. The minimum print duty for these printers is 5000 pages per month, and the maximum is 10000.
The cartridges of Ricoh sublimation printers are available in the market with good printing quality. The average price of Ricoh sublimation printer cartridges is $35 to $40. You can get them from any online or offline store at your convenience.
The image featured at the top of this post is ©JL IMAGES/Shutterstock.com.