Key Points
Mini-LED TVs utilize thousands of miniature LEDs as the backlight for an LCD screen, offering vivid colors without the drawbacks of OLED displays.
Mini-LED TVs have superior brightness levels compared to other display technologies, making them ideal for well-lit rooms.
The thousands of local dimming zones in Mini-LED TVs allow for precise handling of dimming, resulting in better picture clarity.
Mini-LED TVs have less blooming, leading to an overall clearer picture.
Mini-LED TVs offer better contrast ratio, color reproduction, and are great for gaming with low-latency modes for consoles.
What are the best reasons to buy a Mini-LED TV? If you're in the market for a new television, it is a decidedly difficult market currently. There is a plethora of display technologies competing for your attention and your purchase.
Still, if you've been on the fence about technologies like OLED and edge-lit LED displays, a Mini-LED TV might be the choice for you. So, why not explore your options? Here are six great reasons why you should purchase a Mini-LED TV for your next display.
What Is a Mini-LED TV?
Where Mini-LED TVs depart from other display technologies is in the sheer amount of backlight you have on a given display. Now, most readers will know about the thinness and superb color of an OLED display. They've been the gold standard for a number of years for good reason.
Mini-LED televisions look to change that up by presenting vivid colors without some of the more prominent drawbacks surrounding an OLED display. They are a fairly new type of display technology and utilize thousands upon thousands of miniature LEDs to act as the backlight for an LCD screen.
Samsung, TCL, and LG have been pioneering this technology, albeit under different names. If you've heard of a display using QNED or QLED technology, that is just a proprietary name for Mini-LED.
It offers quite a bit of promise over standard back-lighting technology, and could very well replace OLED in the future.
Reasons to Buy a Mini-LED TV
So, with a brief understanding of what a Mini-LED TV is, let's go into reasons why you might actually want to purchase one. These are fairly standard reasons why you might purchase any TV, but the Mini-LED option makes a decidedly different impression when it comes to picture quality.
1. Brightness
Modern TVs are bright, there's no getting around it. However, nothing is quite as bright as a Mini-LED television. If you thought peak brightness levels for something like an OLED were high, the Mini-LED very easily outshines that.
You can get superb peak brightness levels in a fully lit room during the middle of the day, which is not an easy task to accomplish for most televisions.
This brightness translates to other factors that impact picture clarity. The brightness and control of overall lighting are just one of the best reasons to buy a Mini-LED TV.
2. Better Local Dimming
As Mini-LED TVs have thousands of local dimming zones, they can be far more precise when it comes to handling dimming. This is great for picture clarity as it can amplify or dim certain elements of an image thanks to HDR metadata.
If you consider that an edge-lit television has only two dimming zones, thousands of dimming zones equate to quite a bit of precision when it comes to image clarity. It is one of the best reasons to buy a Mini-LED TV, and it certainly shines with the right sort of HDR media.
3. Less Blooming
That network of thousands of LEDs also benefits an issue called blooming. Blooming can occur with most displays, leading to washed-out colors or images. Since a Mini-LED TV has thousands of dimming zones, this is less of an overall concern.
As you can imagine, this leads to an overall clearer picture. Just the general lack of blooming is just another of the best reasons to buy a Mini-LED TV.
4. Better Contrast Ratio
Most of these reasons all call back to thousands of LEDs that power the backlight. Contrast also greatly benefits from the network of LEDs a Mini-LED TV has. You get far better clarity and magnificent contrast with HDR, Dolby Vision, and HDR10+ content.
There is richness and depth to it, which makes for another of the best reasons to buy a Mini-LED TV. You get a great contrast ratio akin to something like an OLED display.
5. Better Color Reproduction
Did you know most OLED televisions don't display true whites? Odd as it might seem, OLED relies on blue lighting and software-based filtering for its depiction of white colors.
Mini-LED doesn't have these issues and can more accurately recreate colors thanks to the network of dimming zones.
Sure, there is bound to be some software filtering as most modern smart TVs utilize AI to improve overall picture clarity. The actual quality of the colors is just another of the best reasons to buy a Mini-LED TV.
6. Great for Gaming
Now, this isn't going to be a selling point for everyone. However, Mini-LEDs are great for gaming on modern consoles or using your gaming PC as a home theater experience.
Most contemporary Mini-LED displays have special low-latency modes for the Xbox and PlayStation 5. This leads to one of those everyone-wins scenarios.
You get uncompromising visual clarity from a Mini-LED TV, while also getting access to overall lower latency. Fantastic visuals abound and the colors certainly pop with titles like Marvel's Spider-Man and Street Fighter 6.
Best Mini-LED TVs to Buy Today
So, armed with newfound knowledge and appreciation for Mini-LED TVs, you might be wondering what the best ones on the market are. Here are three choices that will absolutely make your home theater come alive.
Samsung QN90A
Best for Performance
SAMSUNG 65-Inch QN90A
Upgrades your pictures to 4K
X-tended Dynamic Range Pro 6x contrast

X-Motion Clarity (120Hz)

Acoustic Multi-Audio sound technology

X1 Ultimate picture processor
We earn a commission if you make a purchase, at no additional cost to you.
There is plenty to love when it comes to the Samsung QN90A. You get access to a stunning Mini-LED display, dubbed by Samsung to be a Neo QLED, with a host of other great features.
You'll have access to a 120Hz refresh rate, making for super-fast playback even on media that is made for a film standard 24Hz. Samsung's neural networks work overtime to make sure you get precise upscaling for legacy media, so those old DVDs shine like they were meant for a 4K display.
Samsung is a dependable choice when it comes to Mini-LED TVs, and you even get Amazon's Alexa built-in for handling and navigating the TV's interface.
LG QNED85 Series
Our Pick
LG 75-Inch Class QNED85
a7 Gen5 AI Processor 4K
Voice control

120 Hz refresh rate

Mini-LED backlighting
Features Precision Dimming
We earn a commission if you make a purchase, at no additional cost to you.
Another solid TV, another unusual naming convention for Mini-LEDs. LG's QNED85 is a Mini-LED TV in everything but name, and you get access to the features that have made this brand a winner for years.
LG's ThinQ upscaling technology is solid, making quick work of legacy media you might want to view in 4K. Alexa is also built-in, which comes in handy when you're too busy to handle navigating the otherwise slick webOS interface.
This is an absolutely stunning display, as you might expect from an LG TV.
TCL 6-Series
Best for Gaming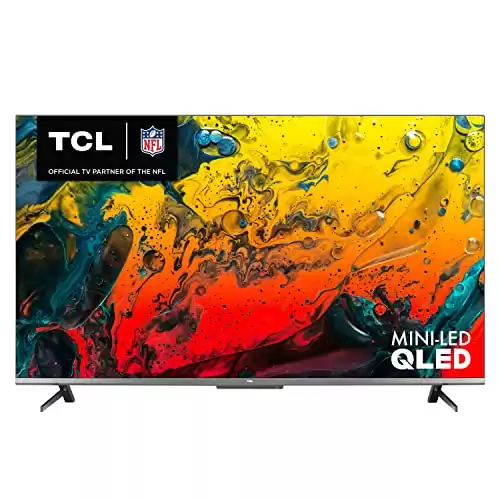 We earn a commission if you make a purchase, at no additional cost to you.
The TCL 6-Series might very well be the cheapest TV on this list, but it is brimming with quality. You get access to Dolby Vision for your HDR content, which is miles ahead of typical HDR. TCL has also packed a smart assistant in the form of Google TV, which allows for hands-free navigation.
The operating system is similar to Android smartphones, meaning you'll be right at home for finding your favorite streaming providers. The TCL 6-Series is a dependable TV that won't break the bank while allowing access to the stellar quality of a Mini-LED display.
Closing Thoughts
Mini-LED TVs are a welcome addition to the ever-changing sorts of displays available for commercial use. It is still a bit early to determine the longevity of these displays, especially since the technology itself isn't quite as mature as other options on the market.
However, the results don't lie. You'll get stunning color, great clarity, and unparalleled brightness when choosing a Mini-LED TV.
Summary Table
Reasons to Buy a Mini-LED TV
Brightness
Better Local Dimming
Less Blooming
Better Contrast Ratio
Better Color Reproduction
Great for Gaming
The image featured at the top of this post is ©Early Spring/Shutterstock.com.